USAA Mortgage Reviews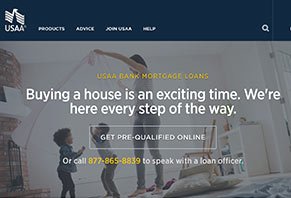 For active military, veterans, and their families, USAA Mortgage offers a total of four different loan programs that can help you purchase or refinance a home.
About USAA Mortgage
USAA Mortgage provides four different home loan products for active and former military members and their families, including former spouses of USAA members and cadets or midshipmen.
According to the company, they'll be there for you every step of the way, including when you first choose to pre-qualify for a loan online.
As a homebuyer, you probably recognize that there are hundreds—perhaps even thousands—of different loan options available to you. But as a member of the military, is there anything unique that USAA Mortgage delivers?
After spending a few minutes reading what we learned during our research, you should be able to answer this important question—and many others!
How Does a USAA Mortgage Work?
In a nutshell, the USAA Mortgage lending process works over five steps:
Step 1: Pre-Qualify for a Home Loan
Here, you'll be able to gain a better understanding of your budget, which will help you know where to look and to better negotiate with sellers when you find the right property.
USAA Mortgage will also ensure that you know what to expect during the application process, before finally handing you a pre-qualification letter and to-do checklist (assuming you meet their underwriting criteria).
Step 2: Find a Real Estate Agent
Now that you have a pre-qualification letter, you'll be in a position to negotiate a purchase contract. First, though, you'll need a real estate agent.
To accomplish this, you're more than welcome to find one on your own, although if you work with an agent through the USAA Real Estate Rewards Network, you can get a $350 to $6,000 reward when you buy or sell your home.
Important note: Keep in mind that in order to qualify for the $6K, you'd have to buy or sell a home for $1,000,000+. On average, USAA tells us that the average Real Estate Rewards Network client earned $1,150 in 2015.
To take advantage of the Real Estate Rewards Network, you're not required to be a USAA Mortgage customer (although you will need to be a USAA member).
Step 3: Search and Make an Offer
Now is the fun part! Here, you'll get to shop for the home of your dreams, negotiate an offer, and sign a contract.
Step 4: Prepare and Review Documents
Now that you've decided on a property, you'll need to collect and submit required documents, "such as pay statements, bank statements and tax returns, along with your application packet." Once received, USAA Mortgage will review your documents and keep you updated throughout the process.
During this step, you'll lock in your interest rate, be assigned a mortgage processor, and have an appraisal completed on the property.
USAA Mortgage notes that it's important to respond quickly to requests for additional information (if needed) to ensure the process goes as smoothly as possible.
Step 5: Get Ready to Close
Finally, you'll prepare for closing by reviewing your closing disclosure, signing closing documents, and paying any closing costs you're responsible for. This can be paid either via a certified check or wire transfer.
Speaking of your costs…
What Types of Loans Does USAA Mortgage Offer? What Are the Rates & Fees?
Overall, USAA offers four different loan programs (these include Jump loans ($417K+) and those for second/vacation homes).
Keep in mind that what's listed here doesn't include standard fees like a VA funding fee (will be calculated as a percentage of your loan amount), mortgage insurance (if your down payment is less than 20%), points, and closing costs.
VA Loans
USAA Mortgage's VA Loan provides 100% financing for veterans and active-duty military members, without a down payment. On top of this, you'll be able to roll the funding fee into your loan amount, and no mortgage insurance is required.
USAA's VA Loans are available in 15 and 30-year terms, with interest rates ranging between 3.25% and 3.5% at the time of our research. Points ranged between -0.625 and 0.5.
Important note: Remember that any numbers advertised on the USAA Mortgage website are based on a very specific set of criteria (e.g. a particular loan amount, credit score, state of residence, etc.). So, unless you match these criteria, your rates might vary.
Conventional 97
Comparatively, USAA Mortgage tells us their Conventional 97 program provides down payments as low as 3%, with the lender paying any private mortgage insurance.
However, Conventional 97 loans are only available in 30-year terms and can only be used for primary residences. Rates were around 4.3% at the time of writing.
Conventional Loans
Even if you're not a member of the military, the Conventional Loan program through USAA Mortgage can get your down payment as low as 5%, with 10, 15, 20, and 30-year terms available. If you put less than 20% down, you will be required to pay PMI.
During our research, we found Conventional Loan rates between 2.75% and 3.625%.
USAA Mortgage Loan Refinancing
Whether you're looking to lower your monthly payment, cash out some equity, or reduce the term of your loan, USAA Mortgage offers two different refinance programs.
Their VA Interest Rate Reduction Refinance Loan (VA IRRRL) comes with no origination fee, less/simpler paperwork, and lower closing costs. This way, we're told Members save an average of $2,700.
You'll also be able to refinance up to 100% of the value of your home, choose between 15 and 30-year terms, and fixed rates at 3.125% and 3.375%, respectively.
On the other hand, USAA's Conventional Home Refinance Loan allows you to cash out between 80% and 95% of the value of your home, depending on what you're looking to accomplish with the money.
Conventional Refinance Loan customers can choose between 10-, 15-, 20- or 30-year terms, with interest rates that ranged between 2.875% and 3.875% at the time of our research.
Still have questions? You can speak with a USAA Mortgage loan officer at 877-865-8839.
The Long & Short of USAA Mortgage Reviews
While there weren't any star ratings involved, 995 USAA Mortgage customers had left reviews on the company's website at the time of writing. Scrolling through the first couple dozen, several phrases were frequently repeated:
"Worst experience of my life."
"Terrible/bad customer service."
"Horrible experience."
"Waste of time."
"Nightmare."
Elsewhere online, USAA Mortgage had 274 customer reviews and a 1-star average rating on Consumer Affairs. There, most complaints appeared to reference long, confusing processing times and less-than-stellar service.
Based on seven reviews, USAA Mortgage seemed to have a slightly better average rating of 2.3 stars on LendingTree.com, where more than one customer reported a pleasurable experience. Among those who complained, common points related to being turned down for loans and inattentive customer service.
How does this compare to USAA Mortgage's competition?
Are There Other Military-Focused Lenders Competing With USAA Mortgage?
The reality is that most national lenders offer some type of VA loan program, so USAA Mortgage certainly isn't unique in this aspect. However, if you're dead-set on a VA loan, Military Times recommends only looking for one that's approved by the VA.
Even though these lenders offer VA loans, keep in mind that no two will have the same underwriting criteria, which revolves around a unique mix of credit score, loan amount, term, and lender's fees.
With this in mind, although USAA (as an organization) has been serving veterans and their families since 1922, perhaps the company's biggest competition is NewDay USA, which offers many of the same perks and programs.
As mentioned above, though, if you're looking to score the lowest rate, along with fees and other costs that fall within your budget, you'll want to continue exploring other non-military mortgage providers as well. Don't forget to investigate some of the new peer-to-peer lenders like SoFi, Upstart, and more!
Let's carry these thoughts over to the next section as we wrap up our review.
Is a USAA Mortgage Right for You?
Based on what we just discussed, we can see that when it comes down to it, no single lender will meet everyone's needs. And for that matter, not every applicant will match every lender's underwriting criteria.
As a result, USAA Mortgage might be an ideal fit for you, while not meeting your neighbor's needs as well as some of the company's competition. This is something we can see firsthand in USAA Mortgage's online customer feedback.
And while their overall rating might initially appear low, it's important to keep in mind that USAA Mortgage has originated hundreds of thousands of loans for customers, many of which seem satisfied (or, at least not dissatisfied enough to write a negative review), so there's no certainty that you'll experience the same.
Did you apply for a USAA Mortgage loan? How'd the process go? Were you approved? Tell us all about it by writing your review below!
Read Next: The Top 7 Money Mistakes: How Many of Them Have You Made?
The worst of the worst!

By Christi M.

,

Augusta, GA

,

Nov 7, 2019
Verified Reviewer

We are buying and selling at the same time. We were wise enough to stay away from USAA for a mortgage; however, our buyers were not. We began this process in August and we still have not closed! When the end is finally within sight, they screw it up again. We were supposed to be closing this Thursday, but because USAA does not value its customers or veterans (we are both retired military), they have no sense of urgency to make sure everything is done correctly and on time! Do they think a moving company can change their schedule the day before the appointment? Do they know what a pain it is to contact all your utility companies to schedule turn-ons/offs, only to have to call them back...AGAIN...and have to request different dates? Do they know how hard it is to try and schedule off time from work to handle a closing and a move? I guess the better question is: Do they CARE? The answer is NO. I currently only have insurance with USAA, but as soon as this move happens, I will have zero ties to this sorry company!

Bottom Line: No, I would not recommend this to a friend

---

MTG Loan Process

By Wendy H.

,

Florida

,

Oct 12, 2019
Verified Reviewer

I am currently going through their nightmare of a process to obtain a MTG from them. This has been the absolute worst experience I have ever experienced in obtaining a loan. I have received multiple emails, each requesting yet another piece of information they need to process my application. This morning I received an email at 1008, requesting yet another document they need. The icing on this slice of cake is, they need this document by noon today to keep my October 11 closing date (which they have extended 4 times due to all their requested crap!). PLEASE! Do not put yourself through the torture and frustration of getting a mortgage loan with this company! Buying a home is supposed to be an exciting, wonderful time, and I'd honestly rather step on a rusty nail and get a tetanus shot every day for the next month than go through this process with them again! RUN AWAY AS FAST AS YOU CAN FROM USAA MTG DEPT!

Bottom Line: No, I would not recommend this to a friend

---

Advertisement

---

WORST EXPERIENCE OF MY LIFE

By Angel B.

,

Bronx, NY

,

Oct 5, 2019
Verified Reviewer

Spare yourself and don't go to USAA. I have been a loyal customer with them for YEARS. I have had 2 loans, paid off early, and all my accounts and credit cards with USAA. With a 730 credit score, I set out to mortgage through them because I trusted them. We went over my situation all at preapproval time. The Monday before closing (supposed to close that Friday), they tell me they need documents I already turned in. Then, they say I need one more letter from my supervisor stating I work from home and if I can get those things I'll be approved. I get a letter stating verbatim what they want and they still denied the loan because they didn't think it was enough even though it was what they asked for. I have lost HUNDREDS of dollars on this deal and I am an incredibly financially stable contender. USAA will never see business from me ever again.

Bottom Line: No, I would not recommend this to a friend

---

They sell your mortgage to companies that can't handle the mortgage

By Jackie Y.

,

South Carolina

,

Oct 3, 2019
Verified Reviewer

They have sold our mortgage to Nationstar Mortgage. It's been a year and a half of calls after calls when we have never missed a mortgage payment. My husband fought and defending this country and this is the way you treat our vets.

Stay away.

Bottom Line: No, I would not recommend this to a friend

---

Advertisement

---

The WORST!

By Desiree R.

,

Colorado Springs, CO

,

Sep 17, 2019
Verified Reviewer

USAA is apparently supposed to support their veterans, however, they are failing...miserably! My parents are trying to sell their house. The couple buying their house is getting a loan through USAA - BIG mistake! The closing date has been pushed back twice due to numerous people dropping the ball and not making sure that everything is going as planned and ON TIME! My parents are trying to purchase another home, but they keep getting pushed back because of USAA. USAA does not care at all about contract dates and people potentially losing out on houses they've already put money into trying to purchase. USAA, you be ASHAMED of yourself!

Bottom Line: No, I would not recommend this to a friend

---

Do not use this company, you have been warned!

By Nickole D.

,

Knoxville, TN

,

Sep 4, 2019
Verified Reviewer

I am posting this review on behalf of my Mom. I'm not going to make this a long drawn out thing, but I feel that this review needs to be made. My Father is a Veteran, and my family has been with USAA for years. My Mother has several open lines of credit with USAA, all in good standing. She applied for a mortgage loan, received the pre-approval, approval, and the title company received the closing documents as well. As with any home purchase, she paid for the home inspection and appraisal. The walkthrough was scheduled for 6:00 pm on 8/27/19, and closing at 9:00 am, 8/28/19.

At 5:19 pm on 8/27, my Mother received a call from an unidentified individual, informing her that the loan was denied! AGAIN THE CLOSING WAS SCHEDULED FOR 9:00 AM THE NEXT DAY! We have NEVER dealt with such an unprofessional, and abhorrent company. My Mother luckily had not yet sold her home, and therefore had a place to go, but a quick Google search will reveal that USAA has done this too many others, who weren't so lucky.

RUN, DO NOT WALK AWAY FROM THIS SO CALLED COMPANY. Do yourself a favor and check out GSF Mortgage, this is the company that carries my husband and I's mortgage, and THEY know how to treat their customers.

Bottom Line: No, I would not recommend this to a friend

---

Irresponsible mortgage loan handling

By Gloria M.

,

Arizona

,

Jul 20, 2019
Verified Reviewer

I began contacting USAA for information on refinancing our mortgage loan to a VA loan. My husband and I spoke to Tom Cisneros (210) 443-6844. Our inquiry about the loan went from just information completing an application online and authorizing USAA to review our credit report. We discussed our income our debts, and the reason for the refinance. We had mentioned that we were not going to be in town due to a planned vacation and wanted to take care of everything before we left on 6/21/219. After providing all the information over the phone, I was to wait for a call from a person who arranged home appraisals at a cost of $600 with no refund. At any point during the conversation did Mr. Cisneros mentioned a required minimum credit score for a VA loan and when provided our estimated score, we were never told "your score does not meet the VA requirements." However, we did authorize access to our scores. We also received preliminary loan documents with an estimated interest rate for a 30-day period.

Mr. Cisneros called me a couple of days later and talked about someone named Henry about scheduling the appraisal and he said are you sure you want to do this, and not knowing that we did not meet VA requirements, we felt that we must be in a good place to proceed so we did and paid $600 for the appraisal.

Again, never did Mr. Cisneros or the Loan Processor assigned to our application, Lakyma Taylor questioned our credit score as being an issue. I provided Ms. Taylor with a list of documents needed as part of the loan application. The final document requested was a termite inspection and invoice...After that conversation, and not getting information that we may not qualify, I scheduled the termite inspection and work at a cost of $1500. A couple of days later I emailed Ms. Taylor with the inspection report and invoice. A couple of days later I received a call from Ms. Taylor informing me that the loan would not go through because of our credit score not meeting VA requirements of 700 and that we were short 1 point. I pleaded with her to speak to the reviewers about our situation since we were never told this and had invested so much money already.

She said she would check but did not think it would change. Conversations were all recorded by USAA.

We feel very disrespected and not valued as a customer because of this treatment that was irresponsible, careless, and could have been prevented had someone said something about our qualifications, we would have thanked them and move forward. But after the cost of $2,100 investment on an application that USAA loan processor was aware I am disappointed, angry and do not recommend USAA for any type of business. I email CEO Stuart Parker on 621/2019 and cc Mr. Cisneros, his supervisor Mr. Struve, Ms. Taylor and her supervisor Ms. Montgomery; all which never replied to my email. I called Mr. Cisneros once more on 6/21 before we left on our vacation. Upon our return, in our mail we found two letters that were pre-generated one addressed to my husband Paul Mahoney and one to me stating the reason for not qualifying.

Again, this has been a horrible experience, and I am still waiting for a call back regarding our loan application and the cost incurred by the irresponsible and mediocre service to customers and that we received!

Bottom Line: No, I would not recommend this to a friend

---

Disorganized mess, surprise fees

By Ryan Y.

,

Janesville, WI

,

Jul 9, 2019
Verified Reviewer

I have been a USAA member for 10 years and after this mortgage process, I will be dumping all my accounts with them.

The process is long, laborious, and they blow you off when you have questions. I had two loan processors and couldn't ever get a hold of them. None of them read the offer or the addendums. They asked me for every document short of a blood test and gave vague instructions that didn't make sense, and of course not one of MY loan processors were available to answer any questions.

The tedious confusing process I put up with but the thing that put me over was the no contact for two weeks then I get 7 phone calls in one day demanding the money for an inspection immediately or loan application is terminated.

Now we get toward closing, they didn't read the addendum for replacing the septic system, now they are shaking me down for $600 to "lock in my rate" or "reapply and start (this B.S. process) over again."

I'm probably going through with it because I don't have time to find another lender.

Do not waste your time or money with this company.

Bottom Line: No, I would not recommend this to a friend

---

Absolutely AWFUL customer service

By Erika L.

,

San Antonio, TX

,

Jun 19, 2019
Verified Reviewer

Absolutely awful customer service. Never able to actually talk to a real live person on the phone. On hold FOREVER and when finally get a person, they do not know what they are talking about. AND their interest rates are NOT good at all! NEVER again!

Bottom Line: No, I would not recommend this to a friend

---

Incorrect information, inconsistent communication

By Rachel S.

,

Durham, NC

,

Jun 12, 2019
Verified Reviewer

Our experience with USAA Mortgage can be summed up with the phrase "bait and switch." We gave them our income information and they told us we pre-qualified for a conventional loan. Come to find out, they were looking at the VA loan requirements and not the conventional loan requirements. We didn't actually qualify for a conventional loan. This meant we needed to start a new application with a co-signer. The new application meant they had to run our credit again, which lowered our credit score, causing us to get a worse interest rate. We had already done an appraisal (and paid for it) with the original application, but starting the new application meant we had to pay for the appraisal again. They promised that this was a formality and that they would reimburse us. We have yet to receive that $595 reimbursement. They also told us that only one of the applicants on the loan had to be at closing and the others could sign from afar. A few days before closing they told us that we all had to be there or pay $150/person to get power of attorney. We made big decisions based on their incorrect information. Their mistakes cost us hundreds of dollars and they did nothing to make it right or to take responsibility for their mistakes.

Furthermore, the communication was overall inconsistent and confusing. Sometimes they'd call or email me, other times my husband, other times both of us. We got so many versions of different documents we had no idea which was the right one. When we'd call or email to ask questions, oftentimes our questions went unanswered. We are loyal USAA members and have absolutely loved our experience with their banking (we do our checking/savings with them), car insurance, and renter's insurance. However, we were extremely disappointed with the mortgage department and are looking forward to refinancing with a different company as soon as possible.

Bottom Line: No, I would not recommend this to a friend

---

Horrible lender

By Gabrielle R.

,

Midland, TX

,

May 22, 2019
Verified Reviewer

Protect yourself by not accepting an offer on your property if USAA is the lender. They are irresponsible and will not communicate with anyone. I have never dealt with such incompetence. The way they have handled the closing of my home is unacceptable. Two closings canceled at the last minute without warning. I've lost thousands of dollars due to their lack of attention. While I'm not a USAA member, my husband is a veteran and they couldn't care less about the hardship this delay is causing our family as well as the buyers.

Bottom Line: No, I would not recommend this to a friend

---