Vacation Sooner Reviews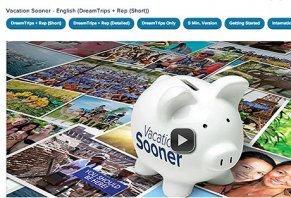 Vacation Sooner claims to be a vacation club that provides 5-star packages to destinations all around the globe for 2 and 3-star prices.
About Vacation Sooner
Billing themselves as the "great experiences company," Vacation Sooner claims to help individuals and their families create great memories at great prices. On top of this, the company also provides the opportunity to sell Vacation Sooner memberships to others, which is claimed to give you the opportunity to earn a residual income.
But are Vacation Sooner packages really a good deal? What can you expect if you decide to become an independent representative? We dug into the facts in order to answer these questions and more, and here's what we found.
How Vacation Sooner Works
Founded by Wayne Nugent and Mike Azcue in 2005, Vacation Sooner claims to make it affordable to check off all of your bucket list items and to create the experiences of your dreams. In order to accomplish this, the company claims to offer unique vacations of all sizes, from private romantic getaways to resort "takeovers," at deeply discounted prices, similar to the group-buying concept used at popular low-cost retailers such as Costco and Sam's Club.
Ultimately, this means that you can buy 5-star experiences from top resorts, cruises, theme parks, hotels, and even sports and event tickets, but at 2 and 3-star prices. On top of this, Vacation Sooner claims that each of their packages provides a high level of service with all planning done for you, including airport pick up, hotel pre-check, parties, and daily perks.
To search for vacation packages, Vacation Sooner claims to use their proprietary Rovia Booking Engine with RateShrinker Technology, which allows you to search for your flight, rental car, or cruise, similar to Expedia or other travel deals websites. Unlike these other sites though, Rovia is claimed to constantly keep an eye out for lower prices, and if it locates one, it will automatically book the lower price fare and refund you the difference.
Vacation Sooner Pricing and Refund Policy
In order to become a Vacation Sooner member, you'll need to pay a one-time activation fee of $199.99, plus a monthly maintenance fee of $54.99, which covers you, another adult, and all the children in your household. Once you become a member, you'll also gain access to the Vacation Sooner online mall, which features more than 900 retailers.
After signing up, each DreamTrips dollar you spend, whether through activation fees, monthly dues, or shopping in the online store, translates into 1 point, which can eventually be redeemed to pay for a portion of your next vacation (see more about this in the Bottom Line section).
Vacation Sooner also offers standard purchase DreamTrips, as well as weekly deals released every Monday at 11am Central Time, in addition to sponsoring more than 50 humanitarian trips each year.
Vacation Sooner claims that once you book a trip through them, you'll be covered by their Price Protected Rate. This means that if you book a trip and find the exact one at a lower price within 7 days, you'll receive a 100% refund, and you'll be sent on the vacation completely free of charge.
Selling Vacation Sooner Memberships
Vacation Sooner gives you the opportunity to sell memberships to others, and to earn a commission off of each sale you make. Through this option, you'll pay an initial $99.95 activation fee, along with a $10.99 monthly fee.
Under this program, if you refer any 3 customers within a 4-week period, you'll earn $100. As long as they remain active, your membership dues are waived. If you refer a total of 6 customers in 4 weeks, you'll be paid an additional $350. Beyond this, the compensation structure can be fairly complicated, so if you're thinking about signing up as an Independent Sales Representative, you'll definitely want to read through their compensation plan.
What's the Bottom Line About Vacation Sooner?
Now that you know a whole lot more about Vacation Sooner, should you sign up as a member and/or as an independent sales representative? Maybe, but carefully consider the following beforehand:
High Prices
Based on a number of customer reviews we read during our research, Vacation Sooner vacation packages appear to be priced higher than nearly all other vacation deals sites (e.g. Expedia, Hotwire, etc.). In fact, more than one review claimed that Vacation Sooner prices are even higher than purchasing them at face value directly through the providers themselves.
Strict Limits
On top of this, you can only apply a certain amount of points you've earned to any single trip. In other words, let's say you'd like to book a trip to the Riviera Maya, and the trip is priced at $700 (e.g. 700 points) per person. While you may have enough points to completely cover the cost of one person on the trip, you can only apply up to 450 points per purchase. In this example, this means that you'd still be left with 250 points in your account that can only be used if you book another vacation.
The Company
As most MLM companies eventually do, WorldVentures (the company behind Vacation Sooner) has recently come under increased scrutiny for its business practices. This is because it appears that you're not actually selling a tangible product, only memberships. In addition, many former reps have claimed that the main revenue source is by signing up people underneath you (also known as your "downline"), instead of selling actual memberships. As such, the biggest accusation regarding Vacation Sooner is that it's simply a pyramid scheme.
We can understand how this seems to ring true for many people since you must go through an existing representative in order to sign up for the program, who will then earn a commission off your purchase. In fact, you can't even test out their website to check prices without first signing up for a membership.
Bottom line: Between the company's mixed online reputation, their odd pricing/points structure, and inability to preview their services without first signing up for a membership, you may want to look for more mainstream methods of obtaining cut-rate vacation packages than with Vacation Sooner.
---
Vacation Sooner and WorldVentures

By Thabitha M.

,

South Africa

,

Oct 14, 2019
Verified Reviewer

Overall Experience:

I had been working for 23 years before I joined WorldVentures in February 2018. I would go on vacation once a year with my family. The vacations I took with my family were local and had never been abroad. I am a proud member and share with the world that the memories I have created with my family, the friends and the connections I have made are out of this world. So this is not about comparing prices, it's about a lifestyle, it's about a shift in one's life and a complete change of mindset. You have to be courageous enough to take that first step and experience things and not hear other people's opinions, when they have not even used the product. Yes I will recommend Vacation Sooner and WorldVentures to everyone.

Bottom Line: Yes, I would recommend this to a friend

---

Well worth the monthly membership

By Joshua Hill

,

Maryland

,

May 25, 2017
Verified Reviewer

Overall Experience:

I have been a DreamTrips (Vacation Sooner) member for almost a year. I have not been disappointed yet. So far the deals are way better than that of other websites. The only downside I would state is that you must pay for the entire vacation upfront while other websites let you pay at the hotel. This is about to change, however, so I am looking forward to it.

So far all the benefits are true. If I book a flight through them and it is cheaper somewhere else, they give me 150% in points on my account. Also, if you find one of their "DreamTrips" vacations for cheaper somewhere else, they will refund you the entire balance back to the card you paid for it with and still send you on the vacation.

This year, my wife and I will be taking two cruises staying in an Oceanview Balcony room on Royal Caribbean. I don't know about the business side; I only joined the vacation membership side.

Bottom Line: Yes, I would recommend this to a friend

---

Advertisement

---

The best EVER!

By Melanie P

,

New York

,

May 25, 2016
Verified Reviewer

Overall Experience:

This company has the BEST experiences ever, but don't take my word for it check it out for yourself! The only way anyone should comment on it is not through speculation but experience. So before you write a review about something you haven't experienced, go check it out for yourself and I'm sure you'll be pleasantly surprised!

Thanks Wayne Nugent and Mike Azque for such great experiences time and time again! Thank you Team World Ventures and Team Rovia for all the hard work you put into making our membership what it is and will be.

Bottom Line: Yes, I would recommend this to a friend

---

World Ventures

By Lakhila Tellis

,

Rockford, IL

,

Jan 2, 2016

Overall Experience:

I understand how people get confused with the purpose of the product, but it is so much more than a vacation membership. I have reconnected with people I grew up with and met new people that are all just amazing at heart! It is a family. I have never witnessed or heard of such a community of people that genuinely care about each other, support each other and enjoy each other! It has been uplifting for me. It put me in a situation where I can better my life and be available to my children. Thank you World Ventures! Any other questions or concerns I love sharing my experience with others, find me on Facebook, Twitter or Instagram.

Bottom Line: Yes, I would recommend this to a friend

---

Advertisement

---

The only way to enjoy what the places in life has to offer!

By Chris DeLange

,

Madison, Wisconsin

,

Nov 5, 2015

Overall Experience:

This product and company will soon be the Facebook of travel. This company has set 50 consecutive record setting months in a row of growth and that is mainly from people using the product. The one thing people don't think about when comparing this to other vacation packages is what's included with the trip! This isn't a vacation, this is a Dreamtrip. I have been on 3 Dreamtrips with the company and they have all been under priced compared to the rest with much more to offer that just booking a stay somewhere. The people you meet on these trips are people that become life long friends!

There is no better culture out there than what you get with Worldventures. I am a proud member and representative of the company and will be in it until I die, regardless of whether or not I ever make any money at it!

Bottom Line: Yes, I would recommend this to a friend

---

Overall Experience:

This is a fabulous company. Everything in the description above is accurate, the warning to avoid or be cautious however is not. When you become a member, like myself, there is an intrinsic value in the people that you meet. Best people on the planet. I hope whoever reads this joins WorldVentures and is as happy as all of us.

Bottom Line: Yes, I would recommend this to a friend

---

Love this company.

By Brandi

,

Central California

,

Aug 31, 2015

Overall Experience:

My husband and I LOVE this company. We have been able to take trips to Vegas and Disneyland for about 40% of the cost anywhere else. The trips are a complete package. They welcome you with a goodie bag and provide room credits, activities and free time. I wouldn't travel any other way.

Bottom Line: Yes, I would recommend this to a friend

---

Our Vacation Sooner Experience

By Anna Welsh

,

Georgia

,

Jul 22, 2015

Overall Experience:

All that Vacation Sooner has to offer for the members is delivery. Read your own recommendations. We are not saying that we are better than any other company, but as a member, we are. Thank you Vacation Sooner and WorldVentures. Yes, it may appear that we are a pyramid but have you ever thought that other companies are pyramids as well? There is a CEO, manager, supervisor, etc. That's a pyramid too and the CEO gets the profit like the rest. We have fun, made memories with the family and friends and get paid.

Bottom Line: Yes, I would recommend this to a friend

---

This company is that Real!

Overall Experience:

Most of these people said enough. This company is a blessing, and AMAZING. I have friends already experiencing a drastic change in their life thanks to this. And not too long ago I joined and I honestly never met so many people with Great VIBES. Thank you World Ventures.

Bottom Line: Yes, I would recommend this to a friend

---

Overall Experience:

I've researched so much of this company when I was introduced and I wish people would get their facts straight before posting. The Rovia site is optional to look for airfare/rental cars etc. It's not the site we use to search our trips. And yes, the company was audited by Ernst and Young and after scrutiny, they were awarded the Business of the Year Award.

I have seen and looked into many MLM business and I am absolutely in love with this one. It's not a get rich quick scheme. It's not a scam. It's smart. It works. And it's actually a lot of fun.

Bottom Line: Yes, I would recommend this to a friend

---

Great Company and Residual Income

By Ronald R Corum

,

Knoxville, TN

,

Jul 13, 2015

Overall Experience:

The person that wrote this article did not get the facts straight about the DreamTrip pricing. The company backs up their guarantee price with a promise to be cheaper than anyone. Apples to apples the company will always be cheap or if you find it cheaper they will give your money back and also send you on that trip. You just can't beat that promise.

Bottom Line: Yes, I would recommend this to a friend

---