Vacations to Go Reviews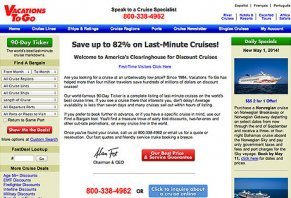 Vacations to Go is an online travel agency that specializes in providing a variety of last-minute cruise deals to and from ports all around the world.
About Vacations to Go
If you've ever had a sudden, irresistible urge to pack your bags, drive to the nearest port, hop on a cruise ship, and sail to some far off, exotic location, Vacations to Go claims that they're "America's clearinghouse for discount cruises," and that they can help you save up to 82% on last-minute cruises from nearly all cruise companies, destinations, and ports of departure.
But does Vacations to Go really make the process as easy as they claim? And do they really offer some of the best deals around? Let's drop anchor and see what the facts have to say.
Quick Facts About Vacations to Go
Vacations to Go claims to be a bonded and fully accredited travel agency that can help you save up to 82% on last-minute cruises. In fact, the company is ranked as one of the largest online travel agencies in the U.S. with more than 700 employees, and has helped more than 4 million customers find a great deal on their next cruise.
According to the Vacations to Go website, they offer last-minute deals from every cruise line in the world, which can be accessed in one of three ways on their website:
90-Day Ticker – A list of last-minute cruise deals that depart in 90 days or less.
Find a bargain Tool – Allows you to book cruises in advance, while still gaining valuable early bird discounts, two-for-one deals, and cut-rate promotions.
Manual Search – Allows you to search for cruises based on date, region, cruise lines and ships, length, port of departure, and destination. You can also search based on discount type (e.g. 55+, military, law enforcement, teacher, and more).
However you find your cruise on the Vacations to Go website, the company claims that the average availability is less than 7 days, although some listings sell out in a matter of hours. Because of this, if you find a deal you like, you may want to book as soon as possible.
In addition to searching on their website, Vacations to Go also provides a weekly e-newsletter that outlines some of their most recent cruise deals.
Vacations to Go Pricing & Refund Policy
In order to search for cruise deals on the Vacations to Go website, you'll be required to sign up by entering your first and last names, email address, and country. Registration is completely free of charge.
Due to the variety of cruises listed by Vacations to Go, prices can vary greatly, as well as refund policies. In general though, you'll be required to submit a down payment of anywhere between $100 and $1,000 (depending on the cruise line) when your initially book your trip, and then to pay the remaining balance anywhere between 45 and 120 days prior to departure. Since Vacations to Go specializes in last-minute cruise deals that will usually sail within this time period, in many instances you may be required to submit full payment immediately after booking.
If you need to cancel your cruise prior to departure, refund policies will vary by company, although the closer you get to your sail date, the less money (if any) you'll receive as a refund. If necessary, your Vacations to Go counselor will be able to provide additional information by calling 800-338-4962.
What Do Other Consumers Have to Say About Vacations to Go?
Vacations to Go has been in business since 1984 (online since 1999), and is based out of Houston, TX. The company holds an A+ rating with the Better Business Bureau, although they do have nearly 50 closed complaints over the past three years. Most of these appear to reference poor customer service, misunderstandings about the booking process, and undisclosed fees. With this said, it appears that Vacations to Go responds quickly to complaints in an effort to resolve them.
Outside of the BBB, Vacations to Go customer reviews appear to be mostly negative, with the most common complaints citing high pressure/bait and switch sales tactics, agents who are unresponsive to customer's emails, unlisted additional charges/fees, and booking mistakes.
What's the Bottom Line About Vacations to Go?
So what's the deal with Vacations to Go? Should you book your next cruise through them? The answer is: it depends.
First, you should keep in mind that Vacations to Go is a sales-driven company. Employees are typically paid on a commission-only basis where they're given leads, and then expected to close a certain number of sales in an effort to meet their quotas. This means that the company can help you find great cruise deals, but their Travel Counselors appear to be more focused on making their next sale than they are about providing solid customer service. This could be the primary cause behind many of the customer complaints we encountered that cited high pressure/bait and switch sales tactics, and poor follow-up communication.
Next, if you're prepared to do a little legwork, we read numerous customer reviews claiming that you can often find many of the same (or even better) deals through other travel sites like Kayak.
Finally, keep in mind that since your cruise is booked through Vacations to Go (and not through the cruise line directly), if any mistakes occur that impact your trip, you'll typically need to resolve them through Vacations to Go, which might present a problem considering their reputation for poor customer service. Also, because Vacations to Go is a large sales-based organization, you shouldn't expect to have your hand held throughout the process. In other words, while they may be able to help you locate great cruise deals, it doesn't appear that they provide much support beyond this.
Have you booked a cruise through Vacations to Go? If so, tell us about your experience by writing a review!
---
LOWEST PRICING?

By Stephen M.

,

Englewood, FL

,

Feb 9, 2020
Verified Reviewer

Overall Experience:

Vacations to Go claims to provide rock bottom prices. I found an 11-day cruise that was being advertised by Vacations to Go for about $1623 per person, meaning $3246 or so for 2 people for a minisuite. By the time taxes were added in as well as the Free At Sea package, the price was almost exactly what the cruise line would charge me for the exact same reservation, the $5000 level. Not a slam on Vacations to Go, just an observation that there may be some misinformation if the consumer isn't aware.

Bottom Line: Yes, I would recommend this to a friend

---

Bait and switch contract

By David W.

,

Florida

,

Jan 21, 2020
Verified Reviewer

Overall Experience:

I advised the Vacations to Go sales agent to give me her best quote in writing and my daughter and I will make a decision in 30 minutes because we had shopped for two days.

I received the quote and accepted the deal. My daughter and I both paid our down payments. We told the other companies we had a better deal and we went with Vacations to Go.

Thirty minutes later I received the final contract from the agent and she thanked me. I then noticed the tax had more than doubled causing a $250.00 increase so I emailed her.

She responded to me that it was too bad, take it or leave it, and that MSC cruise line made the mistake.

Bottom Line: No, I would not recommend this to a friend

---

Advertisement

---

Great experience

By Richard T.

,

Oklahoma

,

Dec 30, 2019
Verified Reviewer

Overall Experience:

Booked a Windstar Cruise. VTG had the best price I could find by $200.00. Every stage of the booking process was easy and accurate. Payment was made to the cruise line, not VTG. This is a major yes factor. Dylan Cox and Richard Davis were great to work with. My first time using them, I was very impressed.

Bottom Line: Yes, I would recommend this to a friend

---

Embelish cost of cruise to make it look like a discount!

By Marianne P.

,

Ontario, Canada

,

Nov 5, 2019
Verified Reviewer

Overall Experience:

I recommend to anyone looking for a cruise first go on the cruise line's website and see actually how much of a discount Vacations to Go are offering.

They list the original cost of the cruise much higher than it really is.

I was looking at a cruise, went on the website of the cruise line it was not 50% off as vtg advertised but $10 less. Might have a better deal if you book direct with the cruise line. Always check the price the cruise line is offering the cruise for.

Bottom Line: No, I would not recommend this to a friend

---

Advertisement

---

Always professional service!

By Hector V.

,

Fort Lauderdale, FL

,

Oct 29, 2019
Verified Reviewer

Overall Experience:

It's my pleasure to submit this 5-star review for VTG. I've used them several times and the agents have always been top-notch. Would recommend! Just booked another cruise. Thanks VTG.

Bottom Line: Yes, I would recommend this to a friend

---

Great until something goes wrong

By Michael P.

,

Denmark

,

Sep 9, 2019
Verified Reviewer

Overall Experience:

We have booked with Vacations To Go several times. Mainly because of the great prices, and the quick response from the sales agent we have been using - we always book at the same agent.

We have been very satisfied up til our most recent cruise.

When we boarded the ship we suddenly had a different cabin then the one booked and confirmed by Vacations To Go in all our documents.

We made it very clear when we booked, that a cabin close to my mother-in-law was very important, since it was her first cruise and she is an elderly lady that needs a lot of help.

Instead of cabins next to each other, we got a cabin at the other end of the ship. We were told that the ship was sold out, so we had to stay in our "new" cabin.

Later on, we learned that several of the people we met on the ship had been upgraded at no charge - and they didn't even ask for it...Why didn't they even try to help us, solving this issue?

We talked to the Vacations To Go manager, and he would arrange a compensation, and get back to us.

We haven't heard from him again, and he does not respond to our emails. Our sales agent responded once, but is silent now, when we write him.

We are very disappointed, since we have always been telling people to use Vacations To Go.

This might be the last time we use them I'm sorry to say.

Bottom Line: No, I would not recommend this to a friend

---

Vacations To Go are awesome

By Sandra P.

,

New South Wales, Australia

,

Jul 16, 2019
Verified Reviewer

Overall Experience:

We have been doing cruises for a number of years and Vacations To Go are the only company we would ever book through, they come out as one of the best priced and staff are amazing, you can ring and talk to your consultant at any time. Very efficient.

Have recommended them over and over again to so many people.

Bottom Line: Yes, I would recommend this to a friend

---

What are you talking about? Really?

By Debra R.

,

Florida

,

May 16, 2019
Verified Reviewer

Overall Experience:

First of all, Vacations to Go has the best search engine for searching cruises ANYWHERE! I use it even when I am traveling with another agency. When I booked my first cruise with Vacations to Go, I didn't have a current passport to go through the Panama Canal - my Vacations to Go agent had an answer to "expedite our application." Well, worth it. AND- how can you beat the reduced prices? Anybody who cruises knows that the gratuities are going to tacked on at the end of the cruise at $14 or so a day. Also, there are port fees that are included in the Vacations to Go prices - which isn't the case of most price quotes. The email comes from the agent you talk to on the phone - with great info. I don't understand this bad review. "Prices are in US dollars, per person, based on double occupancy. Prices are subject to change without notice by cruise lines until a deposit has been made, and must be reconfirmed at time of booking. Prices include port charges but do not include airfare or (where applicable) airport or government taxes or fees. Prices and promotions are for new bookings only, in accordance with cruise line policies."

Bottom Line: Yes, I would recommend this to a friend

---

VTG is a great company

By Linda M.

,

Moreno Valley, CA

,

Apr 3, 2019
Verified Reviewer

Overall Experience:

I have been using this agency for the last 5 years and have found them to be honest and reputable. Before them, we used the Auto Club but it became apparent that Auto Club couldn't compete with Vacations to Go. I read the comments listed and have never had any such problems. In fact, recently I booked a Royal Caribbean Cruise to the Canary Island which I had to cancel, and Royal charged me $200, which I thought was horrible. My counselor, Rory, explained to me that Royal only books cruises nonrefundable, which I did verify with them. I am a Diamond member and decided not to give them any more business because I disagreed with that policy. I let them know, but they don't seem to care. That's fine. I'm a cruiser.

I booked two for next year on Carnival and am taking a Viking Cruise shortly. I like this agency. I have no complaints. You realize that you can book using the company and transfer to any agency you want. I've done that many times. I only had one issue. And that was Celebrity Cruises. I booked on board and got a horrible deal. I transferred it to Rory, but she mentioned: "never do that again!" Lesson learned.

Bottom Line: Yes, I would recommend this to a friend

---

I love Vacations to Go

By Charles H.

,

Idaho

,

Mar 6, 2019
Verified Reviewer

Overall Experience:

I have used Vacations to Go for over 8 years to book my cruises. I really like their website and the different search items they have to find the best deal and cruise I would like to go on. I have used Chester Allen (ext 7602) the past few years to book my trips and found him very honest, friendly, and helpful.

Bottom Line: Yes, I would recommend this to a friend

---

Outstanding company and outstanding service

By Debra F.

,

Washington

,

Mar 4, 2019
Verified Reviewer

Overall Experience:

This is a wonderful company that caters to its customers' wants and needs. They take payments, so you don't have to pay for everything at once.

I have booked three cruises with them. The first cruise was to Alaska to celebrate our 20th wedding anniversary. Our travel agent surprised us by upgrading our room from indoor to a balcony (at no cost to us.) He included champagne with his surprise. We were thrilled!

Our second and third cruises were to the Mexican Riviera. We just had indoor rooms, but we thoroughly enjoyed our vacation.

I highly recommend Vacations To Go.

Bottom Line: Yes, I would recommend this to a friend

---