Varo Money Reviews
Claimed This company has claimed this profile, is getting alerted on any new customer reviews entering this page, and may engage in dialogue with its customers to address their matters.

Companies cannot pay money or provide goods in order to remove or alter customer reviews.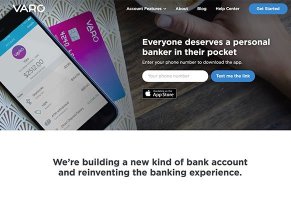 Varo Money is a full-service, app-based bank whose focus is on providing consumers with checking, savings, credit and loan accounts that challenge the way that traditional banks do business.
About Varo Money
Varo Money is an iOS-based banking app that provides full-service banking products and tools to help you cultivate a healthy financial life.
The company was founded in Nov. 2015 by four entrepreneurs: Assaf Guery, Colin Walsh, Mykola Klymenko and Roger Van Duinen. Walsh is the company's CEO. He is a Cornell grad with an extensive background in fintech and payment processing.
According to their website, Varo's purpose is to, "This combination of integrated financial solutions and proprietary technology makes us the first entrant to truly challenge the existing banking model. We're bringing relationships back to banking for everyone."
Our question is: Does Varo accomplish what it's setting out to do? Is it really challenging the existing traditional banks with customer-friendly accounts? What does it offer and what does it do?
To answer that question, we researched what the company offers through their app, how it works and any rates and fees you should know about.
What Does the Varo Banking App Offer?
Varo's services can be divided up into five different features: checking, savings, early direct deposit, lines of credit, personal loans and various money-management tools.
Varo Checking
The checking account you get with Varo is pretty much the core account of all your banking with them.
While you aren't going to use a physical checkbook, you get the typical running ledger of transactions, you can make deposits to and withdrawals from the account and it serves as your money workhorse.
Checks are deposited through the app; there's no need for a branch and you can use your Varo banking account to pay bills.
You also get a Varo Visa debit card to use when you shop. What makes this card unique compared to traditional banks is that you get zero-liability. What that means is that you aren't responsible for any fraudulent purchases made to your Varo account.
Normally, you're liable for $50 of fraudulent purchases if you report those purchases in two days or less. However, if you report the shady charges more than two days after they happen, you're liable for up to $500 of the charges.
Varo says in their fine print that you get zero liability if you report the fraud "immediately", which, in our opinion, means within two days, based on the regulations laid out in the Electronic Funds Transfer Act. We contacted Varo to clarify this but did not hear from them before publishing.
Things You Should Know About the Varo Checking Account
We did a quick read through of some of the fine print on Varo's site and found some information about ACH transfers (one bank to another) that you should know.
First, if your account is less than 30 days old, you're only allowed to transfer in up to $100 at a time and up to $100 per day. You can't transfer more than $200 in any seven-day period.
The max you can transfer in a month is $500.
Once your account is open for at least 30 days, those daily limits go up to $200, the seven-day limit is $400 and the monthly limit is $700.
You'll only be allowed to withdraw $300 cash per day from an ATM or point-of-sale and the most you can spend with your card in a day is $2,500.
Varo Savings
Your Varo savings account works the same way a traditional bank's savings account works. You can send money from your checking account into the savings account.
The difference between your Varo account and brick-and-mortar accounts is that you'll earn interest on your balance. The bank pays you an annual interest rate of 1.25%. It may not sound like a lot, but it's more than what you'll get from a traditional bank like Chase or Bank of America.
While Varo likes to say that their savings account earns 25 times more than a traditional bank's rate of 0.02%, it's important to know that there are online banks and savings accounts that offer higher interest rates. Here's a table that includes traditional banks and online-based savings accounts we've reviewed:
| Bank | Interest Rate |
| --- | --- |
| Varo Money | 1.25% |
| Ally | 1.25% |
| SmartyPig | 1.15% |
| Varo Money | 0.05% |
| Bank of America | 0.03% |
| Chase | 0.01% |
| HSBC | 0.01% |
| Wells Fargo | 0.01% |
As you can see, Varo's rates are as good or better than all the savings accounts we listed.
Varo Early Direct Deposit
Direct deposit is a popular way to get your paychecks from work. In fact, a little over a year ago the National Automated Clearing House Association said that 82% of American workers get their paychecks via direct deposit.
With Varo, you can get your paycheck up to two days early, they claim, because of their process. Your employer notifies the Federal Reserve that you're getting paid and the total that you'll receive. The Fed tells Varo you've got money coming and the money is sent to your account.
Varo says this process means that you can get your money two days earlier than normal. In other words, if everyone is getting paid on Friday, you might be able to get your money on Wednesday.
Varo Lines of Credit and Personal Loans
One of the things that makes Varo Money very similar to a bank is that they can offer you lines of credit and loans in addition to checking and savings accounts.
Their lines of credit work like credit cards. They approve you for a certain amount of money and you can withdraw from that approved amount whenever you want. If you leave the money and don't touch it, it won't cost you anything.
However, the moment you withdraw some of it, interest kicks in. Their basic terms are lines of credit from $1,000 to $5,000 at interest rates of 13.75%-23.75%. If you want to withdraw that money as cash, then you won't be charged any extra like you would if you took a cash advance on a credit card.
Based on our research of dozens of credit cards, we think Varo's APR range is competitive compared to credit cards.
However, it doesn't quite match up with the Discover it's low-end APR of 12.24%. Another advantage to using a credit card as a line of credit is that, like in the case of the Discover it, you can earn 1% cash back on the purchases you make.
That rewards rate – with some cards it can get as high as 2% and beyond – is better than the 0.50% interest you get through a VARO savings account.
Varo's personal loans have repayment periods of three to five years but their site doesn't reveal the APR of those loans or the average amount they disburse.
At the time of publishing, Varo was able to lend in 17 states.
Varo Money Management
Varo's money management tools pair up with your accounts to provide some basic analysis of your financial situation.
For example, in your checking account they show you your anticipated spending and bills for the month, then show you how much you can spend each day in order to come in under budget.
In your savings account, you have the ability to set savings goals and spending goals to help you manage your money wisely.
Varo Money's Rates and Fees
The bank works off the popular no-fee philosophy, in which you won't pay any fees for ATM withdrawals form Allpoint ATM's, overdraft fees, foreign transaction fees or fees for not having a minimum balance.
You will pay fees for their lending products. Exactly how much you'll pay depends on which state you're in. The company's Policies page provides links to documents that tell you how much those fees are.
Public Opinion About Varo Money
The app has more than 2,000 reviews in the iTunes store; its average rating is 4.7 stars. Recent reviews of the app indicate that you'll most likely enjoy your user experience.
Earlier reviews of the app included complaints about ATM fees and some issues with limits on how much you can direct deposit.
As for the ATM fees, Varo says you won't be charged if you use Allpoint ATM's, of which there are more than 50,000 across the U.S. There will be fees if you go out of network to a place like Chase or Bank of America.
Regarding the direct deposit complaint, we found nothing in Varo's fine print that says there are dollar limits on direct deposit. We also didn't find anything indicating that a direct deposit could be split up into two separate withdrawals.
Our Final Thoughts About Varo Money
Over the past couple of years, dozens of online banks and lending services have popped up claiming to offer a better experience than what you'd get from your traditional bank.
Based on public opinion about the app, it seems like users are happy with Varo.
We'd say the app's strength is that you can pretty much use it to do anything you'd do at a traditional bank, including getting lines of credit and loans. Also, the interest rate for a savings account has a generous interest rate that puts Varo above traditional banks like Bank of America and Chase.
As for drawbacks, the daily deposit and withdrawal limits are cumbersome. Also, if there aren't a lot of Allpoint ATM's in your area, that could be a point of annoyance over time.
We believe this app is best suited for someone who makes regular direct deposits via their job and doesn't mind that their bank has no physical location.
Money

By Francisco C.

,

Massachusetts

,

Apr 7, 2020
Verified Reviewer

Best card to take out money. You could pick up money at any store, the money at any place. You could set up your credit you got to add, nice way to use. I like this card, it is a great investment. It is a good card.

Bottom Line: Yes, I would recommend this to a friend

---

Loving Varo

By Daryl F.

,

Kentucky

,

Apr 7, 2020
Verified Reviewer

Love everything about Varo.

Bottom Line: Yes, I would recommend this to a friend

---

Advertisement

---

Amazing bank!

By Ralph R.

,

San Antonio, TX

,

Apr 7, 2020
Verified Reviewer

Varo never lets me down when receiving my direct deposit on time. Also keeps track of transactions smoothly and love that we receive interest through our savings account. It's very user-friendly and withdraws funds at almost every ATM without any fees.

Bottom Line: Yes, I would recommend this to a friend

---

Way to go Varo!

By Phillip B.

,

Nacogdoches, TX

,

Apr 7, 2020
Verified Reviewer

Vero is a new and very innovative bank. I have chosen to use this bank for several reasons. One being the flexible savings account that currently is earning the highest APR over any online banking (last time I checked). The ability to round off your change and have it deposited into your savings are some of the few things that in past me to go with Varo banking. I recommend it and I'm telling my friends about it.

Bottom Line: Yes, I would recommend this to a friend

---

Advertisement

---

Varo is great

By Krystal W.

,

Texas

,

Apr 2, 2020
Verified Reviewer

I have had nothing but the best experience with Varo. The $50 no-fee overdraft is wonderful. And I get my check up to a day early. Thanks Varo, you are the best I have had so far, keep up the good work.

Bottom Line: Yes, I would recommend this to a friend

---

So far so good

By Donald R.

,

Oakdale, MN

,

Apr 2, 2020
Verified Reviewer

Except for the check cashing service everything is quick and easy. The card works nice. It's one of the better accounts I've had. I have recommended it to everyone looking for an online banking account. Varo customer service has been great. They use ingo services for mobile check cashing which can be a pain, but I suppose the overall good outweighs the bad.

Bottom Line: Yes, I would recommend this to a friend

---

Good card

By Bruce R.

,

California

,

Apr 2, 2020
Verified Reviewer

I used Varo card like 10 times, works good online and in stores, ended ATMs. Would definitely recommend it to friends. I've had absolutely no problems, never been happier with the prepaid card.

Bottom Line: Yes, I would recommend this to a friend

---

Great bank!

By Justin U.

,

Illinois

,

Apr 1, 2020
Verified Reviewer

I was given $75 to share and get someone to set up a direct deposit. The interest percent rates are pretty darn good, especially since the economy is horrible right now, and I get my check 2 days early! Yes, please.

Bottom Line: Yes, I would recommend this to a friend

---

Love Varo

By Darren Y.

,

Michigan

,

Apr 1, 2020
Verified Reviewer

It helps me pay my bills and it helps me save money, and it helps me feed my family. And I wish I could get paid from Facebook Gaming because I'm a live streamer and I like to have fun as well to enjoy life.

Bottom Line: Yes, I would recommend this to a friend

---

Love it, but could be better

By Johnny B.

,

Knoxville, TN

,

Apr 1, 2020
Verified Reviewer

I like Varo and all it stands for. It's super easy to get an account with them and get a card, but alot of places don't recognize this company as a real credit account. They say they can't use it because it's a prepay account, but it's really not, and I wish you would fix that. Also, you need to make the overdraft a bit easier to get. I would make it more like Chime, to be honest. I love this company, but Chime is still my first account with direct deposits. If Varo would fix some of their issues I wouldn't care at all to make Varo my main account. Start with the overdraft amount. Especially with the COVID-19 going on right now people are not doing well and making it easier to get your overdraft amount would be a big help to a lot of people. I think that's how you'll get more customers if you base it similar to Chimes. Thank you.

Bottom Line: No, I would not recommend this to a friend

---

Great bank app

By Orville C.

,

Woodville, TX

,

Apr 1, 2020
Verified Reviewer

Varo has been such a great banking app. Including getting your paycheck 2 days faster, but referral bonuses. Easy to use. They also offer an overdraft option if you qualify. This has been my favorite banking app comparative to other apps.

Bottom Line: Yes, I would recommend this to a friend

---