Veggetti Power Reviews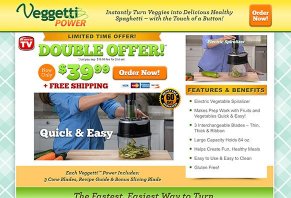 Instead of requiring you to twist, turn, or crank a handle, the Veggetti Power claims to spiralize vegetables using a motor and four interchangeable blades.
About Veggetti Power
Veggetti Power is an electric spiralizer that promises to instantly turn vegetables into delicious, healthy spaghetti, without any waste or mess.
All you have to do is place the produce in the cone, press the button, and push it through. From there, the four interchangeable stainless steel blades (thin, thick, slice, and ribbon) and a powerful rotary motor will make prep work quick and easy, while the large capacity bin can hold up to 84oz of your favorite fruits and veggies.
Together, the manufacturer claims that Veggetti Power is perfect for curly fries, crispy salads, apple pie, and sweet potatoes, which can help create fun, healthy meals your whole family will enjoy.
The Veggetti has been an incredibly popular product for several years, but has the company hit another home run with the new Power model, or should you consider the competition? We'll start by looking at how traditional and vegetable pasta compares.
What's the Benefit of Eating Vegetable Pasta Instead of Grain-Based Pasta?
The bottom line is that there's nothing necessarily 'wrong' about eating grain pasta, since it contains much-needed macro and micronutrients like carbohydrates, protein, fiber, and some essential vitamins.
The potential problem is that grain pasta is very high in carbohydrates, which can turn into excess weight if not burned up by your body. Specifically, FatSecret.com reports that a single one-cup serving of regular pasta contains about 40g of carbohydrates, 0.75g of sugar, and 2.5g of fiber—which is about one-fifth of the recommended daily intake for carbs.
Writing for the Huffington Post blog, Kristin Kirkpatrick, M.S., R.D., L.D. points out that many vegetable-based (usually spinach and tomato) pastas have hit the market over the years, although the majority of these are simply "white flour with some vegetable flour thrown in." As such, they might not provide much of a health boost over regular pasta.
And while Kristin emphasizes that 100 percent whole grain pasta is usually a healthier choice, it can still contain a heavy dose of carbohydrates.
To help you get all the fiber and nutrients from fresh, unprocessed veggies, as well as to avoid potential carb overload, devices like Veggetti Power have entered the market, which use a variety of blades to spiralize certain vegetables into roughly the thickness and length of traditional spaghetti. How do these compare?
We'll cover this a bit later. But first, let's take a closer look at how this new model measures up to previous ones.
Original Veggetti vs. Veggetti Pro vs. Veggetti Power
Overall, there are three different models in the Veggetti lineup:
The Original Veggetti
This represents the lowest-tech model, since it's a hand-powered device with only a single blade that's shaped like two back-to-back cones.
Holding it in the middle with one hand, you'll insert vegetables into the opening and twist, at which point the built-in blade will start spiralizing. As your veggie noodles exit the original Veggetti, they'll fall directly onto a plate, bowl, or dish of your choosing.
The original Veggetti hand-powered device, which remains popular among consumers, despite having been on the market for several years. Image credit: Target.com
The Veggetti Pro
Comparatively, much like a traditional pasta maker, the Pro Tabletop Spiralizer allows users to hand-crank their produce, which could help make the process easier. Simply slide in the stainless steel plate, insert the vegetable, turn the handle, and the pasta will exit the other side of the device.
The Pro model also comes with three interchangeable blades (thin, thick & ribbon), along with a non-slip suction cup base.
The Veggetti Pro features several interchangeable blades, a hand crank, and a tabletop design. Image credit: As Seen on TV Blog
The New Veggetti Power
As the highest-tech model, there isn't much to distinguish Veggetti Power from many other third-party vegetable processors. It features a long chute at the top where you'll place vegetables, which are then pressed down into the interchangeable blade and sliced accordingly.
As this occurs, the vegetables fall into a standalone 84oz container, without needing to overexert yourself.
As the newest model, Veggetti Power adds an 84oz bin, a finger-safe chute, and an electric motor. Image credit: OnTel Products Corp.
How Much Does Veggetti Power Cost?
The Veggetti Power device is priced at $39.99, plus free S&H. During checkout, you'll be able to order a second device for an additional $19.99 fee. Each one will include three cone blades, a recipe guide, and a bonus slicing blade.
Regardless of the number you order, all Veggetti Power devices come with a 60-day refund policy, less S&H. In order to request one, you'll need to reach out to OnTel Products' customer support department at 844-660-6122.
What Do We Know About Veggetti's Manufacturer?
OnTel Products Corp has been in business for more than two decades. In that time, they've released dozens of popular products.
Among more than 380 customer complaints and reviews, the company held a B rating with the Better Business Bureau, as of 10/2/17. When details were available, most of these appeared to reference customer service issues (often related to refunds). In each instance, a company representative responded with a solution.
Are There Other Spiralizers Like Veggetti Power?
When the original Veggetti released, it was one of the few options in town if you wanted to quickly and easily create vegetable noodles. Today, however, these devices have some stiff competition—even among powered options.
For example, some of the top Google results we encountered during our research, which were priced relatively in line with the Power model, included:
Cuisinart 13-Cup Spiralizer: $49.95. Also chops, dices, purees, and shreds. Includes cleaning tool and storage case.
Oster Electric Spiralizer & Slicer: $49.99. Includes large-capacity prep bowl, but only two interchangeable blades.
Hamilton Beach 6-Cup Electric Spiralizer: $49.99. Comes with four blades, a 2.5" wide chute, and nesting pieces for easier storage.
How to choose the right option?
When searching for a spiralizer, TheKitchn's Sonnet, who also released her own zoodles cookbook, recommends that if you're choosing between an hourglass model and a hand-cranked one, you select the latter. Why?
"Even though the initial cost investment of hand-crank models is slightly higher and they take up more room in the kitchen," she says, "these models produce the best noodles and give you the most variety compared to the hourglass models."
Judy Hevrdejs, a reporter for the Chicago Tribune, also notes that you'll want to choose a model with a safety guard to protect your fingers. Also, she outlines that price can often be an indication of quality, so you might want to refrain from automatically going with the least expensive option.
If you decide to go with an electric model like the Veggetti Power for the extra elbow grease, Siobhan Chan of Which.co.uk notes that most work like a traditional food processor.
This way, there will likely be very little of a learning curve, whereas we encountered a lot of customer feedback during our research that the handheld conical models can take some getting used to before achieving ideal results.
Our Final Thoughts About Veggetti Power
For the most part, customers seem pleased with their original Veggetti and Pro models, so it might be the case that they'll be similarly satisfied with Power's performance. And while it's certainly the most expensive model in the lineup, OnTel stands behind it with a 60-day refund policy, less S&H charges, in the event you're dissatisfied.
With this said, many of the electric spiralizing competitors we encountered during our research were available at local retailers, helping you save on shipping charges and making the refund process as easy as hopping in your car.
The bottom line is that replacing at least some of your traditional pasta with spiralized vegetables could help you cut back on carbs, and if you maintain the habit, perhaps even lose weight.
Just keep in mind that not all foods are equally adapted to being turned into noodles. As the Chicago Tribune's Judy Hevrdejs points out, "The reason you see so much zucchini spiralized? Its firmness, soft skin, essentially seedless interior and generally straight shape mean there's no fuss with peeling, trimming or seeding the produce to make it spiralizer-ready."
This product was very disappointing

By Daelene B.

,

Graham, WA

,

Aug 11, 2018
Verified Reviewer

I was excited to see this product because I loved the original. I love it a lot, but the power Veggetti is a joke. The lid didn't lock into place where you feed the veggies through. And it mashed the veggies before it can slice them. And no, I didn't push hard on the plunger thing. I tried to use this product more than once with a lot of frustration by the end. It is totally a waste of time and money. I would buy the handheld one, but I would not buy the power one.

Bottom Line: No, I would not recommend this to a friend

---

Poor quality

By LaDean A.

,

Riverton, UT

,

Jun 17, 2019
Verified Reviewer

Had this for a year and the gears broke. Poorly made. Gears are plastic and broke. They do not sell parts so had to throw away. Will never by again. Call customer service and they could not help. Referred me to another number and they could not help.

Bottom Line: No, I would not recommend this to a friend

---

Advertisement

---

Broke on 2nd use

By Hope B.

,

NEPA

,

Aug 9, 2019
Verified Reviewer

Bought the Veggetti Power to save my hand from manually twisting a spiralizer to having it less than a month and breaking at the start of my second use. Gear broke and fell into the motorhead. Contacted the number provided, they couldn't help me but gave me an email to contact with my problem. The company emailed me back and said they couldn't help me either. So now I have to throw it away because no one can seem to help me. What a waste of money.

Bottom Line: No, I would not recommend this to a friend

---

Broken

By Rose B.

,

Provo, UT

,

Sep 13, 2019
Verified Reviewer

This product came with a broken plastic gear, never even got to try it, and to send it back you have to pay the postage.

A loser for me, would never buy another one with plastic gear.

Bottom Line: No, I would not recommend this to a friend

---

Advertisement

---

It broke on the third use

By Nancy L.

,

California

,

Sep 26, 2019
Verified Reviewer

I love the way it worked until it broke during the third time I used it.

Don't have much faith in it now. At first it seemed like to answer to my cooking prayers...but I was only halfway thru my squash and had to diced the rest by hand. I am very disappointed in this product.

Bottom Line: No, I would not recommend this to a friend

---