Veggetti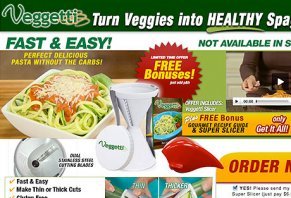 The Veggetti Slicer lets you create spaghetti-like strips of your favorite vegetables. Boil and serve with sauce and it claims you will have a healthier meal.
Veggetti Review: Is It Legit or Just Hype?
Billing itself as a healthier alternative to carb-heavy spaghetti, comes Veggetti. This handheld device claims you can cut vegetables such as zucchini or carrots into long, thin strips that resemble traditional pasta, but have less calories.
Veggetti is sold by Ontel Products, Inc., based in Fairfield, NJ. They are not BBB Accredited and they currently have a C rating, due to hundreds of complaints within the last 3 years. The website itself is "powered by" Liquid Focus, which is also not BBB Accredited and has an F rating.
How Veggetti Works
Veggetti is an hourglass-shaped device with 12 stainless-steel blades on both ends. You stick in your favorite long-and-thin veggie like a carrot and twist. Essentially, you are "peeling" the vegetable: one end offers thinner strips, and the other thicker. Once cut, it says you can boil like pasta and serve with your favorite sauce as well as make things like salads, garnishes, and hash browns.
Veggetti comes with:
Veggetti Slicer
Gourmet Recipe Guide
Super Slicer (+ S & H)
30 Day Money Back Guarantee
Veggetti Pricing, Return, and Shipping
You can order Veggetti for $14.99 plus $6.99 S & H plus $1 "Web Service Fee" for a total of $22.98. If you want the "free" Super Slicer, add $6.99 for S & H for a total of $29.97. If you don't like the product, return within 30 days (you pay for shipping) and get your money back, minus original S & H and WSF.
Privacy Policy
Ontel Products may use your information to contact you "for marketing purposes, shared with other organizations to help them contact consumers by email and/or telephone for marketing purposes." You may also opt-in for other third-party services, and may cancel those by sending an email.
Bottom Line
First of all - you are not making "spaghetti" with this device. You are merely slicing vegetables to RESEMBLE pasta - you will not be fooled when you take a bite. That said, there is always a case for eating healthier, and this may increase you and your family's vegetable intake. But because of Veggetti's high cost and the lousy BBB ratings, it's not worth it.
21 out 25 people found this review helpful

Veggetti is Awesome

By Susan Loiacono

,

Florida

,

Jun 9, 2015

I'm a natural health consultant and a raw food lover, this little handheld device is pretty awesome.it's easy to use it simple to clean.and most people know you're not making pasta, yes it's a vegetable sliced up to simulate look of pasta. However, anyone on a raw food diet is going to love it. The people that love pasta but don't love the carbs will still experience the concept of pasta. it's slightly warming the zucchini pasta, and topping it with your favorite sauce or gravy will satisfy the pasta lover in anyone.

Bottom Line: Yes, I would recommend this to a friend

---

30 out 31 people found this review helpful

Great Little Tool

By Donna Reale

,

Glendale, AZ

,

Jun 8, 2015

We got our Veggetti maker at Walgreen's Pharmacy. No shipping. No waiting. (Daughter's a veghead.) This is a great little tool! Of course Veggetti-sliced squash doesn't taste like pasta: it's squash! However, Zucchini and yellow squash sliced Veggetti style and combined with some spinach and basil spaghetti, a little butter, wine and garlic, plus fresh spinach and chicken for those of us who are meat eaters was an excellent meal. The cutter is sharp but comes with a pusher to save fingers. Works like a champ and although I thought the Veggetti squash would fall apart when cooked, it had amazing texture: more like spaghetti than I had expected. We stir fried it a bit (like 1-2 minutes didn't boil it and it was awesome.

Next we are doing Veggetti style potatoes and carrots made into potato pancakes. We also had vegetables in a salad. And I found myself telling a stranger about this little gadget the next time I was at Walgreen's...mainly because it WORKS. Weird, eh?

Bottom Line: Yes, I would recommend this to a friend

---

Advertisement

---

8 out 10 people found this review helpful

The best slicer

By Paulette Orscher

,

Ocala, FL

,

Jun 26, 2015

Much better than I imagined. I use it daily. Terrific for one person. Easy cleaning. Everything tastes so fresh. Love my Veggetti.

Bottom Line: Yes, I would recommend this to a friend

---

21 out 23 people found this review helpful

Looked for such a product for years.

By Clinnon

,

Florida

,

Jun 26, 2015

20 years ago a posh club served us a dinner with "cucumber spaghetti" and it was outstanding. For years I tried many slicers to duplicate those long spaghetti-like strands of cucumbers (or other soft vegetables: keyword is soft).

The julienne slicers are not designed to do this. Nothing worked, until I found this little device. I am so pleased with it. The "Vegetti" is well worth the price. I even bought a second one as a back-up.

Bottom Line: Yes, I would recommend this to a friend

---

Advertisement

---

18 out 19 people found this review helpful

Awesome Experience

By Dayna M

,

Kentwood Michigan

,

Jun 15, 2015

I used my Veggetti on 4/13/13. It was excellent, in 2 minutes it spiraled a zucchini to look like pasta for this evening's main course. Appearance and presentation keep the dieter, clean eater, healthy lifestyle transition fun. My zucchini "Pasta," sauteed ground turkey, spinach and Prego light smart sauce dish came out awesome. Presentation and Taste.

Bottom Line: Yes, I would recommend this to a friend

---

5 out 5 people found this review helpful

I love the vegetti maker

By Holly Marith

,

Tacoma, WA

,

Jun 30, 2015

I recently became a vegan for health reasons and I love this. It was much easier to make then spaghetti and I actually liked it more. I cooked the zucchini noodles in olive oil and then put spaghetti sauce on it. Love this. Cant wait to make something new.

Bottom Line: Yes, I would recommend this to a friend

---

6 out 6 people found this review helpful

The best thing since sliced bread.

By Deanna

,

Appleton, WI

,

Jul 1, 2015

I bought my Veggetti last night at Shopko and immediately had to use it for dinner. I am in love with pasta, but recently found out I have an intolerance to wheat. I very easily peeled through the two medium sized zucchinis that I purchased and boiled with a small amount of salt. Toss that with some red sauce and voila. Perfect non-filling meal that doesn't leave you feeling guilty. I am a very satisfied customer.

As for the article above stating this does not make actual vegetable pasta, only vegetables cut to resemble pasta. Duh. It doesn't take a rocket scientist to figure out.

Bottom Line: Yes, I would recommend this to a friend

---

8 out 9 people found this review helpful

Great product

By Gale Frank

,

Tucson, AZ

,

Aug 6, 2015

This is the best "as seen on TV" we have ever purchased. Never knew how good zucchini "pasta" is. My son and are having fun with Veggetti other foods for salad and sides.

Bottom Line: Yes, I would recommend this to a friend

---

8 out 8 people found this review helpful

I love, love, love it.

By Susan Lounsbury

,

Sea Cliff, NY

,

Jul 1, 2015

I was shocked to find how well this little $14 gem worked, and I am thrilled that I can have pasta-like dishes without the calories and sluggishness you get from wheat pastas. For lunch today, I sliced a yellow squash in it, and sautéed the strands with a little olive oil, fresh garlic slices, topped it with a teaspoon of Romano cheese and grated black pepper, and OMG, was it fabulous - at a fraction of the calories of a traditional pasta plate. Last night I did zucchini sautéed in a little olive oil and fresh sliced garlic, a tiny bit of minced sautéed anchovies and a teaspoon of Romano cheese and black ground pepper, and again so fabulous. Fantastic product, I will never go without it.

Bottom Line: Yes, I would recommend this to a friend

---

15 out 15 people found this review helpful

Works as advertised, very pleased

By Theresa B

,

Mission Viejo, CA

,

Jul 2, 2015

My mom bought this product a few months ago because she wanted to participate in her own food prep but arthritis in her hands prevented her from cutting veggies with a knife. This product really delivered.

It does leave behind about an inch of vegetable, but this is not a drawback. These are saved to cut up later to steam for omelets, rice, or add to soups.

Not easy to clean blades, so I bought a cheap toothbrush for this purpose. Now clean up is a breeze.

Bottom Line: Yes, I would recommend this to a friend

---

7 out 8 people found this review helpful

Happy customer

By Marcia Kummerle

,

Barnardsville, NC

,

Jul 2, 2015

I just made my first attempt with my Veggetti using it to add cucumber 'pasta' to my chef's salad.. I love the change in the additional texture of my salad. The cucumber seemed to have way more flavor processed into 'pasta' and served immediately.

Bottom Line: Yes, I would recommend this to a friend

---