Veggie Bullet Reviews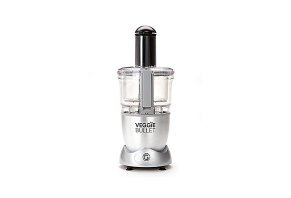 NutriLiving's Veggie Bullet 3-in-1 food prep system uses interchangeable blades to spiralize, shred, slice, and blend your food and prepare healthy, delicious recipes.
About Veggie Bullet
Using interchangeable stainless steel blades, Veggie Bullet is a 3-in-1 food prep system that promises to spiralize, shred, slice, and blend foods like fruits, veggies, cooked meats, and nuts, in less time and with less work.
In fact, the company promotes the device as "the world's first patented cyclonic spiralizer" that can work its magic on an entire zucchini in 10 seconds, or create curly fries in less than a minute. This is to say nothing of the sauces, dips, and dressings you can also create.
This way, the website tells us that Veggie Bullet can help you prepare a wide variety of foods in fun, exciting ways, while providing you and your family with healthy and nutritious homemade meals at the push of a button.
And when the time comes, all of system's pieces (except the Power Base) are top-rack dishwasher-safe for easy cleanup.
Starting with how this blending system works, we'll outline everything we learned in this review during our research to help you make a more informed decision about this device.
How Does Veggie Bullet Work?
While the assembly and usage videos on the Veggie Bullet website do a great job of explaining the process, let's quickly go over the high points to help ensure we're all on the same page.
Overall, the the blender comes with four difference attachments:
Blender Kit – Allows you to create an endless variety of sauces, salsas, and dressings using the ingredients of your choosing.
Spiralizer Blade – Creates long strands/ribbons of fruits and veggies like apples and zucchinis (any oblong, firm vegetable makes a great candidate) that can be used in place of pasta for meals.
Slicer Blade – Creates thin, uniform slices of fruits and veggies, cooked meats, and cheeses. Can also be used to coarsely chop leafy greens like romaine, kale, and chard.
Shredder Attachment – Grates hard veggies and fruits to create recipes like coleslaw and hash browns, as well as shredded cheeses and grinding nuts.
Regardless of the attachment, the process works essentially the same: First, you'll place the attachment's base onto Veggie Bullet's power base, line up the arrow to the unlock icon on the power base, and turn clockwise to lock (make sure it is aligned with the center spindle).
With the label facing upward, use the finger grips to align the blade on top of the spindle. Then, take the lid, squeeze the hinge pin, attach the lid at a 90-degree angle, and release to lock in place.
Once in place, secure the lid by hooking the front safety clasp over the lid and pressing to lock. Finally, you'll place washed or peeled produce into the chute, and guide it down using the pusher.
Veggie Bullet's blend works a little differently, in that you'll place all your ingredients in your Veggie Bullet Cup, seal the vessel, and then attach to the Base. Blend for 30 seconds.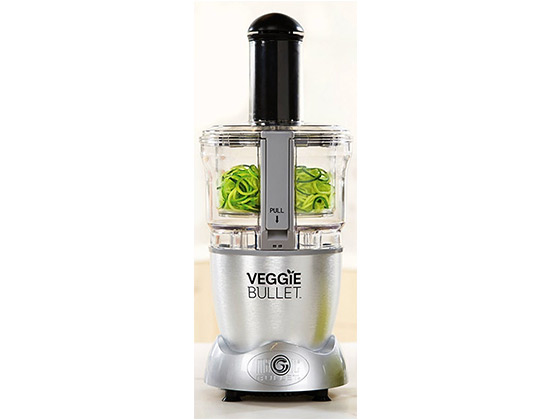 Using a single power base, four different attachments and blades, and a pusher, This company promises to help you make healthy and delicious meals in less time. Image credit: NutriLiving
Once you're finished, all of Veggie Bullet's pieces (except fir the Power Base, which can be wiped with a damp cloth) can be cleaned using a sponge in soap or water. The included cleaning brush can be used to remove tough, stuck-on food in the machine's nooks and crannies
What Kinds of Recipes Can You Make With the Veggie Bullet?
There are dozens of recipes on the Veggie Bullet website and in the included cookbook, including shepherd's pie, the ultimate chicken fajita bowl, omelettata, crunchy Asian slaw, and edamame boats.
You'll also find hundreds of spiralizer recipes on third-party websites (not necessarily related to this electric spiralizer), and your options are essentially endless if you're looking for other ideas related to "food processor recipes."
In short, you should have plenty of recipes to keep you busy for a long time with your kitchen system, whether you're a beginner or a chef extraordinaire.
How Much Does Veggie Bullet Cost?
There are two different ways to purchase the system:
Try for 30 days for $29.99. Then, you'll be billed four more consecutive monthly payments of $29.99
One payment of $149.95
All orders sent to AK, HI, and PR will be charged an additional $14.99.
Along with your Veggie Bullet, you'll also receive a cookbook featuring over 70 recipes, $100 in Thrive Market grocery credits, three additional spiralizer blades (Angel Hair, Curly Fry, & Ribbon), and the blender attachment.
Important note: Here's how the the company website explains the Thrive deal:
"After you opt into the FREE $100 in discounts from Thrive Market on the Order page and purchase your Veggie Bullet, first-time Thrive customers will get an email invite to sign up for a free 30-day trial membership to Thrive Market. Then, just spend $65 and you'll get 25 dollars off of your order IMMEDIATELY! You will also receive $25 dollars off a second $65 order - to be used within your 30-day trial membership. At the end of your trial membership, if you decide to become a member for just $59 a year, you'll get two more opportunities to get $25 off of orders over $65 dollars. Altogether, that's $100 off of wholesale priced organic groceries."
Taken together, this means you'd need to spend more than $300 at Thrive Market in order to save $100.
In addition to the device itself, you can also purchase a variety of accessories (attachments, blades, bowls, etc.) priced between $9.99 and $24.99.
All Veggie Bullets come with a 30-day money back guarantee, less S&H, as well as a 1-year warranty against defects in materials and workmanship from the date of original retail purchase, also less S&H.
Customer support can be reached at 800-523-5993.
What Can We Learn From Veggie Bullet Reviews?
We found well over 100 customer Veggie Bullet reviews between popular websites like Amazon, Walmart.com, Bed Bath and Beyond, and Target.com, where the device had average reviews between four and five stars.
Overall? Common compliments related to ease of use (especially compared to hand-cranked spiralizers), great results, and the motivation to live a healthier lifestyle, without necessarily sacrificing taste.
However, of the relatively few complaints, customers frequently referenced that the device didn't work as well as expected and was bulky (took up a meaningful amount of counter and drawer space, considering all its different parts).
In October 2016, Epicurious wrote a hands-on review about the Veggie Bullet that provided some great insight. Here's what they found:
What Are Some Potential Pros?
The author noted that Veggie Bullet was undeniably quick and convenient way to spiralize veggies and turn them into long, even noodles; faster than any other product they'd seen on the market. And all of this with "virtually no waste."
They also felt the slicer/shredder blade could come in handy for those without a food processor, but recommended that you always remember to put down a bowl first, lets you quickly create a mess.
What Are Some Potential Cons of the Veggie Bullet?
The Epicurious article noted that the shredded chicken might have been too shredded to be useful, stating: "The only thing I can imagine these pellets would be good for is processing further into paté."
Every other complaint seemed related to design. For example, they felt the 3/4-inch of space between the lid and blade cause a "fair amount of food" to become stuck and not make it all the way through.
They also thought the food spout was exceptionally difficult to clean:
"The lid and bowl are both dishwasher safe in theory, but there was often shredded cheese or other foods caught inside the hook of the spout that were not easily extracted prior to running water through it. Plus, more often than not, I had to use a skewer to pry bits of debris from the machine's crevices—a process I did not enjoy."
The author wondered why the company didn't eliminate Veggie Bullet's shooter bowl altogether, and felt that a large, circular chute tube would work better than the existing oval-shaped design.
Who Manufactures Veggie Bullet?
This system is manufactured by NutriLiving, itself a division of Capital Brands, based out of Brentwood, CA. NutriLiving manufactures a whole line of health-related products like the original NutriBullet, as well as the NutriBullet Rx, and Nutri Ninja Pro Blender.
Here on HighYa, readers had given these products an average rating of about four stars. Compliments often cited they worked as advertised, helped improve nutrition, and were easy to use. Complaints tended to center around less-than-stellar results and lower quality/longevity than expected for the money.
Granted, we're only reporting the facts; not necessarily insinuating that you'll experience any of the same with this kitchen system.
Veggie Bullet vs. Traditional Food Processors
Did we encounter anything exactly like Veggie Bullet that can spiralize, shred, slice, and blend foods? No.
However, even within the NutriLiving brand, there are many other types of food processors that might meet your needs. In fact, just typing this term into Google returned dozens of shopping results ranging in price from $20 to $275+ at the time of our research.
In general, unlike the Veggie Bullet, these options tended to only focus on one or two specific functions, such as spiralizing (Hamilton Beach Spiralizer 6-Cup Food Processor; $50), slicing (Oster Oskar 2 in 1 Food Processor and Salad Shooter; $50), chopping (Ninja Express Chopper; $20), or slicing, grating, and shredding (Hamilton Beach SaladXpress Food Processor; $40).
There were even hand-cranked options like the $20 Veggetti.
Comparatively, this all in one system offered meaningfully more functions, although it was also priced meaningfully higher than much of the single-function (or even dual-function) competition. But if you primarily expect to replace pasta with spiralized veggies (for example), lower-priced options might provide more bang for your buck.
In other words, whether or not this blender and spiralizer warrants the higher price almost wholly depends on what you plan on using it for. Let's carry this thought over as we discuss our bottom line.
Our Bottom Line About Veggie Bullet
We think another important consideration is that, with Veggie Bullet's multiple functions, many customers reported that the device came with a lot of parts, which took up valuable cabinet or drawer space. On the other hand, devices with fewer functions often include fewer parts, which could be especially important if you have limited kitchen space.
If you're on the fence about whether or not you'll take advantage of all Veggie Bullet's functions and features, if the meaningfully higher price will deliver value, or if you have the needed space, it seems to come with mostly positive online customer feedback and the company stands behind the product with a 30-day refund policy.
Just remember that you'll have to pay to ship it back to the company if you end up dissatisfied.
Broken part

By Enid J.

,

Canada

,

Sep 11, 2019
Verified Reviewer

I bought the Veggie Bullet on TSC, the two for one special. I bought it in June. I love the smoothie blender, I enjoyed using it throughout the summer and the kids love it too. I was very pleased with that one. But I come to use the Veggie Bullet for making my kids' lunch, I open the box and take out the blender. Take the menu, read it, put everything as written, I follow instructions to the letter, turn it on and I notice the spiral blade is not turning. I try and try at first, thought I didn't put it together right so I kept trying, maybe it's me, I said to myself. So I ask my husband to help and that's when he said that the blades are broken. I was very disappointed and my husband who doesn't like to buy things online said to me that I proved his point, which I had to convince him that I needed this specific blender, he gave in as he always does, but at this point, I have to say he is right. And it makes me rethink his point now, so for that I will have to say no about Veggie Bullet. I'm so sorry that I did not get the chance to experience all the things that were shown on TSC.

Bottom Line: No, I would not recommend this to a friend

---

Advertisement

---