VehicleHistory.com Reviews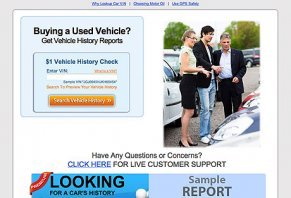 About VehicleHistory.com
Based out of Wilmington, DE, VehicleHistory.com is an online service that allows you to efficiently pull a vehicle's history using only the VIN. According to the company's website, "getting a vehicle history report has never been so easy."
VehicleHistory.com is not listed with the Better Business Bureau, though their sister company (MyPropertyReports.com) has a D- rating, which is based on 10 closed complaints over the past three years. Regarding VehicleHistory.com specifically, online reviews appear to be mixed, with the most common complaints citing excessive advertisements during the checkout process, and the fact that the $1 report option will provide you with very little information.
How VehicleHistory.com Works
According to VehicleHistory.com, the company was founded in order to provide users with an efficient, inexpensive method of obtaining information about a used vehicle they're thinking about purchasing. All you need to do is enter the vehicle's VIN, and you'll immediately gain access to over 28 million records, all pulled in minutes from the National Motor Vehicle Title Information System (NMTVIS).
VehicleHistory.com claims to differentiate itself from the competition by charging much less than many of the more popular vehicles records providers (more about this below). However, when we attempted to order a "Premium" report (which may include accidents, salvage history, flood damage, and more), the service did not work. We re-attempted several times over the course of the day, only to repeatedly encounter the same error.
VehicleHistory.com Pricing & Refund Policy
For a basic report, VehicleHistory.com will charge you $1 per search. However, while this may sound like a fantastic deal—especially when similar services can cost as much as $40—keep in mind that the report will be very basic (e.g. just the owner's name). If you want additional information, such as title/owner history, any reported floods/accidents, etc., you'll have to pay more.
For commercial users, VehicleHistory.com also offers a volume discount of $9.99 per month ($119.40 annually), for up to 25 searches per month.
If you're new to VehicleHistory.com, keep in mind that during the checkout process, you might get "tricked" into signing up for a full account (e.g. 25 searches per month), and charged the subsequent $9.99. This can occur because the process is riddled with advertisements, and the website isn't very upfront with the fact that signing up will result in automatic charges.
While no specifics are provided regarding refunds, the VehicleHistory.com website claims to make the process simple and easy, and will be honored if you're dissatisfied for any reason. Simply call the company at 855-482-6465 to begin the process.
Pros:
Check a vehicle's history for as little as $1.
Service claims to be fast and easy to use.
24/7 customer service for any problems you may encounter.
Cons:
$1 report contains very little information, and you'll need to pay more for additional data.
Website does not appear to be professionally made, and features numerous "dead ends," and even a non-functioning purchasing system.
The most common online complaints cite excessive advertisements during the checkout process, and the fact that the $1 report option will provide you with very little information (though the company appears to respond to customer complaints in a very timely manner).
Also, be sure to pay close attention to the checkout process, so that you're not automatically enrolled in the 25 monthly searches, and billed accordingly.
Sister company (MyPropertyReports.com) holds a D- rating with the Better Business Bureau.
Didn't show odometer rollback or accident history

By Jason S.

,

Pennsylvania

,

Jul 9, 2018
Verified Reviewer

I bought a Jeep a few months ago. I used VehicleHistory.com and it showed no accidents and said mileage was actual (the odometer said 77,000). I ran a Carfax report earlier today and guess what? It was totaled in 2016! Not only that but in 2015 the mileage read 264,000! I ran the VIN on VehicleHistory.com, no accidents reported and no odometer readings! Stay away from this site, it's worth paying $40 for a Carfax!

Bottom Line: No, I would not recommend this to a friend

---

Great way to get a free report

By Valeria Elahy

,

Mission Viejo, CA

,

Sep 13, 2017
Verified Reviewer

VehicleHistory offers complete free reports. I've used it while searching for my new budget car for a student commute. Not all privet sellers want to pay for a Carfax, so VehicleHistory is a safe bet for a buyer.

Bottom Line: Yes, I would recommend this to a friend

---

Advertisement

---

Exactly what I needed

By Clinton

,

Georgia

,

Sep 13, 2017
Verified Reviewer

I was selling my Jeep by a private party and needed a check. This helped me out a lot and helped with the sale! I will be telling everyone about this and how easy it was to use. No brainer as it is free!

Bottom Line: Yes, I would recommend this to a friend

---

Review

By Veerendra

,

New Jersey

,

Sep 13, 2017
Verified Reviewer

This has been the most exhaustive information about a car I have ever seen. You name an area of a car that you need information, this one has it. Great work, looks like this will be the next big car reporting companies. All the best.

Bottom Line: Yes, I would recommend this to a friend

---

Advertisement

---

Car VIN history report

Very detailed and good report. All the details mentioned are correct, and the best part is that it is a free report. Wonderful service. I liked the report very much. Good report. Once you print the report, the format of the report should be improved a bit, but the link to the report is an advantage. Thanks.

Bottom Line: Yes, I would recommend this to a friend

---

Best VIN check website and FREE

This website is comprehensive and very detailed. It shows every detail about the car. It is completely free. Why pay tens of dollars to Carfax? This website is even more comprehensive. It shows the market value of the car, shows recalls, vehicle history, vehicle recorded odometers and all! This is your best VIN check option.

Bottom Line: Yes, I would recommend this to a friend

---

Great service. Exactly what I was looking for!

This is exactly what I was looking for and needed. I actually have a list of vehicles that I may be interested in purchasing, but I want to make sure it's a great deal, and this site is absolutely EVERYTHING I'm looking for. Right down to any incident reports, damage reports, warranty reports, etc. Thank you for making this awesome site! I WILL be recommending this site to anyone and everyone that I know. I'm going to post about it on Facebook too and let all my friends and family know.

Bottom Line: Yes, I would recommend this to a friend

---

Truck search

By Roger Cyr

,

Newtown, CT

,

Sep 12, 2017
Verified Reviewer

The reports provided were exceptionally detailed. The information allowed us to compare different makes and styles so we could make decisions based on the facts. We've bookmarked the site and will refer back to it again. And we will tell our friends to do the same. It can save you a lot of trouble and money.

Bottom Line: Yes, I would recommend this to a friend

---

Worth the money

By Rayan

,

Seattle, WA

,

Sep 12, 2017
Verified Reviewer

I just purchased for a review of a vehicle that I found on Craigslist. This site helped me determine whether or not my purchase would be a wise choice. I found many things with my report that I have not been told from the original owner. Couple things that helped me negotiate for a lower price. So I am thankful for having enough sense to purchase this service before spending even more money on a defective vehicle. So thanks VehicleHistory for saving me $650.

Bottom Line: Yes, I would recommend this to a friend

---

Helpful and informative

This site is very helpful especially for used-vehicle buyers who want to know the vehicle history of each car you are considering to buy. I also love that you can get all these information for free. When I went back to the local dealership and told them about the information I got, they actually liked it as well. I definitely recommend this for all used-vehicle buyers or even for brand new ones just to check whatever information the vehicle has.

Bottom Line: Yes, I would recommend this to a friend

---

Free detailed vehicle report

By William Aye

,

Newark, NJ

,

Sep 12, 2017
Verified Reviewer

This website is the best website for car reports by far. It is free, and there is no hassle. I check on my 2000 BMW, and everything checked out. Don't be fooled by a website that claims to offer free vehicle check. This site is the real deal.

Bottom Line: Yes, I would recommend this to a friend

---