Venmo Reviews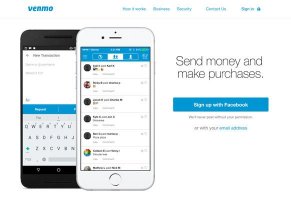 Venmo makes sending money to family and friends a simple task by integrating Facebook-like social features with a straightforward interface for sending or requesting money from your Venmo friends.
What Is Venmo?
Venmo is a socially-based mobile payment app you use to send money to friends and family or pay for purchases in lieu of using a credit card, debit card or bank account.
Venmo falls under the PayPal umbrella, but whereas PayPal is a vast tool used by individuals and business for invoicing, merchant services and sending money to friends and family, Venmo is a pared down version that focuses on simple money transfers.
Ready to pay for a bill at a restaurant and don't have cash or forgot your wallet? You can Venmo your share of the meal in just a few seconds.
According to Crunchbase, Venmo was founded in April 2009 by Andrew Kortina and Iqram Magdon-Ismail. In 2010, both men made Inc.'s 30 Under 30 list.
In an essay on the origins of the company, Kortina said, at the time they started Venmo, he and Magdon-Ismail noticed that none of their friends were using PayPal to pay each other for meals, drinks, etc.
"Everyone should be using PayPal to pay each other back, but no one we knew was. We thought something must be not quite right about the PayPal experience for casual use," Kortina said.
Both of the men had extensive experience with programming and working at startups, and they put that experience to use with Venmo. The app started out as a simple SMS interface that evolved into the app that it is today.
How exactly does Venmo work? Are there any fees related to using it? Have there been any big data breaches?
These are probably some of the questions you're asking, and they're good ones. We're going to answer each of these inquiries, as well as provide you with some of the reviews the app has gotten from other websites.
We'll end the review with our closing thoughts, some pros and cons as well as a brief description of who we think this app is good for.
How Does Venmo Work?
Using Venmo to send money is a very straightforward action:
Sign up for an account
Give Venmo your bank account information, a debit card or a credit card
Add friends
Send money to friends
The process is pretty simple and you have the freedom to choose the type of account you want to link to your Venmo.
We've used Venmo to send money to friends, so we have first-hand experience.
Basically, it works kind of like Facebook in how you link to friends, then like PayPal in how you send money to those friends.
Whenever you send money to someone, you can add a note to the transaction. You can do whatever you want with that note – most people use it to explain why they're sending the money.
The home screen on your app has three feeds on it: me, friends and public.
Venmo's Me Feed
Anytime you make a transaction, it shows up in your feed just like a status update in Facebook would. Each update in the feed shows who you sent money to you (or vice versa), how much they sent and any notes about the transaction.
Venmo's Friends Feed
The Friends feed shows you all the transactions your friends have made, even if those transactions were made between your friend and someone who isn't your friend.
You can click on any of the friends who show up in your feed.
Doing so will take you to that friend's page, where you'll see their profile picture, a feed of their interactions with all of their friends and a second feed of the interactions between you and your friend.
Unless a particular update is a transaction between you and your friend, you won't be able to see the amount of the transaction.
Pro tip: You have the option of integrating Venmo with Facebook in order to add more friends.
Venmo's Public Feed
This feed is a continual stream of transactions made by Venmo users, which includes people who are and are not your friends.
Transaction amounts are hidden unless you were part of the transaction.
What All Venmo's Feeds Have in Common
The social aspect of Venmo really comes in to view when you look at the commonalities between all the feeds: comments, likes and icons.
At any time, you can go into your feed and leave a comment on a transaction. You can also like a transaction by tapping a heart icon.
Finally, whether you're writing a note for a transaction or you're leaving a comment, you can use the usual selection of emojis.
Feed Privacy
The "Settings" option in your Venmo account allows you to change who can see your transactions. You can set who sees your transactions and which transactions you see in the "Sharing" section of your Settings menu.
Use these tools to regulate who can see your transactions, much in the same way that you can limit who sees your Facebook posts.
Making a Payment With Venmo
The mechanics of making a payment are easy. Tap the payment button in the bottom right-hand part of the screen, type in the username of the recipient, add the dollar amount and then the note.
You also have the option of setting who sees this particular transaction: public, friends or participants only.
Requesting Payment Through Venmo
This transaction works the same way as making a payment, except instead of tapping "Pay" to put the transaction through, you'll tap "Request".
Making Purchases With Venmo
Buying things online with Venmo is nearly the same experience as buying with PayPal. Head to the checkout page and, if there's a "Pay with PayPal" option, click that.
You'll know if you can pay with Venmo if, on the next screen, there's an option to pay with Venmo. If not, you're out of luck.
If you do use your Venmo account and you have to make a return, Venmo's Help section says the returned money will go back to its original source: your Venmo balance or the linked financial account.
Transferring Venmo Balances to Your Bank Account
Transferring part or all of your Venmo balance to your bank account will take 1 business day, their site says, as long as you make the transfer request by 7:00 p.m. EST.
In order to transfer money to your bank account, you'll have to add and verify your account.
Verifying your account can happen one of two ways.
The easiest way is to automatically add your account by logging into it through the Venmo app.
If you aren't comfortable with that method, you can manually enter your account and routing number. Venmo will then make two small withdrawals followed by deposits of the same amount.
Once those transactions happen, you can go to www.venmo.com/verifybank to complete the verification process.
A Quick Word About Venmo for Business
Venmo also offers their services to businesses, in which they integrate the social aspect of Venmo along with ways for customers to pay directly for products or services.
Venmo Fees
You won't be charged any fees if you make transactions with your bank account, debit card or Venmo balance.
If you use a linked credit card to send money or make purchases, you'll be charged a 3% fee.
Venmo Security and Data Breach History
Venmo says they use data encryption to protect your financial and account information from unauthorized users.
In addition to the built-in security framework, Venmo also allows you to require a PIN code to log into the Venmo mobile app. If your phone allows fingerprint ID, you can also use that feature to protect your Venmo account.
Venmo also sends emails to you whenever there have been changes to your account, a feature they added in the wake of a 2015 data breach.
According to March 2015 article from Slate, hackers worked their way into Venmo accounts and because there weren't any notifications in place at the time it allowed hackers to "gain access to and steal thousands of dollars from unsuspecting Venmo users in at least two instances."
Consumer and Expert Reviews of Venmo
Although Venmo isn't quite as popular as PayPal, it has a spirited consumer base that's left plenty of reviews of the product on Google Play.
Among tech experts, Venmo is pretty well known and, as such, it has reviews from major tech websites like PC Mag.
Google Play
At the time of publishing, the Venmo app had more than 70,000 reviews in the Google Play store. Here's how the ratings were distributed:
5 stars: 82%
4 stars: 12%
3 stars: 2%
2 stars: 1%
1 star: 3%
As you can see, Android users are quite happy with their Venmo experience.
Recent reviews of the app were mixed: six were 4 or 5 stars, one was 3 stars and three were 1-star reviews
A couple of the negative reviews said that they were having trouble logging into the app and were met with error messages.
Positive reviews highlighted how easy it was to use Venmo.
"Been using this to pay my brother for my phone bill & miscellaneous charges. It's easy, efficient and convenient since I don't see him often & rarely have cash on me when I do see him. Also, great for tracking payments," a user named Moriah wrote.
PC Mag
PC Mag's Jordan Minor gave the app 4.5 stars. He said the app's strengths are how easy it is to send cash and that it has a great social feature.
Minor said he didn't like that you had to pay fees for credit card transactions and that he doesn't like the "aggressive Facebook integration."
"Venmo's clear focus and strong execution make it one of the best overall mobile-payment systems," Minor concluded.
Our Closing Thoughts About Venmo
If the goal of Venmo's founders was to offer consumers an easy way to pay friends and family, then we think they've done a good job, as do thousands of users and experts.
Venmo Pros
Ease-of-use is the thing that really stands out about Venmo. Sending money takes about 10 seconds. We also like how you won't be charged any fees if you use your bank account or debit card to send money/pay for transactions.
Venmo Cons
The downside here is that you are charged a 3% for using a credit card, which can be a hassle for someone who uses a rewards credit card and wants to rack up points without a penalty.
Who is Venmo Good For?
Based on our research, we think Venmo is great for anyone who spends a considerable amount of time with friends for happy hour, sharing an Uber or dining out. The ease with which you can split checks on the spot is a huge plus if you don't want to carry around cash or anything more than your ID.
The Final Word on Venmo: Worth It
If you go out a lot and are tired of using cash or PayPal's less-streamlined interface to pay people back, then we think, as a result of our exploration of Venmo, that you'll probably be happy with this simple app.
While the company has faced some successful hacking attempts in the past, you can take measures to protect yourself by adding a PIN login or fingerprint identification to make sure a lost phone doesn't turn into a phone with a hacked Venmo account.
Read Next: Comparison of Free Credit Score Websites: Which One is Best?
1 out 1 people found this review helpful

Locked out for "security reasons", no appeal or further help possible.

By Mike D.

,

Massachusetts

,

Jul 1, 2019
Verified Reviewer

I tried to give Venmo a chance, but I shouldn't have wasted my time. Even after you jump through all their "verification" hoops, they are arrogant and totally unhelpful. Don't let them near your money.

I'd guess I have a pretty normal credit profile. I have half a dozen credit cards, own my home, and have been at my current address for years. I actively use a PayPal account, and Venmo is owned by PayPal.

I signed up for a Venmo account to take advantage of a merchant's generous promo discount offer when paying by Venmo. I used the same address, phone number, and email that I use with PayPal and all my credit cards. I was able to sign up in the Venmo app okay. I got a code over SMS and verified my phone number.

But when I tried to add a credit card so that I could...you know...actually PAY, things went wrong. I put all the information in the app but got a red square saying just "Bad Request". I tried two more credit cards. Same thing.

Maybe it was my phone? I went on the Venmo.com website, logged in, and tried to add a credit card. I got the message "You can't use this credit card with Venmo, try another card," for all three cards.

I called Venmo's help desk and got an agent who refused to talk to me until I emailed her a picture of my driver's license, which I immediately did. Then she said that for security reasons I wouldn't be allowed to use a credit card with Venmo. I asked for why and she wouldn't tell me. I asked if I could prove that I was legit in order to correct the situation and she said no in the exact same words. It was obvious that their phone agents are basically only allowed to read from a script, and that was that.

Could you imagine dealing with these unhelpful jerks if something happened with a payment you tried to make? Or if you trusted them with your bank account and some money disappeared?

Stay far, far away from Venmo.

Bottom Line: No, I would not recommend this to a friend

---

2 out 2 people found this review helpful

Bad experience, bad service

By Yalonda L.

,

St. Louis, MO

,

Dec 19, 2018
Verified Reviewer

My account is always locked every 2-3 days. I can't even take my money off using a debit card, even when I send money, that person's money didn't deposit on her card, they froze her account, and she couldn't even receive her money! Then it takes forever for them to respond or reply through email, and then on the phone, wait time is over 10 minutes. So all and all, I will never use Venmo again - bad service, bad everything. I will most def stick to PayPal, it's WAY better! Not to mention you have to wait for Venmo to see if you can apply for a Venmo debit card and that's crazy. Venmo sucks!

Bottom Line: No, I would not recommend this to a friend

---

Advertisement

---