Verifly Reviews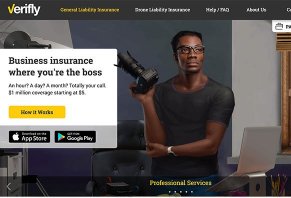 In business since 2015, the Verifly app connects consumers with on-demand drone and business liability insurance that provides up to $10 million of coverage for as little as $5.
About Verifly
If you're one of the 57 million independent workers in the US, Verifly is an app-based producer that provides on-demand drone and general liability insurance, 24 hours a day, seven days a week.
All you have to do is log into the mobile app on your phone, choose whether to start your policy now or later, select from tons of different covered activities, and pay. In less than 30 seconds, we're told you can obtain insurance, download policy documents, and share certificates with whoever needs them. And all of this for one low price.
Being your own boss comes with a boatload of potential benefits, but obtaining short-term liability coverage as an independent contractor has always been a challenge. Just because they've been in business since 2015, though, does this necessarily mean Verifly the right option for you?
Over the course of the next few minutes, we'll provide the details you need to make a fully empowered decision.
How Does the Verifly App Work?
Both of Verifly's short-term insurance products are designed for use by individuals (independent workers / sole proprietors) on an hourly or daily basis:
Verifly General Liability Insurance
Verifly's general liability (GL) policies are underwritten by Markel Insurance Company and are available in $1M and $2M limits. They protect against bodily injury, property damage, invasion of privacy, and personal and advertising injury in the following states: AL, AZ, CA, CT, DE, GA, ID, IN, IA, KS, MI, MN, MO, NV, NJ, NM, NC, OH, OK, OR, PA, RI, SC, SD, TN, VA, WV, WI, WY, and UT.
None of Verifly's GL policies have deductibles, although the company won't be able to provide coverage if you have a loss in the last three years that paid out $15,000 or more. Outside of this, they emphasize that "eligibility and coverage may vary by state, activity / class, and other factors."
To get started, you'll enter your name, email address, and business zip code (which will automatically pre-fill based on your phone's location). You can also enter your company name, if applicable, which will be added as a Named Insured once the policy goes live.
Next, you'll pick your line of work by choosing between hundreds of different activities across five categories:
Construction – Carpentry, electrical, flooring, gutter cleaning, painting, masonry, surveyors, etc.
Home & Garden – A/V installation, furniture assembly, interior decorating, landscaping, lawn and yard maintenance, swimming pool service, etc.
Professional Services – Computer programming and repair, catering services, hair stylists, nail artists, printing, web development, etc.
Events & Entertainment – Actors, canoe and kayak guides, DJs, entertainers, event planners (and staff), musicians, speakers, etc.
Pets – Grooming, training, walking, sitting, etc.
Afterward, you'll pick a coverage time, which can either begin tonight at 12 am and last as little as 15 minutes, or up to six months in the future and extend as long as 31 days. Even after your month-long policy expires, you can continue extending it within the app for up to one year.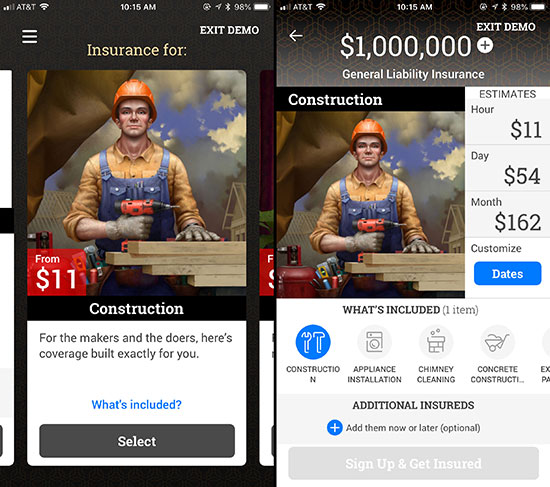 After choosing details like policy limit, dates, and included activities, the Verifly app provides real-time pricing for $1M and $2M general liability policies. Credit: Verifly Insurance Services, Inc.
After reviewing the cost, you can enter your credit card details to pay. You'll see a congratulations screen within the app and receive a receipt and policy documents, including professional-grade ACORD certificates, via email. You can also access this paperwork in "Certificates & Docs" section of your app.
If necessary, the only change you can make after the policy is issued is to add or delete an Additional Insured.
Verifly Drone Insurance
Verifly's commercial and recreational drone insurance provides up to $10 million of aviation liability coverage (no physical damage coverage for the drone itself) for Unmanned Aircraft Systems less than 35 lbs at the time of takeoff, including accessories like the battery, camera, cargo, and so forth. From a time perspective, insurance is available in one, four, or eight-hour sessions.
Specific coverage examples listed on the Verifly website include injury to people, property damage to others, unintentional flyaways, and unintentional invasion of privacy (up to $10,000).
Compared to many competitors (more soon), you can fly as many drones as you want during the policy period, although only one at a time, as long as they meet these criteria. Policies can apply to any location where drone flights are allowed, including indoors, with a maximum height of 400' and a two-mile radius surrounding the stated location.
Participation in organized races or contests is also covered, as long as indicated properly on your application, as are "night flights, near airports, heliports, seaplane bases, or stadiums." The latter is only applicable for authorized pilots, and may require additional paperwork submitted with your application.
Policies are underwritten by Global Aerospace, Inc., and offer liability limits up to $10 million in all states except ND and NY.
Similar to their GL policies, getting started with a Verifly drone policy involves entering your name and email address, followed by selecting your flight takeoff location, whether using GPS or by manually entering an address, along with the date and session length required.
In this instance, you'll also indicate if you need one, four, or eight hours of coverage, with as many flights allowed as you can fit into the policy period. Policies can activate immediately or up to 60 days in the future.
Important: The Verifly website emphasizes that coverage isn't available after Civil Twilight, so if your requested time exceeds this, the app will automatically round to the nearest quarter-hour. For example, if you request an eight-hour session today at 2 pm, but Civil Twilight is at 6:20, they'll only charge you for 4.5 hours of coverage.
After entering your payment details, Verifly will instantly send you proof of insurance via email and the app, which also features a countdown timer and notifications to help you monitor your policies. This way, you can purchase a second policy before the existing one expires, and keep track of multiple policies at once.
How Much Does Verifly Cost?
The Verifly website advertises that a $1 million general liability policy with no deductible starts at $5. This per-hour cost will decrease if you choose a longer policy period, but can further change based on key factors like zip code, the amount of coverage you need, historical loss data, the category of work you're performing, and whether you select add-on activities.
On the other hand, drone insurance starts at $10, with no annual commitment. Here, their website explains they use "differential pricing to account for the higher risks involved in certain flights. Factors include hazards within your coverage area (such as Prisons, Schools, Stadiums, etc.)," as well as flight time, drone weight, and coverage area size.
You can cancel your Verifly GL policy up to an hour before it starts for a full refund, while drone policies are non-cancellable and non-refundable.
To cancel a policy or request a refund, you'll need to send an email to hello@verifly.com.
Are Customers Reporting Positive Experiences in Their Verifly Reviews?
Between iTunes and Google Play, Verifly's general liability and drone apps had more than 280 customer reviews, with a combined average rating of about 4.5 stars.
Compliments often referenced ease of use, quick coverage, and responsive support, while the relatively few complaints tended to cite no coverage in an area.
Verifly vs. Other On-Demand Insurance Apps
Writing for NOLO.com, attorney Cara O'Neill explains that the liability insurance offered under a homeowner's policy "usually provides coverage both for accidents that happen on your property (like slip and fall claims) and those that occur away from your home."
However, most policies include multiple clauses—known as 'exclusions''—specifying situations in which coverage might not apply.
One big example is that most standard homeowners policies specifically exclude liability claims resulting from business activities, whether conducted at the residence premises or away. Another is an exclusion for "aircraft," which many insurance companies define as including drones.
This is where on-demand companies like Verifly come in: to help consumers and business owners quickly obtain competitively priced coverage for situations likely not covered under any other insurance.
And to help meet this demand, insurance technology (collectively referred to as 'insurtech') has come a long way over the years, with the launch of popular companies like Trov for personal property, Sure for business property (among other classes), Cuvva for usage-based auto insurance, and short-term homeshare insurance through Slice. However, Verifly was the only on-demand business liability app we encountered during our research.
From a drone perspective, the only other companies offering on-demand liability insurance included:
| | | |
| --- | --- | --- |
| Company | Pricing | Special Features |
| Verifly | $10+/hr | Up to $10M coverage; 1, 4, or 8-hr sessions, not available in ND and NY |
| SkyWatch | $5+/hr | Up to $10M coverage, hourly and monthly plans available, in-flight real-time safety warnings, post-flight analysis and insights, not available in IL, KY, NY, and ND |
| Flock Cover | £2.95+ | Different options available depending on experience level (recreational, trainee, or commercial pilot), includes hyperlocal weather, only available in the UK |
Considering these options offer many similar features, including real-time, risk-dependent pricing, instant coverage for commercial and recreational purposes, the ability to see hazards in advance, and quick access to policy documents, how can you choose?
Like any other type of insurance, the best option for you will likely come down to simple factors like whether or not they're available in your area, if they offer the level of coverage you need, whether or not their prices align with your budget, and any special features that might better align with your needs and preferences.
Where does all of this leave you when it comes to Verifly?
Coming to a Conclusion About Verifly On-Demand Liability Insurance
While we didn't purchase coverage ourselves, with several years in business and overwhelmingly positive online customer feedback, it seems that Verifly Insurance Services, Inc. is delivering satisfying experiences to most of the policyholders who use them.
In addition, Verifly was the only app-based service we encountered that offered on-demand drone and general liability policies, so if you're in need of both, they might make a logical choice.
They also provide the ability to cancel their GL policies for a full refund up to an hour before they start so that you can bail at the last minute without any financial penalties. On the other hand, drone policies are non-cancellable and non-refundable, so make sure everything's lined up before paying.
With this said, app-based SkyWatch advertised lower prices that Verifly at the time of our research. So as consumers ourselves (and everything else being equal), it might make sense to quickly download both apps and obtain real-time quotes before making a final decision.