Verlocal Reviews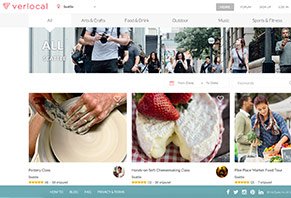 Verlocal is an experience-sharing website that allows locals in just about any city to make money by sharing their experience, knowledge, and skill with others.
About Verlocal
What's your specialty? Want to share it with others and make some money in the process? Or, are you interested in seeing a city from a local's point of view or learning something new?
Verlocal, an online platform that allows people all over the globe to share their interests with one another, claims to do just this.
As a Verlocal Host, you'll be able to use your passion to create experiences for others (known as Guests) who are seeking to learn, see, or do what you know. Or, as the company calls it, "taking them on an adventure."
And as a Guest, you'll be able to take advantage of your Host's knowledge in order to experience something new.
This can include arts and crafts (ceramics, painting, sculpting, etc.) or fitness classes (boot camps, group sessions, personal training), firearms training, outdoor adventures (helicopter tours, fishing trips)—just about anything.
As a Host, all you have to do is create a Verlocal account, promote your page, and share your unique specialty with Guests. And as a Guest, you simply need to log on to Verlocal, choose your city, and select an experience that interests you (more about this in a second).
With the advent of websites like Airbnb, and dozens of others (known as the "sharing economy"), companies are increasingly looking to tap into locals' resources and provide unique experiences.
Does this mean that Verlocal is a good option? Are there important considerations to keep in mind? We'll cover all of this here.
First, let's look at how Verlocal's Hosts can start sharing their knowledge with others.
How to Use Verlocal as a Host
In order to sign up as a Verlocal Host, you'll need to open a free account by signing in through Facebook, or by manually entering your name, email address, and password.
Then, you'll need to choose your city and click on the "Create an Awesome Experience" button.
Now, here's where you'll enter all the information about your experience (and really sell it to prospective guests), including the title, summary, location, neighborhood, and address. You'll also want to include:
The price
The number of eligible guests
Whether or not transportation is provided (and if so, what type)
Estimated duration
Category (e.g. Arts & Crafts, Music, Outdoor, etc.)
At least one image that really "identifies" your experience. You can also add additional pictures and videos if you choose.
Then, once your listing is complete and live, Guests will contact you through the Verlocal site if they're interested in attending your experience. From this point, everything can be handled directly through your dashboard, including editing your profile, responding to messages, managing your listings, and more.
Now, let's take a look at how you'll use Verlocal as a Guest.
How to Use Verlocal as a Guest
In a nutshell, using Verlocal as a Guest involves three basic steps:
Browse Verlocal's list of experiences offered by their network of hosts.
Book your experience and connect with your host.
Enjoy yourself!
Specifically, you'll first need to sign up for an account by entering your name and email address and choosing password. Then, select your city from a list, or enter it manually.
If there are experiences available in your city, each one will be displayed. Here, you can see what the experience is, available dates, and how many guests have enjoyed the experience previously.
Once you click on an experience, you'll be provided with more in-depth information about what you'll be doing, the length of the experience, the number of guests that can attend, meeting location, price, additional details about the host, as past guest reviews. At the bottom of the page, you'll also find a list of similar experiences.
Want to book your experience? Just click on the Request or Gift To Someone buttons. Or, you can request a private experience if none of the available dates will work with your schedule.
But meeting up with a complete stranger can be scary! What does Verlocal do to protect their guests?
How Verlocal Protects Their Guests
According to the company, Verlocal verifies all of their hosts' identities using social media profiles such as Facebook and LinkedIn, and in many instances, will meet with them in person as well. (You'll be able to find out how they were authenticated on their experience page.)
Many of their hosts have met with dozens (or even hundreds) of Guests, who can leave feedback after their experience, which provides another method of keeping you safe.
And you'll always be able to contact the Host directly if you have any lingering questions, and they should reply within 24 hours.
Now, how much does it cost to use Verlocal?
Verlocal's Membership Options and Pricing
Verlocal Guests have four different membership options:
Free – Pay for experiences as you go.
Buddy – Includes 3 free tickets per month (redeemable up to $100): $199 per month
Family – 5 free tickets per month (redeemable up to $100): $299 per month
Corporate – 20+ free tickets per month. Ideal for large teambuilding events and parties: From $1,000 per month
On top of your membership and experience price, keep in mind you'll also be charged a non-refundable 5% "Guest fee."
From a Host perspective, it appears that you can set whatever price you feel is appropriate for your experience, although most seemed to fall between about $25 and $45 at the time of our research. Again, remember that Verlocal will take 15% of your listed price as their fee, although you'll be able to keep 100% of any tips provided by your Guests.
As a Guest, if you need to cancel your experience, here's how it works:
If you cancel more than 48 hours before the event, you will receive a full refund.
If you cancel between 48 to 24 hours before the event, you will receive a 50% refund.
If you cancel within 24 hours of the event, you will not receive a refund.
If you're a Host who needs to cancel an experience, you can only do so if you're more than 36 hours from the event date. If it's within 36 hours, you'll have to contact Verlocal or your Guest directly and reschedule.
In order to find out more, you can contact Verlocal's customer service at (650) 308-4582.
The experiences seem fun and the prices seem reasonable, but are Verlocal's Guests happy?
Verlocal Guest and Host Experiences
On ComplaintsBoard, some Verlocal customers complained about excessive fees and spam email, although the company quickly responded to them and took proactive measure to solve their problems.
On SiteJabber, another reviewer claimed that Verlocal is a great way to monetize your passion, and noted that their customer service is responsive and their commissions are low.
10 Yelp reviewers gave Verlocal an average 5-star rating, citing great customer service, entertaining experiences, an easy-to-use website, and reasonable prices.
From a company perspective, Verlocal is operated by InstQuest Inc. based out of San Francisco, CA. Unfortunately, neither Verlocal nor InstQuest were listed with the Better Business Bureau at the time of our research.
Speaking of companies, is there anything else out there like Verlocal?
Verlocal's Competition
Although the overall pool is still small, a number of experience-sharing companies like Verlocal have popped up recently, including Vayable, GetYourGuide, and Sidetour. You can even use more well-known websites like Groupon to find these types of experiences as well.
And if you're a foodie, we couldn't leave out all the food sharing websites that give you access to people's dining rooms all around the world.
Given all of this, should you give Verlocal a try?
Should You Try Something New with Verlocal?
If you're adventurous and want to do something new and exciting, it's difficult to beat experience-sharing sites like Verlocal.
And sure, the company seems to have a great online customer reputation, but if we're being honest, there doesn't appear to be anything especially unique that you won't find with other websites. However, if you're planning to become a host, Verlocal does seem to have lower fees and commission rates than much of the competition.
Overall, we definitely think you should keep Verlocal in mind when looking to explore your city, or even other cities while you're on vacation. Or, if you're passionate about something and would love to share it with the world—and make some money on the side—Verlocal seems to be a solid option as well. Just be sure to check out the competition, too.