Viking Cruises Reviews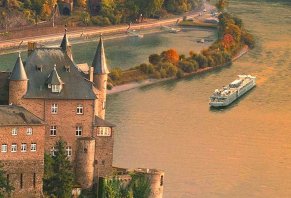 Viking Cruises offers destination-first routes that focus on cultural enrichment, from exploring local cuisine to topical lectures and artistic performances, for a truly unique river or ocean cruise.
About Viking Cruises
Viking Cruises is a unique company offering destination-focused itineraries designed for travelers with an interest in geography, culture, and history. Calling themselves "the thinking person's cruise line," Viking travel promises to be more than just a trip, encouraging you to explore the nuance of each destination.
Along with culturally rich experiences, Viking Cruises also promises comfort. Whether you're touring with a river or ocean cruise, the following amenities are included on every trip:
Wi-Fi access
24-hour room service, along with alternate dining
Spa access
Drinks with all onboard meals, including beer, wine, soft drinks, coffee, tea, and bottled water
Self-service laundry
One on-shore outing at every port stop (including port taxes and fees)
If you purchase a Viking Air ticket, you'll receive free airport transfers
History of Viking Cruises
Viking was strictly a river cruise line when it opened in 1997 with a fleet of four ships. The brand built a reputation for cornering the luxury river cruising niche, receiving praise from industry critics and customers alike.
In 2012, Viking Cruise Lines doubled their fleet to 31 ships, making them the largest river cruise line in the world. In 2015, Viking expanded again to add ocean cruises to their itinerary – two ships are already touring, and four more ocean liners are scheduled to deploy through now to 2019.
While each vessel and itinerary appeal to specific interests, Viking Cruises does pride their services on several points across the board.
What Makes Viking Cruises Stand Out?
All of Viking's ships, whether river or ocean-bound, are designed with an elegant, Scandinavian-inspired feel and environmentally-friendly features. This includes solar panels, an organic herb garden, and hybrid engines that maximize energy efficiency.
Beyond their state-of-the-art ships, Viking Cruise itineraries are praised for including stops in some of Europe's most popular cities.
According to the company's Canadian website, the on-shore outings referenced earlier include "an exclusive Viking Culture Curriculum program that provides deep immersion in the destination through performances of music and art, cooking demonstrations, informative port talks, and carefully selected guest lecturers."
Why Consider a Viking River Cruise?
Compared to ocean cruising, Fodor's Travel tells us that "River cruising is a unique category of vacation" that "more closely resembles a land-based trip" guided by an experienced tour operator.
That's why, whether cruising through Europe, Russia, China, or Southeast Asia, Viking River Cruises offers itineraries that allow you to fully experience the wonders of each region.
The main Viking River Cruises website advertises that you can "Discover the Far East with a fascinating cruise tour along the Yangtze, Mekong, or Irrawaddy Rivers. Or, take in the European countryside along the Danube, Rhine, Seine, Elbe, or Douro."
Wherever you choose, Viking promises that their cruises offer a fascinating way to explore, whether you're visiting a new destination, or simply seeing a different side of a familiar place.
Because Viking River Cruises explore a variety of unique waterways, each ship is specially designed to navigate the rivers in the region that it tours. For example, Viking's two smallest ships are the intimate 124-passenger Fontane and Schumann, both built with the shallow Elbe River in mind.
Whereas Viking's Longships, which are reminiscent of the Viking ships from which they get their name, are uniquely designed to navigate the Danube—and the low bridges that cross it.
While their design features might vary, the promise of comfort doesn't. Viking River Cruises claim to offer the convenience and comfort of a five-star hotel, including spacious staterooms, regional cuisine, and exemplary service—all of which combine to create an unforgettable journey.
Eating and Socializing on a Viking River Cruise
Depending on the vessel associated with your itinerary, your river cruise ship may have two or three dining rooms. An informal, secondary dining room offers indoor and outdoor seating and buffet-style service with pasta bars, light sandwiches, fruits, salads, rolls, coffee, and desserts.
The main dining room is a central experience on a Viking River Cruise. These elegant spaces are filled with dining tables that seat six, making every meal an opportunity to get to know your fellow passengers.
Didn't particularly enjoy your seatmates from the night before? Viking Cruises' open seating for all meals means you sit where you like, with whom you want.
Viking's daily menu features offerings that are listed as "butter poached jumbo prawn and saffron vanilla beurre blanc" or "farfalle salmon." According to reviews, these descriptions are slightly an overreach for what really amounts to what is fairly good food, but not the level of haute-gourmet that the name implies.
While meals do need to be heated in a convection oven to ensure that 200 people can be served simultaneously, passengers state that Viking achieves efficiency without sacrificing flavor or quality.
Lunch and dinner options vary enough to remain interesting and often include regional dishes from the ports of call. Overall, reviews indicate that foodies should be pleased.
One important note for wine lovers: Alcoholic beverages are complimentary aboard a Viking River Cruise. However, reviews note that you shouldn't expect variety and that the same red and white are served throughout the trip.
Related: Is a Disney Cruise Right for Your Family?
Weather Concerns When Taking a River Cruise
We mentioned that vessels are specially designed for the waterways that they cruise. Despite taking regional obstacles into consideration, inclement weather can mean that your river cruise crew is forced to make some last minute adjustments.
For example, 2011 a summer heat wave and autumn drought reduced much of the Danube to its lowest level in 25 years, making sections of the river too shallow for ship passage. In other years, back-to-back rainfall meant that the rivers were too swollen to allow ships to pass under low-lying bridges.
While weather-related challenges affect every river cruise line, reviews state that Viking Cruises has proven to rise above the rest. Since Viking has dozens of ships sailing the same waterways, they can deploy a sister ship or better to a port that is inaccessible to a vessel up or downstream.
And, because Viking's fleet is new across the board, weather mishaps won't mean that you're forced to downgrade just because of a switch.
Viking River Cruises Shore Excursions
A unique advantage to river cruises is that coming and going off of a ship is particularly easy compared to ocean voyages. Beyond the simplicity of port access, Viking River Cruises takes pride in offering unique included and optional shore excursions cover cultural and historic highlights.
Of particular note are excursions that offer privileged access. If you head to Austria, this might include an invitation to the Palais Augsburg to see the illustrious Vienna Residence Orchestra perform selections by Mozart and Strauss in a period ballroom. Or, in Germany, you might tour Würzburg's Bishops' Residenz, with its massive staircase and frescoed ceiling by Tiepolo
Viking River Cruises Itinerary and Costs
So, how much does the river cruise of your dreams cost? Here are a few examples of Viking River Cruise itineraries and their listed prices:
Rhine Getaway (Amsterdam to Basel):
Enjoy scenic views of hillside castles, lush vineyards, and storybook villages take center stage, particularly along the Middle Rhine, a UNESCO World Heritage Site of remarkable beauty and culture, and along its winding tributaries, the Main and Moselle Rivers. The eight-day cruise includes six tours throughout four different countries. From $1,699 per person.
Grand European Tour (Amsterdam to Budapest):
Following the Danube through the heart of Central Europe, this cruise takes you along a trade route used by countless cultures and civilizations. Its boundaries marked the edge of the Roman Empire, and its bridges have linked nations. The fifteen-day cruise includes twelve tours throughout four countries. From $3,999 per person.
Castles and Legends (Munich to Budapest):
Tour the cities where German culture finds its most joyful expression. You'll delight in whimsical Neuschwanstein, the real-life castle that inspired Walt Disney. Excursions include listening to the sounds of music—from Mozart to the von Trapps—in Salzburg. Finally, be dazzled by the sights in Vienna and Budapest. The twelve-day cruise includes ten tours over five countries. From $3,099 per person.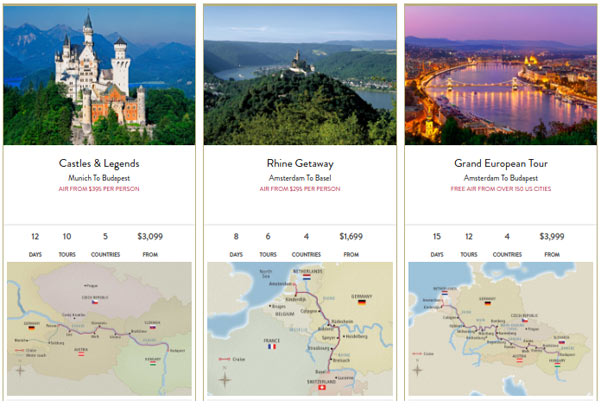 Note that Viking Cruises offer an all-inclusive value. The company states that they feel their guests should not have to open your wallet anytime you want a cup of coffee, a glass of wine, or excursion ashore. Cruise fares include everything you'll need, from meals and beverages to excursions and Wi-Fi.
Why Consider a Viking Ocean Cruise?
When comparing Viking River Cruises and Viking Ocean Cruises, there are some inherent differences. Namely, ocean itineraries offer longer voyages that explore multiple countries. They also open you up to a wider variety of sights.
Viking Ocean Cruises are available in the following areas:
Baltic & Northern Europe
The Americas & the Caribbean
Mediterranean & Adriatic
Asia & Australia
World & Grand Voyages
While the similarity of routes offered Viking Ocean Cruises to other major cruise lines might lead you to believe that there are minimal differences, the company states that their ocean voyages maintain the same focus on cultural enrichment as their river voyages.
According to Viking, "When most cruise lines are building bigger and more over-the-top ships, we provide a thoughtful, authentic and well-designed small ship experience that brings you closer to the world's cultures."
Viking Cruises states that passengers on their ocean cruises won't find casinos, kids, umbrella drinks or needless distractions. Instead, their ocean cruises bring you to intriguing and little-known ports, allowing you to enjoy ample time ashore—even some overnight stays.
Also unlike other major ocean cruise lines, Viking Ocean Cruises offers an included excursion at each point of call.
Ambience and Meals on Viking Ocean Cruise
Like their river cruises, Viking Ocean Cruises offer an all-inclusive experience with all onboard meals as well as beer and wine with lunch and dinner. There's also 24-hour room service available—a nice perk that's not offered on the river cruises—included in the rate.
Another carryover from their river cruises, Viking Ocean Cruises offer two to three styles of dining on each ship.
On Viking Star, their first ocean liner, The World Café provides buffet service from live cooking stations and open kitchens. It's linked to The Restaurant, a venue designed to be the Star's core dining experience.
The Restaurant offers an à la carte menu that changes daily, often featuring regional specialties from the nearest port. For example, guests approaching the Viking Star's home port in Norway will be offered regional items such as seared arctic char and gravlax.
Should you not be a huge fan of one region's cuisine, never fear. Each menu also features a "Classics: Always Available" section that, at dinner, for example, includes Norwegian salmon and New York strip steak.
The cuisine concept is Mediterranean and American with French and Asian influences. Reviews state that sauces and marinades tend to be light, the fish and produce is fresh, and much of the baking is done on the ship. Overall, menus and buffet offerings appear to be selected with care, and present a dynamic, but not overwhelming, range of cuisine that appeals to all guests.
Viking Ocen Cruises Itinerary and Costs
How much does a Viking Ocean Cruise cost? There are dozens of itineraries available, but here's a sampling of several featured trips to give you a taste:
Turquoise Caribbean Seas (Miami to Miami):
Discover Mexico's Yucatán with guided tours that take you through ancient ruins in preserved Mayan sites in Belize and Chichén Itzá, and the Yucatán's Colonial architecture. The eight-day cruise includes five tours over three countries. From $2,999 per person.
Trade Routes of the Middle Ages (Bergen to Barcelona):
This journey traces medieval commercial trade routes and includes overnight stays in some of Europe's most picturesque cities. Explore the winemaking city of Porto, the city of Málaga, which is the gateway to Alhambra palace that is Málaga, and the Roman ruins of Cartagena. The Fifteen-day cruise includes ten tours over seven countries. From $3,999 per person.
The Voyage of Marco Polo (Athens to Bangkok):
This cruise follows the ancient trade routes that begin in the heart of the Mediterranean to Asia that inspired Marco Polo to explore in the 13th century. Includes enriching overnights in Athens, Haifa, Mumbai, Colombo and Bangkok. The thirty six-day cruise includes sixteen tours over ten countries. From $9,999 per person.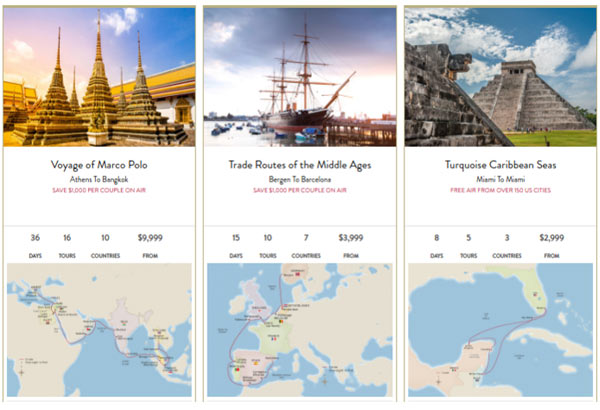 Are Viking Cruises Right for Your Vacation?
Viking Cruises' aim to delight a niche group of travelers—those who are more interested in soaking in culturally enriching experiences than sunshine—is evident in their itineraries. While the all-inclusive prices include extras like adult beverages and meals, by all accounts Viking isn't a party boat-style cruise, so those looking to go wild should likely look elsewhere.
Instead, if you're interested in cruising with other guests that average age 50 and above while exploring interesting destinations on newer, hotel-style ships, Viking Cruises appears to fit the ticket. To book, contact your travel agent or explore options on Viking Cruises official website for details on specific itineraries.
I paid for a river cruise, not a bus cruise

By Debra G.

,

Melbourne, FL

,

Sep 7, 2018
Verified Reviewer

A friend returned from a Rhine River Cruise last week and warned me to check with Viking about the low river levels. They were unable to cruise the Rhine for the entire trip, taking three to six-hour bus trips with sub-par lodging and food for the major part of the trip. My husband and I retired recently and really wanted to take this trip to celebrate our 46th anniversary. I don't think it is fair to expect us to pay $12,000 for a bus tour. I called the Viking representative who booked this trip for us. He is no longer employed. The new representative was clueless. I have had no further correspondence because no one is returning my calls or emails. I want my money back or a chance to book this cruise at another time when we can truly enjoy the "Viking" experience.

Bottom Line: No, I would not recommend this to a friend

---

Advertisement

---