VINCheckPro Reviews
Claimed This company has claimed this profile, is getting alerted on any new customer reviews entering this page, and may engage in dialogue with its customers to address their matters.

Companies cannot pay money or provide goods in order to remove or alter customer reviews.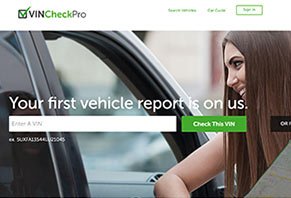 VINCheckPro searches millions of vehicle records in national, state DMV, police, and insurance databases, including accidents, maintenance info, and more.
About VINCheckPro
Whether you need to learn about a vehicle's history, avoid overpaying for a used car, or identify fraud or theft, VINCheckPro promises to deliver comprehensive, detailed reports that can provide peace of mind.
Using their simple, intuitive VIN check engine, VINCheckPro claims to search millions of digital records in seconds, including junk, salvage, and loss records; recalls and defects, safety ratings, accident history, odometer reading, environmental score, and much more. Then, this information is displayed in an easy-to-read report, which is why the company claims they've checked more than 3,000,000 vehicles to date.
Are you an auto dealer? If so, VINCheckPro also offers a dealership program that provides discounts on bulk reports, dedicated support, and exposure to millions of vehicle shoppers.
Whether you need a single report for a car you're thinking about buying, or you're a dealership that needs to run hundreds of reports per month, is VINCheckPro a solid option? How do they compare to the competition?
To begin answering your questions, let's take a look at how you can order reports through their system.
How Does VINCheckPro Work?
A vehicle identification number (VIN) is a 17-character string of numbers and letters that works a lot like a fingerprint; it's completely unique and can be used for identification purposes. Any time a vehicle is involved in a major accident, stolen, smog tested, or many other things, this VIN is tracked across various databases.
We'll talk more about this soon, but companies like VINCheckPro provide access to these databases, where you can quickly download reports referencing dozens of important aspects about a car.
To do this, on VINCheckPro's home page, you'll just need to enter the VIN and press the Check This VIN button.

To start your VINCheckPro report, start by entering the VIN on the company's home page.
Then, several scrollbars will appear, indicating that VINCheckPro is searching a variety of databases. If their system finds any matches, it will display the vehicle's make, model, age, engine, country of origin, and other key information.
Note: It's important to mention that VINCheckPro displayed a dire-sounding warning in red letters after processing, claiming, "[VIN] was found in a recall database. Check full report for more information." However, in order to view this information, you're required to make a purchase, which we'll discuss in the Pricing section below.
To this extent, keep in mind that just about every vehicle on the road has some kind of recall in place, whether minor or major. So, if you receive a similar message on VINCheckPro.com, don't let your emotions cause you to make an ill-informed purchase. Instead, check vehicle recalls on reputable sites like Cars.com, which provide detailed information at no charge.
What, exactly, do VINCheckPro's reports contain?
Are VINCheckPro Reports Accurate?
VINCheckPro tells us they pull information from several official and commercial services, such as the National Motor Vehicle Title Information System (NMVTIS), state DMV, police records, and "over 40 million junk, salvage and insurance total loss records."
The company claims reports are available for almost 90% of U.S.-titled vehicles (manufactured after 1980) on the road, including motorcycles, RVs, trailers, campers, and motor homes. However, not every accident or incident will be available for each of these vehicles. Here's how the company puts it:
"We cannot guarantee a full accident history, but critical incidents typically appear in Insurance Total Loss record or DMV Salvage title and are therefore available on our reports."
Also, it's important to note that not every state provides the same level of data. For example, according to VINCheckPro, only 37 states provide vehicle data and allow system inquiries (necessary in order to pull the information included in a report).
On the other hand, 7 states feed information to databases but don't allow inquiries, while 7 more states don't do either of these. See below to check if your state participates.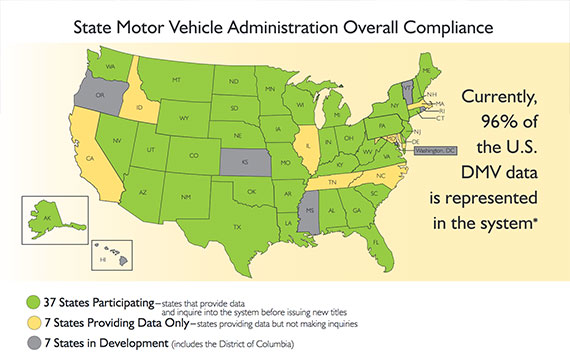 Depending on which state you live in, you might not be able to obtain vehicle information from VINCheckPro's database.
As mentioned in the intro, we're told that VINCheckPro's reports contain information like accident history, junk and salvage records, odometer reading, environmental score, and more.
After some digging though, we found a sample VINCheckPro report on the MR2.com forums. It appears the report was from March 2014, so we can't be certain how accurately this reflects the company's current reports.
How Much Does VINCheckPro Cost?
After processing your VIN, you'll have two purchasing options:
1 Report: $6.95
5 Reports: $12.95
Important note: On the ordering page, VINCheckPro indicates that both of these are one-time fees. However, per their FAQ, "premium fees are recurring and will automatically renew upon expiration at the same price and terms." In other words, it appears you'll be charged this price once per month.
For clarification, we reached out through VINCheckPro's contact form (the only way to speak with a representative) and were told that this is a one-time fee, although a monthly subscription option is also available. For the record, this option wasn't available when we attempted to check out.
What about that "first report is free" claim? We weren't presented with this option until we clicked off the ordering page, so keep this in mind before handing over your credit card details.
If you claim your free report though, remember that, according to VINCheckPro's Privacy Policy, your information will be shared with their "trusted partners," so you could experience spam and unwanted sales calls.
All VINCheckPro reports come with a 100% satisfaction guarantee. Specifically, they claim that if you don't find what you're looking for, you're eligible for a refund. According to their FAQ though, this is only valid if "the data in your report proves inaccurate by a state title document copy."
VINCheckPro Reviews: Are Customers Happy with Their Reports?
The only website with any VINCheckPro reviews at the time of our research was eKomi, where the company had 107 individual reviews and a 4.9-star average rating. There, most compliments referenced good report information and ease of use, and that these reports helped avoid a bad purchase.
On the other hand, most complaints appeared to reference missing/incomplete information, expensive prices, and confusing billing/subscription options.
VINCheckPro Vs. Carfax and Other VIN Check Engines
Like people search (also known as background check) websites, VIN check sites generally have access to the exact same databases, as well as the information they contain. The only real differences come down to how they display this information in their report and how much you pay for it.
As the originator, Carfax is the most recognized name in the VIN search industry. Like VINCheckPro, you'll be able to search for used cars on Carfax's website, although Carfax can also send you alerts when your vehicle needs service, such as oil changes, tire rotation, registration, and emissions, as well as for safety recalls.
However, compared to VINCheckPro, you'll pay a lot more for a Carfax report, which can range between $39.99 and $54.99.
Again, the reality is that you'll find many of these same services available through competitors, and one of the only meaningful distinction is how much you'll pay. Speaking of which, Autocheck's reports cost $24.99-$99.99, while VehicleHistory.com, Edmunds, and DMV.org appear to offer free services.
Pro tip: You can search some of the same databases that VINCheckPro (and these other companies) use directly, completely free of charge, including VINCheck from the National Insurance Crime Bureau and the National Motor Vehicle Title Information Systems.
Bottom Line: Should You Pay for a VINCheckPro Report?
Back in 2009, Consumer Reports investigated the accuracy of Carfax and AutoCheck, and found that "the reports were most likely to be incorrect for vehicles that had serious damage but for various reasons were not declared a total loss."
Although there's no way to know if this same holds true for other services like VINCheckPro, if you're mainly looking for "minor" accidents, VIN check engines might not be your best option. However, Consumer Reports concluded that these reports are still useful "for what they might tell you," such as salvaged titles, occasional maintenance records, and so forth.
Given this, VINCheckPro is one of the least expensive options out there, so they could help you make a smarter used car-buying decision, for less cash. But considering that you can check many of the same databases yourself, without paying a dime, only you can decide if handing over your money is worth the added convenience.
Did you order a VINCheckPro report? Did it meet your expectations? Spell it out for us in your review below!
» More on Buying a Car:
---
Scam

By Jon J.

,

Baltimore, MD

,

Apr 22, 2020
Verified Reviewer

This company is using fake buyers who email as if they are looking to purchase, however, they INSIST you purchase this service. Not happening, this is a scam, this is racketeering and fraud, plain and simple.

Bottom Line: No, I would not recommend this to a friend

---

Worst ever

By Joe M.

,

Massachusetts

,

Jan 30, 2020
Verified Reviewer

I was interested in a classic 2003 Ford F150, King Ranch edition, 61,000 miles.

Almost no information on this vehicle. The last entry was from 2009, 11 years ago, reporting only a vehicle transfer with 26,000 miles. No sales records.

A complete waste of money.

Bottom Line: No, I would not recommend this to a friend

---

Advertisement

---

Definitely NOT worth it!

By Chris K.

,

Cleveland, OH

,

Dec 18, 2019
Verified Reviewer

I used VINCheckPro and LemonChecks.com to order a VIN check on a used car I wanted to buy in order to get the FULL history of the vehicle without having to go through Carfax or AutoChecks.com. As I wanted the Government supplied car history from NMVTIS and only VINCheckPro and LemonChecks offered this data - Carfax and AutoCheck use their own "private" database. It's unreliable!

However, the report I got back that was supposed to be free at first from VINCheckPro I had to pay for multiple reports to get the best deal and the entire full car history report I needed. Then they try to get me to sign up for a monthly program. No thanks!

Yes, their reports are very cheap and that's the ONLY good thing about VINCheckPro; but remember you get what you pay for!

Bottom Line: No, I would not recommend this to a friend

---

SCAM

By Darren L.

,

Victoria, British Columbia, Canada

,

Dec 16, 2019
Verified Reviewer

Save your money, this website should be shut down, a complete scam.

This system only provides information that is already available publicly and leads you to believe that they have additional information.

Bottom Line: No, I would not recommend this to a friend

---

Advertisement

---

Don't waste your time

By Jay Q.

,

Chicago, IL

,

Oct 2, 2019
Verified Reviewer

Definitely not a trustworthy or thorough report. Carfax pulled up an accident and VINCheckPro did not! Caution if you decide to use this "service".

This is your hard-earned money and you need to take every precaution to make sure you're buying a clean no-accident vehicle if that's what you're after!

Was very disappointed in the service, I will never use it again.

Bottom Line: No, I would not recommend this to a friend

---

Does not give complete info like Carfax

By Ron S.

,

Parma, OH

,

Sep 16, 2019
Verified Reviewer

Was expecting more info. Does not give everything in detail like Carfax.

Then when I went to email them with questions my email could not be sent. Tried two times. Had 3 records for junk and salvage but would not explain in detail what that meant. That's why I emailed them.

Not worth the money.

Bottom Line: No, I would not recommend this to a friend

---

Scam, never got to check even one VIN

By James S.

,

California

,

Sep 13, 2019
Verified Reviewer

The website vincheckpro.com does not deliver what it advertises. I paid my amount to check a VIN and was not able to even check one car. The BBB says they cannot enforce because they might be in Israel.

Bottom Line: No, I would not recommend this to a friend

---

Awful to deal with

By Derek C.

,

Arizona

,

Sep 11, 2019
Verified Reviewer

Awful to deal with, nothing but run around from their online support. Their VIN pulled up the car but there was no history on this car and no record attached. I asked for credit for this one search so I could use it for search on another vehicle but their online customer support lacks any competence to deal with customers. I recommend you do not use them.

Bottom Line: No, I would not recommend this to a friend

---

Scam

By Megan S.

,

Las Vegas, NV

,

Sep 2, 2019
Verified Reviewer

I've logged in multiple times and can't use my remaining reports points. It keeps telling me I need to purchase more. I was only able to use 2 of 5. Will be requesting a refund. Don't use this site.

Bottom Line: No, I would not recommend this to a friend

---

SCAM

By Tony R.

,

Nevada

,

Aug 23, 2019
Verified Reviewer

Do not waste your time or money scam. They did refund me but it's garbage.

Bottom Line: No, I would not recommend this to a friend

---

Very outdated

By Senovia R.

,

New Orleans, LA

,

Aug 12, 2019
Verified Reviewer

Very disappointed! Bought in hopes of getting info on the car I was thinking of buying. Their report on this car is over 1 year old...showed 63,000 miles when it has 109,000 and at minimum, it should show some updates as the care is a repo so that should have been reported but nope! Nothing. And I feel ripped off! This absolutely NO help! A waste of money and time. I asked for support so we will see what happens.

Bottom Line: No, I would not recommend this to a friend

---