Virta Health Reviews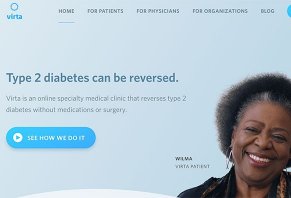 Virta Health's clinically proven ketogenic approach to weight loss and diabetes management promises to help you boost your health and reduce medications.
About Virta Health
By creating personalized treatment plans aimed at treating insulin resistance, Virta Health is an online specialty medical clinic that helps their patients safely and sustainably reverses diseases such as type 2 diabetes, prediabetes, and metabolic syndrome, without medications or surgery.
In fact, the website tells us that most patients experience dramatic improvements in blood sugar control, clinically significant weight loss, and improved triglyceride levels in as little as three months. And based on a recent clinical study and preliminary six-month trial data:
87 percent reduced or eliminated insulin
56 percent reduced their HbA1c below diabetic levels
12 percent average weight loss at six months
Together, the company emphasizes that this process can help patients "reduce diabetes medications, lose weight sustainably, and regain the energy to do what they love"; help physicians "expand their care team," and organizations improve overall health and employee satisfaction, while reducing diabetes-related costs.
As someone living with type 2 diabetes or prediabetes, might you expect similar results after becoming a Virta Health patient? Are there competing companies offering similar services? If so, which one could deliver the most value for the money?
The Virta website does a great job of providing tons of useful information for their prospective customers to consider. Here, our summary will discuss what this entails, along with supporting information that could help provide you with a deeper understanding of the topic—and make a more empowered decision when the time comes.
The Basics About Prediabetes & Type 2 Diabetes
According to the Mayo Clinic, type 2 diabetes occurs when "your body either resists the effects of insulin — a hormone that regulates the movement of sugar into your cells — or doesn't produce enough insulin to maintain a normal glucose level." This can cause blood sugar levels to rise, which can result in side effects like increased thirst and urination, weight loss, fatigue, and blurred vision.
On the other hand, prediabetes is a condition where blood sugar levels are regularly elevated, but not high enough to be formally diagnosed as type 2 diabetes. WebMD tells us this condition is thought to affect about 86 million people in the U.S. over age 20, which often goes undiagnosed.
In order to prevent prediabetes from becoming type 2 diabetes, they recommend becoming more active, losing weight, eating better, getting plenty of sleep, and committing to an overall healthier lifestyle.
However, while many medical professionals emphasize that lifestyle changes are key to managing diabetes, whether or not type 2 specifically can be reversed by doing the same largely "depends on how long you've had the condition, how severe it is, and your genes."
In the case of Virta, their website reports that their program helps reverse type 2 diabetes by "simultaneously bringing blood glucose (and A1c) into a non-diabetic range (below 6.5) and eliminating diabetic medications, such as insulin." How, exactly, do they go about this?
How Does Virta Health Work for Diabetes Patients?
What Is Ketosis?
At the core of Virta Health's approach is something called nutritional ketosis, which is a metabolic process whereby your body starts burning fat, instead of carbohydrates from food. And once this occurs, your body makes ketones, a type of acid produced in the liver.
In order to enter this ketogenic state, WebMD tells us: "For healthy people who don't have diabetes and aren't pregnant, ketosis usually kicks in after 3 or 4 days of eating less than 50 grams of carbohydrates per day. That's about 3 slices of bread, a cup of low-fat fruit yogurt, or two small bananas."
What Will You Experience with Virta Health's Ketogenic Program?
Virta's website reports they help their patients enter a ketogenic state "by focusing on whole, real, and satisfying foods, with a high fat, moderate protein, and low carbohydrate intake."
After regularly testing biomarkers like blood glucose and ketones, they'll provide highly personalized recommendations based on your biochemistry, medications, and lifestyle, as well as real-time monitoring that can help you optimize your food choices.
You don't need a physician's referral to become a patient, although your Virta Health doctor can work closely with your primary care physician to maximize your results. You only need to apply through the company's website and then undergo a consult with a program specialist.
From there, the screening will involve filling out a short health history, consents, and releases, and then undergoing a video consult with your Virta physician. You'll complete an EKG and lab work to obtain medical clearance, and then pay your invoice (more details in the Pricing section). This delivers access to a:
Personal Health Coach – Provides one-on-one guidance by answering questions and providing feedback, support and encouragement, and accountability. They can also help you create and solidify positive habits, as well as "select program phases that reflect your health goals (i.e., complete 7 days with fasting blood glucose under 150 mg/dL)."
Supervising Physician – As your "metabolic health specialist," Your Virta physician will provide continuous monitoring, a personalized treatment and nutrition plan, regular check-ups to review your progress, as well as medication management—including "safely reducing or eliminating any medications you no longer need."
Remember, though: Your Virta physician isn't intended to replace your primary care provider, but instead, as a way to ensure continuity of care.
Community of Peers – The patient community can help provide validation, support, motivation, and relevant tips.
During the process, your Virta physician will help ensure your safety by monitoring your self-reported data and symptoms through the app, which we'll discuss next.
Taking a Closer Look at Virta Health's App
Virta Health's app provides access to all the same features available through their web portal, including:
Your step-by-step care plan, including custom goals (phases)
The ability to log health data, including biomarkers, and send it to your doctor and coach
Direct messaging your physician and chat with your health coach
The ability to set up reminders
Interactive videos and visit the resource center for educational content, food lists, recipes, how-to guides, and webinars
According to their iTunes description, "everything you need to learn, practice, or measure will be presented to you daily when you log in."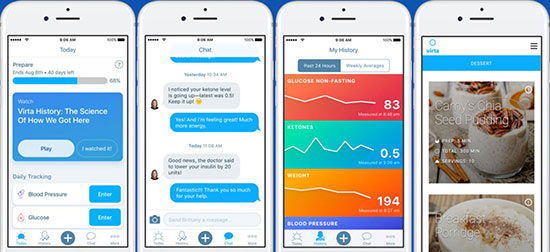 The Virta Health iOS app allows patients to obtain personalized daily instructions, chat with their dedicated health coach, send data to their coach and doctor, and view videos, recipes, and tips. Credit: Apple Corporation
What Are the Details of Virta Health's Clinical Study?
After partnering with the University of Indiana, Virta's ketogenic program underwent a 10-week study involving 262 participants with type 2 diabetes. At the end, it was reported that most experienced reduced HbA1c levels, decreased medication usage, and a reduction in body fat. On top of this, 91 percent of participants successfully completed the trial.
Ultimately, this caused them to conclude, "nutritional ketosis can be highly effective in improving glycemic control and weight loss in adults with T2D while significantly decreasing medication use."
Related: Forget Diet Pills—Lose Weight by Changing Your Habits
The Virta website also references a six-week preliminary six-month trial, although nothing is referenced on their website. We reached out to the company for a copy of this data, but hadn't received a response at the time of publishing.
Could Virta's Ketogenic Program Cause Any Side Effects?
According to the Side Effects section of this study, "One subject withdrew … in the first 70 days because of a dietary side effect (diarrhea due to fat intolerance). There were no serious adverse events in this time period and, specifically, no serious symptomatic hypoglycemic events requiring medical intervention."
With this said, as long as it doesn't lead to ketoacidosis, Healthline tells us ketosis is a natural metabolic state that's generally considered to be safe for most people, although some individuals (no specifics mentioned) may experience side effects at the beginning like headache, fatigue, brain fog, increased hunger, poor sleep, nausea, and decreased physical performance.
Cumulatively, this condition is often referred to as "low-carb flu" or "keto flu," which generally passes within a few days.
Whether you're considering Virta or another ketogenic program to address your diabetes, this is why it's important to speak with your primary care physician before handing over your hard-earned money.
How Much Does Virta Health Cost?
While no prices were listed on the Virta Health website, according to Diatribe's Ben Pallant, Abigail Dove, and Adam Brown, the cost is roughly $400 per month for the first year, with financial assistance available. The initial consultation is free.
On the other hand, the company's website indicates that employer or health plan-sponsored programs can represent low or no-costs to patients.
In addition to a copy of the preliminary study, we also reached out to Virta looking for additional details like:
Does this cost different amounts for different patients? If so, what are some factors that might affect it?
What kinds of financing options are available? Is there a finance charge? What are the terms and other important details?
We'll be sure to update this article as soon as a response is received. In the meantime, a Virta Health representative can be reached via their site's contact form.
What Can We Learn From Online Virta Reviews?
The video testimonials on Virta's website are filled with enthusiastic patients who achieved success using the company's ketogenic program.
Between more than 30 pieces of feedback between their iTunes and Facebook pages, the company also had nearly a five-star rating, with common compliments citing effective results (reduced/eliminated medication, weight loss, etc.), along with the use of evidence-based nutrition.
What few complaints there were referenced high price and a declination related to heart stints. In several instances, the company's founder responded directly.
Speaking of which, San Francisco-based Virta Health was co-founded in 2017 by CEO Sami Inkinen, Chief Medical Officer Dr. Stephen Phinney, and Chief Science Officer Dr. Jeff Volek.
Sami was also co-founder of real estate website Trulia, while Dr. Stephen Phinney and Dr. Jeff Volek are a well-known authors and proponents of the ketogenic diet.
Based on their approach and goal to reverse diabetes in 100 million people by 2025, the company has received a good deal of media attention from popular publications like Fortune, Forbes, and the NY Times, to name just a few.
Despite almost wholly positive professional feedback in these articles, several who were interviewed mentioned that the study results seemed like a great starting point, although they'd be interested to see if the longer-term results match up. Specifically, the Diatribe article cited earlier emphasized:
"It is important to note that these are short-term results, the study had no control group, and the participants may not be typical of people with type 2 diabetes as a whole, so it is hard to draw strong conclusions at this point."
Virta Health vs. Omada Health: Are There Other Diabetes-Focused Ketogenic Programs?
If you're looking for a program that works exactly like Virta Health (ketogenic-focused, companion app, physician/coach access, recipes and educational material, etc.), then it was the only option available at the time of our research.
The closest option we encountered was Omada Health, which utilizes a wireless scale to track your weight, food, and activity, while providing feedback about how small changes can have a big impact on your health, along with access to a small peer group for support and accountability.
Furthermore, Omada is only focused on weight loss, not specifically diabetes, using a cumulative healthy habits approach. Like Virta, they partner you with a health coach for personalized guidance, although there's no access to a physician.
Another big difference is the price. Whereas it's reported that Virta charges around $400 per month for their services, the New York Times reports that Omada is only $130 per month.
Outside of their specific approaches, when choosing any diet plan (ketogenic, diabetes-related, or otherwise), the Mayo Clinic emphasizes that you should start by getting your doctor involved. They can provide guidance and cover any relevant safety information.
From there, they recommend considering your personal needs, such as experience with past diets, preferences, budget, as well as health conditions.
Either way, they emphasize that finding weight loss—and by proxy, diabetes—success hinges on making "a long-term commitment to making healthy changes in your eating and exercise habits." To increase your chances of success, look for a plan that features flexibility and balanced nutrition, and includes some form of physical activity.
Our Final Thoughts About Virta Health
In the end, Virta Health is backed by high-level investors and physicians, as well as promising—if not limited—clinical support. They also seem to offer a well-rounded approach to supporting those looking to lose weight and meaningfully impact their type 2 diabetes or prediabetes including coaching, physician support, and a data science-backed app.
Rhe ketosis at the center of their program seems to be safe and effective for most of the population.
However, The Diabetes Council emphasizes that there are many different risk factors for the condition, so Healthline tells us, "While cutting excess carbs is a healthy step, it's not clear if this diet alone can help diabetes."
Finally, it goes without saying that adhering to a ketogenic nutrition plan—Virta Health or otherwise—takes commitment and perseverance. So, be sure to discuss these aspects with your primary care physician during your visit, as well as other common stumbling blocks that could increase your chances of success.
Virta Health worked for me when nothing else did

By Jeffrey T.

,

Florida

,

Feb 10, 2020
Verified Reviewer

After age 40 my weight began to creep up, blood pressure rose, and my blood lipids were topping out at the level where intervention is called for. Thus began a steady progression of increasing weight, prediabetes, Type 2 diabetes, high blood pressure, and other health issues. I tried diets, exercise, nutritional supplements, and nothing worked to get me out of what my physician told me was a metabolic syndrome. Then, I found Virta Health described in the Wall Street Journal. I was skeptical but intrigued by the YouTube videos I watched. I took a deep breath and signed up - the best decision for my health I have ever made. Eighteen months later I am off all meds except a low dose statin. My diabetes is in remission. I shed 80, yes 8. 0., pounds and am back to my graduate school weight and size. This program worked for me and their statistics show it works for most people who follow the program. I am finding it easy to sustain my current condition and expect that this is my new, healthy, normal from now on.

Bottom Line: Yes, I would recommend this to a friend

---

The only thing that has worked

I've been diabetic for over 10 years and heard the same advice to exercise and modify my diet. But food is a hobby for me, and I am not an outdoor person. I decided to try Virta because my neuropathy was limiting my life and my medication doses kept going up as my blood sugar continued to rise.

It's been three and a half months now and my weight is down from 216 to 196. My fasting sugars are 20 points lower, and my feet no longer burn. I have lots of energy and my brain feels clearer. I no longer crave chocolate cake.

The Virta website has tons of recipes, so I'm still eating fabulous food and exploring new things all the time. My coach is in contact with me several times a day to offer support. I actually believe that I can get even healthier, so I'm motivated now. I think it is a wonderful program.

Bottom Line: Yes, I would recommend this to a friend

---

Advertisement

---