Visor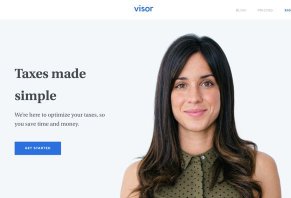 Visor combines a $99 base tax-filing plan with photo uploads of documents and preparation by real CPA's to make filing your taxes with a professional easier than ever.
Visor Review: Is It a Better Way to File Your Taxes?
Visor is an online tax preparation service that utilizes real CPA's to process your tax return for as little as $99.
The website is one of several new ones that provide an alternative to the time-consuming process of doing your taxes on a DIY site like TurboTax, Tax Slayer, H&R Block or Tax Act.
The company was founded in 2016 and launched in 2017, all because of the experience of their founder, Gernot Zacke, who came to the United States as an immigrant and found American taxes to be confusing.
"I grew up in Europe and when I came here taxes were really complex and I was uncomfortable doing them on my own," Zacke told us in an interview leading up to this review.
At the time, the two options he had were to use a DIY site or to pay a tax professional, both of which seemed like the negatives outweighed the positives at certain times.
"Online services are relatively low-priced but if you miss things or you don't make the right selection, you'll be leaving money on the table or getting an IRS letter saying you made a mistake," he said. "You can use a large chain or a local CPA shop, too, but they are either charging by the form or by the hour and that can cost as much as several thousand dollars."
Neither option is easy for the consumer, he said, and that's how Visor came about.
In this review, we're going to analyze how Visor works, talk about the cost and then compare it to similar tax services. At the end of our review, we'll give you our thoughts about the site's pros and cons.
How Visor Works: The Pricing and the Process
Visor is an entirely online experience. At the time of publishing, there were no brick-and-mortar offices you could go to.
To get a quote from Visor, you'll need to do a quick questionnaire on their site. This will determine what your tax situation is and how much it will raise your prices.
Zacke told us that about 60 percent of taxpayers will fall into the $99 category, which includes the following tax situations, per their website:
Single or married
Dependents
W2 income
Homeowner
Itemized deductions
Interest and/or dividends
Now, even though 60 percent of taxpayers will only have to pay $99, that still leaves a significant chunk of people who will have to pay more. The pricing increases work like an a-la-carte restaurant menu. Five different situations cost certain prices and are added to the bill:
Self-employed: $99
Sold stock, crypto or equity: $99
Earned rental income: $99
Earnings from K-1 or a partnership: $99
International tax situations: $99
Adding one of these situations to your taxes would cost you $198, two would be $297, three would be $396 and so on.
With this quote in hand, you can start to "do" your taxes. Visor will ask you to upload to their site any relevant documents by taking photos of them with your phone or scanning them. These are the documents they'll use to file your taxes.
At the same time, you can reach out to their tax experts to get advice and ask questions. Zacke said that users can set up calls with Visor advisors if they need further assistance, too, which is similar to what you'd get with TurboTax Live, a service where you can set up a video chat with an advisor through the TurboTax platform.
We like that Visor allows you to call your advisor directly rather than having to use the site's platform.
Visor's CPA's
Zacke said that Visor's CPA's "are a combination of people coming from the Big Four or the large CPA shops and the rest would be from local tax advisory firms."
What this means is that a qualified CPA is going to be processing your taxes, whether that means someone who worked at a renowned firm like KPMG or Ernst & Young, or they set up their own private firm.
Zacke said Visor's CPA's tend to enjoy their work more because they aren't having to deal with the drudgery of paperwork because the user is uploading everything.
"We're providing a service that takes the pain points off the CPA, so what they're left with is the very thing that makes them excited about the industry in the first place," he said. "They get to work with clients and solve complex tax questions."
As far as limits placed on your relationship with your Visor CPA's, Zacke said there aren't any. This is an important point of distinction from a service like TurboTax Live, in that TurboTax tax experts are allowed to give tips on filing your taxes and how life changes affect your taxes but can't tell you how to manage your finances to get tax advantages, for instance.
Audit Protection
According to the fine print on Visor's website, the company provides tax audit assistance, but with a few rules.
First, you have to upload a copy of your IRS or state tax authority notice within 14 days of receiving the letter.
Second, Visor says they will assist you with the audit but they won't provide legal advice or direct representation during the audit. In other words, they'll help you understand the process, explain forms and work with you to provide the requested documentation. However, they won't go with you to a hearing or be by your side if you have to sit with an IRS agent.
Based on our research, these parameters are pretty normal for online tax preparation services.
Pro tip: Visor includes state taxes in the price of your return.
How Visor Compares to Henry.Tax
One of Visor's competitors is a site called Henry. Like Visor, you can go to Henry and get the services of a tax professional for a flat rate of $250, provided you don't have additional complexities in your tax profile.
The big difference between the two, as we point out in our review of Henry.Tax, is that Henry focuses on high earners who have the resources to pay at least $250 for their taxes. The prices go up from there, as Henry uses a level system in which your price starts at $250 (Level 1) and goes up to Level 4. We were not able to get a quote on a Level 4 tax situation.
What we like about Visor, as compared to Henry, is that you know ahead of time how much your returns will cost simply by clicking on one, some or all of the five different tax add-ons we mentioned earlier.
Another advantage to Visor, in our opinion, is that you can get your quote before signing up for an account, whereas Henry requires that you create an account first before getting a quote.
How Visor Compares to TurboTax
Comparing this service to TurboTax is tough because, in reality, they are two different services, which is why we provided a comparison to Henry.Tax first.
That being said, TurboTax Live is a service you can sign up for that simplifies the DIY process and lets you work with a CPA, enrolled agent or tax attorney to file your taxes.
At the time of publishing, TurboTax Live cost $79.99 up to $199.99 depending on the complexity of your return, with self-employed filers paying the most ($199.99) and those with investments or rental properties paying the second-most ($179.99).
These tax experts will review your tax return before you file as well as answer questions along the way via the video-chat feature we mentioned earlier. Also, you can do what's known as an "offline review", in which you can request that a tax expert review certain parts of your tax return and the expert will get back to you within 24 hours.
In our opinion, the main difference between the two sites is pricing and convenience. TurboTax Live is the cheaper option but you'll have to enter all your information, which could be time-consuming if you're itemizing deductions. The itemization process requires that you provide more paperwork and, in some cases, provide your own calculations for how much you will deduct.
Visor, while costing more for more complex tax situations, doesn't require you to enter any information from your tax forms. All you have to do is set up an account and then upload images of your documents.
So, as you wrestle with which option might be best for you, consider how work-friendly or work-averse you are when it comes to your taxes. Also, remember that Visor may be the cheaper choice for your tax situation if you own a home and have interest or dividends you earn during the year.
Those two situations keep you in the $99-free bracket with Visor but will push you into the $119.99 to $169.99 range with TurboTax Live.
Also, keep in mind that state taxes are free with Visor, whereas TurboTax will charge you between $29.99 and $39.99 extra for state taxes.
Our Final Thoughts About Visor.com: Pros, Cons and Hiring a Local CPA vs. Visor
After spending some time analyzing this tax preparation service and comparing it to a similar service and TurboTax Live, we think it has some clear positives and negatives.
First, the site makes filing your taxes easier than popular DIY sites like TurboTax, TaxSlayer, H&R Block and TaxAct. The only work on your part is doing the basic work of setting up an account and then uploading photos of your tax documents, something that could be extremely easy if your employers send you digital copies of your forms.
Second, the pricing is excellent for homeowners who also receive interest or dividends from their investments or bank accounts. At $99, you'll be hard-pressed to find another site that offers that price point for CPA-filed taxes that also include state returns.
The downside of the site is that it can get expensive if you have multiple complexities in your tax situation. If you're self-employed and you have rental properties, your taxes will cost more than what you'd pay with TurboTax Live.
Now, when compared to hiring a local CPA, figuring if Visor is the better value is a difficult task because each tax situation is different and each city or town is different. For example, when we spoke with the founder of Henry.Tax, he said it's hard to find a CPA in New York City for less than $750. If you live in a city with prices like that, Visor is a great deal.
However, you may find that local CPA's have prices that are similar to what you'd pay for a more complex return on Visor. Keep in mind, though, that you probably won't find a CPA who will do your taxes for $99 like Visor.com does.