Vitagene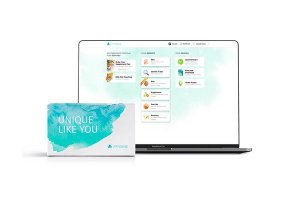 Vitagene is a home DNA testing service that gives you a comprehensive health report with actionable steps for living your healthiest life.
Vitagene Review - Get Quality Insight Into Your Health?
Vitagene is a DNA company that promises to provide you with a customized plan for better health based on your genetics. The company states that they will use your DNA sample to give you a complete nutritional, supplemental and exercise analysis, as well as your ancestry results.
One selling point for people who have already taken a DNA test through a different company is that Vitagene offers an option to run an analysis on your raw DNA data to give you detailed health results. Beyond their DNA testing services, Vitagene also sells a monthly subscription of pharma-grade quality supplements that they state are personalized to your genetics.
According to its website, the company was founded in 2014 by Dr. Reza Malek and Al Hariri. Since then, Vitagene states that they have "leveraged the latest developments in clinical research combined with individuals' genetic makeup, lifestyle choices, medications, and medical history to recommend actionable plans to meet their health and wellness goals."
Is Vitagene a smart choice for learning the truths of your genetic health and wellness? And, equally importantly, is your data safe with this company? We looked at the facts to help you decide.
How Does Vitagene Work?
According to the company website, Vitagene works by leveraging new developments in genetic research with specific patient details provided in a survey like your medical history and lifestyle choices.
From our research, Vitagene works similarly to most DNA result companies. Upon ordering, you can expect your DNA kit to arrive within three to five days. Inside the kit will be instructions for swabbing the inside of your cheek to get a DNA sample. You'll also receive prepaid return packaging for shipping the sample back to the company.
As you wait for your sample to be processed, you can fill out the brand's online health questionnaire. These questions encompass aspects of your physiology like your height and weight as well as your exercise level, current medications, and medical history.
The company states that you will get your results within three to six weeks after the lab receives your sample, and they will be available through your online dashboard. The results will continuously update as new clinical research becomes available.
As we previously stated, it's also possible to send Vitagene your raw DNA data directly if you have already taken a DNA test with AncestryDNA, 23 and Me, and MyHeritage. To do so, you can order a Health Report, upload your DNA data, and complete the lifestyle questionnaire. Once submitted, you should receive your results within 1-2 weeks.
It's also possible to request your full raw DNA file from Vitagene by emailing the company at support@vitagene.com.
What Do You Get with Vitagene?
Vitagene claims what sets them apart from other DNA companies is their detailed data and health reports. At the time of writing, each purchase included the following:
Diet reports: You'll gain insight into the ways your genetics influence what foods are the right choice for you with a customized meal plan, tailored macronutrient percentage goals, MTHFR gene mutation detection, information pertaining to your risk of a gluten sensitivity, lactose sensitivity, and caffeine, fat, alcohol, and carbohydrate metabolism efficiency. The report also includes information about your optimal cholesterol, triglyceride, saturated and unsaturated fat levels.
Supplement reports: This report highlights the best supplements for you metabolically based on an analysis of your genetics, health conditions, current medication, and health goals. You'll get a list of top recommended supplements with specific dosages and the science behind why they are suggested, as well as your genetic risk levels by nutrient.
Exercise reports: You will learn the type, frequency, and intensity of workout that makes the most sense for your genetics, including whether you have a power or endurance body type, how well you can build muscles, and whether diet or exercise is a better method for you to lose weight.
Ancestry reports: Like with standard DNA tests, this report will share information about your global ancestry through regional percentages and an interactive ethnic map.
Do Your Vitagene DNA Results Stay Private?
At the time this article was published, DNA testing companies have been in the news repeatedly, and not always for great reasons. There are concerns with law enforcement using DNA information to solve cold cases and the breach of privacy this assumes.
In light of this information, will your DNA information be safe with Vitagene? The company states that they rely on standard industry security practices to store and protect your DNA results and any further information you provide. They promise that you will retain ownership of the data within your sample and that they won't share your information with any third parties without your consent.
They also state that they will use all practical legal resources to resist requests from law enforcement to share customer data. At the time of writing, they hadn't received any of these requests.
To keep your DNA information safe, Vitagene states that they destroy all physical DNA salvia samples after they are analyzed and that your results are stored without identifying information like your name.
What Does Vitagene Cost?
At the time of writing, Vitagene offered several different purchasing options. We've put together the following chart to share their differences.
| | | |
| --- | --- | --- |
| Package | Price | Features |
| Health + Ancestry DNA Tests and Reports | $79 | Genetic-based diet, exercise, and supplement recommendations with an ancestry report |
| Premium Health + Ancestry DNA Tests and Reports | $119 | Genetic-based skin, diet, exercise, and supplement recommendations with an ancestry report |
| Premium Health + Ancestry DNA Tests and Reports + Supplement Plan | $169 | Genetic-based skin, diet, exercise, and supplement recommendations with an ancestry report and a 90-day personalized supplement supply |
| Raw DNA Health Reports | $29 | Genetic-based diet, exercise, and supplement recommendations |
| Raw DNA Health Reports and Supplement Plan | $119 | Genetic-based skin, diet, exercise, and supplement recommendations and a 90-day personalized supplement supply |
We messaged a Vitagene company representative to get more information about the company's supplement subscription. They told us that the company provides you with four smart supplements you can take daily that are tailored to your genetics.
Once you have used your 90-day supply, it's possible to continue your supplement subscription by purchasing a basic plan of up to four pills a day for $49 per month, or a premium plan priced at $79 per month for eight pills per day.
The specifics of these supplements are different for everyone, as they are based on your DNA results and stated health goals. They promise that each supplement is made from pharmaceutical-grade nutrients and comes free of additives, fillers, and binders.
What Do Previous Customers Think of Vitagene?
In light of this information, do real people like the results they get from Vitagene? We looked at reviews left on Amazon and Trustpilot to come to a conclusion.
Both sites we looked at give the DNA test a positive review. Amazon awarded the 3.5 stars out of five after almost 350 reviews, and Trustpilot delivered an "excellent" ranking after more than 200.
Combing through these comments, the general theme we noticed was that people like that Vitagene was a cost-effective DNA test compared to the competition, as they loved that they could utilize DNA data that they already had to get Vitagene's detailed health report.
We read reviews from people who thought their reports offered useful insight into their weight-loss struggles, including the presence of genes that stopped them from feeling full when eating or a tendency to lose more weight from exercise than from dieting.
On the negative end, we found that a lot of people thought that the health and lifestyle advice was too generic. Some also stated that the information seemed to be based more on survey responses than their DNA.
For example, one user reported that the health report's stance on whether they had a genetic tendency to gain weight changed based on what they listed their current weight as. Another person's report told them they were lactose intolerant when they knew that they weren't.
Others didn't like that the report seemed focused on getting them to buy the brand's supplements. One review we looked at of someone who ordered the supplements reported that their contents looked old and dried up and that they didn't feel different after a few weeks of taking them.
Are There Similar DNA Testing Options to Vitagene?
When it comes to comparing Vitagene to other DNA companies, the obvious choices are 23andMe, Ancestry DNA, and MyHeritage, as Vitagene pairs with each of these companies to flesh out their results.
Is there a reason to commit to Vitagene over another brand or to upgrade your DNA results for Vitagene's health information? We've highlighted some of the differences between these four companies below.
As we previously reported, 23andMe is a genetic testing company that looks at your saliva to discern your lineage. They claim to be the most extensive DNA service in the world with a comprehensive data pool to pull ancestry information from.
We found that 23andMe can take up to four months to deliver results, but your ancestry report will be more comprehensive than Vitagene's. You'll pay $199 for both a DNA test and a health report similar to Vitagene's but at a cost of $80 more.
AncestryDNA is another DNA service worth considering. Our review showed that AncestryDNA members have created more than 100 million family trees from the 20 billion records on the site, and an average of two million more are added each day.
This makes Ancestry DNA one of the top choices of DNA testing for compiling your ancestry information, but the company offers little health data with their standard $99 test. That's why we think that it might be a smart option to purchase an AncestryDNA kit and then send your raw file to Vitagene for your personal health information.
Finally, MyHeritage is another DNA service that promises to connect you with your family. The company boasts three billion profiles, which makes it a little more limited than Ancestry DNA or 23andMe. You also don't get much health information with this service.
Saying that, the company offers several proprietary search features to make it almost effortless to discover distant relatives across the globe. You'll pay $79 per DNA test, and the company provides a range of annual subscription options to give you more access to their comprehensive database.
Overall, we've found that Vitagene chooses to focus on the health side of your genetics; this is where the company excels. You'll receive a comprehensive health report that is rivaled only by the analysis you receive by purchasing the 23andMe health package.
You might sacrifice a little ancestry detail by going with this company, but they are also the only brand that offers options for supplements that are personalized to your DNA results. Plus, Vitagene promises to present their findings within an actionable guide so that you can make improvements for your health where you are likely to maximize your results.
Our View: Should You Consider Trying Vitagene?
After pulling together this research, we think there's a lot of reasons to consider taking a Vitagene DNA test. We found that the company has stellar reviews online and that a lot of people found the health information they provided to be useful.
We especially like the option Vitagene has of letting you upload your raw DNA information to their platform. This eliminates the hassle and wait-time of taking another genetics test, and it cuts the cost of the service down considerably.
If the personalized vitamins are a selling point for you, we recommend checking out other companies that offer this service, including Care/of and Persona Nutrition. Both companies rely on a quick health survey to provide you with a curated collection of daily supplements that you can take.
Some people found that the recommendations in their Vitagene report seemed generic and to take their survey answers more into account than their DNA. For this reason, we think it's best to keep your expectations realistic and to realize that DNA testing is still a developing science that should improve in accuracy over time.