Vitamix S55 Blender Reviews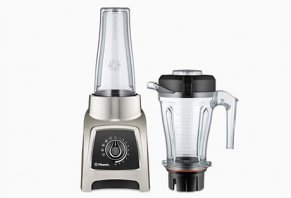 The Vitamix S55 Blender is claimed to provide the ultimate in blending power, regardless of ingredients, using four pre-programmed settings and durable parts.
About Vitamix S55 Blender
Manufactured by Vitamix, the new S55 Blender is claimed to feature four pre-programmed settings that can help you achieve the perfect blend, regardless of whether you're making smoothies, power blends, dips, spreads, or frozen desserts.
In order to accomplish this, each Vitamix S55 Blender is claimed to include a durable metal drive system with variable speed control and pulse features, which allow you crush ice—and even the toughest whole foods—while the radial cooling fan prevents overheating. Each Vitamix S55 Blender is also claimed to feature an interchangeable blade base with a laser-cut, stainless-steel blade design that's attached using a double bearing assembly, in addition to leak-proof seals.
Additional S55 Features
Vitamix manufactured the S55 Blender with safety in mind, by programming it to automatically shut off once the cycle has ended. And even while the S55 is still blending, its safety interlocking system is claimed to turn the machine off if the container is lifted or rocked from the base.
In order to make your blending as easy and as convenient as possible, the included double-walled, BPA-free 20oz container comes with a flip-top lid, while the 40oz container features a 2-part lid that allows you to add ingredients while blending. In addition, you'll also receive a tamper to "press thick and frozen mixtures into the blades," as well as a personal blending cookbook.
At just under 12.5 pounds, the S55 won't be mistaken for lightweight, although once you're finished using it, the manufacturer claims the containers and parts are top rack dishwasher-safe and the based can simply be wiped down.
Clearly, Vitamix puts a lot of effort into the design process, and into producing blenders that are of the highest quality. But does this necessarily mean they're worth the money? Consider the following:
You Have Blending Options
You almost certainly already know this, but it's worth mentioning that when it comes to custom blending, the market is flooded with products at a wide variety of price points. This includes the Nutri Ninja Duo, The Boss Blender, the Blendtec Designer 725, and the Nutri Ninja Pro, among many others.
Granted, not all of these options will have the same features as the Vitamix S55, and they may not be built to the same quality standards, but for the most part, they come at a much lower price.
Ultimately, it will be up to you to decide if the S55's added price is worth the quality performance, which we'll talk about more in the final section. For now though, if you're sure you want a Vitamix blender but aren't sure if the S55 is right for you, Joy Of Blending wrote a fairly in-depth comparison guide to help you decide. In fact, they also wrote a direct comparison between the S55 and the S30.
Are Customers Blending Happily with the Vitamix S55?
The Vitamix S55 Blender was a very new product at the time of our research, so there weren't any online customer reviews available that could be used to gauge overall satisfaction levels.
With this said, a quick online search for reviews related to Vitamix's other blenders will reveal that they tend to have solid reputations for power, quality, and efficiency, although this all comes at a steep price (again, we'll talk more about this in the final section).
From a company perspective, Vita-Mix Corporation based out of Olmstead Farms, OH, holds an A+ rating with the Better Business Bureau, with 19 closed complaints. The majority of these appear to reference difficulty obtaining replacement parts and/or repairs under the manufacturer's warranty.
Vitamix S55 Blender Pricing & Refund Policy
The Vitamix S55 Blender is only available in a brushed stainless finish, and is priced at—take a deep breath—$459, including free Standard shipping (Priority available at an added cost). Keep in mind that you may be charged sales tax depending on the state in which you live.
All Vitamix S55 Blenders come with a 5-year warranty against "a defect in material or workmanship or as a result of normal wear and tear from ordinary household use," although you'll be able to purchase an extended 8-year warranty at checkout for an additional $75.
The S55 Blender also comes with a 30-day refund policy, including return shipping. In order to request a refund or process a warranty claim, you'll need to contact Vitamix customer service at 800-848-2649 for a Return Authorization Number.
Note: At the time of our research, we found the Vitamix S55 being sold at Williams-Sonoma stores for $10 less than directly through the manufacturer. This way, you might be able to save some money while also getting the opportunity to see one in person before handing over your money.
Who Might Benefit Most from the Vitamix S55 Blender?
Chopping to the point: As with most consumer products, including kitchenware, it's very often the case that you get what you pay for. In other words, quality comes at a price.
To this end, Vitamix blenders are known for their quality, as well as their high prices. As such, if you're an occasional blender or don't spend much time cooking, it's likely that the value provided by the S55 Blender won't be in line with its price. On the other hand, if you're a "professional amateur" in the kitchen or put a lot of emphasis on blending, then the Vitamix S55 Blender might be a solid option that will last you for years to come.