VIZR Heads-Up Display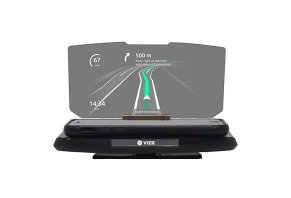 The VIZR HUD display system from FIXD is a great fit for those who often use their phones for navigation and want a device that will help them keep their eyes on the road as they follow their phone's directions.
About VIZR Heads-Up Display
VIZR is a heads-up display that allows you to see navigation directions without distracting you while you drive.
The product is manufactured by FIXD, who produces vehicle-based navigation and diagnostic tools. Their VIZR provides a solution for people who are using phone navigation to get to their destination but don't want to have to look over at a phone, whether anchored in a phone holder or laying on a seat.
Using the device is as simple as placing your phone on the VIZR and opening up a HUD-enabled navigation app. We'll get into the details of exactly how the device works in a few seconds.
In this review, we'll talk about how the product works, discuss its pricing and return policy, then compare it to other similar products.
How VIZR Works
The VIZR sits atop your dashboard and has two main parts: the phone platform and the HUD (heads-up display). When you install it in your card, you'll need to screw in one piece and attach another piece before you can place it in your car.
Once the VIZR is put together, you can remove the adhesive underneath the base, their help site says, and then "firmly press" it on your dashboard. For best results, FIXD recommends cleaning on the surface where you want to stick the device, then pressing the device's adhesive spot for 10 seconds before letting go.
According to FIXD, the base is 6-3/8" inches wide and the glass upon which your phone displays navigation is 2 5/8" high by 5 15/16" wide. Because the device has a large screen, the company says it's compatible with "all phone makes, models and sizes".
Because the device is relatively small and adheres to your dashboard via an adhesive, it can fit in any car that has a wide enough dashboard to fit the base. Also, because the screen is nearly six inches wide, it works with virtually any smartphone.
At this point, you're ready to roll. As VIZR points out, you'll have to download a HUD-enabled navigation app on your phone in order to use the device. Their website recommends HUDWAY Go, an app that's available for both Android and iOS phones.
At the time of publishing, HUDWAY Go had more than 500,000 downloads in the Android store and has an average rating of 3.4 stars from 2,200 reviews. The app gets an average of 3.2 stars from more than 250 reviews in the iTunes store.
Pro tip: Non-HUD navigation apps like Google Maps will not work with VIZR.
VIZR Pricing and Return Policy
VIZR is available for purchase at Fixdapp.com/vizr. At the time of publishing, the VIZR website sold the device for $39.99 for a single unit, $59.99 for two and $79.99 for three.
We went through the checkout process and discovered that standard shipping was free whether you bought one, two or three VIZR's.
If you can't afford to pay for your VIZR device, the company offers interest-free financing through a company called Affirm. We looked at the fine print and found that interest rates start at 0% but could go higher.
Affirm will run a credit check and if you have low scores – 650 and below – there's a good chance you won't get an interest-free offer but, rather, you'll have to pay a certain amount in interest in addition to your three payments.
You have 30 days from the date of purchase to return your VIZR if you aren't happy with it. According to the company's fine print, your refund will be the cost of the item minus taxes and shipping.
If you want to start a return, then you'll have to send an email to support@fixdapp.com. In that email, the company says you'll need to include "your receipt or proof of purchase". Without it, you cannot request a return.
Once you confirm the return with FIXD, you'll send the device and the original packaging to: FIXD Automotive; 75 5th St. NW, Suite 380; Atlanta, GA 3008.
How VIZR Compares to Other In-Car Hud Displays
When you're shopping for these types of devices, you find basically two choices: a clip that holds your phone horizontally or vertically, or an actual HUD device like VIZR.
We took a quick look at the above options available on Amazon and sorted them in order of those that were highest-rated.
The highest-rated HUD is a device that only reveals data about your drive (speed, RPM, gas consumption) and doesn't serve as a navigational tool. This particular device was priced at $79.99.
As far as phone clips go, the Kamisafe Car Phone Holder is a clip that attaches to your dashboard just above your steering wheel so that, as your phone provides directions, you can keep your focus straight ahead and occasionally glance down to see where you're going. This particular device was $9.99.
The product closest in function to VIZR was a dash-mount HUD device that was priced at $19.99. This particular device had more than 125 reviews and an average rating of 2.4 stars, with common complaints being that it was hard or impossible to see.
We mention this VIZR-like product to point out that one of the main complaints about VIZR-type products is that the on-screen visibility can be difficult. VIZR's website notes that if you're having difficulty with their product, adjusting your phone's brightness should alleviate the problem. They also recommend adjusting the angle of the HUD display.
As far as pricing goes, many of the HUD devices similar to VIZR were priced between $16.99 and $18.99. Based on this data, it seems as though VIZR is priced a little higher than competing devices that claim to provide the same functionality.
Are HUD's Safe?
While using a HUD device helps you keep your eyes looking at the road ahead, that doesn't mean that they aren't a distraction.
At some point, you'll most likely look at your HUD screen long enough to be distracted from what lies ahead. This certainly isn't specific to the VIZR – it's a hazard common among all HUD devices and electronics in general.
According to the National Highway Traffic Safety Association, navigation systems count as a driving distraction:
"Distracted driving is any activity that diverts attention from driving, including talking or texting on your phone, eating and drinking, talking to people in your vehicle, fiddling with the stereo, entertainment or navigation system—anything that takes your attention away from the task of safe driving."
With this in mind, remember that HUD systems don't make you invincible – they merely lessen the distraction of your navigation system. Instead of having to look to the seat next to you or the dashboard above your center console, you're averting your eyes for a split-second to look at your dash mounted HUD screen.
The Final Word: Pros and Cons of VIZR
Our research of this product indicates that the VIZR's main strength is that it provides you a HUD readout that keeps your eyes looking straight ahead instead off to the side, for example, to view the navigation system on your phone.
Also, we like how the device is compatible with all phones.
However, one of the VIZR's biggest drawbacks is its price. It is more expensive than similar products on Amazon. And, as we found in our research of various HUD devices, there's a consistent complaint that displays are hard to read.
In general, we believe that the VIZR and similar devices offer a better alternative, safety-wise, than leaving your phone on the seat next to you or using a clip that doesn't affix your phone to the dashboard above your steering wheel.
Product is garbage.

By Frances C.

,

New York

,

Feb 17, 2020
Verified Reviewer

Returned VIZR to the company and was emailed that it is a CLEARANCE ITEM and would not get a refund. The company is a rip-off. Their offer is deceptive with reference to a guaranteed 30-day refund if not completely satisfied. They should be investigated by the BBB.

Bottom Line: No, I would not recommend this to a friend

---

VIZR

By Ray J.

,

North Carolina

,

Jan 30, 2020
Verified Reviewer

I bought 3 VIZRs for Christmas gifts on December 14, 2019. None of the 3 worked. I returned them 2 days later and they would not refund the money because they said they were on clearance. They were not on clearance when I purchased them. As of January 28th, one month later, I have not received 3 replacements.

Be careful what you buy from this company.

Not reputable!

Bottom Line: No, I would not recommend this to a friend

---

Advertisement

---

VIZR HUD is a con

By Lachlan O.

,

Sydney, New South Wales, Australia

,

Jan 24, 2020
Verified Reviewer

I recently received a VIZR heads up display as a Christmas present from my wife.

On trying the VIZR, I experienced extraordinarily disappointing results:

* Even with brightness on my mobile set at the maximum level, the reflected display is very difficult to see...making it more of a hindrance and a distraction than a help.

* In sunlight, it is even harder to see.

* With the mobile sitting freely upon the VIZR, it is not "secured within a cradle" as required by NSW law, making it illegal for a driver in NSW (where we live) to use the mobile.

* Not being secured, in the event of an accident, the phone will become a projectile, a potential risk to the driver and passengers, and will likely get damaged.

* The iPhone maps app, which is a far better-performing app than the Hudway Go app, cannot be used with the VIZR.

* The Hudway Go app requires ongoing paid membership for proper functional use...which in my view is a con, and a waste of money for such a poor performing app!

Basically, this device is just a mirror which you struggle to position on the dash for a poor reflection of a terrible app on your mobile, which you must sit freely just beneath the mirror. It is illegal to use the phone in NSW (and probably many other jurisdictions) without properly securing the mobile.

When my wife made the purchase, she had noted online detail about a 30-day money-back guarantee...so we made the purchase, however, given our disappointment at the product, quickly requested our money back. This request was rejected on the basis that (in fine print!) the money-back guarantee didn't apply during a sale period.

Normally, I would sell an unwanted item so as to recoup any losses, however cannot do so on this occasion as my conscience will not allow me to charge anyone for such a rubbish product, which makes it less safe, not more. Accordingly, I am left with no choice but to dispose of the product in the trash and to warn others against buying a VIZR HUD.

If you are considering this product, do yourself a favor: DECIDE AGAINST PURCHASING!

Bottom Line: No, I would not recommend this to a friend

---

Utter crap

By Chris D.

,

New York

,

Jan 13, 2020
Verified Reviewer

What a joke! Cheap toy, flimsy and defective. I mounted it on my dash and it flopped all over the place with every corner I turned. DO NOT WASTE YOUR TIME. The recommended Hudway navigation app is equally awful. Furthermore, customer service is really bad. Upon return they made me feel lucky to get my money back saying I purchased it on a clearance sale and no refunds were allowed. I paid $39.99 plus postage which is the retail price and clearly not a sale/clearance price. Yet they still sent me a postage label so I could return it! What a shambles...

Bottom Line: No, I would not recommend this to a friend

---

Advertisement

---

Agree it's a scam

By Lyn A.

,

Atlanta, GA

,

Jan 6, 2020
Verified Reviewer

There is nothing more to add to the many negative reviews. WARNING, save your money. Company is inflexible. Nav app is also a joke. I think GA Tech needs to ask for their diplomas back. Save your money...don't buy these or you'll be stuck with a device that doesn't work.

Bottom Line: No, I would not recommend this to a friend

---

This is a rip off.

By Paul D.

,

Yellville, AR

,

Dec 19, 2019
Verified Reviewer

After I received the product I found out I needed to pay a monthly or yearly fee to even use it. I already have an app and device that tell me how my car is doing. I check it periodically. No yearly or monthly fee.

I will just stick with my iPhone navigation.

I see this as a scam to collect a monthly fee and not really add any value.

I also love the disclaimer about posting reviews. Only seen such a disclaimer on this site. They must get a lot of bad reviews.

And yes, I did buy the VIZR and feel ripped off.

Bottom Line: No, I would not recommend this to a friend

---

Run away

By Steve T.

,

United Kingdom

,

Sep 13, 2019
Verified Reviewer

Hi. I have just received the VIZR Heads-Up Display, what an expensive joke, it's not even a good toy. Stay well away from this and don't waste your money. I have had it for half a day and have tried it in sunny and cloudy conditions it was an absolute joke.

Bottom Line: No, I would not recommend this to a friend

---

Crap!

By John H.

,

Sydenham, Ontario, Canada

,

Aug 29, 2019
Verified Reviewer

This is a scam. NO, DON'T BUY IT. Terrible, brutal HUD, a pile of crap on top of a crappy product. I may not get a refund. Here I go. No, NOT ANYWHERE close to what it is supposed to do. You would be better off putting a mirror in front of your cell phone to get a clearer and superior HUD! If you buy this thing shoot yourself in the head. It didn't come with a code?

Bottom Line: No, I would not recommend this to a friend

---

Do not waste your money

By Brent O.

,

New Zealand

,

Apr 17, 2019
Verified Reviewer

As I said, don't.

I contacted them about a question about Hudway Go. They replied for me to contact Hudway as it's their issue. I contacted Hudway and the reply was VIZR was a copycat (inferior at that) of their own product and they couldn't help me.

So my $39.95 product that was charged on my Visa at over $70.00 is at the dump.

Bottom Line: No, I would not recommend this to a friend

---

Disappointed

By Robert S.

,

Missouri

,

Mar 21, 2019
Verified Reviewer

I didn't have a chance to use it during the warranty period so returning it is no option. The program is difficult to navigate through. I can't return to the previous screen by hitting the back button. You have to upgrade to premium to get their full services. Mostly, however, you cannot read the screen. The reflection is so low, both day and night, all I can see is the road in front of me. Good idea, bad design. I would not recommend anyone purchase this product.

Bottom Line: No, I would not recommend this to a friend

---

Horrible customer service

By Karen K.

,

Texas

,

Mar 14, 2019
Verified Reviewer

I ordered three VIZRs as gifts in November. Two of them cam back to me recently, as one person soon got a car with GPS and never used it. The other preferred Waze on the phone.

Two days ago I contacted VIZR telling them the situation, wanting to return two and get a refund. The repeated response has been:

We have two warranty policies.

1) If you are unhappy with the product for any reason, you have 30 days to return it - no questions asked.

2) We offer a one-year replacement warranty for the VIZR itself. If there is any defect with the device, we will send you another one free of charge.

Clearly this does not work for me. I said I would publish their bad customer service and inflexibility and that's what I am doing.

Bottom Line: No, I would not recommend this to a friend

---