Voxx Insoles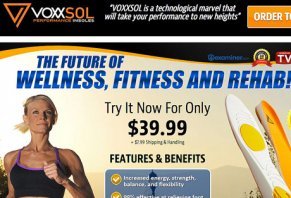 Using proprietary technology, Voxxsol insoles are claimed to apply pressure to areas of your feet that relax cranial nerves, resulting in a variety of benefits.
Voxx Insoles Review: Is It Legit or Just Hype?
Designed by chiropractic neurologists and reflexologists, VoxxLife claims to be a performance insole that uses a proprietary technology to provide users with increased energy, strength, balance, and flexibility.
After being inserted into your athletic shoes, Voxx insoles are claimed to be 98% effective at relieving foot, heel, and knee pain, and to outperform $400+ custom orthotics. In fact, the manufacturer goes so far as to claim that Voxxsol insoles are "a technological marvel that will take your performance to new heights."
How Do VoxxLife's Insoles Work?
At its most basic, Voxx insoles are claimed to address the side effects related to something known as a "kinetic chain." This can occur if your existing stability or balance is off-kilter, resulting in some type of foot pain.
Over time, by compensating and taking the weight off, your other foot may become painful, which then leads you to further compensate by leaning forward or backward. Finally, this poor posture can ultimately lead to knee, hip, or back problems.
Instead, the beds of Voxx Insoles are claimed to feature a deep heel cup for support and pain relief, as well as anatomically correct multi-density foam that adds comfort and protection from hard impacts.
On top of this, Voxx Insoles are claimed to provide multiple pressure points that instantly relax the cranial nerve and activate the dermatomes on the soles of the feet to improve balance, stability, strength, and energy; improve the ability to maintain a position, increase range of motion, and to improve training and recovery.
According to the VoxxLife website, these insoles were independently tested by SportTesting facilities, which ultimately reflected a 25% increase in power, 8% increase in the broad jump, 6% increase in the vertical jump, and a 10% increase in balance.
Voxx Insoles Pricing and Refund Policy
Voxx Insoles are priced at $39.99 plus $7.99 S&H, although additional insoles ordered at the same time are priced at $19.99 with free shipping.
Although they can be cut based on your individual needs, Voxx Insoles are only available in 2 sizes: Men's size 7-12 and women's size 6-11.
All Voxxsols come with a 30-day refund policy, less S&H charges. In order to initiate the process, you'll need to contact customer service at (844) 817-7826.
Can Voxx Insoles Help Relieve Pain and Improve Performance?
For a $40 pair of insoles, if the Voxxsol website is to be believed, these insoles might appear like some kind of "miracle product." But is this necessarily the case? Consider the following:
Evidence for VoxxLife's Claims
As a company, Voxx Sports, Inc. based out of Mississauga, ON appears to be focused on athletic products that relieve pressure on cranial nerves, thereby improving functional performance in a variety of tasks.
And although we're given a little information about their mouthpiece on the company's website, we're left in the dark about how Voxxsol insoles specifically can improve cranial nerve function, or any of the other claimed benefits such as increased strength and improved training and recovery.
The company also provides several citations for their mouthpiece claims, but none related to their insoles.
Despite this, Voxx Insoles are claimed to have been independently tested by SportTesting, where they were shown to be 98% effective at relieving foot pain, and to outperform $400+ custom orthotics. However, none of the results for these tests are made available.
What's Up with Dermatomes and Pressure Points?
Speaking of evidence, the VoxxLife website claims that these insoles can activate the dermatomes on the bottoms of your feet, while also providing pressure points that relax your cranial nerves.
First, a dermatome is simply "an area of skin that is mainly supplied by a single spinal nerve." And within the massage industry, there is a specialization known as reflexology, where the masseuse applies pressure to these areas (also to the hands and ears) in order to affect other areas of the body.
While some studies show that reflexology treatments can provide some short-term benefits, according to a 2009 UK study, "The best evidence available to date does not demonstrate convincingly that reflexology is an effective treatment for any medical condition."
However, the key point here is that dermatomes and pressure points only come into play when deep pressure is applied to very specific areas of the feet, none of which appear to be addressed by Voxxsol. And even if they were addressed, it's unclear how these "technological marvels" would provide more pressure in these areas than an ordinary insole you'd find at your local pharmacy.
What Sets Voxxsol Apart from the Competition?
Clinical evidence, dermatomes, and pressure points aside, there also doesn't appear to be anything special about the materials used in Voxx Insoles' construction, although the only informed provided is that it's made of multi-density foam. However, this is probably the most popular material used in low-cost insoles, and is something that can almost be found at a local retailer for well under $20.
Bottom Line
Because foot, knee, and hip pain is so individualized, what works for one person may not work at all for another, and insoles are no different. However, based on the information provided on the VoxxLife website, there doesn't appear to be anything concrete that differentiates these insoles from ones you'll find at local retailers, often for less money.
1 out 1 people found this review helpful

Don't buy them

By Harvey N.

,

Minnesota

,

Jan 8, 2020
Verified Reviewer

I have four conditions that they claim the socks help. There has been no change in how I feel after wearing these socks for some time.

Bottom Line: No, I would not recommend this to a friend

---

2 out 3 people found this review helpful

VoxxLife insoles

By Dave S.

,

Brantford, Ontario, Canada

,

Oct 12, 2019
Verified Reviewer

VoxxLife insoles are better than ALL biometric and other insoles I have tried...and I have tried dozens. The relief was almost instant. I have recommended your product to 4 people and they have all loved the results.

Bottom Line: Yes, I would recommend this to a friend

---

Advertisement

---

6 out 7 people found this review helpful

I like the socks!

By Michele H.

,

Wilmington, NC

,

Sep 23, 2019
Verified Reviewer

I was recently introduced to the socks from a friend with an extensive medical background and I recently had shoulder surgery, post-op 2 months. I'm still having a constant dull pain which can be normal for my issue 4-6 months after. I wanted to try something else to avoid the pain meds that cause me gut issues. I slept in them and noticed less pain. On a normal night, I take sleeping meds but didn't need to this night. I have continued to wear them and so far like the results. Less pain and I definitely see a difference in my flexibility. My one complaint is they seem to generate heat, they will be perfect for cooler weather but benefits outweigh this minor thing. So far, very happy with my purchase.

Bottom Line: Yes, I would recommend this to a friend

---

11 out 14 people found this review helpful

Not impressed so far

By Lis P.

,

United Kingdom

,

Aug 29, 2019
Verified Reviewer

Bought them yesterday from someone whose opinion I trust. However, having worn the insoles for 6 hours yesterday and 8 hours today, I would say I feel no difference apart from them making my feet sweat. I also bought the socks for my son with autism. He wore them for a similar length of time. Honest opinion, I think these are a scam.

Bottom Line: No, I would not recommend this to a friend

---

Advertisement

---

13 out 15 people found this review helpful

More pain

By Sandra T.

,

South Haven, MN

,

May 14, 2019
Verified Reviewer

Worst product ever! After wearing them I had more pain throughout my whole body. My neck, shoulders, hips, feet, legs, even my knees which have been replaced were so painful, I could hardly walk for 4 days. The worst part, can't return them because she never gave me a receipt. So I'm stuck with a $50 pair of insoles I can't use.

Bottom Line: No, I would not recommend this to a friend

---

24 out 25 people found this review helpful

Band-Aid on your arm will give the same balance and stability results!

By Richard M.

,

Sydney, New South Wales, Australia

,

Apr 3, 2019
Verified Reviewer

Fool me once, shame on you...

Yep, I fell for the "technology demonstration" at a craft show by a lady with lots of enthusiasm but no answers as to why these socks with just threads would change my life. She showed me a patch too that "would do the same thing."

I thought about it for a day and my logical brain came up with a test.

I tried a Band-Aid on my foot then my arm...well well well...SAME RESULTS with the balance test. No kidding. Try it yourself.

The brain stimulation by the Band-Aid must have put me into "homeostasis" just as good as a pair of overpriced socks.

Nice feeling socks, but did not change my life. I'll know better next time.

Bottom Line: No, I would not recommend this to a friend

---

14 out 17 people found this review helpful

Worked fast for me

By Kathy B.

,

Cherryville, NC

,

Mar 21, 2019
Verified Reviewer

I too was skeptical. I had never heard of Voxx. I watch a YouTube video where they were mentioned. I looked them up, went in with eyes wide open, and ordered them.

Because of back pain, two back surgeries, a bad automobile accident years ago, I am off balance at times, which causes me to fall. I suffer from chronic pain of plantar fasciitis and bilateral neuropathy. I admittedly would try anything but drugs to stop the pain.

I received the insoles three days ago. I have not felt this good in a long time. I want to sleep in them! My pain, while not completely gone, has been cut by 75%. I can actually bend over and tie my shoes!

They may not work for everyone, but they are guaranteed. I figured I would try for a week and when they didn't work, I would send them back. No one is more surprised than me!

Bottom Line: Yes, I would recommend this to a friend

---

17 out 20 people found this review helpful

I didn't believe it until I tried it!

By Noelle L.

,

Chicago, IL

,

Dec 1, 2018
Verified Reviewer

I was dealing with horrible back and sciatic pain. I got the socks and wore them for a week. My pain was significantly better, and I have only had good days since I have been wearing them. I don't know if they work for everyone, I can only speak for myself, but for me, a $35 investment to TRY to help with my excruciating pain was a no-brainer. I am grateful for Voxx and will continue to use.

Bottom Line: Yes, I would recommend this to a friend

---

19 out 22 people found this review helpful

I won't be without them ever!

By Mark W.

,

Minnesota

,

Oct 14, 2018
Verified Reviewer

The socks relieved my diabetic nerve pain within a few hours of putting them on. I also have damaged nerves in three toes from a broken leg and dislocated ankle (motorcycle accident). I can honestly feel my toes again. This product may not be for everyone, but it definitely works for me. Thank you!

Bottom Line: Yes, I would recommend this to a friend

---

18 out 22 people found this review helpful

Am amazed

By Johanne R.

,

New Brunswick, Canada

,

Oct 8, 2018
Verified Reviewer

Wow, I've been reading all those reviews and wow I am amazed. I have nerves damaged as I do not have any balance at all. And I too was very skeptical, but I tried the insole on the spot and they couldn't make me lose my balance. My friend with me didn't believe it either, so we did the test together because they can say they do things, but well, we know anything for a sale. But wow, I can walk without my walker now. I do agree the socks didn't work for me, but the insoles are the best thing I could ever have. I had many orthotics that never helped, but this, wow, I am amazed...

But for the ones that say they wore it half a day and it didn't do a thing, well, for your information, everything takes time. It's like saying I took the pill and it didn't work within 5 minutes...no pain pills work fast, it needs to be accumulating in your system. Same here...try it for longer and see. I totally recommend the insoles, they are the best. And honestly, the price is right. I used to pay over $250 before.

Bottom Line: Yes, I would recommend this to a friend

---

19 out 25 people found this review helpful

Excellent

By John P.

,

Alberta, Canada

,

Sep 4, 2018
Verified Reviewer

I have been using insoles in my footwear for a while, usually a brand off the shelf at any drug store. I had a massage and had a discussion about insoles. I put Voxxsol insoles in my boots and changed them to my workboots. It's like no comparison to any I've used before. My feet aren't sore, and my legs aren't sore. I feel energized. I will return to get the second set, so I do not have to change them back and forth between footwear. Thanks.

Bottom Line: Yes, I would recommend this to a friend

---