Voya Financial Reviews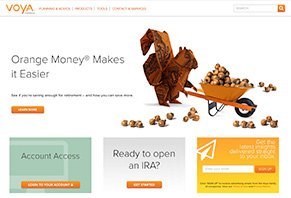 Voya Financial is a large financial services company offering its customers a variety of life insurance, retirement and annuity options for individuals and employers.
What is Voya Financial?
Voya Financial is a financial services company individuals and companies can use to buy insurance, investment plans and retirement accounts.
The company's brand recognition has really soared over the past couple of years because of the money they've invested in their catchy commercials featuring orange squirrels and actors Allison Janney and Jesse Tyler Ferguson.
Voya is based in New York and started out as ING, an international financial services powerhouse. In 2013, ING's U.S. branch rebranded itself as Voya. They've got an extensive website as well as a network of Voya reps at brick-and-mortar offices across the country.
Voya's CEO is Rodney O. Martin, Jr., who also serves as chairman of the company's board. Before becoming the boss at Voya, Martin served as chairman of several different divisions within insurance giant AIG.
Nearly 70% of their business comes from retirement and annuity accounts, while 15% comes from investment management and the remaining 16% of their operations are devoted to employee benefits and individual life insurance plans.
With so many different products on the Voya menu, it can be hard to get a read on exactly what they offer and what fees they'll charge you for their services.
Also, how do you know if Voya is right for you when there are hundreds of companies offering retirement plans and life insurance.
In this review, we'll work through each of those topics, as well as address what customers are saying about Voya Financial's services.
What Does Voya Financial Offer?
As we mentioned at the beginning of this review, Voya Financial sells retirement and annuity accounts, various investment vehicles, benefit plans for employees and life insurance plans.
They divide up all these products in two categories: employer-based and individual-based. For the purposes of this review, we'll focus on their individual products since we focus on consumers.
Voya Financial's Retirement Products
For the individual, Voya provides IRA's of the following types:
Traditional IRA - You can contribute up to $5,000 per year, contributions are taxed when you cash out and you get tax breaks during the year.
Roth IRA - You can contribute up to $5,000 per year, contributions are taxed in the year you make them and you get tax breaks when you cash out.
401(k) Rollover IRA - You move your 401(k) contributions into an IRA account.
Spousal IRA - An IRA account you create for a spouse, as long as you're married and file joint tax returns.
SEP IRA - An IRA designed for self-employed individuals or small business owners.
SIMPLE IRA - Designed for small business owners with up to 100 employees.
Voya's Traditional IRAs and Roth IRAs: Popular Products
"IRA" stands for investment retirement account.
Basically, you put money into it and that money is applied to a certain mix of investments that, in theory, will increase your contributions to the point you can comfortably retire when you hit your 60s.
The two most popular types of IRAs for individuals are traditional and Roth. The main difference between the two IRA's is when you get taxed.
Tax Differences Between Voya's IRAs
Traditional IRAs get you a tax break (deduction) on anything you contribute during the year, but the government won't make you pay taxes on what you contribute or earn until you retire.
Voya says Traditional IRA's are good if you think you're going to earn less in your retirement years than you do now. The idea here is that you'll pay fewer taxes when you cash out since you'll be earning less.
When you contribute to a Roth IRA, though, you're taxed on what you contribute in the year you contribute. When it's time to cash out your Roth, you can deduct what you collect.
Voya says Roth IRA's are better for those who think they'll be in a higher tax bracket when they retire. The idea is that you'll pay fewer taxes up front because you're earning less.
Also, you can withdraw from your Roth IRA's contributions without getting a penalty, which is something you can't do with a Traditional IRA.
Pro tip: To open an IRA with Voya, you have to deposit at least $5,000 or make monthly payments of at least $100.
Voya Financial IRA Fees
All the categories we listed above – traditional, Roth, SEP, etc. – are types of IRAs. No matter which type of Voya IRA you choose, you'll have two different options for how much control over you have over your investments: brokerage and express mutual fund.
Each of these IRA management styles carries certain fees.
Voya Brokerage Accounts Fees
Voya's brokerage account gives you the chance to make trades on your own or to ask Voya to help you. However, these accounts come at a cost:
$14.95 per trade you make
$44.95 per broker-assisted trade
$19.95 per limit order
As you can see, the freedom to trade at your own discretion can be costly.
In case you aren't familiar with investment terminology, a broker-assisted trade is what happens when you don't have access to the internet and you have to call and ask Voya to make a trade for you.
"Limit order" is asking Voya to make a trade when a certain investment option hits a certain price.
There are dozens of other possible fees associated with brokerage IRAs; take a look at Voya's fees page to learn more.
Voya Express Mutual Fund IRA Fees
This Voya IRA management choice is much more hands off than the brokerage account. You make the contributions and Voya does the rest. Fees for this account are $10.00 per quarter.
Voya Annuity Accounts
IRAs are nice because you can contribute pretty much whenever you want and in amounts you want, with contributions capped at $5,000 per year.
Annuity accounts are more rigid – you make a set amount of payments for a set amount of time. For example, you could start an annuity account where you contribute $50 per month for 10 years.
There are several different variations to the annuity, just like there are for the IRA: fixed-index, variable, income and fixed.
Voya's fixed-index and fixed annuities guarantee you an interest rate on your contributions, which makes them a lower-risk solution.
Variable annuities take on more risk but have the potential to earn more, while Voya's income annuities disperse payments as income during your retirement.
Voya Annuity Fees
Voya's annuity fees aren't listed on their website, but, as with all annuities, you'll probably be charged certain yearly fees for maintaining your account and for getting guaranteed rates of return.
Those costs may not be worth it, says Jessica Alling, a writer for financial website Motley Fool.
Though the basics of an annuity provide a decent investment option," Jessica wrote, "the cost of the product cuts into your returns to the point where another investment vehicle may have given you a better result."
Voya Life Insurance
Like the previous two products, IRAs and annuities, Voya gives you several different choices of life insurance policies: term, universal, index, variable and survivorship.
Each one of these Voya policies meets specific needs and contains varying levels of risk – Voya invests your money to earn extra money that goes back into your policy.
Voya's universal and index policies offer the lowest risk, while the variable policy has the highest risk.
Survivorship policies are given to couples who pay into one policy for both people rather than having individual policies for each spouse.
Term life insurance policies are kept for a certain amount of time, and, once they run out, the policy ends. These life insurance plans tend to have lower monthly premiums.
Voya Life Insurance Fees
Voya doesn't list their fees for life insurance policies on their website. Based on our research, you can expect to pay more fees when your retirement account is mixed with investment accounts.
If you're just buying term life insurance, you can expect the fees to be lower.
A Quick Word About Understanding Fees
One piece of advice we tell consumers like you is to know your contracts inside and out.
One of the benefits of reading through your contracts line by line is that you can catch any and all fees you'll pay for the service you're buying – in this case, retirement accounts, annuities and life insurance policies.
Should you decide to use Voya's services, don't be afraid to ask your Voya rep any questions you have about fees and read through your policy/plan documents.
If you have any questions about fees, ask them. It's better to find out everything up front that months or years down the road.
What Other People Are Saying About Voya Financial's Fees
Voya Financial has a variety of different reviews, ranging from awards given by trade organizations to consumer reviews on various websites.
We're going to take a quick look at what consumers are saying about Voya and what ratings and reviews the company gets on its Better Business Bureau page.
Consumer Reviews About Voya
We took a look at the most recent Voya reviews on Consumer Affairs and found that many responses were negative. Consumers complained about poor customer service, long hold times and difficulty withdrawing funds from retirement accounts.
One reviewer from New Mexico likened the cash withdrawal process to "wading through dense muck."
Voya's Better Business Bureau Page
Voya Financial gets a C- rating on its BBB page. The BBB says their grades "represent the BBB's opinion of how the business is likely to interact with its customers" and the rating is based on information "about the business, including complaints received form the public."
Many of the complaints we read echoed what was on Consumer Reviews: bad customer service and difficulty withdrawing funds.
Our Conclusions About Voya Financial
Voya Financial is different than many of the financial services we've reviewed because it's not a startup, but a rebranded company with a catchy ad campaign.
There's no doubt that Voya is a big company with numerous services and products for employers and individuals. This has its pros and cons – they're reliable in the sense that they've been around for a while, but they're also busy with millions of customers.
Customer Service Could Be Frustrating…
For the average consumer like you, it's important that the company handling your life insurance, retirement plans and annuities has time to meet your needs.
Based on the reviews we've read from consumers, there's a chance that your customer service interactions could be frustrating and your needs won't be met.
However, it's important to keep in mind that the reviews we read represent a very small slice of Voya Financial's customer base.
These negative reviews shouldn't service as the only paradigm you use to judge Voya, but as a reminder that the company's customer service representatives aren't always as helpful as you'll expect them to be.
And, of course, that's nothing out of the ordinary for big or small companies.
So Talk With a Local Voya Rep
If you really value personal interaction, we suggest heading to Voya Financial's website and using their search page to find a Voya professional near you.
When you talk with them about setting up an account, gather information about their different products.
At the same time, keep your eye out for financial advisor red flags: Have they ever worked with someone who has your needs? If you go to you appointment with your spouse, are they condescending to him or her or do they ignore him or her?
Once you find an advisor with whom you feel comfortable, take the time to read through the paperwork. Use a highlighter to mark the fees you'll be charged.
If you have questions about certain charges or rates, ask.
Make Your Decision on Your Time
And, above all, don't feel pressured into making a decision before you're comfortable. Retirement accounts, annuities and life insurance are expensive endeavors that can have a huge impact on the quality of your life decades from now.
Take time to think everything through, consult the advice of other financial experts and make sure you know exactly what you're getting into.
It will take more time than it would if you just signed the dotted line without thinking, but it's well worth the hours you devote to solid research.
Not happy with Voya Financial

By Patricia K.

,

Milwaukee, WI

,

Feb 22, 2020
Verified Reviewer

My son has an account for both of his kids for their college fund. Granddaughter Kayla is going to be a junior and we still haven't been able to get our money out of the account. Each time we call, we're told another story. Forms are returned and they say they never received them. If you don't have a statement when you go to the bank to have any paperwork notarized to change your address or request anything regarding your account, you can't submit paperwork. However, you can't get a statement. This has been going on for over 2 years and it's getting old. May have to drive and deal with them in person because you can not get through any other way.

Bottom Line: No, I would not recommend this to a friend

---

Criminals

By Stephanie W.

,

Richmond, VA

,

May 25, 2019
Verified Reviewer

They use the tactics to endlessly stall and make you want to give up fighting for your money. The fact that the media and SEC do not seem to be paying attention needs to stop. I have created a Facebook forum to help us vocalize.

Bottom Line: No, I would not recommend this to a friend

---

Advertisement

---

High fees, cas hout cost is very high!

By Jim J.

,

Houston, TX

,

Mar 25, 2019
Verified Reviewer

Voya variable life insurance policy is a scam. Don't get it. They charge 40 years of admin fees up front in the first 6 years. There are monthly service and premium fees that completely eat up any contributions and investments. And when you decide you want out of this craziness, there is a cash out fee of over $4000. I put one star because there is not a zero star option.

Bottom Line: No, I would not recommend this to a friend

---

Unethical company

By Tricia D.

,

Burlington

,

Jan 21, 2019
Verified Reviewer

I have been dealing with Voya for months now. In October I have sent my request to withdraw my 401k after being laid off. The request was approved. I got my paperwork motorized and sent to my old employer and Voya. After it was approved, I received confirmation that it was being distributed to me. After I haven't received any distribution for a few days, I reach back out Voya and they said that I canceled my request even though the confirmation email says that I cannot cancel my request and I know I did not. I told them that I did not cancel my request, so they asked me to redo all the paperwork. I had to go get the paperwork notarized again and mail it back.

After I didn't hear anything from Voya I reached out to them and asked about my distribution. They said they never received the mailed paperwork and for me to redo everything. So I redid my paperwork and re-mailed them the paperwork and emailed that paperwork to them and they still said they did not receive it, so then I faxed my paperwork to them.

After I faxed my paperwork to them and haven't heard from them, they said they never received the faxed paperwork since I put a lot of time in re-doing the paperwork a lot of money and getting it faxed, mailed and notarized I threatened to involve my lawyer. A few minutes after, they changed their mind and said that they actually did receive the paperwork because I have proof that they received the paperwork from my fax. After that, it was approved since I filled out all the required documentation for the 7th time. I recently asked for a date when it will be distributed to me and they replied and said that I never signed the paperwork and asked for me to repeat the process an 8th time. I know I signed the paperwork. I have proof. It has been an inaccurate excuse each time for Voya to avoid them giving me my distribution.

Bottom Line: No, I would not recommend this to a friend

---

Advertisement

---

664% increase in life insurance premiums after 31 years

By William H.

,

Bakersfield, CA

,

Oct 21, 2018
Verified Reviewer

My husband and I have filed a complaint with the California Insurance Commissioner's office today, October 19, 2018. The brief overview of the case is as follows:

We purchased a universal life policy from Midwestern United Life Insurance Company in 1988 with a death benefit of $25,000. The policy is now with Voya Insurance. We have paid the $230 annual premiums every year for 31 years with the last payment being made in February 2018. We received a notice early this month that if we did not pay an additional $211.01 that the policy would lapse in 10 days. I called them and they indicated that we really owed them $489 and that the annual premiums would increase from $230 per year to over $1750 per year, which is over a 664% increase starting in February 2019. In their analysis, they indicate that this estimated increase may be conservative. More likely, the premiums will increase more than those stated.

These guys advertise themselves as the most "ethical company in America." If that is true, we are all in trouble.

Bottom Line: No, I would not recommend this to a friend

---

Will not renew

By Randall G.

,

Winston Salem, NC

,

Jul 26, 2018
Verified Reviewer

Total disappointment that for years I have paid into an accident insurance policy and the one time I file into it, it was slapped in the face. It does not pay if you get hurt at work. That's where most people get hurt at if your not sitting behind a desk all day. I'm awaiting the renewal period and letting all other employees know about the subpar policy.

Bottom Line: No, I would not recommend this to a friend

---

Required Minimum Distribution form my Voya IRA Account

By Susan Z.

,

California

,

Jun 13, 2018
Verified Reviewer

Requested a distribution from my 401k to meet my required minimum distribution because I just turned 70 1/2. Made the request on 5/13/18 after completing and faxed the forms required.

I received a letter 2 days later that the forms were received and approved and that the funds would be deposited in my bank account. The money was taken out of my Voya account on the date of the letter.

The money did not arrive in my bank after a week. I called and was informed that because my checking account is in a trust I would need to have the forms I sent in to be notarized. I did not understand what my bank account being in a family trust would be relevant since it is only receiving the money.

My Voya account is not in the trust and is the account sending the money. When I spoke to Voya about not receiving the money they said my option would be to receive the check by mail. They told me to allow 10 business days (excluding weekends and holidays) for the check to arrive.

I live in Northern California and the check is coming from Iowa. It takes 4 to 5 days for mail to get from me to my children in Washington DC, but I let that go. 16 days after the check was supposedly mailed (Mailed on 5/23/18 called on 6/8/18) I was told I should wait until Monday 6/11 in case it arrives then at which point I could request a new check.

I asked how it was mailed. I was told that they are sent via regular US Mail with no tracking number available as would be the case with US Priority Mail.

Today I asked to speak to a supervisor. The supervisor Marvin told me that they only discovered yesterday that no checks got printed on 5/23/18 because of a glitch and that they were not mailed. They have since been mailed via regular 1st class US Mail.

Why didn't the people I spoke with before asking to speak with him not know this? Marvin didn't have an answer for this as he only just found out himself. I asked when I should expect the check. Marvin said by Monday or Tuesday and that he would call me to follow up. I asked for a case number for my complaint to reference if another call was required and Marvin said that he would just keep a note to follow up with me.

I asked if he could provide me with a contact person to lodge a formal complaint as these people have a lot of my retirement savings. Marvin said that no such department existed but that I could write a letter and fax it to Voya. I will be transferring my retirement savings from Voya.

Bottom Line: No, I would not recommend this to a friend

---