VSP Direct Eye Insurance Reviews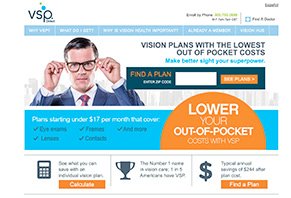 VSP Direct's vision plans promise to help you save hundreds of dollars per year on your eyecare needs, including exams, frames, lenses, contacts, and more.
About VSP Direct Eye Insurance
VSP Direct is a not-for-profit vision insurance company offering five individual or family plans that can help take care of your eyes, while saving you money at the same time.
We're also told VSP Direct offers the lowest out of pocket costs of any eye insurance provider, along with affordable access to more than 36,000 doctors nationwide, including eye exams, lenses, frames, contacts, and more.
In some instances, your VSP Direct membership might even provide discounts on sunglasses and Lasik eye surgery!
Together, this is why the company claims to be the "number one name in vision care," with 80 million members (1 in 5 Americans have a VSP plan) and a 95% customer satisfaction rating.
VSP Direct is clearly a large vision insurance provider with many important perks, but does this mean you should sign up? Are there other companies that should be on your radar? We'll help you find some answers here.
How Does VSP Direct Work?
In a nutshell, VSP Direct promises to help you save money on vision costs by delivering "services at rates well below walk-in prices" within their network of 36,000+ doctors. Simply enroll in an annual plan and you'll be able to begin using your benefits in as little as 5 business days.
This will give you access to savings on eye exams, a set dollar amount that can be applied toward glasses and/or contacts, and discounts on optional enhancements like scratch-resistant coating, no-line bifocals, photochromic adaptive (light-to-dark) lenses, and more.
On top of this, you'll find select eyewear brands that VSP Direct provides additional $20 or $40 discounts.
Like traditional insurance (such as health), VSP tells us you simply need to make an appointment, undergo an exam, select your frame and lens options, take care of copays or overages (which can be paid from an HSA), and your doctor's office will handle the rest.
Note: You can continue visiting an out-of-network provider with a VSP Direct membership, although "you'll have to submit your claims yourself and will be reimbursed at lesser out-of-network coverage amounts."
How much will you pay for these benefits?
Which Vision Plans Does VSP Direct Vision Offer? How Much Do They Cost?
Overall, VSP Direct offers five different vision coverage plans. Keep in mind that coverage, along with the price you pay, can vary by state.
Standard Plan
According to VSP Direct, their Standard plan is ideal for those looking to save on eye exams and basic glasses.
Here, you'll have a $15 eyeglass exam copay, a 15% discount on contact lens exams, and a $25 copay for glasses. You'll have up to a $150 allowance on glasses or contacts (you must choose one or the other), with no copay when purchasing contact lenses.
VSP tells us members will gain access to a wide selection of brand-name frames, along with savings on lens enhancements like impact resistance, bifocal or trifocal, and much more.
Finally, Standard Plan members will get extra savings like up to $500 off a LASIK procedure, up to $2,400 off TruHearing digital hearing aids, and up to 20% savings on additional glasses or sunglasses.
For more, be sure to read through the Standard Plan details.
All VSP Direct plans come with a 12-month term, with open enrollment throughout the entire year. You can choose to pay lump sum or in installments:
1 Person Plan: $14.04/mo ($168.48/yr)
2 Person Plan: $26.66 ($319.92/yr)
Family Plan: $36.54 ($438.48/yr)
According to VSP, the typical annual savings for a Standard Plan member is $244.
Works Plan
Comparatively, while the Works Plan provides many of the same benefits as the Standard Plan, there are some significant additions:
$15 contact lens exam copay
$150 contact lens allowance every 12 months, in addition to frame allowance
Extra $40 to spend on featured frame brands, on top of your existing frame allowance
Many lens enhancements are fully covered after little-or-no copay
Together, VSP tells us their Works Plan is ideal for those who need contacts, eyeglasses, and multiple lens enhancements. Full plan details can be found here.
1 Person Plan: $33.17/mo ($398.04/yr)
2 Person Plan: $62.91/mo ($754.92/yr)
Family Plan: $86.15/mo ($1,033.80/yr)
VSP Direct tells us that Works Plan members typically save about $665 per year.
EasyOptions Plan
If you'd like the flexibility to tailor your coverage—even while you're in your doctor's office—VSP Direct claims their EasyOptions Plan might be right up your alley.
As with the previous two plans, you'll receive $15 WellVision Exams and a $25 copay on glasses, along with the 15% savings on your contact lens exam found in the Standard Plan. However, there are some unique differences with EasyOptions:
You'll have a $150 or $230 frame (or contact lens) allowance, in addition to an extra $40 to spend on featured frame brands
On frames, you'll get an additional 20% savings on any amount over your allowance
20-25% savings on the cost of optional contact lens enhancements
Custom benefit options like fully covered no-line bifocals/trifocals (progressive lenses) or fully covered light-to-dark lens tinting (photochromic adaptive lenses). Note: Exact coverage will depend on your selections.
For full details, be sure to read the EasyOptions Plan summary. Prices are as follows:
1 Person Plan: $27.38/mo ($328.56/yr)
2 Person Plan: $51.98/mo ($623.76/yr)
Family Plan: $71.21/mo ($854.52/yr)
Overall, VSP claims the typical EasyOptions member achieves an annual savings of $356.
Enhanced Plan
If you're focused (pun intended) on multiple lens enhancements for your glasses, VSP Direct tells us their Enhanced Plan could be an ideal option.
As with many of the options above, you'll still have a $15 exam copay and a $25 new purchase copay on glasses, as well as a $150 frame or contact allowance. You'll also save 15% on your contact lens exam and gain access to a variety of extra savings.
The biggest savings in the Enhanced Plan are (no surprise) on enhancements, where you'll have no copay for options like scratch-resistance coating or impact-resistance lenses. And even when you have to pay, you'll only pay $15 for anti-glare coatings, $55 for no-line bifocals, and $82 for light-to-dark tinting.
Here are the Enhanced Plan's full details. To become a member, you'll pay:
1 Person Plan: $31.22/mo ($374.64/yr)
2 Person Plan: $59.26/mo ($711.12/yr)
Family Plan: $81.18/mo ($974.16/yr)
The average Enhanced Plan member saves about $338 per year.
EyeWear Only Plan
Already visited your doctor and have a prescription, but just need glasses? If so, VSP Direct tells us you might consider their EyeWear Only Plan. You'll have a $20 copay on glasses and a $200 frame allowance (plus $40 on features brands).
Or, if you opt for contact lenses, you'll have a $180 allowance every 12 months, no copay, full fitting and evaluation coverage after a $60 copay, and a 20-25% savings on the cost of optional lens enhancements.
Looking for more information? Be sure to read through the EyeWear Only Plan details.
In the meantime, you'll pay (average savings of $148 per year):
1 Person Plan: $18.41/mo ($220.92/yr)
2 Person Plan: $34.96/mo ($419.52/yr)
Family Plan: $47.89/mo ($574.68/yr)
Regardless of which plan you choose, each of your 12 monthly installments will be automatically withdrawn from your account on or around the 15th.
Important note: Like most other types of insurance, your VSP Direct policy will automatically renew and continue billing the same credit card on file. As such, if you need to change or cancel coverage before renewal, be sure to contact customer support at 800-785-0699.
If you'd prefer, VSP Direct partners with CareCredit to offer (in some instances) zero interest financing for 6 or 12 months.
What's Included With Your Healthy Vision Association Membership?
Before moving on, it's important to mention that, other than with the Standard Plan, all VSP Direct plans tack on an extra $1.50 per month fee for membership in their Healthy Vision Association (HVA) program. What's this?
In a nutshell, the HVA is a discount program that provides "access that might not be available through employers to products, services and information that promote vision and overall health," on top of travel and other services. These include:
24-hour Nurse Help Line Plan
Avis, Budget, and Dollar Car Rental Discounts
TrueCar auto buying service
Office Depot supply and office furniture savings
Save up to 21% on UPS delivery services
Vitamin and fitness website discounts
… and more!
Additionally, a portion of your membership fees will help support vision-related charities such as Prevent Blindness, The Seeing Eye, Children's Center for the Visually Impaired, and several others.
Remember, this isn't insurance associated with your VSP Direct plan, though. Instead, it's simply a program that provides discounts on select services, should you choose to take advantage of them. Membership fees, however, are not optional.
Do VSP Direct's Eye Insurance Plans Come with Positive Customer Reviews?
Despite the prevalence (1 in 5 Americans!) of VSP Direct's plans, there wasn't a whole lot of online feedback about the company at the time of our research.
On Consumer Affairs, we found 57 customer reviews for VSP Direct, who gave the company an average rating of less than two stars.
There, common complaints referenced little-no-no overall savings (specifically, that there are still numerous, costly out-of-pocket expenses not covered by plans), limited product selection, difficulty getting reimbursed, and that doctor's who contract with VSP come with (sometimes much) higher rates than the competition.
We also found 22 Yelp reviews for VSP Direct, many of which mirrored those found on Consumer Affairs. Additional complaints included poor quality glasses (uneven, asymmetrical, damaged, etc.) and less-than-stellar support.
From a company perspective, Vision Service Plan (VSP) Direct is based out of Rancho Cordova, CA and had a B- Better Business Bureau rating, based on 34 closed complaints (as of 11/7/16).
There, most complaints seemed related to billing issues; specifically, canceling coverage.
Are There Other Eye Insurance Providers Like VSP Direct?
If you search online for "eye insurance" or "vision plans," you'll find that VSP Direct certainly isn't alone in helping you obtain more affordable vision insurance. This includes traditional insurance companies like Humana, UnitedHealthCare, AARP, and Aetna, as well as plan-specific competition such as EyeMed and Direct Vision.
After browsing through each of these company's websites, you'll soon learn that they all offer essentially the same base coverage: $20 or less monthly individual premiums, coverage for comprehensive annual exams, frame discounts, broad coverage providers, etc.
This means, when choosing your best option, you'll want to focus on the details. For example, VSP's Works Plan delivers the broadest coverage, but also the highest premium. So, if money is your primary concern, you'll want to look at some of their lower priced plans.
Or, if you don't need to visit the eye doctor frequently, but do need multiple enhancements on your eyeglass lenses, then the Enhanced Plan will almost certainly better suit your needs. At their second-highest priced option though, you'll certainly pay for the privilege.
Will VSP Direct Help You See Better & Save Money?
Whether you're talking about broad, whole-health coverage or more specific insurance, such as VSP Direct vision plans, you ultimately want the most bang for your buck.
In other words, in return for your monthly premiums, you expect the process to go smoothly, including easy processing at your doctor's office, decent coverage, and no surprise bills after it's all said and done. You want value.
With this in mind, considering that 1 out of every 5 Americans has VSP Direct coverage, there seems to be an extremely low ratio of negative online customer feedback. So, in many instances, it appears that the company delivers this much-needed value to their customers.
Does this necessarily mean they're the right vision plan company for you? Certainly not, since this decision depends on hundreds of personal factors like budget, current eye health, the number of providers in your area, and much more.
What did you decide? If you chose VSP Direct, were you pleased with the experience? Tell us your opinion by writing a review below!
Have not used VSP since 2016 and now have new insurance but VSP is still taking $15 per month!

By Connie F.

,

Lorain, OH

,

Feb 19, 2020
Verified Reviewer

At first VSP sounded like a good deal. It WASN'T! You get what you pay for...cheap crap! My glasses were crooked and finally broke. Now I have a Medicare Advantage Plan which is 1,000% better. I now have quality glasses. But VSP is still stealing my money every month. The only thing I can think of is to close my bank account and then open another account so they cannot have my bank or routing number. They are a SCAM! Will also contact the Consumer Financial Protection Bureau.

Bottom Line: No, I would not recommend this to a friend

---

The worst insurance, don't get involved!

By Adam J.

,

Largo, FL

,

Jul 11, 2019
Verified Reviewer

The VSP is a SCAM. The service, customer service, and the benefits are terrible. Don't waste your money! And the worst; they would not let you cancel the membership, so you will have to keep paying...

Bottom Line: No, I would not recommend this to a friend

---

Advertisement

---

Cancellation problems, better off paying cash

By Chris L.

,

California

,

Dec 20, 2017
Verified Reviewer

I just learned that VSP has a year cancellation policy. They bill monthly, but will not cancel your membership until your year is up.

I was automatically renewed in August of 2017 and (unfortunately) used my benefit that month (in August). In December, after getting a job that provided vision benefits (through VSP), I attempted to cancel. I was told I could not cancel and would be on the hook for monthly payments until August 2018. They had no solution at all, the to the fact that I now had double coverage that I didn't need. They acted like I was the first one to ever run into this problem.

It was explained to me that I had signed a contract, but they could not direct me to the contract or their written cancellation policy. Their website has no explanation of their cancellation policy.

Additionally, VSP (as others have said) is cut-rate and every eye doctor will upsell you. DON'T purchase an individual plan, you're basically just purchasing an installment plan. Use a credit card.

Bottom Line: No, I would not recommend this to a friend

---

Don't pay for VSP

Don't fall for this! You will pay more for glasses using this insurance than you will pay out of pocket with no insurance.

Biggest regret in my life is getting VSP insurance. I promise you, this is a fraudulent insurance! It covers nothing at out of network places and in network places charge three times the amount. So you save $0. It was a nightmare using this insurance and every place we went (in network and out) told us that glasses were cheaper without running the insurance.

We have two VSP plans because they convinced us that the buy-up plan was better and covered frames up to $150 and lenses and exam only had a copay. This was a complete lie.

This insurance needs to be shut down. They cover nothing! Don't fall for this; it is the biggest scam ever! It is cheaper to get glasses with no insurance.

Bottom Line: No, I would not recommend this to a friend

---

Advertisement

---

Horrible experience

By Dave N

,

Charlotte, NC

,

Mar 28, 2017
Verified Reviewer

This company is a complete ripoff. Put me on the wrong plan. Wouldn't honor their word. Didn't pay for what they said they would. Phone help is useless. I paid more for my services through them than I would have directly.

They are a fraudulent company.

Bottom Line: No, I would not recommend this to a friend

---