Wag!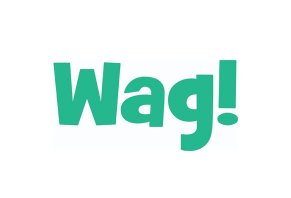 Summary
Wag! is a social dog care app that helps you track down people in your community who can walk, board, and pet-sit your favorite canine.
Wag! Review: A Detailed Look
Wag! is an online dog care business that utilizes the gig economy to help you find dog walkers and pet sitters near you.
Alternatively, it can give you a platform to provide these services to others. Wag! offers walking, pet sitting, boarding, and daycare in select regions across the United States through a transparent platform designed to help both customers and workers feel secure.
According to the company, Wag! invented on-demand dog walking in 2015. Today, their mobile app gives dog owners lots of flexibility to find experienced and trustworthy caregivers that have gone through an education process and passed a background check.
Should you trust the care of your pet to Wag!? In this article, we take a detailed look at this company to help you make the right decision.
Services Offered by Wag!
Below is a look at some of the popular serviced offered by Wag!.
Walking
The Wag! platform lets you request twenty, thirty, or sixty minute walks for your dog at any time.
While the cost can vary based on your location, the listed pricing for Los Angeles was $20 for 30 minutes and $30 for an hour, with additional dogs costing an extra $5 for a maximum of three total.
Once your request goes live, Wag! walkers in your area can accept it, and you can reject anyone who doesn't match your credentials.
The dog walker will check-in through the app once they start the walk and they will send you pictures and videos throughout, including bathroom updates (if desired) and a report card at the end.
Wag! offers three types of walks at the time of writing: ASAP, One-Time, and Recurring. ASAP walks need to begin within an hour of accepting, while One-Time walks are scheduled in advance.
Reoccurring walks lets you set up a schedule of walks on a daily or weekly basis. You have two further options for scheduling Reoccurring walks: Friendly Fur Ball and Picky Pooch.
Friendly Fur Ball: Your dog will walk with a variety of people, depending on who is available.
Picky Pooch: The same walker will complete all your walks at a premium price.
Once the walk is completed, you can choose to mark the walker as a preferred walker, which sends them an alert when you post a request so that they have first access.
The Wag! walking policy is that all dogs are walked alone unless they are part of the same household, and dogs are only permitted off-leash in the owner's fenced-in backyard.
Sitting
Wag! lets you hire someone to pet sit your dog in your home. These sitters will keep your pet company and take care of his needs throughout the day, including feedings and bathroom breaks.
The sitter may come and go, but they are encouraged to be with your pet as much as possible and not leave for longer than three hours at a time.
It's your responsibility as a pet owner to communicate if your dog needs more attention than this with your sitter ahead of time. If they aren't willing to comply with your requests, Wag! will work to find you an alternative, though they can't guarantee it.
Costs will vary based on your location and the length of stay, but prices start at $39 per night.
Boarding
Boarding through Wag! is similar to sitting, except that your dog will stay at the pet care provider's house instead of your own.
The provider is responsible for keeping your pet company, feeding her, taking her on bathroom breaks, and accommodating other specified requests.
Again, the care provider is encouraged to not leave your dog for more than three hours at a time.
The pricing starts at $39 per night in select areas, and you can request for pickup and drop-offs at the sitter's house for an additional fee, typically about $15.
Daycare
Daycare is similar to boarding but without the overnight portion. Daycare services are offered from 6 a.m. to 10 p.m., and it's possible to book them in half-day (less than six hours) or full-day (more than six hours) increments.
How to Become a Wag! Walker
If you're interested in using Wag! to become a dog walker or pet care provider, the first step is to complete the online application. Positions are open to anyone over 18 who is legally allowed to work in the United States and able to walk at least twenty minutes.
The company will use your zip code to let you know immediately whether Wag! is available in your area.
If Wag! is an option for you, you next need to provide the contact information of three character references who can vouch for your dog handling skills.
Even if Wag! isn't available in your area yet, you can still submit an application so that you can get early access if and when your city launches.
Assuming your references check out, you'll next need to take an online quiz on dog care and safety, a collar and harness use test, and a situational assessment. One of the final steps is paying for a background check, which costs $25.
After your background check has been completed and your application is approved, you can start signing up for available jobs. As you complete them, the pet owners will rank your service so that you begin to build a reputation on the site.
Regarding earnings, we found from reviews that Wag! typically takes a 40% cut from your earnings on the platform, meaning that you will make $18 for every $30 the pet owner spends. However, you keep 100% of the proceeds from any tips.
Pricing
The pricing for Wag! will vary based on your location and the services you purchase. It's possible to get a discount by purchasing credits that are equal to $1 each. 100 credits cost $90, 200 are $170, and 500 are $400.
Another way to save money is by referring new customers (not dog walkers) to the platform. Once they complete their first free walk, you will earn 20 credits, enough to qualify for a free walk yourself.
All payments must legally be conducted through the app. Otherwise, you make your booking ineligible for premium insurance and support.
All major credit cards are accepted, and Wag! will release the funds to your walker or sitter within 48 hours of service completion.
You can cancel any booking request without penalty so long as it's at least 24 hours before the designated time. All other cancelations incur a $10 cancellation fee.
Is Wag! Safe?
While rideshare apps like Uber have made many of us comfortable with the idea of jumping into cars with strangers, you might be wary of letting someone unknown into your house to take care of your dog. How can you be sure that a service like Wag! is safe?
The company states that all service providers are insured, must pass a background check, and need to undergo a vetting process that includes a pet care knowledge test, animal safety test, dog handling guidelines, safety tests, and more.
It's possible to select for dog walkers that have experience dealing with specific demographics of pets, including puppies, older dogs, dogs that are disabled, have separation anxiety, require medication during the session, and who have lots of energy.
Members can include specific details like these and more in the profile section of each pet.
Pet owners can also monitor their dog walker in real-time through live GPS tracking that begins once the walker confirms they have picked up the dog.
Due in part to these measures, Wag! claims that 95% of their walks result in five-star reviews.
What Is Wag! Tag?
Pet owners can purchase Wag! Tags for extra security for their pets. These are dog identification tags that are managed through the Wag! app.
You can scan the tag with a smartphone camera, and it will display any information the owner shared on it, which may include the dog's description, health history, and emergency contacts.
Anyone can scan the tag to access this information, regardless of whether they are Wag! users.
This basic tag costs a one-time fee of $9.95, plus shipping and handling. You can also sign up for the Plus Plan through an annual fee of $59.95 that gives you access to the greater Wag! community and more resources for tracking down lost pets.
Analysis of Customer Reviews
Dog owners showed mixed opinions on the service, though it earns a solid four stars out of five on TrustPilot.
The majority of reviews seem to be from people who had pleasant experiences and appreciated the convenience of booking petcare through their phones, though there are also numerous horror stories from people who were robbed or had their pets get injured on their walks.
Many long-term users seemed to settle on a few favorite walkers that they hired over and over again, which might contribute to some of the frustration that new dog walkers expressed about finding opportunities on the site.
We also looked at reviews from the perspective of Wag!'s independent contractors.
Many reviews commented that they thought Wag! was hit or miss; they loved walking dogs but found it hard to beat out the competition for jobs.
Many users also thought Wags!'s 40% cut was too much and others noted that it was frustrating how much power clients had to cancel jobs at the last minute or leave negative reviews for no discernible reason.
We also noticed a lot of complaints that jobs are snatched up quickly on the site, meaning that serious users needed to continually refresh their phones to secure opportunities within seconds of posting.
The consensus seems to be that Wag! works fairly well if you can find relatively steady opportunities, but that the ratio of walkers to clients is skewed in many places, making it hard for most users to consider it a reliable source of income.
The Bottom Line
Overall, Wags! promises to offer an "Uber-esque" solution to the world of pet care, and it seems to deliver what it advertises.
Wag! offers affordable deals for first-time users, which means it's possible to download the app and have someone at your house to walk your dog in less than an hour without paying anything.
However, letting people into your home and around your dog is considered a serious privacy invasion for many people, especially if you can't be home to monitor the interaction for the first time.
Some customer reviews criticized Wag!'s approval process as it doesn't require any certifications so you won't know much about the person coming to take care of your pet until they show up.
If you're comfortable with this level of trust of strangers, then Wag! seems like a stress-free way to take care of pet responsibilities.
We recommend meeting your pet handler in person for the first few sessions to ensure you're comfortable with the process. And, if you like your dog walker, be sure to tip them well to encourage them to keep accepting your requests.
Customer Reviews