Wahl Vacuum Trimmer Reviews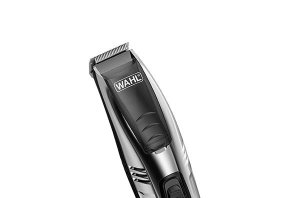 With a variety of features like two motors, a powerful internal fan, and multiple interchangeable heads and combs, the Wahl Vacuum Trimmer claims to make shaving your beard less messy.
About Wahl Vacuum Trimmer
The Wahl 2-in-1 Vacuum Trimmer promises to precisely manscape your beard, while sucking up hair as soon as it's cut and storing it in the built-in chamber. This way, there's virtually nothing left to fall on the sink or create an unsightly mess.
Additional features include finely ground (versus stamped) carbon steel blades for less tugging and pulling than competing models, a lithium-ion battery that lasts up to 90 minutes per charge, smart LED charging status, a sleek handheld design, and corded or cordless operation (it will continue working while it's charging).
The Wahl Vacuum Trimmer also features a head that's fully adjustable based on the length of your beard, as well as snap-on guide combs for easy customization. And when you're finished, its canister can be removed to dump the contents into the trash for quick and easy cleanup.
Is the Wahl really the most powerful 2-in-1 vacuum trimmer you'll ever own? Even then, does this necessarily mean it's the right option for you? We'll help you quickly unpack all the important details here.
How Does the Wahl Vacuum Trimmer Work?
A standard pair of scissors works using two sharpened metal blades, which slide against each other. As they do, anything thin that's caught at the intersection of these two blades—paper, hair, etc.—will be cut.
Single-purpose electric hair trimmers (also referred to as 'clippers') work using this same basic principle, but instead of implementing hand-powered lever action like scissors, they slide two long blades past each other with the help of an electric motor.
Electric trimmers like the Wahl Vacuum add a second motor that powers a mid-body rotating fan to create the strong airflow and increased velocity necessary to suck up hair as it's cut. This is compared to standard models that allow hair to fall wherever, thereby creating a mess.
Like regular trimmers, though, it comes with a variety of attachment heads that can be easily changed out to accommodate any beard length or style.
As hair is sucked up, it's collected in the built-in chamber. In fact, Wahl advertises that the Vacuum Trimmer 's chamber was tested to capture up to 99 percent the hair during a basic beard trimming, which can obviously vary based on factors like beard length, coarseness, and trimming technique.
When the time comes, simply release the collection chamber to empty into the garbage.
The Wahl Vacuum Trimmer features a second motor that spins a powerful fan to suck hair away from the blades as soon as it's cut.
How Much Does the Wahl Vacuum Trimmer Cost?
The Wahl Vacuum Trimmer is priced at $79.99 on Wahl's website.
Additionally, here are available purchase options at other retailers selling different variations of the Wahl trimmer:
Walmart: $59.88
Amazon: $39.97
Best Buy: $59.99
Are There Other Models Competing With the Wahl Vacuum Trimmer?
While Wahl's Vacuum Trimmer might seem to feature a wholly unique approach to shaving, we encountered several other competing models during our research.
Like the model in question, all of these featured built-in vacuums w/powerful motors and fans, a chamber to hold hair with easy dispensing, different length settings, ergonomic designs for hand comfort, and a variety of comb attachments. Outside of these similarities, how did their other important aspects compare?
| | | |
| --- | --- | --- |
| Brand | Price | Special Features |
| Wahl Vacuum Trimmer | $80 | Finely ground carbon steel blades, includes carrying case, comes with ear and nose trimmer head, corded or cordless functionality |
| Philips Norelco Series 7200 | $55 | Trim and lift technology, self-sharpening steel blades, 20 built-in length settings (0.5mm - 10mm), 80 minutes of runtime, corded and cordless |
| Philips Norelco Series 7300 | $300 | Digital display, 18 length settings (1mm - 18mm), 0.5mm stubble setting, Turbo power boost button temporarily increases cutting and fan speed |
| Remington HKVAC2000A Vacuum Haircut Kit | $55 | Extra large hair collection chamber. Also includes 6 combs, right and left tapers, styling comb, barber scissors, 3 sectioning clips, extra-large storage pouch. |
| Vantech 4-in-1 Trimmer Vacuum System | $18 | Wet/dry functionality, only 4 attachments (nose, beard, sideburn, eyebrow), operated by AA batteries |
In addition to these, we also encountered Wahl's Professional Vacuum Conversion Kit for $51 on Amazon, which promises to "transform any standard wall vibrator clipper into a vacuum clipper." The listing emphasizes that it's for professional use, though.
How can you choose the best trimmer vacuum?
First, while price and build quality often go hand-in-hand, Manly Matters points out that paying more for a trimmer vacuum won't necessarily deliver better value or performance: "Don't spend $200 on a beard trimmer," they say, "when there's a $50 product with 90% of the features and performance."
Regardless of price, they note that one of the most important features you'll want to consider is the "minimum and maximum length range they can accommodate," as well as "how many intermediate settings there are." Together, these settings determine the type of beard you can maintain, as well as your enjoyability during the process.
Other factors to consider—depending on your specific preferences and needs, of course—are:
The number of attachments (including ear and nose versions)
If it's corded or cordless (could have a big impact if you travel frequently)
The construction material (stainless steel is typically preferable to plastic)
Grip ergonomics
If you need to trim other parts of your body as well
Whether or not it features wet trimming functionality
How does all of this stack up for the Wahl Vacuum Trimmer? Let's wrap everything up.
Our Final Thoughts About the Wahl Vacuum Trimmer
Does Wahl manufacture the most powerful 2-in-1 vacuum trimmer you'll ever own, as advertised on their website? Unlike standard vacuums, we didn't encounter power output or suction measurements for any of the models we encountered during our research, so there's no way to know if this involves amounts to more than marketing.
However, the trimmer comes from a reputable company who's been in business for more than three decades and who's garnered mostly positive online customer feedback in that time, which could be a good indication what you might experience after handing over your money.
And although it wasn't the least expensive option, their Vacuum Trimmer also seems to come with a competitive price, several useful attachments (including a carrying case), as well as a 60-day refund policy. After all, buying a beard trimmer is an intensely personal process, so if you find that it doesn't meet your needs and preferences, you likely won't be out much more than return shipping charges.
We also do want to note that we are actively using another trimmer manufactured by Wahl called the Wahl 9818 Stainless Steel Lithium and are very pleased with the result so far.
Read next: Dollar Shave Club vs. Harry's vs. ShaveMOB: Which Men's Shave Club is Best?