Wakaya Perfection Reviews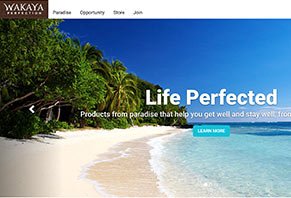 Wakaya Perfection offers wellness products that promise to help you detoxify inside and out. The brand also claims to help customers earn as distributors.
About Wakaya Perfection
Wakaya Perfection offers a collection of organic products that promise to help you "get well, stay well, and be well, inside and out." The Wakaya Perfection line includes health supplements, essential oils, culinary spices, personal care products, and the Bula Bottle, a patented water bottle with detoxifying caps.
Each is made with ingredients sourced from Wakaya, a remote 2,200-acre private island owned by Wakaya Perfection founder David H. Gilmour.
Wakaya Perfection is Gilmour's newest in a long line of entrepreneurial ventures which include the South Pacific Hotel Corporation, Barrick Gold Corporation (the largest gold-mining firm in the world), the real estate giant Horsham Corporation, and FIJI Water.
Gilmour learned of the previously-uninhabited Wakaya island in 1972. He was inspired by its unspoiled beauty, and purchased the land to build a small-but-luxurious all-inclusive resort that promises guests renewal and discovery.
While most of us aren't able to afford The Wakaya Club's rate of $2,600 a night, Gilmour claims that we can still experience a little of his paradise through the Wakaya Perfection line of products.
Preservative-free healing products aren't the only thing that Gilmour is offering, either. Wakaya Perfection offers devoted customers the chance to earn commissions as a distributor, or, as they call them, Independent Business Ambassadors. We'll talk more about how you can discover if this type of business model is for you later on. But first, let's take a look at some of their products.
Wakaya Perfection Wellness Products
Wakaya Perfection aims to bring wellness secrets from across the millennia into today's world by offering the purest all-natural preventative healing products. Their products include ingredients sourced from the South Pacific island, including 100 percent organic pink Fijian ginger, turmeric, sea salt, pure calcium bentonite clay, and what they call "perfected oils."
"We live in a toxic world," claims one of Wakaya Perfection's promotional videos. The brand claims that the 21st century only looks cleaner, but that we're constantly subjected to toxins from GMO foods, prescription medication, electromagnetic radiation, steroids, pesticides, herbicides, and other concerning products. These, they claim, cause digestive issues, deadly allergies, blood sugar concerns, and more.
Wakaya Perfection states that their products can help detoxify your body and skin, quelling rapidly rising health concerns. They promise that once you've tried their health enriching products, you'll never go back ordinary wellness again. So, what do they offer?
Culinary Category ($8.95–$90.05)
Wakaya Perfection culinary products are made without preservatives, chemicals, pesticides, or additives.
These include ground turmeric and pink Fijian ginger powder, each is $24.40 for a 0.6-ounce jar that holds approximately 30 servings.
What are the benefits of sprinkling some turmeric or ginger onto your food? Aside from added taste, ginger is claimed to aid in your body's digestion and ease nausea. Curcumin, the active ingredient in turmeric, is an anti-inflammatory which some believe has holistic benefits, including the prevention of cancer. The company claims that their turmeric is nearly six percent curcumin—compared to store-bought turmeric, which they claim is less than one percent.
If you'd prefer to sip your wellness spices instead, Wakaya Perfection offers tea flavored with pink Fijian ginger or a blend of their ginger and turmeric. Each tin of tea is $32.10 for 20 bags.
There is also a culinary kitchen set which includes the two spices above, plus Wakaya Perfection Kosher Sea Salt. The salt, which is available for $25.70 separately, is simply a seasoning without claimed benefits. The set of three items, including ground pink Fijian ginger, turmeric, and coarse sea salt, is available for $90.05.
Have a sweet tooth? Wakaya Perfect sells two snacks: Wakaya Pop! Ginger, Sea Salt & Caramel Popcorn ($10.25) and Ginger Gems ($8.95), which are organic, gluten-free, certified vegan, whole grain cookies.
Wakaya Perfection Wellness Products ($25.70–$32.10)
Not much for cooking, but still want to incorporate natural spices into your daily diet? Wakaya Perfection offers three different nutritional supplements:
Calcium Bentonite Clay ($25.70 for 10 oz): Considered beneficial for its claimed ability to help your body detox, calcium bentonite clay is meant to be ingested. The Wakaya Perfection supplement can be sprinkled over foods or mixed with water.
Organic Pink Fijian Ginger Capsules ($32.10 for 60 ct.): A frequent ingredient in motion sickness treatments, ginger is claimed to also act as an anti-inflammatory, and boost your immune system's health.
Organic Fijian Turmeric Capsules ($32.10 for 60 ct.): Using the same turmeric as their culinary spice, these supplements claim to have a higher concentration of curcumin (the active ingredient in turmeric) than store-bought brands.
Wakaya Perfection notes that their claims have not been evaluated by the Food and Drug Administration, and that their products are not intended to diagnose, treat, cure, or prevent any diseases.
Personal Care Products ($8.95–$128.65)
Wakaya Perfection uses natural ingredients in their personal care collection, which they claim will help your skin eliminate the toxins from pollution, GMO foods, and regular exposure to chemicals in our environment. These products rely on similar ingredients as their culinary category, utilizing pink Fijian ginger, sea salt, and dilo oil—a moisturizing oil made by cold-pressing nuts from the dilo tree and offering similar benefits to argan oil.
Their personal care products include a Sava Clay Moisturizer and Daily Detox Masques ($8.95 each), which promise to draw out impurities and excess oils, leaving skin refreshed and renewed.
The line also includes a shampoo made with pink Fijian ginger and dilo oil ($20.55), which they claim is blended with a proprietary combination of ingredients used in the South Pacific for centuries. Wakaya Perfection also offers a body soak made with pink Fijian ginger and sea salt that promises to soothe sore muscles—$51.40 for 16.9 ounces.
To moisturize and protect your skin, Wakaya Perfection also sells Perfect Dilo Cream ($69.45 for 1.75 ounces) and Dilo SPF Sun Cream ($37.25 for 4 ounces). Both contain dilo oil which, when applied to the skin, is claimed to offer sun protection and anti-aging defense, while repairing the skin's elasticity.
The Bula Bottle ($3.80–$77.15)
Wakaya Perfection claims that we should be detoxing daily, both internally and externally, but most other teas or cleansing products are too harsh for regular use.
As an alternative, Wakaya Perfection created the Bula Bottle and Detox Caps. The Bula Bottle supposedly delivers customized nutrition good for daily detoxing, weight loss, enhanced energy, and even increased libido through bottle caps that are enhanced with water-soluble supplement blends. The Bula Bottle itself is BPA free.
Additional Wakaya Perfection Products
Keeping in line with their holistic vibe, Wakaya Perfection also offers a range of essential oils. These include straightforward scents such as lemon, lavender, and grapefruit, as well as blends intended to help relieve allergies, acne, and other ailments. Aside from the exceptionally expensive Frankincense ($75.85 for 15 ml) most of the scents can be purchased for just over $30, and the blends for about $50.
Wakaya Perfection also offers two different programs, which are essentially kits combining multiple individual products. These are:
The Daily Detox Program ($193.00): Claims to help rid your body of oxidants and other contaminants, while aiding in nutrient absorption, weight loss, and overall good health. This program includes:
2 Bula Bottles and Bula Chambers
2 Bula Detox Cap (1 month supply)
Organic Pink Fijian Ginger Capsules (60 ct.)
Organic Fijian Turmeric Capsules (60 ct.)
Sava Daily Detox Clay Masque
The Weight Loss Program ($195.55): The Wakaya Weight Loss Program focuses on the four pillars of optimal health—hydration, nutrition, exercise, and sleep—and claims to include ingredients clinically proven to reduce weight. This program includes:
2 Bula Bottles and Bula Chambers
1 Bula SlimCap (1 month supply)
1 Bula Detox Cap (1 month supply)
Organic Fijian Turmeric & Ginger Tea
Organic Pink Fijian Ginger Capsules (60 ct.)
Organic Fijian Turmeric Capsules (60 ct.)
How to Order From Wakaya Perfection?
Wakaya Perfection gives consumers three different ways to order their products:
Customers: Order products online at the retail rate. There is no membership fee or ongoing commitment. Shipping is stated as $10.73 without the option to choose a speedier method.
Preferred Customer: By signing up for this autoship program, preferred customers can purchase from the Wakaya Perfection store at a discounted preferred rate. You can also earn free products monthly through their "3 for Free" program.
Ambassador: Independent Business Ambassadors are enrolled in Wakaya Perfection's autoship program, and can purchase products at a discounted rate. However, this is also network marketing program which promises income. (We'll delve more into it shortly.)
Wakaya Perfection allows products to be returned for any reason up to 30 days from the date product is received by the customer. All returns must be preceded by a Return Merchandise Authorization (RMA) Request, and any returned product must be accompanied by the assigned RMA number. You can get an RMA number by contacting Wakaya Customer service through the contact page on their official website.
What Is a Wakaya Perfection Independent Business Ambassador?
As an Independent Ambassador, Wakaya Perfection promises that you'll receive access to tools, training, and support to assist you in sharing their message with others—while earning an income through sales.
The company provides their ambassadors with a website and "back office," an online portal through which you can manage your business.
However, make no mistake: Even though they call the position an "Independent Business Ambassador," selling products for Wakaya isn't the same as owning your own business—it's a multi-level marketing (MLM) plan and rarely do individuals earn a living wage, much less a substantial income, from participating in these programs.
That isn't to say that MLMs are inherently bad, just that they often paint a prettier picture through their own sales pitch than what the reality turns out to be.
In the Wakaya Perfection's promotional video, they paint a pretty dire picture of daily life on one hand, while claiming to offer you the opportunity of a lifetime in the other. (After all, what's wrong with a 40-year-plan?)
Now, consider Wakaya Perfection's products and ask yourself the following:
Do people actually want products like these?
Are there other products already out there for those who want them to choose from?
Are those products cheaper than Wakaya Perfection?
I'm sure there are rural areas that aren't as heavily saturated with wellness products. But in most residential zones in the United States, you can find a Vitamin Shoppe, which sells similar supplements, in every strip mall. Trader Joe's offers low-cost teas and supplements that are organically produced. Heck, even most supermarkets have a health and wellness section.
So, while people are buying wellness products, there's already a lot of competition out there. This means that, even if you truly believe in Wakaya Perfection's promise, in order to be successful, you'll need to spend a lot of time convince others why it's unique.
Finally, when we looked up prices, Wakaya Perfection can't compete with what's available on Amazon. For example, this bottle of turmeric is a few bucks less for double the number of supplements. Or, get one pound of powdered ginger root for less than $20.
Want lavender essential oil? Forgo Wakaya Perfection's 15 ml bottles for $26 and grab this four-ounce bottle for $13.95.
Consider whether or not it's really feasible to make a viable income constantly asking family, friends, and strangers to purchase products that are available for half the price on Amazon.
The opportunity to make money as a Wakaya Perfection Ambassador requires a small upfront cost. However, you're also encouraged to purchase a large kit of products. Here's what you'll need:
Ambassador Welcome Kit ($49): This kit includes your Ambassador Virtual storefront, access to the dashboard, as well as online tools, training, and communication. Note that the price drops to $35 when purchased with a Paradise Product Pack.
Paradise Product Pack ($474.95): According to the website, purchasing a pack of their most popular products, including Organic Pink Fijian Ginger and Turmeric, Bula Nutri-Cap System, Sava Personal Care products, and more allows Ambassadors to save almost $200 on Wakaya Perfection's most popular products—however, the contents will vary. This pack is available to customers and Ambassadors, and isn't required to start selling. However, purchasing the pack boosts Ambassadors with Paradise Qualification. (Basically, you're rewarded for spending money right off the bat.)
Are you still interested in working with Wakaya Perfection? This post breaks down all the different levels of compensation offered by the company. However, the article also includes a warning that Wakaya Perfection might not stand the test of time.
In short, David Gilmour's partner in Wakaya Perfection is a 20-year MLM veteran, Todd Smith. Smith stands accused by a previous employer, Youngevity, of jumping ship and stealing clients to boot—which was against his contract.
The post goes on to suggest that, until the situation is resolved, those who invest their time and money into Wakaya Perfection as distributors are taking a big risk.
Is Wakaya Perfection Right for You?
Wakaya Perfection claims that we're assaulted by toxins on a daily basis, citing exposure to chemicals, GMO foods, and prescription medication. Isn't it ironic, then, that many of the dangers they list have been approved by the FDA for their intended use—but Wakaya Perfection has not?
That's not to say that they don't work, just that they don't have to prove or support claims of efficacy since cosmetics and supplement companies are so loosely regulated by the FDA.
What about all this talk of detoxing? In short, it's not necessary. In fact, detoxing can even be dangerous, throwing your digestive system out of whack. The truth is that our livers and kidneys do a perfectly great job of removing toxins from our bodies.
Further, while it's not known what golden era of pristine environment Wakaya Perfection is referencing, the 21st century doesn't just look cleaner, it is cleaner thanks to things like higher personal hygiene standards, indoor plumbing, and antibacterial soap.
While ginger and turmeric are frequently used in holistic medicine as effective for treating digestive issues and supporting immune system health, we were unable to find evidence that the ingredients are any more potent when sourced from a specific region.
Bottom line? The real question here seems to be not whether to buy these products individually, but if distributing Wakaya Perfection appears to be a legitimate opportunity. To that, we'd have to suggest a soft pass until Wakaya stands free and clear of any accusations that could shut down their operation. Even then, proceed with caution, as any MLM opportunity is a risk.
Not recommends

By Sandra M.

,

Colorado

,

Sep 24, 2019
Verified Reviewer

I have been an ambassador for several years. Their earnings program when I first signed up was very innovative, fill your matrix and drop down into the next available spot under your other ambassadors. This meant that your upline also could land in your matrix offering awesome earning potential. Management changed this almost immediately. Now it is a typical MLM. I do love their products, but minimum shipping is $16.65 no matter how large your order and it is not next day shipping. When their burn capsules came out, everyone saw results immediately. Then 2 months later the formula was completely changed without notice. I sent the ingredient list for both formulas to the vice president and he literally lied and said the formula had not changed, just the size of the capsules. He continued to deny ingredient changes. I could not believe it. The new formula does nothing for any of my former customers and they quit ordering. I am canceling my ambassadorship and no longer going to order any products. You can find high-quality products just like these through Costco or Amazon for much cheaper.

Bottom Line: No, I would not recommend this to a friend

---

Wakaya Perfection's products changed my life!

By Lynn G.

,

Illinois

,

Apr 2, 2019
Verified Reviewer

Wakaya's products are life changing! I use their THC-FREE CBD Oil, Ginger, Turmeric, Keto Kofi, Burn Capsules, Sport N Go, Keto Fuel, etc. These products are amazing! Their CIBI GOLD has allowed me to say goodbye to 1,600 mg a day of Ibuprofen! I also have Severe Obstructive Sleep Apnea and have an implant that I'm able to use now after a year and a half of no use!

Literally life-changing products!

Bottom Line: Yes, I would recommend this to a friend

---

Advertisement

---

LOVE the products

By Nancy S.

,

Kansas City, KS

,

Oct 15, 2018
Verified Reviewer

I became a Wakaya Ambassador at first just to lose a few pounds that I'd put on at a sedentary job and snacks at work. The Ketogenic diet is now over a year part my lifestyle. I LOVE all the products and people I've come into contact with as my Wakaya family.

I actually lost all the extra weight I've been carrying around for 20 years and weigh what I did when I was 25.

The supplements are high-impact, not only organic.

I've also invested in their skin care line and I'm very satisfied.

Bottom Line: Yes, I would recommend this to a friend

---

On track to a better healthier me!

By Rhonda I.

,

Pamplico, SC

,

Jun 13, 2018
Verified Reviewer

I was introduced to Bula by my mentor Becca Farris. I have multiple health issues and have been very overweight for too long. But not anymore. I am not only losing weight, I am also feeling so much better. I believe God led me to this. I recommend this.

Bottom Line: Yes, I would recommend this to a friend

---

Advertisement

---

Not impressed

By Hope Lewis

,

Texas

,

Nov 2, 2017
Verified Reviewer

Be careful what you buy into. I bought this product in the hopes of initiating weight loss. I followed the diet plan, took the burn pills, and drank the shakes. I lost weight (7 lbs) the first week ONLY, gained 4 lbs the next week (maybe due to menstrual cycle), but I didn't change my diet, so I didn't understand the weight gain. Those 4 lbs never came back off.

I contacted my distributor and told them that I hadn't experienced any weight loss since week one and was told to keep taking the products, and it was suggested to add more salt to my diet. It is a month and a half later, and I have not lost any more weight and gained an additional 4 lbs. I just called to take my order off of the auto-ship and asked about returning the product but was unable to do so because apparently, the 30-day money back guarantee is only if you have 50% of the product remaining. The customer service department was NOT helpful and had the audacity to try to make me feel as though I thought the shakes by themselves would make me lose weight. I then had to explain to him that I was aware of this and followed the program to a T, and I have a regular and consistent exercise regimen that I follow.

My main issue is I have text messages to my distributor stating that I hadn't had a weight loss but was asked to continue with the products to give it more of a chance. I spoke with another distributor, and they tried to offer suggestions as to what I could add to my diet to help with ketosis, but none of it helped me. I did try to give it a chance, and now I feel penalized for that choice. $200 is a lot of money to just throw down the drain, and I am not happy about this at all.

Bottom Line: No, I would not recommend this to a friend

---