Wall Street Funding Reviews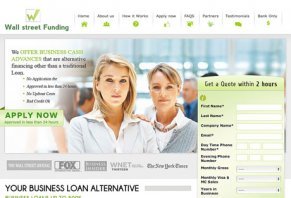 Wall Street Funding is a non-traditional lender than can provide up to $500K in just 72 hours, even if you have poor credit and a limited time in business.
About Wall Street Funding
If you're looking for a traditional business lender, you might want to look elsewhere. Why?
Because, instead of providing you with a regular business-to-business loan, Wall Street Funding offers a cash advance alternative that can give you the working capital you need, without any heavy restrictions or dense underwriting requirements—even if you have bad credit. In fact, Wall Street Funding claims that they have 90% approval rate!
All you need to do is fill out their simple, convenient online application, and Wall Street Funding will provide up to $500K, depending on your business's future cash flow. Then, the money will be deposited into your account in as little as 72 hours, which can be used however you like, including payroll, advertising expenses, expansion, or anything else.
This is why Wall Street Funding claims to be "one of the nation's fastest growing providers of business loans to businesses."
As a business owner, you're often caught between a rock and a hard place. Your normal bank's underwriting criteria are way too strict, and other "non-traditional" lenders can charge otherworldly interest rates. But does Wall Street Funding offer a good middle ground, or will they leave your business in a sinkhole of debt? That's exactly what we'll help you figure our in this review.
First, let's talk about the basics of how Wall Street Funding operates.
How Does Wall Street Funding Decide How Much Money To Give You?
Right upfront, we'll start by saying there's more we're not told about Wall Street Funding that what we are told. Keep this in mind, because we'll come back around to it shortly.
But in a nutshell, here's how Wall Street Funding's FAQ explains what they do:
"We purchase a portion of your gross revenue receivables at a discount using our industry established parameters determined by our consultants, and advance a stated amount to you. We promise the best combination of an advance amount and factor percentage that suits your business.

[Then, you] may receive $3,000.00 – $750,000.00, based on the revenue generated by your business."
If you've never encountered this type of lending, Wall Street Funding will basically purchase your future account receivables. Here's an overly simplistic example of how it might work:
Let's say that you've been in business for a year or so, and that you average about $15,000 per month in revenue. Business is good, so you need to purchase the space next door in order to expand. Otherwise, you might not be able to meet customer demand, which could hurt your income level in the long run.
By applying to Wall Street Funding, they would basically "purchase" your future income based on your past income. So, in our example, let's say they decide to "buy" 6 months worth of your income, but at a discounted rate of $14K per month.
This way, they might be able to give you $84K in as little as 3 days, without the long approval times or strict underwriting criteria associated with traditional bank loans. But how much will this speed and convenience cost you?
A Lot of Unknowns: Wall Street Funding's APR & Fees
According to the Wall Street Funding website, there isn't an application fee, compounding interest, or other upfront costs associated with their cash advances. And as long as your business has been up and running for over 60 days "with at least $10,000 in bank deposits per month [based on credit card or ACH sales]," they can get you your money in as little as 72 hours, with no pre-payment penalties.
Wall Street Funding will check your credit rating during their review, although it will "not play a pivotal role." We're also told that, "Based on your monthly revenue, we simply offer an advance with a fixed payback amount."
That's about it. But here's what we don't know about Wall Street Funding loans:
Exactly how much of a "discount" does Wall Street Funding get when purchasing your accounts receivable (see example below)?
Is there any factoring associated with your cash advance?
We are told there's no compounding interest, but is there an interest rate outside of the "discount" they get?
How long do you have to repay? What are the repayment terms?
We are told that, even if you're approved for a Wall Street Funding cash advance, there's no obligation to move forward. You can also renew your loan based on payment history, but there weren't any Terms & Conditions listed on the Wall Street Funding website to provide some additional insight.
Continuing Our Example From Above
With all of this in mind, let's put everything together (based on what we're told), so you can get a better idea of how Wall Street Funding makes money.
Remember our example in the previous section? The one where Wall Street Funding provided your business with an $84K loan? Well, keep in mind that they're giving you this money with the expectation that you'll repay your loan based on your actual monthly income of $15K.
In other words, Wall Street Funding would be giving you $14K per month, and you'd owe them $15K per month when repaying. So they'd basically be making $1,000 per month off you, or a total of $6K over the term of your loan.
$15,000 (your monthly income) - $14,000 (the amount Wall Street Funding gives you based on their "discount") = $1,000 (the monthly profit made off your loan).
Admittedly, this is a simplistic example (and not based in reality), but it should at least give you a decent idea of how the process works.
Is this similar to how other non-traditional B2B lenders work?
Other Companies Like Wall Street Funding
If you're in the market for a business-related cash advance without having to deal with traditional banks, you've got a ton of options to choose from. In fact, we're reviewed several of the most popular options here at HighYa, including Fundera, FundBox, BlueVine, Fast Business Funding, and Headway Capital, all of which feature "non-traditional" underwriting criteria.
Pro tip: If your business involves mobile development, you might even consider a specialized lender like Aprenita to help cover your expenses.
Most of these companies seemed to have a middle-of-the-road reputation here on HighYa, with most complaints referencing failure to qualify for a loan caused by undisclosed terms. However, compared to other options, online customer reviews for Wall Street Funding were very limited at the time of our research.
In fact, the only reviews that existed were 1 here on HighYa (the loan originator stopped working for the company after an application was filed), and another on the Better Business Bureau website. Although Wall Street Funding had an A rating there, no complaint details we available as of 12/26/15.
Taking all of this together, should you give Wall Street Funding a shot?
Turned Down By Banks? Should You Turn To Wall Street Funding?
Sure, Wall Street Funding provides some clear advantages over traditional lenders, including no application fee or compounding interest, quick approvals, flexible underwriting criteria, and more. But there doesn't seem to be much that differentiates Wall Street Funding from the competition—except perhaps for their focus on individuals with poor credit.
However, as with any accounts receivable lender, keep in mind that these advantages come at a cost compared to traditional banks. In other words, for the same amount of capital, you'll likely pay much higher interest and/or fees with Wall Street Funding than other credit-based lenders.
Will this extra expense be worthwhile in the long run? Ultimately, this is only something you can answer. But based on the limited amount of feedback available for the company (not to mention their rather "messy" website, including many spelling and grammatical errors), we'd definitely recommend exploring all your options before submitting your Wall Street Funding application.
Scams and unorganized company

By Nizar Sagani

,

Lawrenceville, GA

,

Aug 1, 2015

Their representative Mr. Matt Delsio asked me to send application and bank statements as soon as possible, which I did very next day and kept on calling him and the company for a week without any answer. Finally got a human being answering the phone and was informed that Mr. Matt is not with company and they don't have any record about me and he will call back after 5 minutes, which I know is not going to happen. It seems like this company is a fake and a scam. Stay away.

Bottom Line: No, I would not recommend this to a friend

---

Advertisement

---