Wally Reviews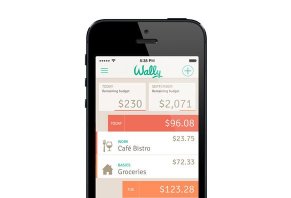 Wally is one of an emerging group of personal finance apps that focus on providing users with basic tools to help track their spending and income as they look to save money and corral spending.
About Wally
Wally is a free personal finance app available for Android and iOS that provides you spending tracking and savings goals to help take control of your financial life.
The company was started in 2013 and has a small team of employees based in various locations around the world. Wally's founder is Saeid Hejazi, a graduate of York University (Toronto) who, at the time of publishing, ran a holdings company based in Dubai as well as Wally.
Hejazi's past experience includes founding and managing Nahel.com, a company that was, according to his LinkedIn profile, the Middle East's largest online shopping site.
Wally's website says the company started because its founding team was looking for "the right tool to manage personal finances."
They described their app as an "intuitive tool to manage your personal finances" that gives the user a "360 view on your money."
In our experience, personal finance apps like Wally employ simple interfaces intended to help you easily track what you're spending, what you're earning and what you're saving. Without that ease, the app can be cumbersome and more annoying than it is helpful.
To figure out how Wally works and if it's a good solution, we downloaded the Android version of the app (Wally+ Beta) and entered simulated income and expenses.
Based on that experience, as well as our research of the company, we've crafted an in-depth review that will cover how you sign up for Wally, how you use it, what people are saying about it and how it compares to other budgeting apps.
Along the way, we'll add our thoughts on the app's strengths and weaknesses.
How to Sign Up for Wally
The onboarding process for the Wally app is incredibly easy. All you have to do is enter your name, email address and your password and you're ready to roll.
What we like about this process is that you don't have to give the app any access to your bank accounts in order to set up your account, a fact similar to what you get with budgeting app Fudget.
The downside to the sign-up process isn't so much as a negative as it is a slight surprise. Without asking permission, Wally connects the app to your contacts so you can tag people on the transactions you enter (more on that later).
Most, if not all, apps we've used typically give you a pop-up box asking if you want to connect the app to your contacts. This one didn't; keep that in mind when you sign up.
How to Use Wally
The Wally app has four budget-related menu options: Home, Dashboard, Review, and Settings. You also have the option of sharing your feedback with the Wally team and sharing the app with friends via social media or messaging apps.
Home Screen
The Home screen is where you'll get an overview of your remaining budget for the day and month, as well as how much you've spent for the month and upcoming expenses.
The remaining budget for the day is a calculation of how much money has yet to be spent divided by the number of days in the month.
The Home screen is where you'll add all of your new income and expenses. To add income, tap the remaining budget for the month and add the income.
For expenses, you tap the big red circle with the white plus symbol in it. This screen allows you to categorize the transaction by clicking on the box icon in the top left of the screen.
You have eight different categories from which to choose and each of those categories has a formidable list of subcategories you can use to further organize the transaction.
You also have the ability to choose the venue at which the transaction took place. We tried this feature at home but had no luck in getting the venue search tool to populate locations.
Also, as we mentioned earlier, Wally allows you to tag contacts to each transaction, a tool they say can help you see how much you spend when you're with certain people.
The final option you have on this screen is to record the transaction the day of or set it for a future date, something that's helpful for one-time bills.
Dashboard Screen
The Dashboard is where Wally gives you a simplified version of the Home screen. It shows your income, expenses, remaining budget and a savings target you can customize. Below the savings metric is a list of accounts you add during set-up.
Function-wise, the Dashboard allows you to tap on each of the metrics we listed and see what you've got in income and spending, what's already happened in those categories and any income or expenses in the future.
You can also adjust your savings target either by entering a dollar amount or by using a slider to designate a certain percentage you want to save.
Tapping on any of the accounts will allow you to add accounts or adjust any dollar amounts associated with those accounts.
Review Screen
The Review screen shows you how much you've spent, in which categories you've done your spending and with whom and where you spend the money.
What's most interesting about this screen, perhaps, is that your spending in each category is compared with other Wally users. For example, we spent a fictional $624 in the "General" category and Wally told us that 7% of users of similar age, location and income have similar general expenses.
Settings Screen
This is where you'll make changes to your account currency, set a reminder for updating your budget and edit your profile information and password.
You also have the option of requiring a password in order to log into the app.
Public Opinion About the Wally App
To get an idea of how users like or dislike the app, we headed to Wally's Google Play store page to read some of the most recent reviews.
The app has, at the time of publishing, 1,960 reviews with an average of 3.3 stars. Of those reviews, 588 were 5-star, 427 were 4-star, 243 were 2-star and 349 were 1-star.
Six of the 10 most recent reviews were 1-star, three were 3-star and one was 5-star. Many of the complaints about the app were focused on it being confusing to use, crashing and other bugs.
How Wally Compares to Other Budgeting Apps
When we used Wally, it reminded us of a more complex version of Fudget. Neither app requires you to connect to a bank account. In our experience, Fudget was more intuitive than Wally.
Compared to Mint and YNAB, Wally is pretty far behind in terms of what you can do with your app, learning modules available on its website and support from fellow users – Mint and YNAB have big followings on Reddit.
Based on our experience and research, we'd rank Wally below these other apps for reasons we'll discuss in the next section.
Our Final Thoughts About Wally
Our overall user experience was very similar to what we read on Google Play. While the app has some interesting features like being able to geotag purchases, the geotag function didn't work for us.
We liked how you have a lot of options for categorizing a transaction, but actually figuring out how to do that was a little confusing because the icon you tap to categorize is integrated into the geotagging button. It all looks like one button with one function but it's actually two buttons with two separate functions.
it's really easy to enter transactions and income but there isn't an option for adding recurring transactions, which is kind of frustrating because most consumers have multiple bills and subscriptions that process on the same day every month.
See Also: How I Used a Budget to Get Out of $22,000 of Debt
Another drawback of the app is the "Daily Remaining Budget" metric listed on the Home screen. Wally calculates this number by subtracting your month's income from what you've already spent and then dividing it by the number of days in the month.
The problem with this is that, to get an accurate read on how much you have to spend every day, you'd have to enter all your upcoming expenses for the month to account for money that needs to be saved for future bill payments.
Also, the app assumes that a daily average spending limit is the best way to handle your finances. It's not that way for some consumers, especially those who prefer the per-category budget philosophy of YNAB and Mint.
On the positive side, there is some indication that the iOS experience is better than the Android experience. The app gets a score of 4.2 from more than 1,100 reviews at the time of publishing.