Warranty Direct Reviews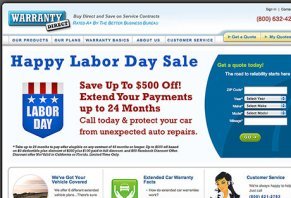 About Warranty Direct
Based out of Atlanta, GA, Warranty Direct claims to have been helping their customers purchase vehicle service contract coverage for nearly 30 years. When compared to other vehicle warranty companies, Warranty Direct claims that they sell and administer their own plans, and that they have help more than 2 million customers extend the life of their vehicles and achieve peace of mind.
But regardless of the type or age of your vehicle, are Warranty Direct extended warranties worth the extra expense? Read on to find out.
How Warranty Direct Works
At its most basic, Warranty Direct sells vehicle service contracts (also known as extended vehicle warranty plans), which work similar to a manufacturer's warranty in that they cover the costs of repair, parts, labor, and/or sales tax for certain repairs or replacement parts. As such, Warranty Direct claims to offer 6 different extended vehicle plans, all of which are administered directly by the company:
LuxuryCare – Covers virtually any breakdown or problem related to wear and tear, except for paint, upholstery, tires, and regular maintenance items such as engine oil and spark plugs. Vehicle must be less than 4 years old and have less than 50,000 miles in order to qualify.
SecureCare – Similar to your original factory warranty, this option covers expensive major repairs, as well as inconvenient small repairs. Includes many of the same exclusions you'd find with your manufacturer's warranty, including batteries, safety restraint systems, exhaust systems, and more.
XtraCare – This is the most comprehensive option available if your vehicle is older than 4 years or has more than 50,000 miles. Offers comprehensive coverage for almost every vehicle system component.
MajorCare – Covers older vehicles or those that are no longer covered by manufacturer's warranties, and includes coverage for systems and components that are the most costly to repair, such as engine, transmission, air conditioning, electrical, and more.
PowerShield Enhanced – Provides coverage for high-cost repair items including major components related to your vehicle's powertrain and transmission.
PowerShield – Provides low-cost, major component coverage for your vehicle.
Regardless of the plan you choose, all Warranty Direct plans include an unlimited number of claims, free roadside assistance, car rental reimbursement for up to 8 days, and the ability to obtain service at the repair facility of your choice. On top of this, Warranty Direct claims to be licensed and registered to do business in all 50 states, which means that they can provide nationwide coverage.
However, not all Warranty Direct plans are created equal, so it's important that you read through all the available coverage options before settling on a plan. Most of this can be accomplished by reading through the coverage comparisons on their website, as well as their sample contracts.
Warranty Direct Pricing & Refund Policy
Warranty Direct coverage plans vary in price depending on a number of factors, including your vehicle's year, make, and model, deductibles, as well as the number of miles it has. As such, you'll need to contact the company in order to obtain a quote for your specific vehicle, which can be paid in full or via monthly installments.
However, all Warranty Direct plans come with a 30 or 60-day cancellation option, which mans that you'll be eligible for a full refund, while pro-rated refunds are available thereafter. In addition, some warranties are transferrable to the new owner of your vehicle should you decide to sell it.
With all of this in mind, you'll need to contact Warranty Direct's customer service at 800-632-4222 in order to obtain a concrete quote.
What Do Other Consumers Have to Say About Warranty Direct?
Overall, it appears that Warranty Direct has a somewhat negative online customer reputation, although it's important to note that customers are much more apt to leave a company review when they've had a negative experience than when they've had a positive one.
With this said, although Warranty Direct holds an A rating with the Better Business Bureau, they have more than 300 closed complaints over the past 3 years, most of which appear to revolve around denied claims. Outside of the BBB, most customer reviews seem to reference this same concern as well. In fact, many customers stated that even once a claim was initially approved by Warranty Direct, their mechanic had difficulty getting specific approval for work during the repair process.
Outside of claims-related complaints, the most common customer complaints appear to reference rude customer service personnel and long hold times.
Can Warranty Direct Really Help Extend the Life of Your Vehicle and Give You Peace of Mind?
Whether your manufacturer's extended auto warranty doesn't cover something you need, or your used vehicle doesn't have a warranty at all, should you consider a Warranty Direct warranty? Perhaps, although it's important to keep the following in mind:
Selling Their Own Product
Warranty Direct acts as an "administrator" for your vehicle's warranty coverage. In other words, based on the plan you choose, they agree to pay for the costs associated with covered repairs or additional benefits for your vehicle for a set fee or monthly premium.
This could be considered a positive, since they are selling their own product, and not acting as an intermediary for a third-party company. In theory, this means that your claim could be paid more quickly and could entail a smoother overall process.
Warranty Direct Coverage
Compared to many other types of insurance policies and warranty coverage, Warranty Direct coverage is "exclusionary," which essentially means that unless something is specifically excluded by your policy, it should be covered.
However, it appears that many consumers have experienced instances in which something should have been covered, but ultimately wasn't, leaving them to foot the bill. As such, it's extremely important that you fully understand what your plan does/does not cover before signing on the dotted line.
Ineligible Vehicles
Keep in mind that if you use your vehicle for commercial purposes, own a rebuilt/salvaged vehicle, own a vehicle that has modifications outside of the factory recommendations (e.g. oversized tires, lift kits, etc.), or own a high performance/limited production vehicle, you will not be eligible for Warranty Direct coverage.
Bottom line
While Warranty Direct warranties may help give you a little extra peace of mind, due to the nature of the company's products it's very important that you fully understand the coverage provided by your plan. Otherwise, you could find yourself spending money on something that may not provide much (or any) coverage when the time comes.
Horrible

By John

,

New York

,

Aug 21, 2017
Verified Reviewer

I can see that you all are also getting the run around from Warranty Direct. Get used to it.

I am on my second warranty from them for two different vehicles. I have been a customer since 2007 and have given them thousands of dollars over the years for a top of the line Ultra Deluxe warranty, only to be treated like a piece of crap.

My latest dilemma with Warranty Direct is my last repair just before my warranty ended, I guess since they called me many times trying to get me to extend my warranty on my 7-year-old vehicle and I decided not to extend. I guess that got me on the "do not pay any claims for him list since he is not renewing."

I had a simple repair done, an ignition coil on the #2 cylinder, a mechanical breakdown in anyone's book. Service was done on a Sunday when they were closed. The mechanic was not able to get them on the phone since they were closed. I had to send in the claim myself, which one of the operators told me was just fine since they were closed during the time of the repair. Now a month later and five phone calls later on my part, I am told that they are not covering the repair.

First they told me that the claims manager, Dan Thomson, said that since it was not a "catastrophic breakdown" that it did not have to be covered. I don't remember ever seeing that in any of my contracts. Then when I told him that none of my claims over the period of 10 years was "catastrophic" and all were covered with no problem, even the ones that I had to send in myself and all were covered without question, then the story changed. Then it was, "well, you had other work done at the same time."

They did an inspection, and the coil was changed so you could pass inspection, and that is not considered a "breakdown." Well, they vehicle was brought in for a hesitation on acceleration, which was later found to be because of a bad ignition coil. Sounds like a breakdown to me. While it was there, I said I am almost due for an oil change and tire rotation, might as well do that too. Then the mechanic told me, "your inspection is up in a week or so, should I do it?" "Yes," I said.

Then the female operator from the claims dept told me that since it is called "Dick's Service Station," it is not a mechanics shop, it's a service station and they only pay for work done at a mechanic's shop. Can you believe this crap? I even offered to pay for the labor for replacing the coil, and they could just pay for the part. They said that since the mechanic didn't tell them prior to fixing the car (on a day that they were CLOSED and did NOT answer the phone when the mechanic called), that they will not cover the repair. When I called to file the claim, they told me that since they were closed at the time of repair, I am fine to send it in myself.

I am completely disgusted with this company. I have faxed/emailed in claims under the exact same circumstances in the past for two different vehicles and had no problems. I guess since I was towards the end of my warranty and I was not renewing it and I didn't have any other vehicles to buy a new warranty for, they no longer had any use for a long time customer. Sad, very sad business practice. I will never use them again and will never recommend them again.

Bottom Line: No, I would not recommend this to a friend

---

Scammed by Warranty Direct

By Ron Jackson

,

Cincinnati, OH

,

Jan 22, 2017
Verified Reviewer

Buyer BEWARE.

I researched many different warranty companies and finally decided to go with Warranty Direct for two particular reasons: (1) they warranty the vehicle for repairs up to $12,000 rather than simply the value of the vehicle. In other words, if the vehicle is only worth $2,000 they will still pay up to $12,000 in repairs; and (2) they were considered by their competitors as a recognizable company.

I decided to sign up, and I understood that there was a 30 day/1000 mile waiting period, which seemed reasonable to me. At the end of that waiting period, I took my car into the Nissan dealership for a diagnostic. The dealership discovered that I had a transmission problem that needed to be addressed immediately. They recommended a replacement to the tune of nearly $4100.

They contacted Warranty Direct to authorize the repair, and to my surprise, Warranty Direct rejected and denied the claim. When I called them to find out why they did so, they first told me that I had fallen behind on my payments. When I disputed this, they finally figured out my account was up to date.

Next, they told me that my claim could not be paid because I had a pre-existing condition. I explained to them that I completed the waiting period and then I took my car in for a diagnostic. I refuted and explained that Warranty Direct should pay for the claim because I did my part as a paying client; furthermore, there is no proof that my car had a pre-existing condition. They told me the claim decision was irreversible and then the customer service agent hung up on me mid-sentence as I was trying to explain to her how unfair this was.

I now have a lawyer who has sent a formal letter directly to the company. It is frustrating to me that I not only have to pay for the warranty, but now I have to also pay for a lawyer, and apparently for my transmission as well. This is a direct breach of the warranty contract I signed. I highly recommend that anyone considering going with Warranty Direct run the other direction. You'll likely be scammed like me!

Bottom Line: No, I would not recommend this to a friend

---

Advertisement

---

Terrible, deceitful company

Join our Facebook group "Victims of Warranty Direct" if you have had a bad experience as well.

After our A/C quit blowing cool, we took it to a service center. At first, they denied our claim, saying we did not have a plan that had coverage. After some argument from us, they admitted that they had our plan entered into their system wrong. It went downhill from there.

We were without our vehicle for five weeks while waiting for Warranty Direct to approve or deny our claim. Every call made, we were told something different. Twice we were told they had requested an inspector to go to the site to look at the vehicle, come to find out they Warranty Direct never contacted the inspector (this is a 3rd party person, nothing to do with Warranty Direct, they just report their findings). Suddenly, after Warranty Direct puts a rush in the inspection request, the guy shows up that day. I was told by two separate customer service representatives that the inspection report says "no indication that this is a pre-existing condition," but when all was said and done, they denied it due to it being a pre-existing condition.

What is the point of sending an inspector out if they are just going to make up whatever they want anyway? Because of the inconsistent things we were told, we requested copies of our recorded calls. They refused, stating they cannot for privacy reasons. Whose privacy? We also requested a copy of the inspection report, but again, they refuse.

We reported them to the BBB, and their response is that they addressed our concerns and paid the claim. LIE. They paid a small portion and repaired a part that did not even fix the A/C. We were without our vehicle for five weeks and got it back in the same condition as when we dropped it off. This issue is still unresolved.

Bottom Line: No, I would not recommend this to a friend

---

Poor customer service

Houston, TX

,

Aug 21, 2017
Verified Reviewer

I purchased the Platinum Warranty four months ago at a cost of $6200. My car has been at the dealership since last Monday. It's been taken apart, and I am waiting for someone to come and inspect the problem. It took 48 hours for them to show up, then he told the dealer it would take 24-48 hours to submit his report and get approved.

t the 48-hour mark, they said things were held up until I could provide a bill of sale on a car that is four years old with no explanation for why. Since it was Friday at 4 pm, I scrambled to produce the document and emailed it to them. I was told that they were open until 8:00 EST and I could follow-up later. When I called at 7:45 EST to see if it was approved, they were closed until Monday! So I called Monday at 10:00 am and was told they had received the bill of sale and it would now take 24-48 hours for final approval.

In the meantime, the rental car that is also covered by the warranty should get me through, right? Nope, not eligible until they approve the claim. So for those keeping score at home, I'm on day eight since my car was dismantled at the dealership and this has been in process. Not what I signed up for when I handed over $6200!

Bottom Line: No, I would not recommend this to a friend

---

Advertisement

---

Huge rip off!

By Trish Green

,

Missouri

,

Dec 7, 2017
Verified Reviewer

I have had a contract with these fools (well, I'm the fool)! I used it twice for inexpensive repairs. I renewed the contract (was in my fourth year) and the car needed a new engine. And they denied the claim! They won't email me the cancellation form and keep taking money from my account!

Do NOT do business with them!

Bottom Line: No, I would not recommend this to a friend

---

Questionable customer service

By David F.

,

Plantation, FL

,

May 24, 2018
Verified Reviewer

Warranty Direct's customer service was absolutely unacceptable on my current warranty claim.

I dropped my car off at the Ford Dealership on Monday 8 am. The warranty company was called by Ford at 11:30 am with damage and cause of fault. Warranty Direct stated they needed an inspector to check the vehicle and it would take 24-48 hours for him to come out. Two days later on Wednesday noon time, still no inspector.

I called Warranty Direct and they stated they needed to see the part torn down to evaluate. This was never relayed to anyone until I called. I promptly approved the teardown, and now it is Friday afternoon and still no inspector. Warranty Direct claims the inspector is a third party and they need the courtesy of having 24-48hours to come out and inspect the vehicle. I am the customer of Warranty Direct and have had my vehicle in the shop five days now and the warranty company has yet arrived to approve the repair. It is totally unacceptable to wait this long for approval.

I highly recommend that everyone interested in purchasing an extended warranty from this company please be aware of their slow turn time. Warranty Direct totally dropped the ball on this situation and the one who is suffering is me, the customer.

Bottom Line: No, I would not recommend this to a friend

---

Watch the fine print

By William M.

,

Tampa, FL

,

May 28, 2018
Verified Reviewer

I got a warranty from Warranty Direct for my 2007 Saturn Vue hybrid about six years ago when the factory warranty ran out. By and large, I was satisfied enough with their product that I bought another warranty two years ago when that one ran out of time. I should point out that this vehicle was scrupulously maintained at the dealership where it was purchased. Warranty Direct was more than happy to sell me the second warranty.

As the vehicle got older, the claims got harder for my service writer to get processed. The last major claim was to replace the air conditioner. They only offered to replace it with generic parts. The service manager was adamant that this would never work properly. Long story short, he negotiated with them and it "only" cost me a few hundred bucks. The last major problem was not warranted ( the hybrid system died) so I decided it was time to trade. The warranty had been paid in full ($2733.00), still had two full years to run and or 31,000 + miles left on the coverage. Imagine my surprise when the very fine print on the last page of the contract was pointed out to me indicating all warranty payouts would be deducted from any refund.

OK, ya' got me. Lesson - don't keep a car too long and carefully read all the fine print.

Bottom Line: No, I would not recommend this to a friend

---

Never again

By Obi M.

,

North Carolina

,

Jun 26, 2018
Verified Reviewer

After declining to cover a part that was clearly stated to be covered because of rust, I canceled my policy but the rep I was on the phone with never mentioned anything about having to sign a cancellation form! I'm pretty sure they record phone calls so they can easily go back and verify my claim! A month later I get billed for a service I don't have anymore, total B.S.

Bottom Line: No, I would not recommend this to a friend

---

Stay away - avoid frustration

By J W.

,

Chicago, IL

,

Jul 25, 2018
Verified Reviewer

Really bad company. I bought their luxury plus care package. I was told then that everything except regular maintenance is covered. First time I used it, they denied the claim with all kind of reasons. Waste of money.

Bottom Line: No, I would not recommend this to a friend

---

Did not pay for failed items when they had it listed as covered items

By Balaji S.

,

Texas

,

Sep 7, 2018
Verified Reviewer

I've been with Warranty Direct for 12 years, today I had the worst experience, my alternator is dead, and my Power Steering Pump is not working. I am told that the alternator would only be paid $450 when it costs $800 to fix it. I checked at two different locations, and for Power Steering Pump they refused to pay anything as the seals were leaking due to wear and tear. I was told that this company covers normal wear and tear! Now for Power Steering Pump, I have to pay $500 more. What's the point of buying extended warranty then? I paid $3000 for Standard Advantage Plus Coverage. My mileage is at 123,300 and has maintained my 2006 Odyssey Touring in excellent condition. I will not be recommending this company anymore!

Bottom Line: No, I would not recommend this to a friend

---

Contract means nothing

By Donnie R.

,

Midlothian, TX

,

Apr 24, 2019
Verified Reviewer

I've had my warranty service for my pickup since November 22, 2016. In the interest of full disclosure, I've been a customer of this company since late 2010, early 2011 when my factory warranty on my 2008 Toyota Tundra SR5 expired. The few times that I had to call for service from Warranty Direct, I could not have been more pleased. When my second service neared the expiration in 2016, I received a telephone call from a very nice gentleman who assured me that due to the long-standing relationship with WD and the condition of my vehicle, I could renew with the Standard Advanced Plus coverage.

This is where my opinion of this company changed. No longer were the so-called customer service representatives helpful. Confrontational is the only term that applies. The starter failed, and when the servicing dealer called authorizations, the only thing they would cover was for an AutoZone quality rebuild. I paid the difference.

On Sunday, April 7, 2019, I noticed a pronounced vibration in the driveline and got the pickup to South Toyota in Dallas. The technician removed the prop shaft, discovered that the rear universal joint had failed and damaged the shaft and the yoke also. "Claim Denied." "Normal wear and tear." Yet, page three of my contract clearly states on page 3, DRIVE AXLE(S) "axle shafts, constant velocity joints, universal joints, drive shafts, locking hubs, looking rings, and supports, retainer & bearings.". I read this to the so-called supervisor on April 16, who informed me on April 16 that it did not matter "what that says." I'm looking at the printed copy of my contract sent to my email on April 11th that plainly states "Warranty Direct" on the cover page. "CLAIM DENIED." So, I paid the almost $1,500 invoice.

I have my Tundra back. I will be canceling the remainder of my contract and ask for the prorated value of my premium returned. My spouse will be canceling the "coverage" on her SUV. I'm fully expecting "refund denied" on both.

Would I recommend Warranty Direct to anyone? Family, friend or a complete stranger? Most definitely NOT.

Bottom Line: No, I would not recommend this to a friend

---