Water Blade Chef's Knife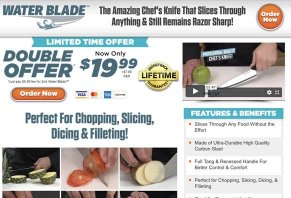 Made from high carbon steel, the Water Blade chef's knife has a razor-sharp edge that the company claims can slice through five full water bottles and cut paper-thin slices of vegetables.
Water Blade Chef's Knife Review
The Water Blade Chef's Knife is an As Seen on TV professional-quality knife that claims to "cut through anything" and still remain razor sharp.
The knife gets its name – "Water Blade" – from its ability to slice through five full water bottles in one swipe.
The As Seen on TV world is no stranger to knives that make big claims about their sharpness so, as we work through this review, we're going to make sure we give you relevant, important information about how the knife works, what it costs and how it compares to other knives at the same price point.
How the Water Blade Chef's Knife Works
This knife has several features that are important to know about.
First, it is a chef's knife, which is actually a specific term to describe the blade shape and function. According to knife manufacturer Kamikoto, a chef's knife is "one of the most versatile knives to have in your kitchen."
They go on to say it's a multi-purpose knife that can perform a variety of tasks in the kitchen. In other words, this could be a great knife for the average consumer who's looking for a go-to blade they can use in many different situations.
Second, the blade is made out of hardened high carbon steel. This material, notes KnifeWorks.com, is an excellent metal for knives because it maintains its sharp edge better than steel knives, they're affordable, they're sharp and the material itself is hard.
The drawback to the material is that it rusts easily, so you'll need to make sure you dry it off thoroughly after each use.
Finally, the knife has a unique handle shape that, according to the website, allows for more control and comfort.
As far as accessories go, the Water Blade comes with a storage sleeve that has a built-in sharpener which sharpens your blade each time you slide it in and out.
The Cost, Return Policy and Warranty of the Water Blade Chef's Knife
At the time of publishing, Water Blade offered one knife for $19.99 plus $7.99 for shipping. They also had an offer going in which you could get a second knife for an additional $9.99. The grand total for two knives shipped would be $37.97.
The knives come with a 30-day guarantee. According to the fine print, you can return the knife or knives at any point in the first 30 days if you aren't happy with them. You'll get a refund on the purchase price but you'll eat the cost of the original shipping charges as well as the return shipping.
Keep in mind that the 30-day deadline starts the day you receive the knives in the mail. Also, the fine print says that it could take up to 17 business days for your refund to show up in your account.
Some other requirements for returns include:
All original packaging and accessories need to be included in the return
You have to include a written/typed explanation of why you're making the return
Your name, address and phone/email must be included in the return
The Water Blade website claims that there is a "lifetime money-back guarantee" for the knives, as evidenced by a gold badge on the site with those very words.
However, when we called the Water Blade customer service line, a phone representative told us that the knives don't come with any sort of money-back or replacement guarantee beyond the 30-day return period.
How the Water Blade Chef's Knife Compares to Other As Seen on TV Knives
As we mentioned early on in this review, there have been dozens of knives that appear on TV commercials making big claims about their sharpness and durability.
The following chart compares some of those knives with the Water Blade:
| | Water Blade | Aero Knife | Gotham Steel | Wave Blade |
| --- | --- | --- | --- | --- |
| Price for One | $19.99 | $10.99 | $19.99 | $14.99 |
| Price for Two | $29.98 | N/A | $24.94 | $22.98 |
| Material | High carbon steel | Stainless steel | Steel & titanium | Stainless steel |
| Comes with Sharpener? | Yes | Yes, for an additional $6.99 | Yes | Yes |
When we compare all these different knives, we think that the Water Blade has some distinct advantages over the competition. First, the knife is the only one out of the Aero Blade, Gotham Steel and Wave Blade made from high carbon steel.
The benefit of that is there's a good chance your blade will stay sharper longer than the other three knives in the chart. The downside is that it's going to cost you more money than the stainless-steel knives.
Interestingly, our research of the Gotham Steel knives reveals that while titanium is perceived as a tough, strong metal it's actually fairly soft and not the best material for a knife. In that sense, we think that the Water Blade offers better value than its like-priced competitor.
In general, we believe the Water Blade offers the better value here because of its high carbon steel blade and the fact that it comes with a sharpener at no extra cost.
The Final Word: Pros and Cons of the Water Blade Chef's Knife
The Water Blade presents a very interesting option for an all-purpose knife if for no other reason than the fact that it's made from a material that is widely regarded as a superior choice over stainless steel.
What furthers the intrigue about this knife is the fact that it's hard to find a high carbon steel knife on Amazon anywhere near the price of the Water Blade. Since there were no available user reviews of the knife at the time of publishing, we weren't able to get an inside look at how long the blade stays sharp. Knowing this would give you more insight into whether or not the knife is worth the $19.99 price tag.
What we do know is that the knife's 30-day money-back guarantee gives you enough time to try the knife for several weeks so that you can see if the cut quality degrades. If it does, you can return it and pay only shipping.
But, keep in mind that shipping charges for the knife could total around $15 just to ship it to yourself and then send it back to the company as a return. It would make sense to keep the knife if you're going to buy it, as the shipping fees alone are just $5 less than the cost of the knife.