Wealthfront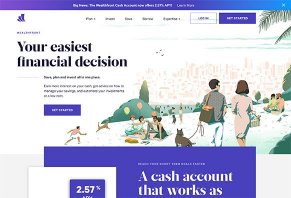 Using a planning tool to tie together a long-term strategy for managing your money, Wealthfront is a platform where you can invest in ETF's through its automated process. You also have the option of starting a savings account with them and taking out a line of credit against your portfolio balance.
Wealthfront Review - Ideal For Your Financial Future?
Wealthfront is an investment company that offers investment, savings, lending and financial planning services for a small fee based on a nominal percentage of the money Wealthfront manages for you.
The company is one of many financial services companies that pair automated investing with other financial services you'd traditionally get from a bank.
The company is based in Redwood City, CA. According to records from the Financial Industry Regulatory Authority, none of the financial professionals listed for Wealthfront have any negative marks on their records. This means that their COO, CFO, FINOP, CCO and executive representative haven't been cited for violating any rules.
In our review, we'll give you our analysis of the four main services the company offers, discuss pricing, talk about customer reviews and give you our conclusions about the app's pros and cons.
How Wealthfront Works: Investing, Saving, Borrowing and Planning
Wealthfront intends to be a full-service financial services company that can meet your financial planning needs now and into the future.
They accomplish this by giving you a platform to invest now, save for the future, borrow to meet specific financial requirements and plan to ensure you have the financial health and habits to meet your financial goals.
Investing With Wealthfront
Wealthfront's investment services use "passive investing", which is a term that means you select the investment strategy you want and Wealthfront does the rest. They use a variety of algorithms to manage your portfolio.
That portfolio is made up of exchange-traded funds ("ETF's"), which are assets made up of various types of investments intended to mimic well-performing assets called "indexes". Basically, some really smart economists realized that investments like ETF's are safe, long-term strategies that make investing easier.
Wealthfront's algorithms help you lower your tax liability as well as manage risk, meaning they make automatic moves that help your tax status and make sure your investments are trimming assets that are performing poorly, according to your comfortability with risk.
The advantage here is that the company has automated investing so much that you don't have to do anything: no calls to your financial advisor or meticulous planning and decision making.
Saving With Wealthfront
Wealthfront offers a savings account that provides you with a guaranteed 2.57% annual percentage yield (APY). "APY" refers to the amount of interest you earn on the money you put into your savings account.
Every day, Wealthfront calculates your interest daily and, at the end of the month, factors the interest you earned into your APY. What this means is that your interest grows even more as you earn more interest.
According to Wealthront's FAQ section, the company deposits your earned interest on the first business day of the month.
If you deposit $1,000 and keep it in a Wealthfront savings account, you'll earn $135.50 at the end of five years.
Borrowing With Wealthfront
As a Wealthfront accountholder, you have the option of getting a line of credit (LOC) equivalent to up to 30% of your portfolio's value. The minimum amount you can borrow is $25,000.
If you have $100,000 balance across your savings and investment accounts, Wealthfront could approve you for an LOC of up to $30,000. This money is available to you whenever you need it; you can withdraw it all at once or make incremental withdrawals. It works more like a credit card than a loan.
The interest rates on their loans are based on the amount you borrow:
$25,000 to $499,999: Effective federal funds rate plus 3.60%
$500,000 to $999,999: Effective federal funds rate plus 2.85%
$1 million or more: Effective federal funds rate plus 2.35%
For the purposes of this review, the "effective federal funds rate" refers to the base interest rate the Federal Reserve sets for loans. At the time of publishing, that rate was around 2.40%. So, the interest rates for the three lines of credit above would be 6.00%, 5.25% and 4.75%.
Whenever you decide to take out money from your LOC, Wealthfront calculates your daily interest in the same way credit card companies do. That interest builds over time and they incorporate it into your repayment.
Keep in mind that, because the LOC amount is based on your investments, you may be required to pay back some or all of the amount you took out. Wealthfront points out two specific types of required repayment: margin risk and liquidation risk.
For margin risk, if your investment value falls below a certain point Wealthfront determines, "you may have to repay some of the loan," their FAQ section says.
For liquidation risk, Wealthfront may take money out of your investments to pay for the money you took out on your LOC.
Planning With Wealthfront
Balancing savings, investments and a line of credit can be difficult, especially if you're not quite sure if you've got the money to do all three.
Wealthfront's planning service gives you recommendations for investments, savings and a line of credit based on your unique financial profile.
Their planning focuses on homeownership, time off for travel, retirement and college.
Their advice focuses on helping you see a financial decision based on a classification of affordability. For homeownership, you'll use their app to type in an area in which you want to live.
Wealthfront will then provide you a spectrum of home sizes and average costs based on real-time data. They assign each home size and price a value statement—manageable, a stretch and unaffordable—based on when you want to buy the home.
Wealthfront's Fees
One of the huge benefits of using an automated service like Wealthfront is that the fees are low compared to what it would cost to hire a financial advisor.
You'll pay two fees for Wealthfront to manage your investments. You'll pay a monthly 0.25% advisory fee, plus fund fees of 0.07% to 0.16%.
The advisory fee is something you'll pay Wealthfront directly. Here's a quick list of what the monthly advisory fee would be for four balances, per Wealthfront's website:
$10,000: $2.08 per month
$50,000: $10.42 per month
$500,000: $104.17
The fund fee is something the owners of the various parts of your ETF charge. This fee is taken out of your fund's performance—it's not a fee that you'll actually see withdrawn from your account. Both of these fees are widespread and well-known in the investment world.
The only other fees you can expect are the interest Wealthfront charges you for your line of credit.
How Wealthfront Compares to Similar Financial Services Companies
One of Wealthfront's main competitors is Betterment, a company that offers a variety of financial products in addition to automated investing.
Betterment differentiates itself from Wealthfront because they offer retirement services (401(k) rollovers and IRA's), trusts and access to CFP's for those with balances of at least $100,000. Also, Betterment does not offer lines of credit.
Some of the similarities between the two sites are that both offer automated ETF investing as well as savings accounts that accrue interest. Wealthfront's savings account APY is 2.57%, whereas Betterment's savings APY is 2.14%.
These two products' differences point to the fact that they're designed for different people. If you're someone who is focused on retirement, plans on building an investment portfolio of at least $100,000 and wants access to financial experts to get advice, Betterment is the superior option.
We see Wealthfront as a good fit if you're just starting out on a financial plan and want simple advice for how realistic home and college purchases are, as well as what you need to do save up for retirement.
The line of credit they offer can be a good tool for you in certain situations but, if you don't have much financial discipline, it could be a dangerous investment. The built-in measures for margin and liquidation risk protect you and Wealthfront; while they may seem like an improbability, nothing in investing is for sure.
The Final Word: Pros and Cons of Wealthfront
In our opinion, Wealthfront's strength is that it offers a basic way for you to approach financial planning. You can use the company's Planning tool to get a read on, for example, how much house you can afford. It can also give you basic plans for how to save up for retirement, college and an extended period of time off of work.
Another advantage is one that we find to be a general advantage of companies who organize multiple financial tools so that you can manage them in one place.
Services like Wealthfront, Betterment and Robinhood provide you with multiple financial products in one app, such that you don't have to go to two or three websites or apps to manage your financial life.
Also, the APY on Wealthfront savings accounts are excellent and it may be worth it to you to start a savings account with them and nothing else.
The company's weakness is that they don't provide an investment vehicle for retirement. For example, you can roll over a 401(k) or put money into an IRA account as you can with Betterment. However, this is only a weakness if you want to find a tool that will allow you to invest in ETF's and set up and contribute to a retirement fund.
In general, we believe that Wealthfront is a solid choice for a savings account and ETF investing, as their APY is high and their advisory fees are low. While a line of credit seems to be a simple way to get money, it involves some somewhat complex conditions (margin and liquidation risk) that require a deeper understanding of your appetite for risk and your financial responsibility.
Algorithms?

By Chad V.

,

Central Florida

,

May 24, 2018
Verified Reviewer

I've had a few weeks with Wealthfront, and still not sure what goes on here. Out of six weeks of investment, I had two positive days. Even when 80% of my assets were positive, my portfolio was still losing money. I asked their support and was sent to some investment methodology link that might as well have well been written in Mandarin. I'll be pulling my money out and moving elsewhere. Not sure yet, but if someone can't explain why my account is up or down, then time to move on.

Bottom Line: No, I would not recommend this to a friend

---

Beware

By Chris L

,

Tennessee

,

Mar 12, 2018
Verified Reviewer

First and foremost, I want to say that out of all of my accounts, Wealthfront has performed the worst. Even with an up market, this account is in the negative when all other accounts are in the green.

My main problem with this company is that I transferred my retirement Roth IRA over to a Wealthfront Roth IRA. Or so I thought. When I tried to transfer the funds over to my other brokerage due to Wealthfront's poor performance, I was informed that Wealthfront had opened my account as a Traditional IRA. When I confronted them about the situation, I was told they do not have a department to handle this and I could email their cashier group. I told them I needed to speak to someone but once again was not given that option. After many frustrating emails, I realized they were not going to help me get the account fixed.

I now see I made a HUGE and expensive mistake going with Wealthfront. Please beware of this company and look into other investment avenues for your hard earned money.

Bottom Line: No, I would not recommend this to a friend

---

Advertisement

---

Just feels like a scam

By Robert T.

,

Phoenix, AZ

,

Jun 18, 2019
Verified Reviewer

Had my account with Wealthfront for nearly two years. As the previous reviewer said, I too only had a couple of positive months. The rest were all down months, even when the market was positive.

Research the management. They have some shady business practices. Keep your eye on them - they will eventually get caught doing something illegal.

I would NOT trust Wealthfront.

Bottom Line: No, I would not recommend this to a friend

---

Closing Wealthfront due to poor service.

By Kyle P.

,

Oregon

,

Jan 3, 2020
Verified Reviewer

After a bad customer service experience with "iori" we've decided to pull our money from Wealthfront. All we asked is that Iori note our request to limit sharing of personal information as much as possible. She was so condescending and flat out refused to do it. So, time to close up and go elsewhere. Beyond that Wealthfront isn't offering the competitive interest rate it had when we opened out accounts. No value in sticking with a company that isn't great with money or with people.

Bottom Line: No, I would not recommend this to a friend

---

Advertisement

---