Wealthsimple Reviews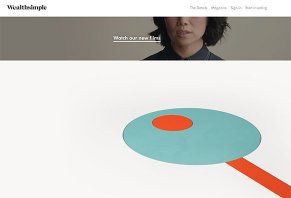 Wealthsimple is a robo-advisor based in Canada that uses tax-loss harvesting and portfolio rebalancing to provide maximum return and tax benefits on the exchange-traded funds that fill their portfolios.
What Is Wealthsimple?
Wealthsimple is a robo-advisor who invests your money in exchange-traded funds (a popular type of investment) and/or retirement accounts and allows you to invest your money in a socially responsible portfolio.
Like many robo-advisors, Wealthsimple emphasizes how easy it is to use their app to invest your money. They also emphasize the socially responsible portfolio they offer, saying, that it "prioritizes companies with low carbon emissions, that advance cleantech innovation, and make diversity a priority."
According to the company's Crunchbase profile, Wealthsimple was founded in 2014 by Michael Katchen, a Toronto-based entrepreneur.
Katchen graduated from the University of Western Ontario with a business degree and, before launching Wealthsimple in 2014, spent about four months as Ancestry.com's national director in Canada.
In this review of Wealthsimple, we're going to look at the aspects of the app that most impact you, the consumer and investor:
How to sign up for the app
How Wealthsimple's investing works
Rates and fees you'll have to pay
Public opinion about it
Our experience in reviewing more than 100 financial products shows us that every product has its strengths and weaknesses. So, we'll end our review with two short sections about the app's pros and cons.
How to Sign Up for Wealthsimple
At the time of publishing, Wealthsimple was available in Canada, the United States and the United Kingdom. You can sign up for Wealthsimple either through their website or their app, which is available in the iTunes and Google Play stores.
Once you select the country you're in, you'll be asked a series of rapid-fire questions that will help Wealthsimple better understand your investment needs and, consequently, better craft an investment portfolio:
Age
Investment goals
Annual income
Current total of savings and/or investments
Total value of your assets
Total value of your debts
Level of investment experience
Whether you'd buy or sell during a downturn
How long you plan to hold onto your investments
Do you want socially responsible investments?
Wealthsimple provided us with a balanced asset mix and the following explanation of exactly what that means:
"Your portfolio asset mix is roughly split between growth and income. You can expect to see some downturns, for returns above inflation. You can always change your plan at any time."
What we liked about Wealthsimple's series of questions was that they took into account our basic financial state and provided us with a preview of our portfolio before we had to give any personal information.
That portfolio included some well-known ETFs from Vanguard (Total Stock Market, FTSE Europe, Small-Cap Value) as well as a few bonds.
The majority of our distribution (64.5%) was tied up in bonds and two Vanguard ETFs, a long-term strategy that matched the information we submitted during the questionnaire.
We decided to click the "Start With This Plan" button at the bottom of the page and open an account. We were asked for our name, email address and password.
Once we filled out that section, Wealthsimple asked us if we wanted to open a personal investment account, a traditional IRA, Roth IRA or a 401(k) that is or isn't rolled over. We chose the personal account.
From there, you provide Wealthsimple your name, phone number, birthday and country of citizenship.
Wealthsimple will also ask for your social security number, your place of work and whether or not you're "employed by a FINRA member firm or stock exchange, or is an insider, director or senior officer of a publicly traded company."
All of these questions are intended to meet federal standards for investing, including verifying your identity to make sure you are who you say you are.
Once you give them your social security number, Wealthsimple will confirm your email address and you're all set to invest.
One thing we liked about Wealthsimple is that you could set up an account without providing banking information. This gave us the chance to snoop around our account and get a feel for things before we linked our bank accounts to our Wealthsimple account.
Pro tip: Wealthsimple also offers Hallal investing, which is a portfolio that meets the requirements of Sharia law.
Wealthsimple Basic vs. Wealthsimple Black
Anyone with less than $100,000 in their Wealthsimple account has what's known as Wealthsimple Basic. This type of account has the following features, some of which we'll explain later:
Automatic rebalancing
Dividend reinvesting
Auto deposits
Free financial advice
Tax efficiency tools
Once you surpass the $100,000 level, then your account becomes a Wealthsimple Black account. As we'll point out later, the fees on a Black account are 20% less than a Basic account. It also has all the features we just mentioned plus:
Free financial planning appointments
Free Priority Pass airport lounge membership for you and a companion
How Wealthsimple Investing Works
Wealthsimple functions very much in the same way that other robo-advisors like Betterment and Wealthfront do.
Basically, you choose how often you'd like to deposit funds into your investment account. From there, you have the option of tinkering with your investment strategy but, if you'd like, Wealthsimple can run the show via their complex mathematical constructs. All you have to do is choose an option and let it ride, a philosophy often referred to as "set-it-and-forget-it."
If you've never used a robo-advisor before, then thought of letting a company run your precious investments via algorithms can be intimidating. What happens if your portfolio isn't performing like you want? What about losses and taxes; will you be stuck hashing out numbers with your CPA in order to maximize your tax savings?
Thankfully, Wealthsimple features automatic rebalancing and tax-loss harvesting, two features common among leading robo-advisors.
Portfolio Rebalancing
Portfolios have a lot of moving parts and, in order to keep those moving parts in line with the risk preferences you select when you set up your account, various assets have to be moved around and you need to buy and sell.
This isn't always easy for investors, especially if you're a newbie and you aren't quite sure what to do.
Wealthsimple does all this work for you through something called portfolio rebalancing. They've got algorithms (mathematical equations) that constantly monitor your portfolio.
When certain criteria are met, the algorithm sets in motion buy-and-sell patterns that keep your portfolio on track according to your preferences.
"Portfolio rebalancing is something that should happen throughout your investment life. Some rebalancing is to make sure you maintain the allocation you initially set up," Wealthsimple's website says. "And some portfolio rebalancing happens because your goals change over time—you'll probably want to get more conservative with your money as you get closer to retirement, for instance."
Tax Loss Harvesting
Amid all this buying and selling, you'll inevitably earn some profit on your trades. These gains have to be reported to the IRS, but if you aren't making the trades, then how do you know the tax implications?
On the flip side of that, losing money can also work to your advantage come tax time, which is one avenue through which you can actually save money on your taxes.
Wealthsimple and other robo-advisors solve these situations through something they call tax loss harvesting. Basically, this method of buying and selling makes it easier for you to earn money through compounding interest via invested cash you might have otherwise spent on taxes.
Wealthsimple's Fees
Wealthsimple charges a 0.5% fee for all accounts with deposits under $100,000. Once your deposits surpass the $100,000 mark, then your account becomes a Wealthsimple Black account and carries a fee of 0.4%.
For context's sake, Betterment charges 0.25% for accounts with balances below $100,000 and 0.04%-0.05% for accounts above $100K.
Wealthfront, on the other hand, charges 0.25% for accounts over $10,000 and nothing for accounts under that threshold.
Pro tip: You won't pay any fees on the first $5,000 you invest with Wealthsimple.
Public Opinion About Wealthsimple
In general, Wealthsimple gets above-average reviews from expert personal finance sites other than HighYa.
The main knock against the tool is that its fees for accounts under $100,000 are twice as high as Betterment and Wealthfront's.
One site also pointed out that Betterment's website provides a lot more learning tools than Wealthsimple, which is something we agree with. Betterment's educational tools are incredible and lead the robo-advisor industry.
Pros of Wealthsimple
Based on our research and use of the Wealthsimple website, we believe the platform's strength is its simple user experience and the fact that you don't have to provide any banking information to open an account.
We also like how the first $5,000 is invested for free.
Cons of Wealthsimple
The main drawback of Wealthsimple is that the fees for investments below $100,000 are twice as high as popular competitors Betterment and Wealthfront.
Who Might Be a Good Fit for Wealthsimple
We think the best fit for Wealthsimple would be someone who is new to investing and wants to invest less than $5,000.
This type of person can use Wealthsimple for free, decide if they like it and, if they don't, can research Betterment, Wealthfront, Acorns and other robo-advisors to find out which one is the best fit.