Webull Financial Reviews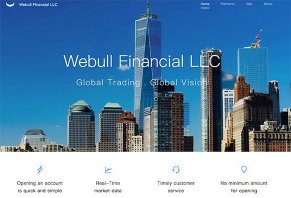 Webull Financial is a new investment app through which you can make free trades across a variety of investment instruments including stocks, cryptocurrency and ETF's, while providing in-depth analysis and news.
About Webull Financial
Webull Financial is a New York-based investment app through which you can buy and sell stocks, ETF's and more without paying any trading fees.
The app also includes a substantial collection of up-to-date data to help you make wise choices with your money, data, that includes information about markets in more than 90 countries.
Here's an excerpt from a press release the company wrote upon the launch of its app:
"The Webull App provides global retail investors with financial data and trading services covering market data from more than 90 countries and 106 exchanges in stocks, bonds, funds, forex, commodities, cryptos, derivatives and other trading products. It also provides professional grade analytics, in-depth content and charting tools, 22 unique technical indicators, triple comparison charts, and vast market analytics tools."
As far as investing apps go, this expansive collection of information, updates and trading opportunities makes Webull the most comprehensive investment we've reviewed in some time. The richness of data and news has a purpose.
Anthony Denier, Webull's CEO, said in the press release that their app is designed for professionals and "super wealthy clients."
"Webull strives to keep its vast depth of news, real-time market data, analysis tools, and trading commissions completely free," Denier said in the release. "We pride ourselves on continually improving our platform and bringing exciting and useful tools to help everyone make smarter financial decisions."
In this review, we're going to talk about which investment opportunities you have, which news and data you can access and how the app compares to other investment apps we've reviewed.
As part of our research about the company, we reached out to them to request an interview. Webull responded, saying they didn't do interviews and did not speak to the media.
What we do know about Webull is what we gathered through our own experience with the app as well as through the press release we mentioned earlier.
Investing With Webull
Investing is just one of the things you can do in the Webull app but, in our opinion, it's the key feature of the app.
There is no minimum deposit required to invest with Webull but, like investing app Robinhood, you'll need to provide personal information to verify your identity. The app is subject to federal regulations for brokerages (companies who trade stocks and other securities), which is why verification of your identity is needed.
You'll also provide them with your bank account information. At the time of publishing, the only way to fund your Webull trading account is through a bank account, not a debit or credit card.
Once you've submitted your application, Webull makes two small deposits to your bank accounts. According to their site, it could take up to two days for those deposits to appear. When they do, you can go into your Webull account and confirm the amount of the two deposits. Afterward, your bank account will be verified and you can make deposits.
Once your account is set up, you won't have to pay to make trades through the app, trades that can entail stocks, ETF's, crypto and several other types of investment opportunities listed earlier.
You can search all these investment types in the app. By tapping the "Markets" button at the bottom of your screen, you can view the markets in Canada (Toronto Stock Exchange, for example), the United States, global indices, crypto, foreign currency exchanges, commodities, mutual funds, index futures and ETF's.
Image Credit: Webull
If you choose an index or, for example, a stock, Webull will show you the investment's day-of performance.
Various features let you create an alert if the instrument rises above or below a certain dollar amount or points, write notes about the investment in question and adjust the settings on your graphs and your candlesticks. The options are numerous, as the following screenshot of your candlestick settings suggest: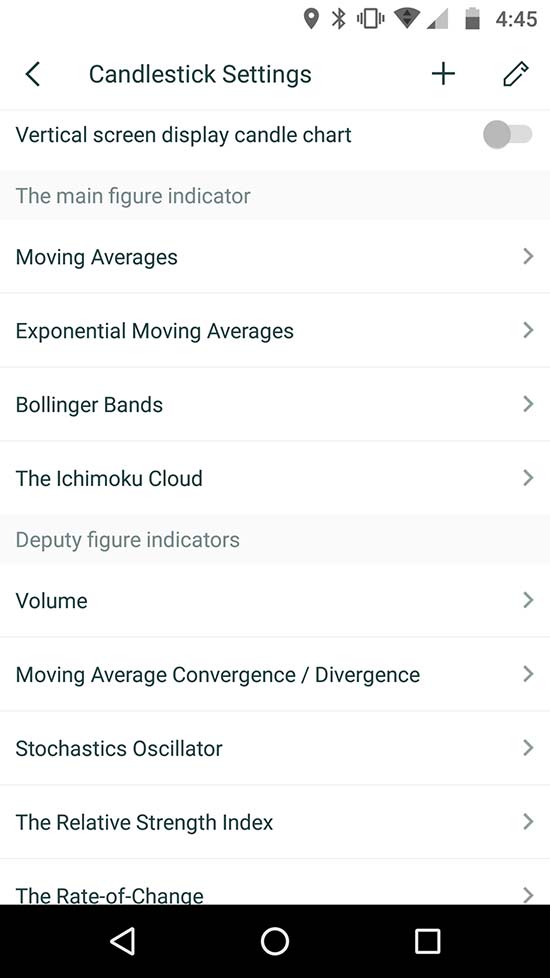 Image Credit: Webull
Also, the app allows you to buy on the margin, which is like paying a portion of what a certain number of stocks is worth. You have a deadline as to when you have to pay the full amount and, if the stocks drop blast a certain price before the deadline, you may have to pay the full price of the stock.
If you want to buy on the margin, Webull will charge you a fee ranging from 6.99% to 3.99%, depending on the size of the margin buy. In order to participate in margin buying, though, you'll need to have at least $2,000 in your Webull margin account.
Margin rules and trading can be complex, so we suggest reading through Webull's Margin page to get a sense of what their other requirements and limitations are.
As a side note, Webull doesn't support the following types of investments:
Mutual funds
Bonds
Options
OTC equities
If you ever have any questions about whether or not you can buy a certain investment instrument in the app, Webull makes it easy, their FAQ page says. If there is no "Trade" button on the particular investment you're looking at, you can't buy it.
Learning With Webull
Earlier we mentioned that trading is part of an overall landscape of Webull tools intended for professionals and the wealthy.
These tools can be classified into several different sections: news, analysis, virtual trading and real-time data about U.S. markets.
For example, their helpful analysis section provides you with rankings of various opportunities by professional analysts. This can be a huge help if you're in limbo about a particular buy or sell you want to do and you need some extra expert information to help you finalize your decisions.
All of this information combines to provide you with a comprehensive overview of what the markets are doing in the United States and abroad. With this view, the idea goes, you should be able to make educated decisions about where you want to invest your money.
However, some tools in the app will cost you money. If you want to be able to see a particular stock's best-bid-and-offer and other recent transactions pertaining to the stock, you'll have to pay a monthly fee for these "advanced quotes", as Webull puts it.
Some of the options in this section include U.S. stocks ($2.99/mth.), the Toronto Stock Exchange ($4.99/mth.) and the Singapore Exchange ($2.99/mth.).
Some of these packages are basic, while others are more in depth and provide real-time quotes, multiple sets of best-bid-and-offer as well as unlimited stock overviews. A Level 2 Hong Kong Stock Exchange advanced quote is an example of this -- it costs $29.99 a month.
Other features of their trading platform include the ability to create a watchlist and save news articles from the "Streams" section.
Webull's Fees
While Webull isn't going to charge you any fees for making trades, the SEC and FINRA require fees that are baked into your trades.
According to the app's site, those fees are as follows:
SEC: $23.10 per $1 million you trade, with a minimum of $0.01
FINRA: $0.000119 per share, with a minimum fee of $0.01
These are fees you'll pay every time you make a trade on any app that lets you buy and sell stock and other securities; they're not specific to Webull.
How Webull Compares to Robinhood
We're comparing Webull to Robinhood because Robinhood is one of the more popular and more well-known no-fee trading apps.
Based on our in-depth research and first-hand experience with both products, our conclusion is that Robinhood is the better choice for the beginning investor and Webull is better for serious investors who want to do their own learning and make their own decisions based on the most 0up-to-date data available.
While Webull is definitely the more complex app, the two apps do have some basic things in common. You can use both of them to buy and trade stocks and cryptocurrency, and both of them provide the ability to buy on the margin.
Both apps require a $2,000 starting deposit for a margin account – Robinhood calls theirs "Robinhood Gold". Whereas Webull charges you a percentage to make merging purchases, Robinhood charges dollar amounts ranging from $6 to $200.
The Final Word: Pros and Cons of Webull
After spending some time reviewing the features of the Webull investing app, we believe its strength is that it is a comprehensive trading, data and information platform that could provide the avid investor with a sufficient amount of free resources to make informed trades.
We also think it's a big advantage that Webull offers a virtual portfolio through which you can make fictional decisions about your assets and see how those decisions play out over time. This would be one of many ways for a new investor to learn his or her preferred strategies.
The downside to the app is that it's not very user-friendly for newcomers. There's a lot going on when you open the app up. This is a heavy-duty investment platform. If you're looking for something simpler, try Robinhood. Their user experience is friendlier and more design-focused that Webull.
Awesome trading platform

By James R.

,

Texas

,

Jul 2, 2019
Verified Reviewer

I am currently using Webull because of free commission trading that allows me to profit without taking an initial loss. I believe that Webull is by far the best day trading platform if you are a cash account, not margin due to the PDT Rule. The deposit timing and trading speed allows you to get in and out as long as you pay attention to Volume...For those of you who do have problems selling a stock on Webull, it is likely you did not check the volume before buying, i.e. over $400,000 is OK. The best part is Webull finally allows you to trade through the Windows downloadable platform that seems to be way better laid out than the Android app for day trading. I do use Think or Swim for charting, however, Webull is fully capable for charting, I just use both. The only downside is that it does not trade crypto-currency. YET...

Bottom Line: Yes, I would recommend this to a friend

---

Terrible app

By Kyle D.

,

Maryland

,

Mar 24, 2019
Verified Reviewer

Due to the terrible updates that they keep pushing out, I keep having errors while trading, which has now lost me over $3500 in just a week. I'm switching back to Robinhood, at least they test their software.

Bottom Line: No, I would not recommend this to a friend

---

Advertisement

---

No cost marginal trading, excellent trade learning app!

By Mark P.

,

Indiana

,

Mar 21, 2019
Verified Reviewer

Webull gives me a competitive price for trading shares, unless it's a fresh IPO like achinano therapeutics, which also Robinhood also doesn't give a fair market price, time executing the trade!

As far as graphing, news, comparison, Webull is great!

Margin buying cost 6.99% yearly! Unlike Robinhood, $6 monthly for $1000! Plus interest? Come on, really? Unlike Robinhood, no OTC trading, no options trading!

The app will teach you how to trade! I'm semi-dedicated, but, I return an average of 8% gain monthly, for being somewhat involved!

It is legitimate! I've transferred money to and fro from Webull!

Great way to live off your credits cards, build up a home down payment?

I receive a low-income monthly trust! It adds like 10% more income! That's like putting in $1000 monthly for four months? Well, maybe 5, subtract $1000 of gains. I play safety trading more. Like AT&T stock. As of this writing, it pays 51 cents per every undervalued share (get at $30, sell at $31)! Well, not so much long holding, trading like 10 times a week. Maybe 20? I keep incrementally buying as shares fall, incrementally sell as shares rise! I borrow from a local bank, and buy more, if shares drop like Christmas Eve. But, I'm making an average 8% monthly pace! Besides living off of credit isn't too bad of an idea, to gain liquidity for a down payment, closing for a house?

Bottom Line: Yes, I would recommend this to a friend

---

Tech support and help

By David W.

,

Minneapolis, MN

,

Mar 4, 2019
Verified Reviewer

I love the Android App version and use it daily for research. My Watchlist Overview is in need of editing. I cannot find the process of doing that. Finding support for help has proved to be difficult/impossible. I then thought I would download the Windows version and see if I could find help or insight there...again I could find nothing, not even a Chat option. Actually, when I went to Sign Up for the Windows version, I could not get a Verification Code on either the Android App version or the Windows version. After much time on this, I felt the last ditch effort for help could come from a bad review. We'll see what happens...Can't move forward with this without Help/Support. Respectfully submitted.

Bottom Line: No, I would not recommend this to a friend

---

Advertisement

---

Great features

By Amir S.

,

Atlanta, GA

,

Jan 3, 2019
Verified Reviewer

The app's virtual trading function is superb and ideal for those who want to start investing but want to get their feet comfortably wet. The other tools that it has, like real-time reports are great to have when you're on the go.

The app is suited for those who are on the go and want to monitor their trades at an instance without having to do it on their laptop or desktop computer.

Bottom Line: Yes, I would recommend this to a friend

---

Complete scam

By Chris S.

,

Clinton Charter Township, MI

,

Nov 27, 2018
Verified Reviewer

I sold stocks and it took 4 days for them to sell them.

The price I executed the sale at was not the price I got. I was also charged a $30 fee twice.

They also are still holding stocks I bought 6 weeks ago with no reason, I can't sell them.

In total, I lost $130 in one trade and attempted to close my account.

Webull refuses to close my account or refund my $30 fees or let me sell the remaining stocks or get the price difference between my limit sale and the sale price they got.

After placing a limit sale on my stocks, the price went up 1.92 more than my limit price.

Bottom Line: No, I would not recommend this to a friend

---

Advertisement

---