Wells Fargo Home Mortgage Reviews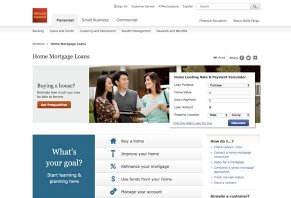 Wells Fargo's mortgage division offers standard mortgages as well as loans designed for first-time homeowners. The lender's closing costs are relatively high compared to other big banks.
About Wells Fargo Home Mortgage
Wells Fargo mortgages provide consumers with a wide variety of options based on your credit scores, ability to make a down payment and the type of home you are buying.
For many years, Wells Fargo was the largest mortgage lender in the country. It wasn't until 2017 that it fell to second place behind Quicken Loans. According to Forbes, in the fourth quarter of 2017, Quicken Loans handed out $25 billion in mortgages while Wells Fargo provided $23 billion.
While the common perception is that banks tend to be a little more strict about who they lend mortgages to, Wells Fargo does have several different mortgage options that cater to those who have less-than-perfect credit and who may not be able to afford a traditional 20% down payment.
Exactly which mortgages that Wells Fargo offers is what we're going to cover in this review, as well as providing a quick overview of how the company's customer service ranks against other mortgage lenders big and small.
At the end of our review, we're going to give you a general list of pros and cons and provide our thoughts on which types of consumers would be the best fit for what Wells Fargo offers.
The Types of Mortgages Wells Fargo Offers
Mortgages are numerous and varied – they're created to meet the needs of specific types of borrowers and specific types of homes. So, when you're considering a lender for your home, it's important to understand your own financial situation and see how the lender's mortgages complement that situation.
Wells Fargo offers a variety of mortgages, most of which can fall into three categories: conventional mortgages, government mortgages and mortgages for first-time homeowners and those with lower credit scores.
Conventional Mortgages
These mortgages are loans that aren't associated with any particular government program like the Federal Housing Administration (FHA) or Veterans Affairs' loans.
These mortgages are backed by the bank's own money so, in most cases, the borrower requirements are stricter. For example, FHA loans will accept applicants with credit scores as low as 550, whereas banks who are providing mortgages back by their own money will stick with scores in the high 600's and above.
These mortgages include fixed-rate and adjustable-rate mortgages, as well as jumbo loans for homes whose selling prices is around $480,000 or more.
Should you choose to work with Wells Fargo to get a mortgage and you go the conventional route, the paperwork your loan officer provides as closing gets closer will show you the exact type of mortgage for which you've been approved.
Government Mortgages
The two main government-program mortgages that Wells Fargo offers are FHA loans and VA loans. These programs exist because the government wanted to offer something to Americans that made homeownership easier.
One of the biggest hurdles borrowers face is their down payment. The general rule of thumb used to be that you should pay a down payment that's equal to 20% of a home's value.
According to the Federal Reserve of St. Louis, the average home sale price in the first quarter of 2018 was about $375,000. A 20% down payment on a house at that price would be $75,000, and very few consumers have that much cash saved up.
Thus, the FHA offers mortgages that require a down payment of just 3.5%, whereas the VA loans, which are geared toward members of the military, don't require a down payment.
Mortgages for First-Time Homebuyers
The final main category of mortgages that Wells Fargo offers are loans that make it easier for you to buy a home. These mortgages tend to require lower down payments and other nuances that make it easier to get approved.
The main mortgage Wells Fargo offers in this area is something called a yourFirst mortgage. The reason this particular loan is a good choice for new homeowners for three different reasons, as described on the bank's website:
Down payments as low as 3%
Can be used with down-payment assistance programs
No median income requirements
As we mentioned earlier, the traditional concept of a 20% down payment is cost-prohibitive for most people, so lenders are willing to finance you for as little as 3% down.
Many states offer programs that provide down payment assistance. For example, in certain counties in Florida, you can get $15,000 in down-payment assistance if you can meet credit and income requirements.
"Income requirements" refer to the fact that you'll be disqualified if your income exceeds a certain amount of money, which, in some cases, uses as its baseline the median household income in your area.
A Quick Word About Wells Fargo Rates and Fees
Every lender you check out is going to offer its own unique set of rates and fees. Exactly which mortgage, rates and fees you get is something you won't know until you finish all your paperwork and the lender's number-crunchers approve you for your loan.
That being said, there are plenty of statistics about closing costs that will help you understand how much you should be paying in closing costs as it relates to the average paid for a home.
Financial research site Value Penguin notes that the national median price for a home is $198,000 and the average closing costs are $7,227. These numbers are based on someone who has a credit score of 740 and a down payment of 10%.
They derived that average cost by comparing the average closing costs you'd get with four of the biggest banks in the country: Wells Fargo, Bank of America, Chase and Citibank.
Here are the average closing costs they calculated for these banks:
Bank of America: $8,663
Wells Fargo: $6,832
Citibank: $6,385
Chase $5,980
According to ValuePenguin, Wells Fargo's average closing costs are second highest among the country's major banks.
Exactly what your closing costs will be is something that, as we mentioned, will become more clear the farther you get into your mortgage application.
To find the best rate for your mortgage, we recommend applying with Wells Fargo as well as other major brick-and-mortar lenders and some reputable online lenders like Quicken Loans. If you do these applications within two weeks, your credit scores shouldn't take a big hit because the scoring models should count those multiple mortgage applications as one single inquiry.
How Wells Fargo's Mortgage Customer Service Compares to Other Lenders
The customer service your lender provides is just as important as rates and fees and closing costs. You'll want your loan officer (the person directly responsible for getting your paperwork together) to be in good communication with you and you want the lender to be organized and timely. Otherwise, your mortgage application process will be far more stressful than it should be.
Consumer research firm J.D. Power publishes consumer-generated rankings of mortgage lenders every year. In their 2017 U.S. Primary Mortgage Origination Satisfaction Study, they ranked Wells Fargo 14 out of 21 lenders.
They gave Wells Fargo three out of five circles, a rating system that's based on an overall average of consumer input about six different areas of the mortgage process: application/approval process; interaction; loan closing; loan offerings; onboarding; and problem resolution.
According to J.D. Power's rating scale, a 3-circle rating indicates "About average", as compared to other lenders in the industry.
The bank got a score of 808, which was 18 points lower than the average score of 826. It's important to point out, though, that no national bank scored above the average. Bank of America tallied an 823, Chase an 811 and Citi an 806.
In terms of your satisfaction with the mortgage process, J.D. Power's ratings seem to indicate that you'll get a similar experience with the four big banks we mentioned.
The Final Word: Pros and Cons of Wells Fargo Home Mortgages
Based on our research, we believe Wells Fargo's strength is that it's an experienced mortgage lender and that has multiple options for borrowers, including a yourFirst mortgage specifically designed for first-time homebuyers.
As we mentioned earlier, these types of mortgages are key for first-time homebuyers because you don't often have enough money saved up for a traditional 20% down payment. The fact that you can get a mortgage with a down payment as little as 3% is an important aspect of what Wells Fargo offers.
The downside to Wells Fargo's mortgages is that, according to the research we studied, their closing costs are second-highest among the nation's top four lenders and their J.D. Power customer satisfaction ranking is lower than the industry average.
Our advice is to take a few minutes to research various lenders in your area and come up with a list of brick-and-mortar and online lenders you're interested in getting a quote from and then apply to them over the span of one or two days.
You may find that one lender has better first-time homebuyer mortgages and other lenders provide better options for home loans for borrowers with bad credit. Whatever situation you find yourself in, make sure you get multiple quotes and compare the projected interest rates and closing costs.