WeTravel Reviews
Trip planners and tour guides will enjoy WeTravel's effortless suite of trip-planning tools, including their eye-catching registration page, easy payment processing and robust trip management features.
What Is WeTravel?
WeTravel is a website that trip planners and tour guides can use to create a trip registration page, process payments and manage the finances and communication of their upcoming trips.
The site originally focused on being a marketplace for finding tours and trips to go on but, near the end of 2016, the company decided to focus their efforts on providing a booking platform that pretty much anyone can use to process payments through a professional-looking registration page and take advantage of simple trip management tools.
So, while WeTravel still has a marketplace, most users go to the site to create trips, not buy them.
The company's three founders are Johannes Koeppel (CEO), Garib Mehdiyev (CTO) and Zaky Prabowo (CMO).
Koeppel has a background working with the International Red Cross and Medicine Without Borders. Mehdiyev was a former banker in Azerbaijan and Prabowo, the WeTravel rep we spoke with in advance of this review, is a graduate of the University of California, Berkeley's, Haas School of Business. He previously worked on an Indonesian volunteer-matching platform before helping launch WeTravel.
Is the website these three men created as effective and helpful as it seems? How simple is it to set up a trip? What are the fees? These are some of the questions we're going to answer in this review.
How WeTravel Works: A Look Inside the Site
To prepare for this review, we set up an account we used to test out how easy it would be to create a trip registration/payment page.
The first step in setting up a trip is to tell WeTravel where you and your group are headed. We chose Barcelona. From there, we filled out more basic information:
Dates of trip
Private or marketplace trip
Account creation
Once you complete these steps, your account is set up. What we like about the account creation page is that it gives you the option of logging in with an email, Facebook, LinkedIn, or Google account.
The dashboard they provide after your account setup takes you through the final steps for creating your trip, including how much the trip costs, the itinerary, details about the trip (what's included, what's not included) and daily itineraries daily itineraries.
We discovered that the WeTravel platform provides a lot of options for trip customization. For example, the "Pricing" section of the trip set-up allows you to add the following nuances to the trip cost and trip payments:
Payment plans: You choose how much is due and when. All trip participants are enrolled.
Add-ons: Participants can pay for extras that you choose
Deposit: Set how much needs to be paid up-front
Discount codes: Decide what the code is and what discount it gives
The final section of the trip setup allows you to set the types of questions you want to ask your travelers when they sign up for the trip. This is the section where you can ask your travelers if they have any food allergies or health conditions, for example, that you'll need to know as you finalize the details of your trip.
Based on our experience, it was very easy and intuitive to set up the trip and customize it. If you're not a professional travel agent, then a site like WeTravel makes it really easy to set all the details of your trip.
If you know the prices, deadlines and such before you set up your account, it could take less than 10 minutes from start to finish to create your registration page. And, WeTravel allows you to share the trip via a link, email or social media.
Here's the finished product of our 10 minutes of set-up: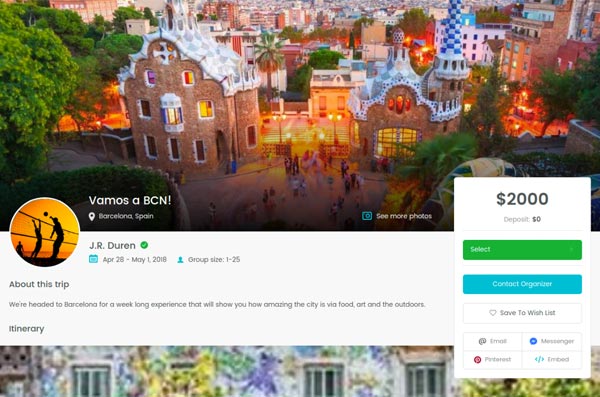 During our trip set-up, we created a 100%-off discount code that we then used to pay for a spot on the trip. We then went into our trip management page and saw the sign-up. Clicking on the menu dots next to the traveler's name gives you several helpful options.
We want to point out that the site offers free business accounts, too. These are similar to the account we signed up for, with added perks like the ability to use a custom company logo on your registration page, upload your own terms and conditions and get robust accounting tools to keep track of payments.
You can also embed the site's registration page into your own page, which is a big advantage for tour guides.
WeTravel's Marketplace Trips
In the previous section, we described how to create a trip. While this facet of the website is where the majority of users go, Zaky Praborow noted that the site still offers trips that you can purchase one-off.
At the time of publishing, we found the following trips available among many others:
A yoga and hiking trip in the mountains around Telluride, CO.
A dance and strength retreat in Costa Rica
A ladies adventure retreat in Telluride
An eight-day Peru tour including visits to Lima, the Sacred Valley and Machu Picchu
Clicking on each trip takes you to a trip registration page just like the page we created. You can read about the trip details, the trip organizer and send the organizer a message and pay for your trip.
In total, there were 1,289 trips available on WeTravel at the time of publishing. So, while the site focuses on helping people organize and execute group travel, it remains a pretty diverse place to find adventures to go on.
WeTravel Fees
WeTravel charges a flat fee of 1% for every booking. So, if someone uses their bank account to pay their $1,000 trip, WeTravel gets $10 and you're left with $990, so keep that in mind when you're estimating the cost of the trip.
However, if your travelers pay with a credit card, they'll be charged a 3.9% fee for American Express transactions and 2.9% for all other credit cards. The person booking the trip will incur the cost.
So, if someone uses their AmEx to pay for the $1,000 trip, they'll end up paying $1,039 because of the 3.9% fee. If you pay with Visa, Mastercard or Discover, the total cost will be $1,029 (2.9%).
What Users Are Saying About WeTravel
There aren't a ton of user reviews out there about WeTravel but the reviews we did read were very positive. Trip organizers said they loved how easy it was to organize a trip and how nice it was to have all their trip management tools in one place.
The only "negative" comments we read were from people who wanted WeTravel to offer more tools for sharing photos during and after the trip.
To WeTravel's credit, sharing photos is outside the scope of their focus on registration pages, payment processing and trip management.
How WeTravel Compares to Other Trip-Planning Tools
According to Prabowo, WeTravel is unique in that it combines trip management and payment processing.
Most of the time, you'll have to piece your trip together using a payment processing site like PayPal,event organization sites like EventBrite or standard spreadsheets available through Microsoft Office or Google Sheets.
If you're doing a small trip with just a few friends – maybe even a dozen people – then it's plausible that you could process payments via PayPal's Money Pools, which are free when payments are made with bank transfers and not credit cards.. You could also pair that with Google Sheets or Microsoft Excel to keep track of who has paid and who hasn't.
However, these two sites lack one important thing: the registration page, something that WeTravel does well. Again, if it's just you and a few friends, then it's not a big deal if you don't have a registration page.
However, if you're organizing a school or church trip or you want to start running your own tours, the registration page becomes an important part of building interest in what you're planning. Because you don't get that capability with PayPal and Sheets/Excel, WeTravel, in our opinion, is the better choice.
The Final Word: Pros, Cons and Who WeTravel Is Good For
We believe this site's greatest strength is the nearly flawless user experience. When it comes to setting up and customizing a trip's registration and payment process, it's a truly effortless tool.
The trip registration page is also a huge plus, as it looks great and makes payments easy.
We'd say the downside is that WeTravel takes 1% of all trip payments made via bank transfer, but we believe, based on our research, that the fee is well worth the time WeTravel saves and the professionalism their registration page offers.
One tiny flaw we noticed is that some of the photos they offer as banner photos for your custom itineraries can be pixelated, which undercuts the clean look of the registration page.
In conclusion, we believe this site is best for someone who is organizing a trip for work, school or church and wants a customizable, professional platform that allows them to sign people up, process payments and manage your trip all in one place.
The site is also suitable, we believe, for tour guides who own their own business and want a business-focused solution for getting customers.