WhatsYourPrice Reviews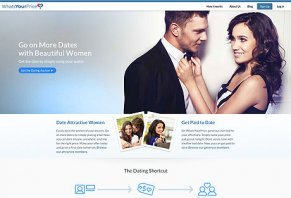 WhatsYourPrice.com is a dating website where men can browse profiles of women in their area, and then make cash offers for the opportunity to go out on a first date with them.
About WhatsYourPrice
Touted as "a market for buying and selling dates," WhatsYourPrice allows men to locate attractive women who are interested in getting paid to go on dates. The company claims to have helped more than 650,000 men and women go on dates, and has been featured in Forbes, TIME, the Daily Mail, and more.
WhatsYourPrice.com was created by the founders of SeekingArrangement.com in 2003, and is based out of Las Vegas, NV. The company holds an A rating with the Better Business Bureau, with only five closed complaints over the past three years. Online customer reviews regarding the site appear to be primarily negative, and the most common complaints include fake profiles that are only intended to take your money, women who are materialistic, and a prevalence of escorts.
How WhatsYourPrice Works
WhatsYourPrice claims to be a patent-pending online dating system whose purpose it is to "give generous members access to attractive people they normally would not be able to meet," and to "take you from single to dating with one offer." As such, there are two types of WhatsYourPrice.com members:
Generous Members – Men who are looking to go on a date. After searching the WhatsYourPrice.com website and viewing a woman he'd like to contact, Generous Members will make an offer. Once an agreement is reached, the conversation begins.
Beautiful Members – Women who are looking to get paid to go on a date. After being contacted by a Generous Member, women can choose to accept their offer, decline it, or negotiate further. If accepted, women will then go out on a first date with the man.
With this in mind, if dating "anyone, anywhere, anytime for the right price" sounds like something you'd enjoy, you'll first need to sign up for an account, create a profile, and wait up to 24 hours for approval (Note: When signing up for a dummy account, there was no waiting period). Once this is complete, you'll then need to choose your paid membership level. After paying for your package, you can browse profiles on the site, and if you find one you're interested in, you can sent a "flirt" – which is just a quick notification that you're interested in chatting. If the woman accepts your flirt, then you can send a first date offer, which is when you'll start needing to use credits (see next section). From here on out, any communication (e.g. messages) will cost you credits.
According to the WhatsYourPrice website, members can have their backgrounds verified, though this is not mandatory, and costs additional money (see next section). In addition, the company provides a dating guarantee that's fairly extensive, so be sure to read through the whole document. All Beautiful Members are guaranteed to be real, though one of the top complaints we encountered during our research cited fake profiles only intended to take your money.
WhatsYourPrice.com Pricing & Refund Policy
While WhatsYourPrice.com is free to join and requires no subscriptions, similar to AnastasiaDate, it uses a credit-based system for contacting other members. Packages are priced as follows:
$50 = 100 credits
$150 = 450 credits
$250 = 1,000 credits

Verified member = additional $50
Whichever package you choose, charges are non-recurring, which means you must manually purchase more once you run out.
According to the WhatsYourPrice.com Terms of Use, there are no refunds under any circumstance.
Pros
Allows men to date beautiful women they may not otherwise have the opportunity to meet.
Men can send cash offers to women for first dates, so the more you're willing to spend, the more likely it is that you'll land a date.
First date guarantee.
Cons
If you're not interested in dating women who are primarily interested in money, this may not be the site for you.
Most common complaints include allegations of fake profiles only intended to waste your money, women who are materialistic, and a prevalence of escorts.
Bottom Line
While we definitely read reviews from men who claimed to have had success with WhatsYourPrice.com, the overwhelming majority of reviews cited no (or very meager) success. In addition, since all contact with other members requires the use of credits, it can become expensive quickly.
Old and dusty site

By Jayy James

,

Gainesville, FL

,

Sep 5, 2016
Verified Reviewer

I resurrected my old account from a couple of years ago. I paid for more credits and started to search for a date. The search filters are horrible and you can't see who's currently online. When I did a search in my area, and for 50 miles around, several women popped up but they hadn't been online for months or even years. When I sorted by most recently online, the number 3 girl hadn't logged in for almost 2 years. Save your time and money. This site is like an abandoned ghost town.

Bottom Line: No, I would not recommend this to a friend

---

Fake profiles. Do not waste money on this rip off.

By Peter White

,

West Midlands, England

,

Sep 28, 2017
Verified Reviewer

Fake profiles used by the site to generate business. Or I should say "to rip you off." You buy credits to unlock the conversation, once a price is agreed for the date. But once you have paid to do this (approximately £15 every time) and contacted the fem to organize the meet, they never reply because they are bogus profiles. Something needs doing about this.

When I complained (without bad language), I was blocked from the site! That says a lot about the people running this organization.

Bottom Line: No, I would not recommend this to a friend

---

Advertisement

---

Fake

At first it seems legit and you get these great offers from men in your area. But really it's like playing a poker game. You download from the app store like you won money, but not really.

Fake/phony/scam.

Bottom Line: No, I would not recommend this to a friend

---

Stay away from this site!

By Howard P

,

North Carolina

,

Dec 8, 2017
Verified Reviewer

This "pay to play" website apparently hires people to post fictitious profiles to get people to pay the site when the connection is made. 100 credits cost $50.00. An accepted date costs 20-30 points. Once the price has been accepted, you are charged. You then text on their message system. I have scheduled 2 dates and both times they were no-shows. When contacting the site, the response is you chatted with them so no refund! Clever way to raise money though; keep everybody on a private server, collect money, and then say tough when there is a no-show.

Bottom Line: No, I would not recommend this to a friend

---

Advertisement

---

I'm really wary of this site now, it seems to have gotten scammy

By EP

,

London, United Kingdom

,

Mar 5, 2018
Verified Reviewer

OK, I've been on both sides of this. I had about two dates - no, 3 actually - through What'sYourPrice as a "beautiful" member. Two guys, three dates all up. But this time I made a profile as a "generous" member. Firstly, I was contacted by guys who were in different countries - how's THAT gonna work? Are they going to FLY in to my country and city for a date? If they are sugar babies, I doubt they can afford it! Then a guy with a profile that says he's in my city agreed to the amount on my profile, after initially asking for £130 - I've had a few guys ask for £100 or £130, are you FREAKING KIDDING me?! I have made it VERY clear I am not wanting sex, only a date (because I want to increase my confidence and build up my dating skills).

OK, so I agreed to the date, and now it's saying I need to pay £50 JUST to chat to him. I mean, come on! Would the money even go to HIM or just to the site, in which case I'd be paying £50 to the site AND £50 to him? It's JUST a date?!

Look, even though I don't have tons of money, I thought OK, I'll do £50 max at the start of the date. But I'm NOT going to pay £50 when I might be paying it to a fake profile; the guy HAS to show up in person to get that money.

Sadly, I just don't think it's going to work out for me. I hope the two guys I had dates with when I was last on the site didn't have to go through all this. I'm happy to pay the guy like I said ON a date so I can get the practice I want (I get asked for sex through online dating matches, I want to learn how to be girlfriend material again, haven't had a relationship for a while and I don't work with men), but NOT at £100 a date for a date that might not even show up!

Recommend to a friend?

NO, I would not even recommend it to my worst enemy!

Bottom Line: No, I would not recommend this to a friend

---

Fake profiles

By CA Rider

,

California

,

Mar 23, 2018
Verified Reviewer

Although some profiles may be real, most are fake profile by WhatsYourPrice. These profiles target you to buy and use credits, upon "unlocking" conversations, you never hear back from the "person" you paid credits to talk to.

Stay away...absolute robbery. One star, only because I can't leave zero.

Bottom Line: No, I would not recommend this to a friend

---

Scam

By Mike S.

,

vernon

,

Jul 31, 2018
Verified Reviewer

All you will get is a lot of names and numbers, but you won't ever see anyone and your credits will be gone and you'll need to buy more, therein the scam! If you're desperate, you'll spend another $150 hoping to meet a pretty girl. Ain't gonna happen!

Bottom Line: No, I would not recommend this to a friend

---

This site is a SCAM. Stay away!

By Steve G.

,

New Mexico

,

Sep 9, 2018
Verified Reviewer

The girl makes a "cut" of the money we pay to talk to them. It's a total scam. You will never meet anyone on this site. There is not a lot more to say, it's a bad scam.

Stay AWAY!

Bottom Line: No, I would not recommend this to a friend

---

Really?

By David W.

,

San Diego, CA

,

Dec 14, 2018
Verified Reviewer

I expected that this site was a scam, so I set up my profile looking for women to offer me cash for dates. Honestly. I don't have warts on my face or anything, but I would not say I am frequently confused for Brad Pitt.

Within the first day of an active profile, two women offered me cash for dates. Please. After approximately one week, I have had 10 offers, the highest of which is $500 - as in paid to me for a date.

There is only so much I could possibly believe.

I then read the above reviews, all of which fit my views. Scammers.

Bottom Line: No, I would not recommend this to a friend

---

Deteriorated

By Kostas X.

,

Toronto, Ontario, Canada

,

Jul 1, 2019
Verified Reviewer

A few years ago when the site was fresh I had a few very decent dates. Then I took a long break and returned this year to find that it was taken over by scammers, thieves, and fakes. Sad really. I would avoid it at all cost.

Bottom Line: No, I would not recommend this to a friend

---

Not recommended

By Jack M.

,

Wisconsin

,

Jul 12, 2019
Verified Reviewer

It's definitely a mixed bag getting worse as time passes. Made some nice friends and did get laid a number of times. But also met scammers who left with your money, people who were no call or no show, and 75% of the pictures and profiles were dated or just plain fake.

Bottom Line: No, I would not recommend this to a friend

---