White With Style Reviews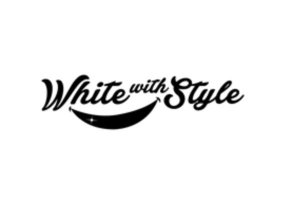 White With Style is a tray-based at-home whitening system that claims to whiten up to five shades in just one treatment, even for those with sensitive teeth.
What Is White With Style?
The White With Style system promises to remove tough stains—even those caused by smoking, wine, coffee and tea, and juice—and whiten your teeth up to five shades, all in just one treatment.
Despite its effectiveness, the manufacturer tells us that White With Style is great for those with sensitive teeth, as well as for those who want fast, professional quality teeth whitening in the comfort of their own home. How's it work?
Add 1cc of the powerful whitening gel to the custom mouth tray, which molds to your teeth to ensure full coverage and maximum comfort. Then, place the tray in your mouth and leave for 30 minutes, while the blue light activates the whitening gel and accelerates results.
For best results, the company recommends using White With Style every 3-4 days until you reach your natural teeth shade. Then, you can continue whitening once a month for maintenance.
Even if you just started investigating teeth whitening systems, you know that White With Style's claims aren't necessarily unique. But will you get better results, or more overall value, from White With Style than the competition? Will it deliver a better value?
That's exactly what we'll help you decide in this article.
How Do Teeth Whitening Kits Like White With Style Work?
Here's what we're told each syringe of regular White With Style gel contains:
Propylene Glycol, Kosher Glycerine, Carbamide Peroxide, Hydrogen Peroxide, Carbomer, Peppermint Essential Oil, Triethanolamine
On the other hand, their peroxide-free formulation contains:
Glycerin, Sodium Bicarbonate, Carbomer, Polysorbate 20, Potassium Sorbate, Sodium Floride, Aloe Barbadensis Leaf Juice, Punica Granatum (Pomegranate) Extract, Chamomilla Recutita (Chamomile) Flower Extract, Flavor
In the regular formula, carbamide peroxide breaks down into hydrogen peroxide and urea after being exposed to air. Then, after making its way through the pores of your enamel, this hydrogen peroxide causes an oxidation reaction, which works to break down stain molecules and lift them away.
On the other hand, White With Style's peroxide-free formula uses sodium bicarbonate (baking soda) as an abrasive to manually scrub away stains from the surface of the enamel.
Both of these are very common methods of whitening teeth. In fact, just about every OTC whitening kit you can find—including popular options like HiSmile and Whitening Coach—uses either carbamide peroxide or hydrogen peroxide, while most non-peroxide formulas using baking soda. What's the difference?
Because peroxide can penetrate the outer layer of your teeth, it's typically considered a more effective option for addressing intrinsic (underneath the surface) stains. On the other hand, peroxide-based whitening gels can sometimes lead to side effects, which is what we'll discuss next.
Pro tip: While it's common to include a LED light with some of these kits, keep in mind that these only speed up the oxidation reaction. In other words, according to authoritative sites, it won't improve your whitening results.
Are There Any Potential Side Effects With White With Style?
The most commonly reported side effect related to peroxide whitening gels is temporary tooth or gum sensitivity, which should subside within a couple of days.
Like many other OTC kits, White With Style includes vitamin E swabs to wipe away any gel that makes its way to your gums (usually indicated by a tingling or stinging sensation). However, this likely won't reduce teeth sensitivity if you're prone to this side effect using other peroxide gels.
On the other hand, while baking soda-based whitening gels are often mild, using them for long periods of time can lead to enamel damage, so be sure to keep this in mind.
Even if you have fillings, crowns, false teeth and other dental work, White With Style claims their whitening kits will work for you.
However, they recommend avoiding if you have braces, or if you're "pregnant, or breast feeding, have health problems, periodontal disease, or gums that are in poor condition, wear braces, had recent oral surgery, decayed teeth, have roots that are exposed, have colitis, or have jaw problems."
How Does White With Style's Price Compare to Other Kits?
The complete White With Style system is priced at two payments of $19.99, or one payment of $39.98, plus $6.95 S&H.
With your order, you'll receive two White With Style custom trays, a syringe of teeth whitening gel that will last up to 10 treatments, a whitening shade guide, a toothbrush and travel case, and a blue light. You can choose to receive a fresh supply once per month through the company's autoship program.
Through this TV offer, White With Style's gel is available in mint, cotton candy, strawberry, and peroxide-free mint (for sensitive teeth and gums) flavors.
Comparatively, you'll find that most tray-based whitening kits from local retailers are generally priced anywhere between $10 and $80+, putting White With Style somewhere near the middle.
However, White With Style's full retail price is $280 through their main website, making it meaningfully more expensive than nearly all of the competition.
All White With Style purchases come with a 14-day refund policy, although this only applies to new, unused, unopened items, purchased directly from their website.
Pro tip: We attempted to call customer service and found the only option was to leave a voicemail. Keep this in mind if you're looking for an immediate response to your questions or refund request.
White With Style gel refills can be purchased directly from their main website for $39.99 each. They also sell a variety of other related (and not-so-related) products like breath drops and spray, whitening pens, teeth polish, and replacement mouth trays, along with weight loss supplements and makeup.
Are Customers Reporting Good Results In Their White With Style Reviews?
White With Style's whitening systems seemed to be extraordinarily popular, since the company had 344,000 followers on Instagram at the time of our research.
This didn't translate into a lot of customer feedback, though, as the only reviews we encountered were on Amazon. There, they had a total of three reviews and an average rating of about four stars.
Compliments related to effective whitening results, while the single complaint referenced painful teeth after two treatments.
Outside of these, we found several video reviews from beauty-related bloggers, many of whom also earned money from each referred sale through an affiliate agreement. Here is an especially popular one from LifesizeBeauty, who provides a bit of a walkthrough and tutorial:
Like LifesizeBeauty, most of these bloggers seemed pleased with their results after just one use, although Julia Salvia found that White With Style bleached her calcium deposits more than the surrounding teeth during her first treatment. The company's FAQ references this common occurrence:
If your teeth have calcium deposits on them you will notice those whiten first. It is not harmful and it is not permanent. Please continue with your teeth whitening treatment and it will all even out beautifully. You may use the treatment up to once per day to even them out quickly."
What's the Bottom Line About White With Style?
Most online customers and bloggers seemed to have reported solid results.
If your stains are intrinsic (underneath the enamel), versus extrinsic (on the surface of the enamel), White With Style's peroxide-based formula will probably provide more dramatic results in less time, although you might have to deal with mild, temporary sensitivity.
Is White With Style's formula considered "professional strength"? We emailed the company to learn exactly what strength of carbamide peroxide it contains (remember, our only option when calling was to leave a voicemail) and learned that it's 16%.
Comparatively, most OTC formulations contain between 20% and 40% carbamide peroxide, while gels used at your dentist can be much stronger. Not only does this mean they could provide greater whitening in less time, but it means they also could result in much greater gum and teeth sensitivity.
What's the best option for you?
We'd recommend starting off by reading How to Choose an At-Home Teeth Whitening System That Works. Here, we outline all the different whitening systems available (including gels, strips, trays, toothpastes, and rinses) so you can make an informed decision based on your needs.
Also, be sure to talk with your dentist, who can recommend specific options based on their experience and your diagnosis (after all, there are hundreds of teeth and gum care products that can deliver a whiter smile!). This way, they can help ensure you're meeting your needs and not spending too much in the process.