WiFiBlast Range Extender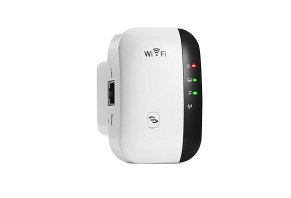 WiFiBlast Range Extender boosts signals from your router so that you can get a better internet signal in rooms or areas of your home that typically get little to no signal. The device provides a more solid connection to these areas but tends to be expensive.
WiFiBlast Range Extender Review
WiFiBlast Range Extender is a wireless signal extender that captures your existing Wi-Fi signal and extends it farther so you can, in theory, access your Wi-Fi from rooms and areas that were once too far away.
The device claims it can bring a signal to rooms that were once dead, provide speeds of up to 300 Mbps, and that the set-up process is simple.
Part of the pitch that makes the Blast Extender so interesting is that, aside from the website where you buy the device, there's another site that has a news-style story of someone named Rick Bennett.
Bennett is preparing to work from home, the story says, but he's frustrated with slow internet speeds – checking email takes five minutes to load the page.
Bennett calls his internet provider and they send out two technicians. One of the techs tells Bennett his internet is slow because the service provider is ripping him off. The tech goes to his truck, comes back and plus in a Wi-Fi Blast Extender.
"You didn't get this from me, man. It's a WiFiBlast. It reconnects the split channels from your router and blasts it across the house," the tech tells Bennett. "Trust me, you're not gonna have any troubles with speed anymore."
While the story is pretty convincing, we felt it was important to analyze exactly what the WiFiBlast provides, talk about some of the claims its marketing makes and then give you a clear layout of how much it costs.
We'll also spend a few minutes comparing this extender to others on Amazon that received high ratings from users.
How the WiFiBlast Range Extender Works
The Blast Extender plugs straight into a wall like many of the Wi-Fi extenders you'll find. To set up the device, you'll need to plug it in. Then, you'll have the option of either setting up the extender via your phone/tablet or through your desktop computer.
The phone set-up is much easier, according to a YouTube instructional video from the company:
Open Wi-Fi settings and connect to "WiFi Repeater"
Type "192.168.101" into the field that pops up
Use "admin" and "admin" to log into the next page
Then, tap "repeater mode"
Create a customized name and password for the repeater
Connect to the repeater with the password you created
The installation process for a desktop computer (Windows is the example in the video) is a bit more complex, so we've included the set-up video below. The desktop instructions start at 0:57:
Interestingly, photos of the WiFiBlast show a one-touch set-up button but the installation video does not mention it. We tried calling customer support, were told there was a five-minute wait, then hung up after waiting 11 minutes.
The Blast supports up to 300 Mbps internet speeds. Anything beyond that will be limited to 300 Mbps.
Once you set up the device, it will extend the existing signal but the Blast Extender's website doesn't say how far it sends your signal. What we do know is what the site tells us:
"Increased WiFi coverage in larger homes or those prone to dead spots"
"Boost your existing network range"
"Boost the range of your existing WiFi and create a stronger signal"
What's really important to point out here is that signal extenders don't make your internet speed faster. Rather, they send the existing speed farther. So, if your internet speeds are up to 75 Mbps, your extender will only extend speeds of up to 75 Mbps. The device cannot turn 75 Mbps internet into 300 Mbps internet.
One of the interesting claims the Blaster news story makes is that cable companies are using techniques to limit your internet speeds in a way that benefits them. WiFiBlast claims their extender can remedy the problem. We'll talk about this in the next section.
Does WiFiBlast Range Extender End Internet Company Greed?
In the news article we mentioned earlier, the internet tech explains to Bennett that internet companies are scamming customers. The companies will send you, say, the 75 Mbps you paid for but they'll split it into two channels – 37.50 Mbps and 37.50 Mbps, for example – but one of those channels is hidden and you can't access it.
The point of this trick is to get you to upgrade your internet speed, the article says.
We did some research about this concept and found an interesting article from well-known tech site Gizmodo, as well as some good input from customer service agents at local tech/electronics stores.
Here's a summary of their thoughts about if internet companies purposely throttle your internet speed as the Range Extender's marketing suggests.
As Gizmodo reporter David Neal points out, router channels exist kind of like lanes on a freeway. Your devices are cars traveling in those lanes.
The more non-overlapping channels a router provides, the more individual lanes your devices can access and the better speeds they'll get "without them interfering with each other," Neal writes.
We called a local Best Buy Geek Squad department, explained what WiFiRange as claiming and the phone rep responded, saying, "I've never heard of anything like that. To my understanding that's not something that should be done."
We then called a local AT&T store and found out a bit more. The person with whom we spoke, a store manager, told us that some internet providers actually do the split-channel method because they offer wireless hot spots.
What this means, the manager told us, is that your internet is split into two channels: one reserved only for you and one reserved for other customers who may want to connect to the provider's network when they're within range of your router.
However, the manager told us, you can access both channels if someone isn't using half your signal for a hotspot. This assertion is contrary to WiFiBlast's claims that their router can unlock that second channel—it unlocks for everyone, no matter which device or router they use.
WiFiBlast Range Extender Pricing
The cost of one of these devices gets lower the more you buy. Here were the prices at the time of publishing:
One WiFiBlast: $39.95
Two: $69.95
Three: $99.95
Four: $129.99
Purchasing four of these extenders ends up costing you $32.50 per device, which is around $17.50 cheaper than buying a single extender.
The extender comes with a 90-day guarantee, the website says. If you don't like it, you can send it back and get a full refund, minus any shipping you paid to ship the return.
The company's customer service email is support@mywifiblast.com and their phone number is (833)394-6516.
How WiFiBlast Range Extender Compares to Similar Devices
We did a quick search for range extenders on Amazon and found several top-rated options that offered the same features as the WiFiBlast:
NETGEAR EX2700: $24.50, 3.9 stars from 40,394 reviews
TP-Link N300: $16.99, 3.8 stars from 15,680 reviews
Both of these extenders come from reputable companies and they provide the same speed support—300 Mbps—as the WiFiBlast.
What we noticed is that the TP-Link extender provides the extra advantage of doing a one-touch connection to your router instead of having to go through a set-up process via your phone/tablet or computer.
To accomplish this, you'll press the "WPS" button on your router then press the same button on your extender and it should connect automatically.
Based on features, reviews and pricing, we believe that the TP-Link extender offers the best value because it has a simpler set-up process and costs less than half what you'd pay for a single WiFiBlast device.
The Final Word: Pros and Cons; Tips for the WiFiBlast Range Extender
Based on our research of this product, we believe its greatest strength is that it's pretty affordable if you buy four of them. For someone who has a big house, a four-pack for $129.99 is cheaper than many options on Amazon.
The drawback is that buying a single extender is relatively expensive, exceeding by more than $10 the price you'd pay for a device from a well-known company like Linksys or TP-Link. Also, the device offers no one-touch setup in its instruction manual despite having a one-touch button in photos provided by the website.
Whichever extender you decide to buy, remember the following tips and advice that we've gathered during our research:
The average router can reach about 100 to 150 feet.
Walls and other barriers can reduce how far a wireless signal travels
Name-brand extenders usually have one-year warranties
If you're the type of person who prefers reading through reviews before buying a product, we suggest heading to a site like Amazon to do your research. The WiFiBlast has limited reviews on its site and none on any other sites we visited.
---
Terrible

By Su B.

,

Sydney, Australia

,

Jul 7, 2020
Verified Reviewer

Length of Use: 3–6 months

Overall Experience:

Terrible. Doesn't work in Australia. I tried the easy setup but it didn't work. Contacted customer support and sent a video to show it doesn't work.

Website shows a no-hassle refund but I asked for a refund within the 90 days and have been given the runaround for months.

I have sent over 25 emails explaining these don't work and customer service just apologizes for the inconvenience then won't give me a refund. They apparently sent replacements that I have never received and they still won't give me a refund. Original product package says it cost $6USD per device but I paid $70USD for 2.

Definitely do not buy this if in Australia. It does not work and they won't refund money.

Pros and Cons:

No "pros" were specified in this review
Try to intimidate customers
Will not provide a refund
Info is incorrect
Info is misrepresented
Terrible
Untrustworthy
Do not keep promises

Bottom Line: No, I would not recommend this to a friend

---

Did nothing extra for me

By Charles T.

,

New York

,

Jul 7, 2020
Verified Reviewer

Length of Use: Less than 3 months

Overall Experience:

I bought two of these extenders believing the claim that it will "boost" my internet speed. After tinkering with the setup for quite a while (and I am familiar with computer setups) I tested the WiFi speed. Result: NO DIFFERENCE. I spent all that time and money for no advantage. The speed was the same as with my router.

I concluded that this is a total waste of time and money. DO NOT BUY if you are looking to get higher speed like the website claims.

Pros and Cons:

No "pros" were specified in this review
Company claim of higher speeds did not pan out
Nothing special more than other routers

Bottom Line: No, I would not recommend this to a friend

---

A rather nice looking scam

By Kevin W.

,

Hapton, England

,

Jul 4, 2020
Verified Reviewer

Length of Use: Less than 3 months

Overall Experience:

My two WiFiBlasters were installed for two days before I realized they weren't doing anything. The WiFi button just puts in the router password to stop someone pinching my download allocation or changing my router info. The second password scrambles the signal so that no one can read my traffic and that the password needs to be entered manually (WPA2). I did it on my iPad by tapping on the ***_ext info and inputting the password. They boosted the signal strength but that is all. All other claims are nonsense. They are neat little jobs but care needs to be taken with the rather flimsy plug adapters, but they are adequately used with care remembering that once plugged in are unlikely to be moved again.

Pros and Cons:

No "pros" were specified in this review
They like to stress the cost of returning the product and that you have to fund it
They don't answer criticism or answer with something else
Basically they are making unsound claims for their product

Bottom Line: No, I would not recommend this to a friend

---

Scam

Pennsylvania

,

Jul 2, 2020
Verified Reviewer

Overall Experience:

I ordered this WiFiBlast back in the middle of April. Never got it. Shipping was always delayed because of the Coronavirus. Now I am asking for my money, they don't even answer anymore.

Pros and Cons:

No "pros" were specified in this review
The crooks

Bottom Line: No, I would not recommend this to a friend

---

Advertisement

---

Appalling product

By Ross N.

,

United Kingdom

,

Jun 15, 2020
Verified Reviewer

Length of Use: Less than 3 months

Overall Experience:

Absolutely useless piece of kit, took 4 weeks to arrive, set was little tricky but WiFi speed was very slow. Tried to relocate it to another socket but the flimsy plug broke when trying to remove it. Now unable to connect to a socket at all so it's going in the bin. Overall build quality seems poor but due to its useless speed can't comment on a range.

"Free" gift came with an £8 delivery charge and was broken on arrival, no refund of the carriage I'm told.

Pros and Cons:

No "pros" were specified in this review
Use underhand methods of obtaining money with "free" gifts and carriage charges
Product can be bought off of Amazon at half the price
Product is useless

Bottom Line: No, I would not recommend this to a friend

---

Bad experience!

By Johan S.

,

Dublin, Ireland

,

Jun 11, 2020
Verified Reviewer

Overall Experience:

Bought the extender in April, still hasn't arrived. Of course they blame COVID but as UPS is the shipping company that makes no sense. All I get is the tracking link. No chance of cancellation and of course I can return if it ever arrives, minus shipping.

Pros and Cons:

No "pros" were specified in this review
Shipping time
Customer service

Bottom Line: No, I would not recommend this to a friend

---

Abysmal customer service

By Richard S.

,

London, United Kingdom

,

May 26, 2020
Verified Reviewer

Overall Experience:

Ordered this product on 04/17/20; still not received. UPS tracking states the item is still in the US and the status has not been updated since 04/22/20.

WiFiBlast customer support's only response was to keep telling me to be patient. Despite telling them I no longer want the item, they are now saying I can only get a refund if I return the item at my own expense. That's if I ever receive it. Disgraceful!

Bottom Line: No, I would not recommend this to a friend

---

WiFi Extender

By James C.

,

Chelmsford, United Kingdom

,

May 15, 2020
Verified Reviewer

Overall Experience:

Ordered product on the 7th of April, and because of the COVID pandemic, delivery was delayed until the 12th of May. Plugged in and used WSPS buttons on the router and WiFi Blast, bingo, all working in an instant. I have plugged in this gadget down the garden cabin (50 meters) terrific reception and speed. Have plugged it into various areas of the house and can only give plaudits to this gadget. Will buy two more. US depot have been very helpful via email.

Bottom Line: Yes, I would recommend this to a friend

---

A load of crap

By Gerry C.

,

Ireland

,

May 1, 2020
Verified Reviewer

Overall Experience:

I bought this product for €48 including P&P as I believed all the sales jargon which the company issued. Sadly, when I installed the product, I discovered that my WiFi reception disimproved rather than doubling its speed as claimed.

As other reviewers stated, I must say that the installation instructions are very vague and would pose a problem for many customers.

Trying to return the product for a refund was a nightmare - the company took days to respond to my queries and were extremely reluctant to give me clear instructions of the process to follow. They were more interested in supplying another booster at a discounted rate! I spent €12 returning the product by registered post to their company head office and it allegedly took over 20 days for the returned product to appear on their system. Finally, a refund of €39.95 was credited to my account.

In conclusion, I would strongly advise potential customers not to be fooled by exaggerated claims of boosting a signal and buy a product elsewhere.

Bottom Line: No, I would not recommend this to a friend

---

Non delivery - customer support non existent and evasive

By Eddy W.

,

United Kingdom

,

Apr 27, 2020
Verified Reviewer

Overall Experience:

Ordered on 3/26/20 and Tracking (UPS) shows the product is still in the USA and has not moved for 17 days.

Asked for a refund to my card.

Customer Service says "We can only process a refund once the package could no longer be tracked at all by our shipping department or if it will be returned to us."

Not good enough and appears to be deliberately untruthful as they stated yesterday that "You will be receiving it soon."

That appears very unlikely.

I want my refund and based on my experience and knowledge gained since from tech guys - nobody should buy this hyped-up product but instead buy from a trustworthy and well-known supplier providing accurate and reliable information!

Bottom Line: No, I would not recommend this to a friend

---

Underwhelmed

By John S.

,

Wellington, New Zealand

,

Apr 19, 2020
Verified Reviewer

Overall Experience:

As far as I'm concerned, about all it's good for is an additional WiFi/Ethernet bridge. Not easy to set up, had to use an ethernet cable to connect to the URL provided. WiFi speed degraded. Have bought a cheaper Comcast unit which was easy to set up and provides good performance.

Bottom Line: No, I would not recommend this to a friend

---