Wine Down Box Reviews
Claimed This company has claimed this profile, is getting alerted on any new customer reviews entering this page, and may engage in dialogue with its customers to address their matters.

Companies cannot pay money or provide goods in order to remove or alter customer reviews.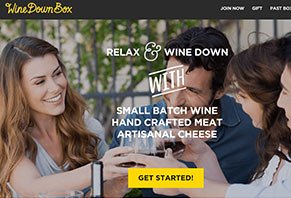 Wine Down brings merriment to your door with a monthly subscription service offering hand-picked pairings of small batch wines, artisanal cheeses and meats.
About Wine Down Box
Do you need more wine and cheese in your life? The cleverly named Wine Down, a discovery commerce company, aims to please wine lovers by delivering a selection of wine, cheese, and meat to your home or office.
Wine Down's delivery makes discovering new fodder and libations convenient, but what of the quality?
Wine selections are said to be chosen from low-production vineyards, while meats are described as handcrafted, and cheeses are, of course, artisanal—meaning that those wheels were lovingly turned by hand instead of a machine.
Monthly selections aren't just tossed together willy-nilly, either. Instead, Wine Down promises that the item in each box are perfectly paired to please even the most discerning palates.
What's in a Wine Down Box?
If you're not salivating already, let's take a peek at what was inside Wine Down's April 2016 box:
Casa Tiene Vista Vineyard 2014 City Lights Pinot Grigio
California-based Marin French Cheese Petite Breakfast Brie
Alle-Pia Meats Salami Cacciatore
Remember, that's just April, so selections won't be the same should you sign up tomorrow. However, prospective members are assured that each month's Wine Down delivery will include:
One 750ml bottle of wine
About 4 oz of cheese
About 4 oz of meat
Hand-made flatbread crackers
Wine Down also allows for custom themes or special product requests—a rarity among subscription services. However, this option requires advanced notice, a minimum order of 100 boxes, and is limited to corporate gifting. For more information on creating a custom Wine Down selection, contact customer service at info@winedownbox.com.
Related: Try The World Review
What about those with gluten sensitivities—will Wine Down accommodate a member's food allergies?
The short answer is that they're unable to specially pack selections shipments. However, Wine Down states that they do their best to select products that everyone can eat and drink.
They also note that selections do change monthly, so if one shipment contains an item that you're allergic to, the next may not. Prospective members are encouraged to contact customer service at the email above with any additional allergy questions.
How Much Does Wine Down Cost?
Wine Down boxes are priced by the month. However, that price is discounted when you sign up for a multi-month plan:
The Taster: At $39, this is Wine Down's month-to-month option. You sign up, get one box, and have zero commitment to future orders.
The Adventurer: This three-month plan saves you a dollar per shipment, clocking in at $38 a box, with a total cost of $114.
The Artisan: This plan nets you six months of Wine Down shipments, at $37 each, totaling $222.
The Connoisseur: A one-year plan yields 12 Wine Down shipments, at $35 a box, totaling $420.
Prospective Wine Down members should know that each box is billed separately. This means that, instead of being charged the entirety of your three, six, or twelve box subscription at once, you'll pay for each as they're ordered.
Additionally, shipping is not free. Instead, the price of delivery varies with location and is calculated when you enter your address.
Are There Any Restrictions When Ordering Wine Down?
At the time of our research, Wine Down was unable to ship to AK, AL, AR, DE, HI, KY, MS, OK, PA, RI, SD, or UT, as these states prohibit shipping wine directly to customers. Once these restrictions are lifted, Wine Down tells us they'll start shipping to consumers in these states.
Even in some states that do allow direct wine delivery to customers—such as FL, NH, CT, and WV—there are some restricted zip codes. If you live in one of these zip codes, the company recommends reaching out to customer service and discussing possible shipping solutions.
How & When to Order Your Wine Down Delivery
Unlike automatic monthly subscription services, Wine Down allows you to choose which months you'd like to receive a box of goodies—and when you'd prefer to skin a monthly selection.
For example, if you order the three-month plan, you don't need to receive a Wine Down shipment for three consecutive months. Instead, you can place an order anytime. Just be aware that any order placed on or after the first of each month will receive the following month's selection.
So, how do you know which boxes include the goodies you just can't miss? In theory, members can check out the next month's selection prior to the end-of-month deadline on Wine Down's website.
However, at the time of writing, it's almost the middle of May, meaning that the deadline for this month has passed—and there's no sign of June's pairings to come.
To understand when members can look forward to learning about the next month's pairings, we contacted Wine Down's customer service. They responded promptly—within two hours of our message—and let us know what members can expect:
"We typically email our newsletter subscribers one month before the ordering deadline and update the website 1-2 weeks before the deadline. This can vary, however, as the products are delivered to us 1 week before fulfillment/shipping and may be limited based on their inventory. We do this so that the non-wine products are fresh for our customers."
The representative also gave us a heads up that June's box will include an unoaked Chardonnay from Maroon Winery in Napa Valley paired with a mild cheese and salami.
What If I Don't Like My Wine Down Pairing One Month?
From our brief interaction, we feel comfortable saying that the folks at Wine Down strive to deliver great customer service. So, it's no surprise that, according to their website, they encourage members who are dissatisfied with a delivery for any reason to contact them immediately.
How Do I Cancel My Wine Down Membership?
You can choose to cancel your subscription at any time. However, if you ordered a three-month plan and have only received two boxes, you will be charged for the third—which you'll receive, of course.
How Does Wine Down Compare to Other Subscription Services?
We've already mentioned two unique aspects of Wine Down: The potential for custom requests in large-batch orders and that you aren't required to receive all your boxes in consecutive months.
But, how does Wine Down rate against another wine discovery service?
One similar company that we've reviewed at HighYa is Club W. Unlike Wine Down, Club W doesn't include expertly paired delectable treats. Instead, Club W offers personalized wine selections delivered to your door at $13-30 per bottle, or three bottles for a flat rate of $45.
While the prices listed for Club W are tempting, the reviews are not. Members complain of poor quality wines, pushy customer service, and unauthorized charges. An anonymous employee of Club W also pitched in to warn others that their money is better spend elsewhere.
If you'd like to comparison shop for alternate wine subscription boxes, Cratejoy claims to help consumers find discovery commerce services that fit their tastes.
Does Wine Down Offer a Good Value?
Value is subjective, so we'll start with something more concrete—cost. We searched online to find how much it would cost to purchase each of the items in April's Wine Down pairing separately:
Casa Tiene Vista City Lights Pinot Grigio - $17.95
Marin French Cheese Petite Breakfast Brie - $3.75
Alle-Pia Meats Salami Cacciatore - $10.00
The cost of all three items combines to a total of $31.70. That's still a little over three dollars cheaper than the cost per box when you sign up for Wine Down's year plan. For those interested in only a single delivery, you're paying a little more than seven dollars over retail. And remember, that doesn't include shipping.
However, that's not including flatbread crackers, which is likely three or four dollars per pack. It's also assuming that these selections are readily available a store near you.
And availability strikes at the real value of what Wine Down offers—it's not just the convenience of having pairings delivered to your door (although, that is nice), it's about the wide variety of top-notch and tasty selections that you might not find locally.
Sure, if you live near a Whole Foods, or in California in general, you might be able to find many of Wine Down's selections nearby. Even then, the idea of having hand-selected pairings is still appealing.
Bottom line: Yes, Wine Down offers unique selections of wine, meats, and cheese at a few dollars above retail. However, they save you the time and frustration of attempting to pair accouterments and appear to offer fantastic customer service to boot.
Wife was happy!

By Steven W.

,

Easy coast

,

Feb 26, 2019
Verified Reviewer

I ordered this as a gift for Christmas for my wife and myself and we enjoyed it. Everything inside the box was as expected. The presentation of the box is very sleek and simple, which I think is great. The crackers were our favorite; they weren't too salty, which gave the flavor of the cheese an opportunity to shine. There did seem to be a bit of a delay, but I ended up going on their website and read that the weather could affect the delivery time. I can't give this any less than a 5-star review because I did truly enjoy it and so did my wife. Will be ordering more soon!

Bottom Line: Yes, I would recommend this to a friend

---

Fraud

By Lukas F.

,

Dallas, TX

,

Nov 28, 2018
Verified Reviewer

Our order was placed with Wine Down Box in May of 2018. About a month after not receiving the order, we were notified that they could not ship due to the summer temperatures and that they would ship our order in October of 2018. Well, it is now the end of November 2018, and we have yet to hear any update after multiple attempts to contact, much less receive even the first shipment of 3 expected. This company appears to be taking consumer's money and never delivering on their product. We are not sure what recourse we have as it has been nearly 6 months, however, we are looking into filing a complaint with the BBB.

Bottom Line: No, I would not recommend this to a friend

---

Advertisement

---

Unresponsive

By Tim H.

,

California

,

Oct 18, 2018
Verified Reviewer

The wine and pairing were very good, if you received it. Every month our shipment was at least one month late. One month they sent us the same wine and pairing from last month. You are supposed to get different pairing every month. I've been trying to get our last pairing of our 3-month subscription. I am still waiting and it has been over 2 months now. I have emailed about 10 times and left Facebook messages and they have not responded to any of my messages. I think they blocked my messages on Facebook because I cannot reply back to them. I even messaged them through their website a number of times also. I hope people see this message before they order their services.

Bottom Line: No, I would not recommend this to a friend

---

I LOVE it! I'm obsessed.

Having had to purchase so many gifts for so many different occasions, I am beyond thankful to have found Wine Down Box.

I gifted this as a birthday present for the first time and the birthday girl absolutely loved it. The box was packaged perfectly, and you can tell that a lot of detail went into putting it together.

Everything is so perfectly paired and yummy. The entire box is so "boujie" and downright worth it! I would recommend this to all my friends and will continue to order from them! I give 10 out it 10.

Bottom Line: Yes, I would recommend this to a friend

---

Advertisement

---