Winegard Flatwave AIR Outdoor HDTV Antenna Reviews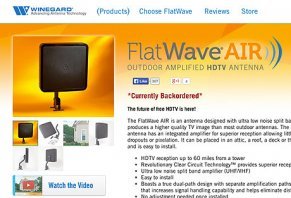 About Winegard Flatwave AIR Outdoor HDTV Antenna
Manufactured by Winegard and based out of Burlington, IA, the FlatWave AIR HDTV antenna is a brand new product that allows you to receive free HDTV signals from up to 60 miles away. According to the company, these antennas are up to 50% smaller than traditional antennas, while being just as powerful.
See Also: Stop Paying Too Much for Cable! Find Freedom by Cutting the Cord
Winegard holds an A+ rating with the Better Business Bureau, and only has six closed complaints within the past three years. From a customer satisfaction standpoint, the FlatWave Air antenna appears to have overwhelmingly positive online reviews, despite having only been on the market since late August. Based on our research, the most common complaint appears to be that it did not perform as well as advertised, despite multiple attempts to reposition.
How the Winegard AIR HDTV Antenna Works
Before purchasing your Winegard HDTV antenna, it's important to note that it only works with devices using ATSC tuners. The good news is that if your TV was manufactured after March 1, 2007, it will be equipped with an ATSC tuner. However, if your does not, you can always purchase an external one from your local electronics store.
According to the company, the FlatWave outdoor antenna uses several proprietary technologies to provide you with better reception than the competition. These include:
Clear Circuit Technology, which minimizes pixelation and dropouts.
The ultra-low noise UHF/VHF split band amplifier allows it to be just as powerful as traditional antennas, while remaining 50% smaller.
True dual path design that increases signal and eliminates distortion.
You HDTV antenna will come complete with a Flex mounting system, USB power inserter, three-foot USB cable, and a 110V wall adapter. You'll likely need to purchase at least one coaxial cable, along with a splitter if you'd like to send the signal to more than one television.
Winegard FlatWave Antenna Installation & Setup
The dual band UHF/VHF Winegard FlatWave outdoor antenna is relatively small at only 14" high, and weighs just under three pounds. It comes with an adjustable mount, and is enclosed in a sturdy aluminum case. According to the company, the FlatWave outdoor antenna can be self-installed without professional assistance. However, there are some guidelines: You'll need to mount your antenna in an outdoor location such as your roof, deck railing, or exterior wall. If possible, you should avoid placing it in an enclosed location like an attic, as this can reduce your signal strength. Also, prior to mounting, you'll want to find the area around your home where you receive the best signal. Finally, while the mounting base is included, you'll need to purchase proper mounting screws beforehand, depending on the surface material.
Once your Winegard AIR antenna has been mounted into position, you'll need to attach it to a coaxial cable (sold separately), which runs to the supplied power inserter, which then runs to your television. Alternately, the supplied USB cable can be run directly to your TV from the power inserter.
After you've completed this step, you'll need to run a channel scan on your television in order to see which channels you're able to receive. If you're dissatisfied with the number you receive at this point, you can then adjust the direction of your antenna on the head pipe, and re-scan your channels. You'll need to repeat this process until you're pleased with your selection.
Finally, once your FlatWave AIR antenna setup is complete, you'll be able to receive high definition television programming, completely free of charge.
Winegard FlatWave AIR Outdoor HDTV Antenna Pricing & Refund Policy
The Winegard FlatWave antenna currently sells for $129.99 directly through the company, while other retailers such as Costco, Home Depot, Amazon.com, Fred Meyer, The Source, and others price the antenna anywhere from $99.99 to $158.30.
All FlatWave Outdoor HDTV antennas come with a one-year warranty, and a 30-day money back guarantee, less shipping and handling charges (Note: The guarantee only applies for purchases directly from the company. If purchased through a third party, please see their respective return policies). To begin the refund process, you'll need to contact FlatWave for a Return Merchandise Authorization (RMA) number, which should be plainly written on the outside of the package. Once the company receives your product, they will refund your credit card on file.
Pros:
Relatively inexpensive solution for receiving free HDTV channels from remote locations.
Small size, but just as powerful as traditional antennas.
Claims to be easy to mount, without professional assistance.
Claims to receive digital signals from as far away as 60+ miles.
Overwhelmingly positive online reviews.
Cons:
Some required items are not included, such as mounting screws, coaxial cables, and a splitter (if you'll be running the signal to more than one TV).
Prices vary greatly, so it would probably be beneficial to shop around.
Some customers have complained that they were unable to receive a signal, despite multiple attempts to reposition.