WiseBanyan Reviews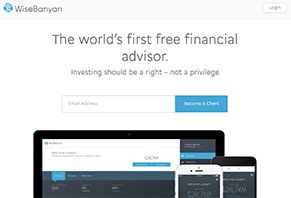 WiseBanyan is a fee-free robo-advisor that invests your money in four different types of investment portfolios intended to earn money over time.
What is WiseBanyan?
WiseBanyan is a no-fee robo-advisor available for Android and iOS that maximizes your investment money through a series of mathematical equations (algorithms) that adjust your portfolio (mixture of stocks, bonds, cash, etc.) automatically. Customers can put their money in a personal investment account or Roth, Traditional or SEP IRA retirement accounts.
The concept of a robo-advisor, though new, isn't revolutionary. There are many robo-advisors on the market (Betterment, WealthFront, Acorns), and each one claims to bring a new, investor-focused platform that eliminates high fees associated with traditional financial advisors who dominated the investment world before robo-advisors.
WiseBanyan was founded in 2013 by Herbert Moore, a former financial services CIO and VP, and Vicki Zhou, a former financial services VP and analyst. The pair worked together at Archipelago Capital management before launching WiseBanyan.
Moore and Zhou have a solid background in financial services, but how does their app do what it does, how do they make money and what are other people saying about it? We're going to unpack each one of these topics in the next few minutes.
How WiseBanyan Works
Like many robo-advisors, WiseBanyan's primary platform is its app, where you sign up by providing personal information and access to a bank account through which you make deposits to your investment account. You can launch your account with as little as a $1 initial deposit.
Those deposits are then used to buy exchange-traded funds (ETFs), a collection of stocks, bonds, money and other elements that mimic the growth of successful funds on the stock market.
During the sign-up, you'll be asked a series of questions and then give a suggestion for one of their four recommended investment portfolios called "milestones".
"This recommended portfolio optimally weights each ETF to provide your desired amount of risk and potential return along the efficient frontier," WiseBanyan's website reads. "You can adjust your stock/bond allocation for each milestone at any time, and your recommended auto-deposit will automatically update according to the new risk-return preference."
WiseBanyan's four investment portfolios are Rainy Day, Retirement, Custom and Build Wealth.
Each of these investment strategies focuses on creating wealth at a certain rate, with a certain amount of risk in a certain amount of time.
How Does WiseBanyan Make Money?
Though WiseBanyan is a no-fee investment service, it does offer various paid products that generate income. Those services are as follows.
Tax-Loss Harvesting
Come tax time, you can deduct any losses you've had from your investments over the course of the year. Tracking those losses is something your financial advisor normally would do, but robo-advisors like WiseBanyan offer an automated way to do that.
In order to get tax-loss harvesting, you'll have to pay a 0.25% monthly fee on your overall investment amount, with a cap of $20 a month. This service isn't mandatory.
Transferring Your Account to Another Broker
A "broker" is someone who holds your investment money and processes transactions. Apex Clearing is the name of the broker who oversees the money invested through WiseBanyan. Apex works with several robo-advisors, including WealthFront as well as fee-free investment app Robinhood.
If you invest with WiseBanyan and decide you want to move your funds to another broker like Fidelity or Charles Schwab, Apex will charge you $75.
Specific Fees for Using WiseBanyan
As we mentioned before, Apex Clearing is the broker in charge of your money. As such, they'll hit you with a processing fee if you have to deposit money to your account or wire it out:
Wire transfer to a domestic bank: $25
Wire transfer to a foreign bank: $50
Returned checks, transfers or ACH payments: $30
Paper check deposits: $5
Technically speaking, WiseBanyan offers no-fee investing; it's Apex Clearing that charges fees for the things we listed above.
How Are Other People Reviewing and Rating WiseBanyan?
Part of what helps you make a decision about the right investment app is the general opinion of fellow consumers.
Several major websites have reviewed the app, and there are plenty of customer reviews on the app's Google and Apple download pages. We'll split up the reviews by experts and consumers.
The Experts: Good Ratings
Investor Junkie's Carrie Smith reviewed WiseBanyan in Oct. 2016, giving the app 3.5 stars. She praised the app for its functionality, but questions whether the company is sustainable with their no-fee platform.
Investment Zen gave the app 4 stars, saying "the ETFs that make up WiseBanyan portfolios are equal to the ones used by every other robo-advisor. The actual difference in long-term performance of the different portfolios is likely to be minimal, but there is not enough data yet to know for certain."
NerdWallet's Arielle O'Shea rated WiseBanyan at 4 stars, noting that the four investment options are limited compared to other apps, but that the app's fee-free IRA management is a big perk.
The Customers: Seem to Be Pretty Happy
As we mentioned earlier, the best place to find consumer reviews of WiseBanyan is on the app's Google and Apple app download pages.
Google Play
WiseBanyan's Android app receives solid reviews, getting a 4.5 rating from 95 customers. Positive reviews focused on how easy the app is to use, but detractors said they weren't happy with the returns they were getting on their investment.
According to WiseBanyan's Google Play page, the app has been installed between 5,000 and 10,000 times.
iTunes Store
The consumer reviews for WiseBanyan are even better in the iTunes store, where 74 iPhone users gave the app an overall 5-star rating. Like the customers on Google Play, those in the iOS world repeatedly remarked how easy it was to use the app.
Our Conclusions About WiseBanyan
Robo-advisors present the consumer with a new way of investing their money. Rather than having to go into an office and meet with a financial advisor, they can download an app and start investing in a matter of minutes.
Another aspect that's led to the rise of robo-advisors is trust. Betterment founder Jon Stein told us that consumer trust in financial institutions is as low now as it was after the Recession. People are afraid of entrusting their money to another person who has the power to, in plain terms, screw it up and make you broke.
But just like the financial advisor world where big firms like JPMorgan Chase and Goldman Sachs dominate, certain robo-advisors dominate the landscape. Betterment, for example, leads the way with more than $5 billion in assets under management (AUM), which is a metric that calculates how much money they're "managing" through their app.
WiseBanyan's AUM is far lower – under $50 million – but that doesn't mean the company isn't as reliable or as trustworthy as Betterment.
Do You Need a Robo-Advisor?
But before you even get to the point of choosing a robo-advisor, it would be wise to figure out if a robo-advisor is the best fit for you at this point in your life.
In an interview we did with Raghav Sharma, CEO at adviser-matching service GuideVine, we learned that robo-advisors, financial advisors, and financial planners all serve their own sector of the consumer landscape.
A robo-advisor is a good choice, Raghav said, if you have extra cash you want to invest and need a set-it-and-forget-it option. Robo-advisors like WiseBanyan let you pick a strategy, set automatic deposits and, if you're willing to pay the small fee, implement tax-loss harvesting. Not much work involved.
If you're just starting out in a first career and are looking for someone to help you get the right mentality about your financial future, a financial planner is a great choice to start your lifelong financial plan. In most cases, they won't be certified to advise you on investment products, though, and that's where financial advisors come in.
Advisors are a good fit for someone who wants to invest their money but doesn't have the time to do it on their own. In these situations, people "need to outsource their financial assets because they want to spend time on their career, family or life. If you reach this stage, you have more complex needs."
If you feel like a robo-advisor is a good fit for you, then we think WiseBanyan is a great place to start to start. We encourage you to do your research on other robo-advisors and see which is the best fit for you, though.
Check out our reviews on Betterment, WealthFront, and Acorns; each review follows the format we used here.
Great no-cost option

By David

,

New York

,

Nov 1, 2017
Verified Reviewer

This is a great investment option. WiseBanyan offers the ability to invest in multiple "milestones" without having to open separate accounts and lets you easily track them. So, for example, you can have a rainy day fund that is invested mostly in bonds (which are less volatile than a stock portfolio), so you will likely earn more than in a bank account but not likely lose much of your investment. Still, there are no guarantees in the markets, so be sure to "overfund" that rainy day fund if it is serving as an emergency fund, just in case it dips in value.

The portfolio it creates is pretty good. However, it is not the portfolio I would choose for myself for the bulk of my taxable investments. Still, check them out and if you like the portfolio that they choose for you, you can't beat the service. They are very responsive to emails, and the website and iOS App are pretty good.

Something to keep in mind is that most of these robos, WiseBanyan included, do not support downloading your data to Quicken or Moneydance. I don't know why that is, but assume it has something to do with cost. It seems like a very basic feature, but I have been surprised by the number of them that just don't support it.

Bottom Line: Yes, I would recommend this to a friend

---

Excellent robo-advisor

By John Estela

,

Puerto Rico

,

Oct 27, 2017
Verified Reviewer

I've been using the app for 6 months and have seen a 5% increase in assets. I love how transparent the entire process is and the weekly updates WiseBanyan sends to ensure that you understand where and how your money is moving and being used. With the WiseHarvesting, I can give a little back to the company while receiving tax benefits, making sure that this company keeps up with the great service and amazing app.

Bottom Line: Yes, I would recommend this to a friend

---

Advertisement

---

Lied about bonus

By Ace Malik

,

Washington

,

Jul 26, 2017
Verified Reviewer

I signed up with the $20 bonus link and never got it. They delayed getting my account verified and then said the bonus expired.

Stay away. They sent me this:

Hi Ace,

Thank you for signing up to be a WiseBanyan client!

We would love to proceed with funding your account, but we need to verify some additional information with you before we can do so.

Please call us at 646-593-8359. We are available Monday through Friday 8:00 am - 4:00 pm Pacific Time. It is important we speak with you first before we proceed with funding your account.

Please let us know if you have any questions.

-Vijay

But when I called, it went to voicemail.

Bottom Line: No, I would not recommend this to a friend

---