Wobble Wag Giggle Reviews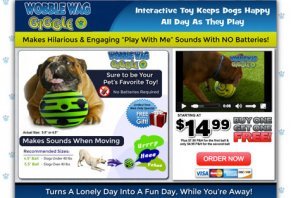 Wobble Wag Giggle is an "As Seen on TV" dog ball that's claimed to make fun, entertaining "play with me" sounds to keep your dog occupied, without batteries.
About Wobble Wag Giggle
Wobble Wag Giggle is a ball for your dog that's claimed to be designed to mimic human laughter and joy when moving, and to entertain your dog for hours while you're away.
Wobble Wag Giggle is claimed to be constructed of phthalate-free vinyl, which means it's durable for indoor and outdoor use, and only requires a gentle nudge from your dog before making hilarious and engaging "play with me" sounds, without the need for batteries. In order to accomplish this, Wobble Wag Giggle is claimed to contain 3 tubes inside that let out sound when rolled or shaken, and its unique sounds, colors, and motion engage your dog's natural instincts to play.
According to the Wobble Wag Giggle website, the toy contains 6 "clutch pockets" that allow any size dog to pick up the ball, making it ideal for turning a lonely day into a fun day and keeping dogs happy, healthy, and fit, regardless of their age.
Your dog is a member of your family, and you want to make sure they're as happy as possible when you leave the house each day. But can you realistically expect Wobble Wag Giggle to help you accomplish this? Think about the following:
What's the Link Between Human Laughter and Dogs?
Unless you're in the habit of inhaling helium before you laugh, if we're being upfront, the sounds made by the Wobble Wag Giggle ball aren't even close to human laughter, and sound more like human speech that's been sped up. Instead of working to keep your dog entertained, we'd be inclined to think that these sounds would become annoying to dog owners fairly quickly.
And even if these sounds did mimic laughter, we were unable to find any connection during our research to human laughing and increased physical activity for dogs, which is one of Wobble Wag Giggle's primary claimed benefits. With this said, a 2014 study published in Current Biology does indicate that dogs' brains process voices similarly to human brains, which is what is thought to bond our two species so closely. However, your dog is closely tuned in to the sound of your voice, and not some high-pitched sounds from a ball.
Is Wobble Wag Giggle an Effective Treatment for Your Dog's Separation Anxiety?
Dogs are sensitive and intelligent creatures that form extremely close bonds with their human counterparts, so it's understandable that separation anxiety can occur. However, although it's technically possible that Wobble Wag Wiggle will help, giving them a toy will rarely solve the problem. Instead, check out this article on Tips for Overcoming Separation Anxiety.
In short, separation anxiety is a serious problem for your dog, and will almost certainly not be addressed by a ball. Your dog is upset because you're not around, not because they're locked in the house and can't play, so we'd estimate that Wobble Wag Giggle wouldn't address the root problem.
Is Wobble Wag Giggle Popular with Consumers?
Even though Wobble Wag Giggle is a fairly new product from Allstar Products Group, a popular ASOTV company that also makes the Spicy Shelf, Perfect Bacon Bowl, Chop Magic, and many more, it has already gained several reviews on Amazon.com. There, the ball has an average rating of 2 stars, with some consumers claiming that their dog loved the Wobble Wag Giggle, while others claimed their dog wouldn't go near it.
Wobble Wag Giggle Pricing & Refund Policy
Editor's note: At the time of our last update of this page on 7/5/19, it appears that the ASOTV offer is no longer active but the product is still being sold at other retailers like Amazon and Bed Bath & Beyond.
Wobble Wag Giggle comes in 2 sizes: the 4.5" ball is recommended for dogs under 40lbs, and the 5.5" ball for dogs over 40 pounds.
2 Wobble Wag Giggles are priced at $14.99 (add $10 for the large balls) plus $12.90 S&H, bringing your total to $27.89 for the small and $37.89 for the large.
According to the Wobble Wag Giggle website, your order will also include a free "mystery gift," although one Amazon reviewer claimed this is just a case for your sunglasses.
Wobble Wag Giggle comes with a 30-day refund policy, less S&H charges, which means that you might spend more money in S&H charges than you'll receive as a refund in the event you're dissatisfied.
In order to initiate the refund process, you'll need to contact customer service at 866-518-6136 for a Return Authorization number.
Can Wobble Wag Giggle Help You Stop Worrying About Your Dog During the Day?
Considering that there's no available clinical evidence showing that toys—even ones that make sounds and claim to mimic human laughter—can help your dog be more active or reduce the symptoms of separation anxiety, it's our opinion that the Wobble Wag Giggle will quickly become another unused toy, whether your dog loses interest in it, or the sound just becomes too annoying for you to handle.
My dog loves this ball

By Laura B.

,

Faversham, Kent, United Kingdom

,

Jan 22, 2020
Verified Reviewer

I make my dog play with this ball outside as it turns him mad, he is very protective of his ball and barks at it continually. We limit his time to at least 15 minutes so it doesn't drive the neighbors mad as he has a loud bark!

Bottom Line: Yes, I would recommend this to a friend

---

My miniature dachshund is obsessed with this ball!

By Jennifer S.

,

San Diego, CA

,

Oct 1, 2019
Verified Reviewer

We came across the Wiggle Wag Wobble ball at the dog park. It was not our ball. My dog immediately started to roll it around and "attack" it and ran around the park for over an hour with this ball. It was hilarious and we quickly got out our phone to make a video of her playing with it. She was so hot and tired from non-stop play that her tongue was practically touching the ground. Over an hour and we had to leave but she refused to leave this ball alone. I decided to order it from Amazon because seeing the look on her face when we left it there was very heartbreaking. I'm sure she assumed the ball was hers after playing with it for over an hour. Waiting patiently for hers to arrive! Not all dogs are the same as kids and adults. There are probably plenty of dogs who aren't interested in this ball or even scared of it, but my dog LOVED it. I'd recommend to see if your dog likes it before buying one if somebody you know has one. I do agree that this ball will not help separation anxiety. My dog does not touch her toys while I'm away from home. Nor does she do anything accept sit by the window and wait for my return. I doubt any dog upset by being left home would find any comfort in a toy.

Bottom Line: Yes, I would recommend this to a friend

---

Advertisement

---

Love this ball

At first my dog,"Chocolate Lab" was terrified by the sound this ball made. It only took him a short time though to warm right up to it. It is definitely one of his favorite toys as we have replaced my wobbles three times now over the past three years since he plays with it so much. And that says a lot because he is seven years old.

I definitely recommend this ball.

Bottom Line: Yes, I would recommend this to a friend

---

Wobble Wag Giggle ball

By Gary Lee

,

Texas

,

Aug 27, 2017
Verified Reviewer

I bought two large Wobble Wag Giggle balls and our German Shepherds loved them from the second we got them. Yea, they are annoying to humans, but they keep the dogs entertained, and as for indestructible, really, nothing is indestructible in a dog's mouth unless the dogs are the size of a hamster.

Big dogs have serious biting power and the toy can and will be maimed, chewed on and torn up, yet it does give the dogs hours of entertainment, which makes the Wobble Wag Giggle ball worth every cent.

Bottom Line: Yes, I would recommend this to a friend

---

Advertisement

---

Not dog proof

By Tracy Bourassa

,

Fort Frances, Ontario, Canada

,

Aug 22, 2017
Verified Reviewer

I bought and paid for the hard large Wobble Wag as my dog can chew anything. This toy was supposed to be dog proof. Well, my dog chewed it and tore out the noise maker. It was pricey, and I paid extra for the hard shell instead of the soft one. Unsatisfied customer for sure. I have a pic of what the ball now looks like but cannot post.

Bottom Line: No, I would not recommend this to a friend

---

Too big

I have a pug that I bought medium for his size according to their chart but it was way too big. She won't touch it, she can't pick it up, and it has to be handled rather rough to make noise. Amazon was nice enough to refund the purchase price but I will probably donate it to the animal shelter. I also bought two Babble Balls, and she loves the heck out of them. I can't get her to stop playing with them.

Bottom Line: No, I would not recommend this to a friend

---

Destroyed ball

We had purchased one of their balls and within a week our dog destroyed it. Now we have to find him another ball or something that is indestructible. This is kind of expensive for a ball that is supposed to be indestructible.

Bottom Line: No, I would not recommend this to a friend

---

Paid and not received Giggle ball

By Shona Williams

,

Durham, United Kingdom

,

May 23, 2017
Verified Reviewer

I ordered and paid for a Giggle ball on the 6th of May this year, and it's now the 20th, and it has yet not arrived. I'm disgusted that it's taken so long! It was paid off my MasterCard.

Bottom Line: No, I would not recommend this to a friend

---

Dog ate it!

At first, it was a great toy for my 14-month-old border collie, but soon signs of bite marks started to show up. Within less than a month, she has eaten 1/2 of it and pulled out all of the noise makes. Too bad too, she really loved playing with it. I guess I'll be looking for another toy.

Bottom Line: No, I would not recommend this to a friend

---

Great toy

I have two sizes of dogs. They all love this ball. My Yorkie cannot pick this ball up and cries. I wrote them a year ago asking you to make a smaller ball. He and other small dogs would enjoy one so much. Please come out with a smaller ball. All my dogs love this toy. I have three of these balls.

Sincerely, Serious DOG MOM.

Bottom Line: Yes, I would recommend this to a friend

---

Best toy my dog ever got

This is the best toy I have gotten my dog. Let me just say that I have purchased dozens of toys in the last six months with no luck finding one to last more than a few minutes. My 9-month-old pit bull is the most gentle dog I've met, but when it comes to toys, she shreds them in seconds to minutes. Even the extra tough ones. Also, it keeps her occupied, and we always get a good laugh. It even sounds funny.

Bottom Line: Yes, I would recommend this to a friend

---