Wonder Workshop Reviews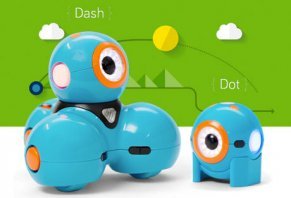 Wonder Workshop manufactures a line of toy robots that are claimed to help teach children how to program, while engaging them in fun games and activities.
About Wonder Workshop
Formerly known as Play-i, Wonder Workshop manufactures a line of robots and accessories that are claimed to help children ages 5+ learn to code, and to discover a new world of play, learning, and adventure. By disguising coding basics as fun and entertaining games, Wonder Workshop claims to help bring abstract programming concepts to life—and by empowering children to question, think, and create, to also help them become shapers of their own world.
Introducing Wonder Workshop's Dash & Dot
Do you remember watching cartoons as a child? And out of all the cartoons you enjoyed, you almost certainly had a favorite. Maybe it was because the character was a "good guy" (or gal), or they had big, friendly eyes. Or, perhaps you just felt some basic connection to these characters—almost like you'd get along with them in real life.
When it comes to Wonder Workshop's programmable robots named Dash (The Explorer) and Dot (The Storyteller), the company wanted to create toys that not only functioned well, but also connected with your child at a basic level. After all, if they're not drawn to these robots, how likely would your child be to use them?
Dash, who is about 6.3" tall and 7.7" wide, maneuvers around on three hidden wheels, has a head that can pivot, and an LED-based "eye" that can blink, making them more expressive and able to better connect with your child. The other half of the duo is Dot, who is about 3.7" tall and 3.3" wide and features the same LED "eye" as Dash, cannot move, but can interact with Dash and even command him/her to do certain things.
Despite their differences in maneuverability, each Wonder Workshop robot is controlled and programmed using an iOS or Android device via Bluetooth Smart 4 LE, and outfitted with speakers, eye and ear lights, spotlights, taillights, transmitters, distance sensors, and detect robot receivers that give them the ability to interact with their environment in an endless combination of ways.
According to Wonder Workshop, this means that you can program Dash and Dot to do just about anything your child can imagine, whether attending tea parties, exploring, building forts, making sounds when you pick them up, navigating around rooms while avoiding walls and furniture, taking videos with a smartphone mount, or playing a specially-made xylophone.
Wonder Workshop's Programming Environments
In order to accomplish this, Wonder Workshop claims to utilize visual, hands-on programming environments that give your child the ability to begin programming by sending their robots simple commands. Then, as they grasp different concepts, they'll be able to code increasingly complex algorithms. In addition, these are intended to grow with your child over three different levels:
Go, Path, & Xylo (Ages 5-8): Go works similar to a remote control, and allows you to move Dash around the room and perform other basic functions. The Path and Xylo apps are claimed to combine music and movement and allow Dash and Dot to perform for the family or go on adventures.
Blockly (Ages 8-12): Here is where your child will be introduced to Blockly, which is a drag-and-drop programming language that "snaps together like puzzle pieces" and provides more advanced programming options.
Ages 12+: Once your child is comfortable enough, they'll be able to begin programming Dash and Dot using Objective C and Java programming languages, in conjunction with Wonder Workshop's API.
Wonder Workshop claims that additional apps are currently under development.
How Easy Are Dash & Dot to Begin Using?
According to Wonder Workshop, Dash and Dot are ready to go right out of the box, so you can start using them in seconds.
First, you'll need to download the appropriate app for your device (note: for iOS, only iPad 3 or newer, Air, and Mini are currently supported, although Nexus and Samsung Galaxy phones and tablets are supported under the Android version). Then, you'll need to place Dash & Dot on the floor, turn them on, and then enable Bluetooth on your tablet. Next, you'll need to open the app and follow the instructions on your screen.
Finally, you'll be able to use any of the above apps to control Dash and Dot's movements, lighting, sounds, and more.
Wonder Workshop claims that Dash and Dot will run for up to 5 hours per charge, and will take about 90 minutes to recharge via a standard tablet USB wall charger. Although they're claimed to be ready to go immediately, you will need to periodically update Dash and Dot's firmware.
What's the Buzz About Wonder Workshop?
First, a little background: Wonder Workshop was founded by Vikas Gupta, Saurabh Gupta, and Mikal Greaves, who formerly worked for the likes of Amazon and Apple, and is based out of San Mateo, CA. The company gained quite of a bit of press coverage after selling $1.4 million of robots through a crowdfunding drive in late 2013, appearing in popular publications such as Wired, Engadget, TechCrunch, USA Today, NY Times, and more.
Although consumers have been able to get their hands on Wonder Workshop's robots for nearly a year, there weren't many online customer reviews available at the time of our research.
However, the author of this BusinessInsider review claimed that her kids were eager to play with the robots, although their 8-year old daughter had difficulty using Blockly. The author also noted that because Dot can't move and has limited functionality, they may not be worth the extra $60. Finally, some of the robots' accessories were considered useful (e.g. smartphone mount and xylophone), while some were considered less-than-stellar (bunny ears and bulldozer attachment).
The NY Times claimed that children already spend 4-5 hours per day in front of screens, and that the programming capabilities children learn by playing with Dash & Dot could be beneficial, and this blog review claimed that the robots instantly cause you to smile, and their noises and actions are funny and engaging.
Although they appear to be mostly well-received, some reviewers questioned whether the high price of Wonder Workshop's robots was ultimately worth it, considering that programming may or may not be your child's cup of tea.
Wonder Workshop Pricing & Refund Policy
Wonder Workshop's products are priced as follows, and come with free shipping within the U.S.:
Dash: $199
Dash & Dot Pack: $259
Wonder Pack (Includes Dash, Dot, and all available accessories): $349
Building Brick Connectors (can be used with Legos): $19
Dash's Xylophone: $39
Accessories Pack (toe hook, smartphone mount, bulldozer bar, bunny tail & ears, and more): $39
Important note: 2014 orders are claimed to have already been fulfilled, and current orders are expected to be delivered January 2015. In other words, if you order now, the robots won't arrive in time for Christmas.
Wonder Workshop's products come with a 30-day refund policy, less S&H charges, and 1-year limited warranty against defects in materials and workmanship under normal use.
In order to request a refund or file a warranty claim, you'll need to contact Wonder Workshop's customer service department at 844-WONDER1 (966-3371) for an RMA.
Can Wonder Workshop Help Expand Your Child's Horizons?
Chopping to the Point: According to Wonder Workshop, programming skills will be just as important as reading and arithmetic in the world our children will grow up in, and their robots and age-appropriate programming environments seem like a step in the right direction. However, keep in mind that this is a quickly evolving segment of the market, and other companies such as Kinderlab offer similar products, so we'd suggest researching all of your options beforehand.