World's Greatest Cooking Pot Reviews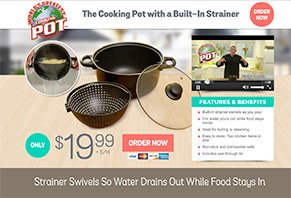 With a built-in strainer that swivels, the World's Greatest Cooking Pot can help you strain pasta and veggies without burning yourself, while keeping food warm.
About World's Greatest Cooking Pot
Endorsed by TV chef Jeremy Parker, the World's Greatest Cooking Pot features a built-in strainer that swivels, so the water drains out while food stays inside.
All you have to do is tilt the Pot and move your wrist. Then, the strainer juts out, which allows water to easily drain. You can even flip the pot over the top of the strainer to keep food warm and ready to serve!
Now, with the World's Greatest Cooking Pot, you can boil or steam pasta, asparagus, potatoes, seafood, and more, without worrying about losing your food in the sink or burning your skin. And when you're finished, the Pot is non-stick and dishwasher safe, so cleanup is a breeze, and the 2-in-1 design makes it easy to store.
Here's the big question: does the World's Greatest Cooking Pot live up to its namesake, or is it just a cheap gimmick wrapped in a lot of marketing hype? That's what we'll help you find out in this review.
World's Greatest Cooking Pot vs. the Competition
If you're tired of losing your food or burning your skin while straining hot water, you're not alone. How do we know? Because there are dozens of different products out there that claim to make the process easier: pots with built-in strainers (although don't swivel like World's Greatest), lids with holes, separate devices that are held by hand over the pot as you pour (even ones that attach directly to the pot's rim), hole-filled ladles, and much more.
Some of these can be purchased for less than $10, while others (such as high-quality cookware) might cost you a couple hundred. Comparatively, how does the World's Greatest Cooking Pot stack up?
Does the World's Greatest Cooking Pot Have the Best Price?
One World's Greatest Cooking Pot will cost you $19.99 plus $7.99 S&H. For this price, you'll receive the pot, strainer, and see-through lid.
All World's Greatest Cooking Pots come with a 30-day refund policy, less S&H charges. In order to request a refund, you'll need to call Smart Inventions, Inc. customer service at 562-272-1400.
Other than that they make the World's Greatest Cooking Pot, what else do we know about this company?
Details About the World's Greatest Cooking Pot's Manufacturer
Smart Inventions, Inc., based out of Santa Monica, CA is a relatively minor player in the As Seen on TV industry, who's made several different products over the years, including the original Engrave It, Scoop It, Twisty Towel, Smart Mop, and more.
Despite the fact that the company's been in business since 1991, Smart Inventions weren't rated with the Better Business Bureau and didn't have any closed complaints at the time of our research.
However, we did find a 2007 FTC settlement mandating that the company pay up to $2.5 million in consumer refunds, since "all three defendants deceptively claimed that Biotape – an adhesive tape – provided significant, permanent relief from severe pain and that it was superior to other pain-relief products."
Do we know anything more about the face behind World's Greatest Cooking Pot?
Who Is Chef Jeremy Parker?
Although there wasn't a whole lot about Smart Inventions available online, there seemed to be even less out there for Chef Jeremy Parker. According to one website, he was a pitchman on Home Shopping Network until a bout with cancer, although we weren't able to corroborate this anywhere else online.
Other than this (and a tweet referencing his appearance in an infomercial for another product), we couldn't find any mention of Chef Jeremy Parker elsewhere online or learn what qualifies him to pitch cookware.
Taking everything we've learned here together, should you buy the World's Greatest Cooking Pot?
The Bottom Line on the World's Greatest Cooking Pot
Here's the thing: If you're looking for a swiveling colander built into a pot, then your only option seems to be The World's Greatest Cooking Pot. But before you place your order, we think there are a couple of things you should ask yourself:
What makes the pot non-stick? We've talked a lot about this in our other kitchenware reviews, but a lot of traditional non-stick surfaces use a chemical called perfluorooctanoic acid (PFOA, otherwise known as Teflon). If the surface of your cookware is undamaged, there's no problem. But with regular use, tiny particles can flake off into your food, potentially causing health concerns. Instead, you'll want to focus on PFOA-free non-stick cookware.

How big is the basket? If we're being honest, The World's Greatest Cooking Pot's colander didn't seem very big, so we'd imagine that if you're cooking for more than a couple people, you might run out of space (unless you buy more than one, of course).
To get some answers, we called the company's customer service line, although our only option was to leave a message.
Given all of this, if you're passionate about testing out new ASOTV products, or if you're only cooking for one, then it might be worth giving the World's Greatest Cooking Pot a try. Just keep in mind that if you process a return, you could lose most of your refund in non-refundable S&H charges.
On the other hand, if you're just sick and tired of the same old straining, then exploring one of the local options we talked about above might provide a better value for your money.
Horrible

By Sonia R.

,

Tyler, TX

,

Jan 15, 2020
Verified Reviewer

I ordered by phone, the pot, and the second one. They asked for my credit card number, the order was $19.99 plus shipping, then told me about the second pot and for a small fee more I could a larger pot. You can only order these by pushing numbers on your phone. This is on a Friday night, they already have my card number, when they got through, my bill was $68.00. I tried to call them back, closed until Monday. So I called them back on Monday because of the price, they said it had been shipped, they said don't open the package and send back, they would not be giving any tracking number. Now I don't believe it's gonna come.

Bottom Line: No, I would not recommend this to a friend

---

Broken pot, LOUSY customer service.

By Ed P.

,

South Dakota

,

Jan 14, 2020
Verified Reviewer

When received, one of the two pots had a broken handle. I sent multiple emails to their customer service without any response other than their automated reply. I then called them and the representative said she would mail me another handle. I still haven't received anything. Looking at the pots which are still in the box they appear to be rather poorly built. My wife would like them returned to the company for a refund.

I sent two more emails requesting a Return Authorization Number and again received no reply.

I am beginning to question the legitimacy of this company and am becoming doubtful I will ever get a refund as their TV ad and website claim to be 100% guarantee.

Bottom Line: No, I would not recommend this to a friend

---

Advertisement

---

World's Greatest Pot

By Judith P.

,

Michigan

,

Jan 3, 2020
Verified Reviewer

The advertisement was buy 1 get one free, I paid $7.99 for shipping and handling and only received 1 pot for $27.98. I called and they stated I need to pay an additional $9.99 for the free one.

Bottom Line: No, I would not recommend this to a friend

---

Half the order good, so far.

By Judy M.

,

Grants Pass, OR

,

Dec 17, 2019
Verified Reviewer

I ordered 2 pots in June. Never heard anything for almost 2 months. Then I received a postcard stating they were out of stock and it would probably be about 6 weeks before they would be able to fill the order. Six weeks passed 8, 10 weeks passed. I called, they said the order was shipped. Received complete order. I gave 1 pot to my daughter, who loved it. Used it a few times and told me the strainer was rusting and the pan had little spots of rust inside and out. I had used mine once, didn't have rust. So I traded with her about 9 days ago. Thought I'd be able to talk to someone but I guess there isn't anyone to talk to at the number where I ordered it from. I don't know if the rust-free one has been used again to see if it is going to rust also. Seems like a very thin layer of coating is why the rust. But unable to consult anyone.

Bottom Line: No, I would not recommend this to a friend

---

Advertisement

---

No pans

By Phyllis M.

,

Clarkson, KY

,

Dec 4, 2019
Verified Reviewer

I ordered my pans, three sets of them, back in April and I have yet to receive them. I guess I was taken advantage of. Please let me know if they are going to send these out, I would love to try them out.

Bottom Line: No, I would not recommend this to a friend

---

Nothing delivered

By Sean M.

,

Appleton, WI

,

Aug 31, 2019
Verified Reviewer

I cannot give a review of the pot as I have yet to receive it. When I attempt to track my order it gives me no information. I feel that at this time I have been robbed of the money I spent.

Bottom Line: No, I would not recommend this to a friend

---

This is a rip off

By Sammy D.

,

Kentucky

,

Mar 22, 2019
Verified Reviewer

I just order the Pot on the Phone. It asked if I had another Pot at the beginning of the call and did not give me a chance to say NO. It wouldn't let me order online. It did not give me an order number. I know I have been robbed.

Bottom Line: No, I would not recommend this to a friend

---

No pot yet

By Wesley Hill

,

Yuma, AZ

,

May 15, 2016
Verified Reviewer

I have ordered this pot on April 8th and I have not got it yet. I even put rush shipping on it and it should have shipped in 8 days, or so they say, but as of right now I have no pot. Guess I will start to call them every day until I get my order.

Bottom Line: No, I would not recommend this to a friend

---