Worx Aerocart Reviews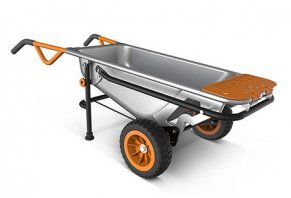 The Worx Aerocart is an 8-in-1 all-purpose yard cart that claims to quickly and easily convert to a dolly, trailer tote, bag holder and cylinder carrier.
About Worx Aerocart
Did you just see an infomercial for the Worx Aerocart, and are wondering if this 8-in-1 all purpose lifter, carrier, and mover really can provide you with 400% more lifting power than a traditional wheelbarrow? And overall, is the Worx Aerocart really the highly versatile lifting and moving work system it claims to be?
But perhaps most importantly, is the Worx Aerocart worth the high price? To find out we performed some detailed research, and here's what we learned.
How the Worx Aerocart Works
At its most basic, the Worx Aerocart claims to provide all the benefits of a traditional wheelbarrow, but using its patented Turbo Lift design, your center of gravity is balanced, thereby making a 300lb load feel like 25lbs. To accomplish this, the Aerocart is claimed to maximize leverage by centering the heaviest part of the load directly over the wheels, thereby creating ideal balance and stability.
On top of this, the Worx Aerocart is claimed to be an entire work system that can handle up to 300lbs, while quickly and easily converting to 8 different functions, such as:
Dolly – Can handle heavy appliances such as refrigerators.
Plant and rock mover – Extended arms and moving strap that allow you to move large, awkward items with ease.
Extended dolly – Provides a wider platform for bulkier items such as furniture.
Bag holder – Holds plastic bags upright, making them easier to fill and to transport.
Cylinder carrier – A holder that keeps cylindrical containers in place so they won't roll off.
Trailer tote – Features a ball joint attachment that can hook to a trailer (e.g. boat, motorcycle, etc.), making rolling them around easier (note: hitch ball not included).
In addition, the Worx Aerocart is claimed to feature oversized, flat-free polypropylene tires that never need to be inflated.
Worx Aerocart Pricing & Refund Policy
If purchased directly through the manufacturer, the Worx Aerocart is priced at 4 payments of $39.95 or one single payment of $159.80. Standard shipping appears to be based on your specific location, and you may be subject to sales tax depending on the state in which you live.
For this price, you'll receive the Worx Aerocart, a cylinder holder, bag holder, plant mover strap, and rock mover mesh.
Similar to the GT2.0 and Air, all Worx products come with a 30-day refund policy, less shipping and handling. The Aerocart also comes with a 3-year limited warranty against faulty materials or workmanship. In order to request a refund or process a warranty claim, you'll need to contact customer service at 866-354-WORX.
If you'd like to purchase the Worx Aerocart elsewhere, it's also available through Amazon.com, Home Depot, QVC, and many other third-party retailers.
What's the Bottom Line About the Worx Aerocart?
With all of this in mind, is the Worx Aerocart a good use of your money? Likely, but keep the following in mind before placing your order:
Specifications
First, without a load, the Worx Aerocart weighs 39 pounds, which is fairly hefty considering its size, although this is relatively in line with most traditional wheelbarrows. However, the Aerocart's tub only holds 3-4 cubic feet of material, which is about 1/3 – 1/2 of what a traditional wheelbarrow will carry. Because of its smaller tub size though, the Aerocart can be stored in just 15 inches of space.
Next, keep in mind that while the Aerocart can hold up to 300lbs in wheelbarrow and dolly modes, it can only hold up to 80lbs in all other modes, except for the bag holder mode, which has a max of 40lbs. Also, keep in mind that while it can move a trailer weighing up to 1,000lbs, the maximum tongue weight is only 100lbs.
Customer Satisfaction
Finally, the Worx Aerocart appears to have a primarily positive online reputation, with the most common compliments referencing its versatility, ease of use, and quality construction. On the other hand, some of the most common complaints cited the small bed and high price for what you get.
Bottom line:
Overall, it appears that the Worx Aerocart provides a fairly good value for your money, and it's likely that you'll find it useful for your next outdoor project. However, unless you think you can regularly use many of the Aerocart's alternative configurations, you may not get much use from the wheelbarrow itself unless you often haul small, very heavy items.
Pros:
8 different configurations which are claimed to provide a high level of versatility.
Primarily positive online reputation.
30-day refund policy and 3-year warranty.
Cons:
Numerous consumers have claimed that the bed is too shallow to haul much of anything.
Fairly high price when compared to other wheelbarrows.
Nine uses

By Moxie Pratt

,

Aurora, NC

,

Jan 3, 2018
Verified Reviewer

I use a #9 hospital bed for a hog. That's right, the Kunekune fell on the ice. At feeding I found him stuck to it. I pulled my cart out and loaded him in. Into the kitchen for the "pig in a blanket experience;" it fits him perfectly. I am a woman over 60. I use it to bring in feed and carry water when needed until the great Pyrenees ate the bag. I move trailers, pots, refrigerators; it is practically a daily use tool. I would be helpless without it.

Bottom Line: Yes, I would recommend this to a friend

---

It Worx!

By Kasey Becker

,

Elizabethtown, NC

,

Apr 23, 2017
Verified Reviewer

I'm 35 and I love working outside, but due to a progressive degenerative disc, my back can't handle it.

I love the Aerocart and would seriously recommend it to anyone, no matter your physical abilities. It really does make things easier. I've moved a block of concrete that probably weighed close to 100 lbs and had sat in my backyard for two years because I couldn't move it until now. The cart itself carries a lot more stuff than it looks like it would. This cart is worth its weight in gold!

Bottom Line: Yes, I would recommend this to a friend

---

Advertisement

---

Seems perfect for me.

Brooktondale, NY

,

Oct 27, 2016
Verified Reviewer

I have read some of the other reviews of the Worx Aerocart and can understand how it might not fit their needs. But I am a 70-year-old grandmother, who loves gardening and must also split and move wood around. I have used it for a week now, cleaning up the gardening materials, and moving wood, among other things. I find it is a perfect fit for me, as I do not need to haul heavy refrigerators, etc, or to try to haul HUGE loads with it. It fits nicely in my storage shed and rolls easily through my back door and through the living room to my wood storage rack. Imagine trying to make a full sized wheel barrow do that! I am waiting to see how well it adapts to winter weather, and how well I can push it around over ice and snow.

Bottom Line: Yes, I would recommend this to a friend

---

Broke the first time we used it

I bought the Aerocart because of the television commercial. My husband has a bad back and I was so excited to buy this for him to help him do those heavier jobs.

When it arrived we put it together immediately and my husband took it out to use the rock lifter.

He chose a rock he could roll and lift himself, when he tried to lift the rock with the Aerocart, the lifting arm broke immediately. We are so disappointed. I will never buy another product from this company. I want to warn others to make sure they do not waste their money.

Bottom Line: No, I would not recommend this to a friend

---

Advertisement

---

Bad Customer Service

By Allen

,

Louisiana

,

Feb 26, 2016
Verified Reviewer

First time I used my Worx Aerocart, it broke, and I sent it back. I got another cart sent, and the first time I used it, it broke as well. I contacted Worx, and spoke to someone online. I described what was going on, and that the part had failed, and was told that the part would cost me $1.59, and it would cost me almost $6.00 for shipping. I asked them what was covered by this three year warranty, and was told that I could have the part for free, but would have to pay for shipping. I said the part was defected and I could not understand why I should have to pay for a part that broke the first time being used? I was told that I wouls till have to pay for shipping. I then called Worx, and talked to someone in Customer Service. I told them what had happened, and about my conversation on chat, but was then told that the part was not available.

I have never had such poor Customer Service in my life.

Bottom Line: No, I would not recommend this to a friend

---

All that It Claims

I own two Worx AeroCarts, and I love them. They are made for DIY, and with my love of gardening, the AeroCart is perfect for maneuvering around the yard, through the gate, garage side door, etc. Very versatile, but I love the 'yard cleanup' mode. Upright like a dolly with the bag holder attachment. I add my large trash bag to it and can get a full load of clean up. No more pushing around a huge trash can. I love my AeroCart. For me, the one wheel, wheel barrow isn't even an option. Too large and too clumsy, plus it takes up too much space. I'm really impressed with the AeroCart design. Worx thought of everything.

Bottom Line: Yes, I would recommend this to a friend

---

To good to be true

By John Davis

,

Alameda, CA

,

Aug 12, 2015

The pictures of the Worx GT Aerocart make it look deeper/larger than it actually is. I bought it to replace my old normal sized wheelbarrow which has seen better days. After building the Aerocart, I could see right away that the soil transportation capacity I will need it for falls short. It at least 1/3 the loads I expected to carry. The 'bucket' should have been at least 6 cubic feet instead of 4 cubic feet.

The positive side of this "size" is that it will prevent me from 'over-doing' it as I get older, which just might be what I really need with hindsight being 20/20. It is well made and does what it says it will, so other than the bucket being smaller than I thought it should be, I will recommend this item.

Bottom Line: Yes, I would recommend this to a friend

---

The Aerocart is the bomb for me thus far

By Ruth

,

Greeley, CO

,

Jul 10, 2015

I am a short middle age woman with a bad back, and when I used a regular wheel barrel it tipped over and broke my back. The cart is low to the ground, but since I am short that does not bother me. It is light to use and does not tip over. It is heavy to lift in total and could stand to hold more, but if you lift and use a dolly from U-Haul they weigh a ton, I am very happy thus far. I let people at my job use it right before Thanksgiving to move boxes of food to be donated and they loved it too.

Bottom Line: Yes, I would recommend this to a friend

---

Not worth dealing with

By Gatorbug

,

Prairieville, LA

,

Jun 26, 2015

Let me start by saying I don't know what the cart is like, because I have yet to be able to use it. It started off when I was going to order it. I stayed on hold for 40 minutes before I finally got mad enough to get on the call back list. I got on the list at 1:40 and did not get a callback until 5:30. This is before they even had my money. I wondered how bad it would be once they got their first payment. Well today I found out because I gave it to my dad for fathers day, and it is defective. The pin you pull out to fold in the retractable legs, gets hung up, and it will not retract.

So I call them up and what do you think they said? You got it, "to be put on a call back list, hit 1." The guy that finally called me back at 5:30 gave me the impression that he was on some serious drugs. Even people with no people skills can do better than he did. So save your money and buy something from someone, yea anyone other than these people.

Bottom Line: No, I would not recommend this to a friend

---