Wunder Capital Reviews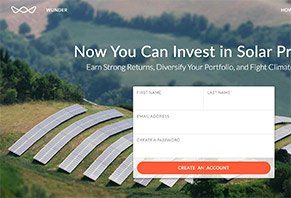 Wunder Capital's software-enabled underwriting approach to funding solar projects helps investors diversify their portfolio and earn up to 11% annual returns.
About Wunder Capital
Based out of Boulder, CO, Wunder Capital is a financial technology company that funds different solar projects around the country.
Not only does this provide a clean, renewable source of energy, but it also offers the company's investors strong, long-term cash flow, low volatility, and a diverse portfolio—not to mention the power to "fight climate change!"
Unlike the competition, Wunder Capital uses a software-enabled approach for their data collection. These algorithms help the team select and negotiate deals in a very short period of time (faster and more accurately than a bank), and then pass the savings on to you.
Even after a project is funded, Wunder Capital remains behind the wheel throughout the contracting and construction process. The company even "manages the ongoing operation and maintenance of the array, bills the energy customer, and distributes proceeds to investors," so you'll always know who's in control of your investment.
You're looking to diversify your portfolio. And while you might not have considered investing in solar projects in the past, they've recently become popular enough to pique your interest.
Should you dip your toes into the "solar waters" with Wunder Capital? Is investing in solar projects even a wise move? We'll answer all your questions here.
Are You an Accredited Investor?
First, remember that you have to be an accredited investor in order to invest in a Wunder Capital project. What's this mean? According to Wunder's FAQ, this is anyone who:
Has earned income in excess of $200,000 for the past two years individually, or $300,000 with a spouse, with the expectation of earning the same this year.
Has assets in excess of $1 million, excluding the value of a primary residence.
If this doesn't include you, don't feel bad, since only about 7% of Americans qualify as accredited investors.
Did you qualify? Great! This means you should be able to invest with Wunder Capital. But are solar projects considered wise investments in the first place?
Are Solar Projects Good Investments?
Wunder Capital claims that their solar projects can help investors earn 6% annual returns through their Wunder Income Fund, or 11% through their Wunder Bridge Fund, with monthly deposits made directly into your bank account.
Elsewhere on their site, Wunder claims that by investing $100K, you could receive up to $1,110 in monthly interest and principal repayments for 10 years.
At any rate, The Motley Fool claims that the solar industry is worth $120 billion today, but is projected to be worth $4 trillion per year by 2035. Even up until this point, the solar industry has grown by 30% each year over the last 20 years!
This doesn't mean that investing in solar projects is for everyone though. Just like any other form of investing, there's always the risk of losing all your money if a project goes south. And there are also some unique considerations to keep in mind, including:
The level of technology a company uses in their projects. Are they using outdated technology to maximize profits, or are they focused on implementing only the latest tech?
Which market is the project intended to serve? A project in Massachusetts might operate very different than one in Arizona, even with the same technology, while offering different returns.
Are subsidies and/or tax credits being used on the project? If so, when are they set to expire? If this occurs when you're not expecting, it could all but destroy your investment.
A Note about Uncorrelated Asset Classes
The Wunder Capital website claims that "solar is an uncorrelated asset class and can offset your exposure to market fluctuations." Is this actually the case?
An uncorrelated asset is basically one that's not correlated (or not tied, if you will) to the performance of other assets. In other words, it increases or decreases in value on its own terms, without being influenced by other events.
What's the advantage? This means that even if every one of the stocks (or any other investment tool) in your portfolio decreased in value, the money you invested in a Wunder Capital solar project won't follow suit. Thereby reducing your overall risk.
So, can you make good money on a solar project investment through Wunder Capital (or any other similar company)? It's certainly possible. Just remember that like any other investment, solar projects will come with a certain level of risk.
Also, keep in mind that at 6%, while their Income Fund might provide lower returns than stocks, the Bridge Fund claims to provide significantly more opportunity at 11%.
But you need to know exactly what you're getting yourself into, which is why you should always consult with a financial professional before making any investment decision.
What are other investors saying about Wunder Capital?
Wunder Capital's Online Reputation
Wunder Capital has been mentioned in articles from a variety of national news organizations, including TechCrunch, The Denver Post, TreeHugger, and more, although they appeared to be little more than press releases, which didn't provide much insight into an investor's experience with the company.
Wunder Capital also wasn't listed with the Better Business Bureau at the time of our research, despite the fact that they've been in business since 2013. Wunder Capital's securities are offered through WealthForge, LLC, who also wasn't with the BBB.
However, since writing our original review, Wunder Capital received some more high profile media exposure after securing $3.6M in Series A funding earlier this year.
To this extent, The Wall Street Journal provided an insightful overview about how the Wunder Capital process works:
"The company works with solar installers that offer Wunder's loans to their customers. When a business agrees to get the loan, the installer puts up the system that averages about $500,000 at no upfront cost to the business. The solar system reduces the electric utility bill the business pays by a greater amount than the monthly payments for the loans, resulting in immediate savings of at least 10%, according to [Co-Founder and CEO] Mr. Birsic."
Using this business model, WSJ's article, as well as this one from TechCrunch, emphasized that Wunder Capital is tapping into a vastly underserved portion of the solar market. In other words, while other areas of solar (primarily residential) have blossomed, these businesses are largely unable to get the financing they need to join the trend.
Whether or not this business model results in long term success for Wunder Capital however, remains to be seen. (Although CEO Bryan Birsic boasts that the company has yet to miss a payment to investors since July 2015).
As The Verge quoted senior analyst Nicole Litvak as saying: "… there are some warning signs for Wunder, says Litvak. She notes that other companies have tried and failed to unlock the potential of the commercial solar market. They struggled to find suitable partners to invest in because commercial developers were unfamiliar with the benefits of these platforms or were unwilling to fully disclose financial information to them. Consequently, these ventures have had little effect on the commercial solar industry on the whole, which has been stagnant since 2012, despite there being plenty of rooftops and land available for solar energy use."
Considering all of this, is Wunder Capital right for you?
Should You Invest in a Wunder Capital Solar Project?
As we outlined above, the solar industry is booming and shows no signs of slowing down any time soon. And as with any other market, if you can invest on the uptrend, you could stand to make a whole lot of money.
This doesn't mean that Wunder Capital's solar projects don't come with a certain level of risk, or that they'll even provide a solid annual return compared to your other investments. For these reasons (and many others), you'll want to speak with a financial professional about whether or not a Wunder Capital solar project is the right investment opportunity for you.