Wunderkiss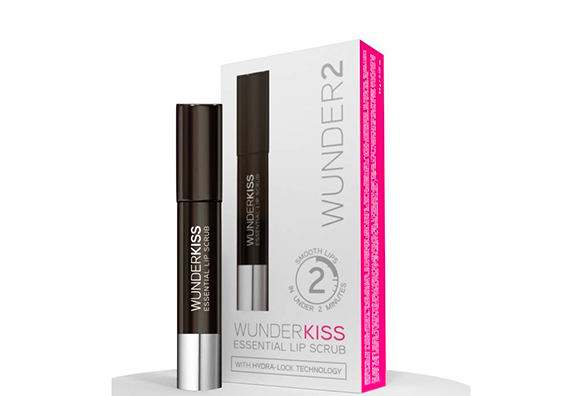 Wunderkiss is a lip plumping gloss that claims to let you choose your level of lip plumping to hydrate and boost your pout with collagen and hyaluronic acid.
Wunderkiss Review: Is It Legit or Just Hype?
According to the company website, Wunderkiss is a lip plumping gloss that's designed to hydrate and plump up your pout in an instant.
By relying on the company's unique "dermaporting" technology, this lip plumper promises to deliver collagen, hyaluronic acid, and vitamin B3 directly to the skin cells in your lips.
A video on the product's website demonstrates that Wunderkiss works as a collagen gel and hyaluronic acid blend. This is utilized to build up the volume of your lips while hydrating their surface. Applying the product to your lips gives you a concentrated dose of a lip plumping complex that includes vitamin B3 and other ingredients to heat and cool your lips.
Will it work, though? That's what we'll help you figure out in this article.
How Do You Use Wunderkiss?
Wunderkiss requires a one-step application. This means that you apply the lip boosting serum as you would any other lip product, leaving it to dry for one to two minutes.
As you apply it, you should feel a heating and cooling sensation; almost like a vibration.
At this point, it can be left on to add a natural sheen to your lips or dabbed off and replaced by lipstick. Once applied, the company claims that the plumping effects for your lips will last for hours. They suggest using the serum throughout the day when needed.
So far Wunderkiss sounds like regular lipgloss. Will the product's "dermaporting technology" actually improve how well it works?
What Is Dermaporting Technology and Is It Clinically Proven?
According to the company website, dermaporting technology is the exclusive property of Wunderkiss products.
It claims that it allows larger molecules—like hyaluronic acid and collagen, which we'll talk more about shortly—to be delivered directly into the lips, which lets them better hydrate the skin.
Our research found that hyaluronic acid is used for numerous clinical purposes, including speeding up the healing process for surgical wounds and improving skin's moisture content, when applied topically in lotions and creams.
In the same way, Medical News Today reports that collagen is a popular ingredient for face lotions and creams, since it contains high concentrations of four amino acids (proline, lysine, hydroxylysine, and hydroxyproline) that help the skin maintain its plump appearance.
However, WebMD states that injections are one of the only ways to supplement collagen levels in the skin. The molecules are otherwise too large to be absorbed naturally, a fact that contradicts the claims that Wunderkiss makes.
Looking through the science resources provided on the Wunderkiss site, we couldn't find any details about how dermaporting is supposed to help these molecules penetrate the skin.
Saying that, the company posted the clinical results of their 33-participant study of the product's lip plumping effects on their website.
These subjects, all women between the ages of 18 and 62, were reported to have experienced statistically significant results after using the plumping gloss.
Specifically, 30 minutes after using the product, the women showed an average of 46% improvement in the appearance of their lips.
Now let's look at what other ingredients are found in Wunderkiss.
Are Wunderkiss' Ingredients Effective?
We found the following list of ingredients for Wunderkiss:
Polybutene, Isononyl Isononanoate, Hydrogenated Polyisobutene, Isopropyl Palmitate, Mineral Oil, Ethylene/Propylene/Styrene Copolymer, Butylene/Ethylene/Styrene Copolymer, Ricinus Communis (Castor) Seed Oil, Diisostearyl Adipate, C10-30 Alkyl Acrylate, Simmondsia Chinensis (Jojoba) Seed Oil, Macadamia Seed Oil Polyglyceryl-6 Esters Behenate, Hydrogenated Didecene, Menthoxypropanediol, Camphor, Oleyl Alcohol, Flavor (Aroma), Dipalmitoyl Hydroxyproline, C10-30 Cholesterol/Lanosterol Esters, Water (Aqua/Eau), Pentaerythrityl Tetraisostearate, Glyceryl Caprylate, Lecithin, Tocopheryl Acetate, Benzyl Nicotinate, Hydrolyzed Hyaluronic Acid, Silica Dimethyl Silylate, Pentylene Glycol, Butylene Glycol, Soluble Collagen, Sodium Chondroitin Sulfate, Atelocollagen, Tocopherol
We did some research on the Natural Medicines Database, WebMD, and Truth In Aging to learn about any clinical evidence that supports the effectiveness of these ingredients in plumping your lips.
In general, these sites report that the majority of ingredients act as viscosity agents (polybutene, as an example), emollients (isononyl isononanoate, hydrogenated polyisobutene, diisostearyl adipate, oleyl alcohol, and C10-30 alkyl acrylate), thickening agents (isopropyl palmitate), moisturizers (mineral oil), skin conditioners (pentaerythrityl tetraisostearate), and stabilizers (ethylene/propylene/styrene copolymer).
As the name might lead you to believe, menthoxypropanediol is a menthol-derived ingredient commonly found in lip plumping products that provide a cooling sensation.
Another potentially active ingredient is dipalmitoyl hydroxyproline, a plant collagen-derived substance known as LiPlump that promises to represent a "biological delivery system for hydroxyproline (a collagen amino acid with well-characterized moisturizing activity) created by grafting palmitic acid onto the hydroxyproline."
Our reading of the current medical research and clinical studies on Google Scholar indicated that the active ingredients most often promoted on Wunderkiss' website (collagen, hyaluronic acid, and vitamin B3), have been extensively studied for their benefits for skin.
However, it's important to note that ingredients are generally displayed from the greatest concentrations to the least, and "hydrolyzed hyaluronic acid" and "soluble collagen" are near the end of the list for Wunderkiss. Tocopheryl acetate, another term for vitamin E, is also in the bottom third of the ingredients list.
Could Wunderkiss' Ingredients Cause Any Side Effects?
The medical sites we used in the previous section reveal that there might be side effects associated with using Wunderkiss, although the vast majority related to temporary redness and skin irritation, and often for those who are especially sensitive.
How Much Does Wunderkiss Cost?
Wunderkiss is sold for $14.99 to $19.99 (depending on which of the company's websites you are on) with free shipping and a 30-day money-back guarantee.
You'll save money if you buy multiple shades at once, as two are $17.95 each and four sell for $14.95 each.
What Do Wunderkiss Customer Reviews Say?
While there weren't any reviews from verified buyers on the Wunderkiss website, we were able to find several third-party review sources online.
On Amazon, the serum had 90 reviews at the time of publishing and averaged 2.4 stars. Some users reported that they didn't notice much of a difference in their lips when they used the product and that they expected more dramatic results for the price.
Others mentioned that it took them a while to figure out which amount of plumping to use, but that once they did, the product worked better than other lip plumpers they had tried.
How Does Wunderkiss Compare to Similar Products?
Our research into lip plumping products found several that are similar to Wunderkiss.
The Physicians Formula Plump Potion Needle-Free Lip Plumping Cocktail is advertised as an instant way to plump up your lips and add a light shade of pink in the process.
Like Wunderkiss, this product contains collagen and hyaluronic acid and is designed to provide a long-lasting plumping effect.
However, there isn't a way to control the level of active ingredients to change the level of plumping. On the product website, this gloss retails for $9.80.
Another product that makes similar lip-plumping promises to Wunderkiss is N.Y.C. New York Color Big Bold Plumping and Shine Lip Gloss.
This product is advertised as a non-sticky, lightweight formula that creates lips that are up to 50 percent plumper, similar results to what Wunderkiss showed in their clinical studies.
Unlike Wunderkiss, which is completely clear, this gloss comes in an array of shades and retails on the website for $9.95.
Our research into lip plumping products showed us that most of them made similar claims about the effectiveness and contained the same active ingredients.
However, Wunderkiss' advertising material differentiates the product from the competition by claiming that its plumping effects will last, even if it is wiped off, though customer reviews aren't conclusive regarding this alleged benefit.
The Bottom Line: Can You Benefit from Using Wunderkiss?
Our research revealed that Wunderkiss contains ingredients that are on par with its competition in the world of lip plumping products. It's reasonable to believe that this gloss is likely to work as well as other plumping products on the market, but it's not a miracle product.
As we pointed out earlier, WebMD is clear that collagen molecules, the main plumping agent, can't be absorbed in the skin. Therefore, we think you should limit your expectations of how plump your lips can get and for how long.
Furthermore, several reviewers shared that they noticed a difference in the plumpness of their lips after using Wunderkiss, but few noticed much of an improvement beyond what cheaper lip plumping products provided.
For this reason, it might be worthwhile to make a cost comparison of different lip plumping products before choosing the one that's right for you. We feel this is particularly important considering competing lip plumpers are half the price of what you'd pay for one vial of Wunderkiss.