Wynd Reviews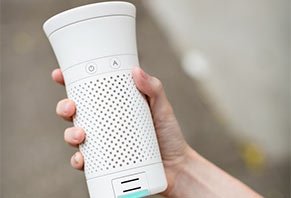 Wynd's "smart" air purification system promises to deliver ultra-fine filtration, a portable design, and app connectivity to actively monitor your air quality.
About Wynd
From coffeemakers and cookware to thermostats and changing tables, many of our everyday products are getting smarter.
Recently added to this list is Wynd, a "smart" air quality system that draws in dirty air, removes particulate matter like allergens, dust, pet dander, smoke, and more; and then propels purified air out through the top. Compared to other air purifiers though, we're told that Wynd is about the size of a water bottle and weighs less than a pound, so it's easy to take with you.
According to the company, Wynd's "smartness" lies in its built-in sensor that monitors the air quality around you, which then adjusts the device's power to filter more or less, depending on the circumstances. Or, you can manually change the amount of "clean" Wynd releases simply by twisting its outer ring.
Wynd's iOS and Android companion apps can also gain insight from the information provided by the air sensor, allow you to view the air quality around you in real time, and check the air quality of your friends and family. In other words, the manufacturer claims Wynd doesn't just clean the air—it also helps you understand the environment, so you can "proactively take care of any problems."
Ask yourself this: Just because a device is "smart," does this necessarily mean it's useful or worth your hard-earned money? Specifically regarding Wynd, will it deliver real-world value, or will it just end up little more than an expensive paperweight? Here, we'll discuss what we learned during our research and how you can use it to make a more informed purchase.
How Does Wynd Work?
Wynd's Form & Design
Overall, the Wynd air quality system consists of 3 parts:
The main body that houses all the electronics and fan.
The company's patent-pending particulate matter (PM) sensor that's both small and accurate (they claim it's the smallest commercial PM sensor in the world). This sensor can even detach to "keep you aware of the air you're breathing while you're on the go."
A medical grade air filter (more about this next).
We're told that Wynd is designed to last up to 8 hours on a single charge, and to fully recharge in 4 hours via a USB Type-C cable.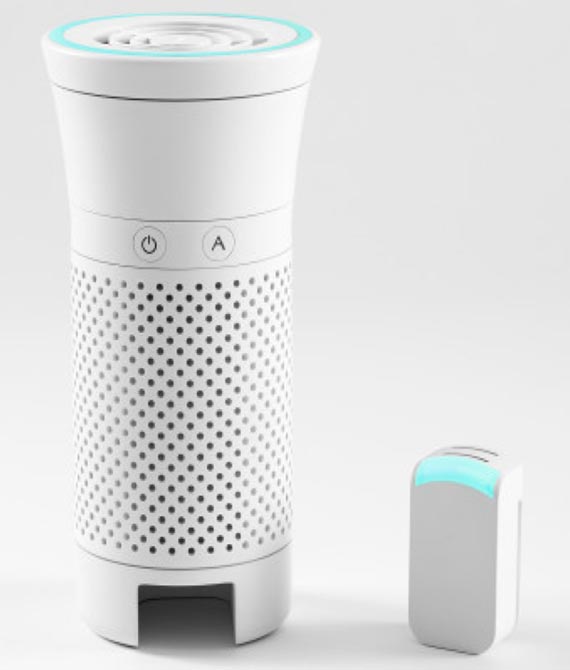 Here, we see Wynd's main body, along with the proprietary detachable particulate matter sensor. Image credit: Wynd
How is this equipment supposed to improve the air you breathe?
Wynd's Filtration Capabilities
Wynd's medical grade electrostatic air filter promises to purify particles as small as 0.3um, or 1/210th the average thickness of human hair. This filter also features a silver-lined antimicrobial layer that can remove pollutants like bacteria and mold as air passes through.
Unlike many other air purifiers (more about this soon), Wynd doesn't force you to wait for fresh air, since it begins funneling clean air towards you (the front fan is intended to be placed facing you) as soon as the device is turned on. Despite its small size, Wynd's patent pending fluid dynamics system is designed to purify over 8 liters of air per second—and remain quiet while doing so.
In fact, Wynd claims their prototype system correlates highly with other top-end purifiers that are much larger and cost as much as $5,000.
Wynd's Functionality
Wynd claims their Air Quality Tracker sensor is also comparable to more expensive and larger models, although theirs uses "an internal design that protects sensitive components from accumulating dust." This way, along with its "dynamic calibration," Wynd's air purifier can remain highly accurate over time.
In Auto mode, Wynd can use its sensor to adjust purification levels and maintain a clean environment, allowing you to sit back and relax. Alternately, you can manually adjust purification levels between 0 and 100 simply by turning the top control ring left or right.
When it's time to replace your filter, Wynd will let you know. Not only will the control ring blink yellow, but the companion app will also notify you. And when the filter arrives, we're told you simply need to "pop the old one out and pop the new one in."
Let's continue talking about the app in the next section.
Wynd's iOS & Android App
Based on what's picked up by Wynd's sensor, it will send this information to the companion app and provide "insight into your environment." This includes letting you know how healthy your air is (and notifying you if it's getting worse), how your environment changes over time, and even how many milligrams of particulate matter Wynd has cleaned from the air.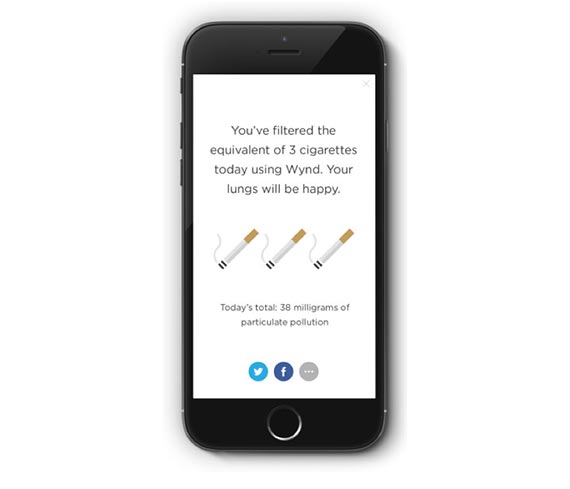 ​Among many other things, Wynd's smartphone app can track how many milligrams of particulate matter the device has filtered.
As more customers use the Wynd app, the company claims they'll be able to create a worldwide crowdsourced air quality map (what they call "the Waze of air quality") that can help people around the world breathe better.
This all sounds fantastic on paper (or on screen, as the case may be). But is Wynd proven to work this well in the real world?
Is the Wynd Air Purifier Clinically Tested?
Despite Wynd's small size, the company claims they tested it in a 640-cubic-foot chamber (comparable to an 8x10ft room) at the Research Triangle Institute.
There, they claim Wynd cleaned "over 70% of particles in a typical car cabin in under 10 minutes," and "in a semi-enclosed stroller, Wynd can reduce PM2.5 (fine particles) by over 50% and PM10 (coarse particles) by over 70%."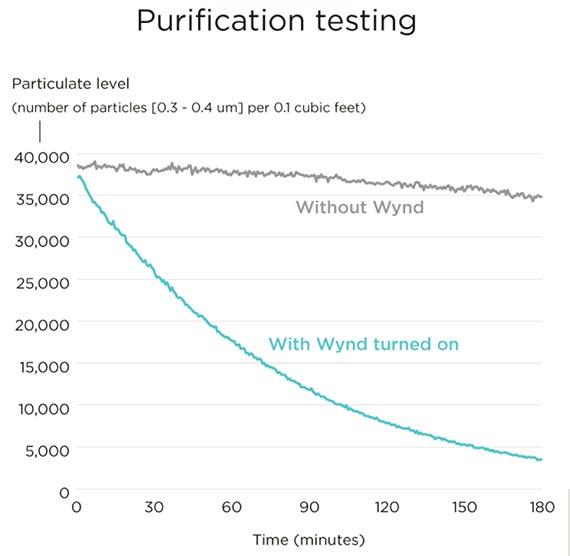 ​We're told this chart outlines the number of airborne particles Wynd can remove over a set amount of time.
Unfortunately, the company doesn't provide any additional details, or any documentation to support their claims.
Clinical evidence aside, will Wynd's price cause you to be short of breath?
How Much Does the Wynd Smart Air Purifier Cost?
At writing, Wynd devices were only available for preorder through Indiegogo, with an estimated shipping date of December 2016. It and other products were priced as follows:
2 Replacement Filters: $14
5 Replacement Filters: $35
10 Replacement Filters: $70
Wynd Air Quality Tracker (sensor only): $76
1 Wynd Device (available in matte black or white): $154
Wynd Baby Bundle (includes Wynd device, Stroller Holder, & Kickstand): $164
Wynd + 2 Replacement Filters: $168
Wynd Two-Pack: $304
Wynd 3-Pack: $429
Distributor Pack (10 devices): $1,390
Shipping was indicated to be extra on all Wynd products, although none was charged when we attempted to check out.
There's no indication how often you'll have to replace Wynd's filter, although we'd imagine this depends on how often it's used and how high you set the filtration settings. At any rate, the company claims they'll send you a new filter whenever it's time for a replacement so you won't have to worry about manually reordering.
There wasn't any refund or warranty information listed on Wynd's website, so we sent an email to hi@hellowynd.com for some insight. We'll be sure to update this review as soon as we receive a response.
Who Founded Wynd? Any Customer Reviews Yet?
Wynd Technologies, Inc., based out of Redwood City, CA, was founded by Ray Wu in 2014. According to his bio, prior to founding Wynd, Ray studied electrical engineering and computer science at MIT, followed by a technology investor position at Silver Lake, a consultant at McKinsey, as well as an engineer for Broadcom, Analog Devices, and Bose.
Although the company was founded in 2014, their air purification device got its start through a 2016 Kickstarter campaign, where 3,400+ backers pledged more than $600K, based on an original goal of just $50K.
Largely because of this success, Wynd has been written about on numerous popular websites, including Wired, TechCrunch, Tech Insider, and many others. Since it won't be released until the end of the year though, these didn't amount to much more than high-level overviews. There obviously wasn't any feedback for Wynd's iOS or Android apps, either.
Are There Any Other Air Purifiers Like Wynd?
Shop online for the phrase "air purifier" and you'll be met with hundreds of relevant products, each claiming to perform better than the competition in one way or another.
These can range from small, relatively inexpensive models like Wynd, whether they rest on desktops or attach to walls, all the way to whole house systems that cost thousands of dollars. We've even reviewed several air purifier options here at HighYa, including Airocide and the PowerPure Humidifier.
As far as Wynd's direct competition ("portable air purifiers"), we recently reviewed the QuietPure Mobile, which is smaller than Wynd and uses completely different filtration technology. However, we're told it takes the Mobile 40 minutes to clean a 350 square foot room. How does this compare?
As we mentioned above, we're told that Wynd can filter 8 liters of air per second, which amounts to a cubic foot of air roughly every 4.5 seconds. Since there is 2,450 cubic feet of air in a 350 sq ft room, this means it would take Wynd about 183 minutes—or more than three hours—to accomplish this same level of filtration.
Finally, the QuietPure Mobile comes in at $194.70, which is $40 more than Wynd.
The issue here is that Wynd is designed to blow purified air directly in your face (versus waiting for the surrounding air to get cleaner, as with most other purifiers). It also uses a completely new particulate matter sensor to deliver customizable purification, and tracks everything from a smartphone app. And as the only purifier to do all of this, whether you're also looking at the QuietPure Mobile or any other device, you're not exactly comparing apples to apples.
Does this necessarily mean you should place your order for a Wynd system?
Will Wynd Help You "Enjoy a Healthy Air Environment"?
There's little doubt that the Wynd team is looking to bring completely new technology to the market, which can potentially improve people's lives. They also seem intent on doing so at a fairly competitive price, if not necessarily competitive filtration speeds.
Given this, if you're really into being the first to try new technology, or if you suffer from problems with airborne allergens—and you can wait until December 2016 to find some relief—then it could be worth placing a preorder for Wynd. Just keep in mind that backing a crowdfunded product comes with risks, including delayed production and shipping, which you should be fully aware of before handing over your money.
How'd it go with Wynd? Did the air purifier ship on time? Once you had it in your hands, did its performance live up to the company's promises? Help others take a breath of fresh air by leaving your review below!
Now read: Super Simple, Natural, & Cheap Cleaning Solutions Already In Your Kitchen