WyzAnt Reviews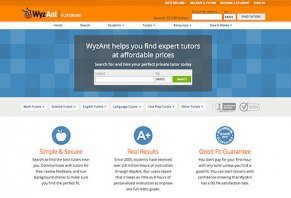 WyzAnt is a website where parents and students can find and hire private tutors across a wide range of subjects.
About WyzAnt
WyzAnt is an online community where parents and students can find and hire professional tutors across a wide range of subjects, including math, science, music, technology, test preparation, and much more. Headquartered in Chicago, IL and founded in 2005, WyzAnt also promotes itself as a place where independent tutors can promote their services and increase their visibility. The company is committed to giving back to the community, which is accomplished through more than $15,000 in annual scholarships.
WyzAnt claims to have facilitated more than 1 million lessons, holds an A+ rating through the Better Business Bureau, and appears to have a mostly positive online reputation. Unlike most other online tutoring sites, WyzAnt also offers a full refund for the first hour billed to any new tutor, known as their "Good Fit Guarantee."
How WyzAnt Works
After entering your desired subject and zip code on WyzAnt's home page, you'll be redirected to an area where you can view the total number of nearby matched tutors, their full profiles, and pictures. After clicking on a tutor, you'll be taken to their profile, where you can see how many hours they've logged, read a brief bio, browse feedback from past customers, and more.
If you locate a tutor who appears to be a good match, contacting them is completely free of charge, and you're guaranteed a response within "a few hours." All communication is completely secure, and you'll even be able to run a background check on anyone you choose to hire.
However, if you don't feel like browsing through hundreds of tutors, you can also use WyzAnt's "Request a Tutor" service. Here, you'll be required to fill out a short questionnaire detailing your specific needs. After submitting the form, up to five local tutors will then contact you about fulfilling your requirements.
In addition to facilitating tutoring sessions, WyzAnt also provides a detailed resources section on their site, filled with more than 16,000 interactive Q&As, lessons, blogs, and videos.
WyzAnt Pricing and "Good Fit Guarantee"
Signing up for a WyzAnt account is completely free, and you'll only be required to enter your email address and choose a password in order to begin. According to their website, there are no "hidden fees, contracts, or minimum payments," and you won't be required to enter payment information at this point.
However, WyzAnt does require that you have a valid payment method on file prior to booking your first tutoring session, which includes all major credit and debit cards, PayPal, checks, and money orders. After entering your billing information, you can choose one of two payment options:
Pay as You Go: Here, you'll be automatically charged after each lesson.
Pre-Purchase: Buy a tutoring package and save up to 15%.
Whether you're planning to use WyzAnt as a customer (e.g. someone who needs to hire a tutor) or as a tutor looking for work, you should keep in mind that the company keeps as much as 40% of the total price, while only giving as little as 60% to the tutor. However, the company—as well as many previous customers—claim that the amount a tutor earns can increase over time.
Unlike most of their competition, WyzAnt offers all customers a "Good Fit Guarantee." In other words, if you're not completely satisfied, your first hour with any tutor is fully refundable. To initiate the refund process, simply use WyzAnt's contact form, or call them directly at (877) 999-2681.
Bottom Line: Can You Benefit from WyzAnt?
Based on our research, WyzAnt appears to be a company that is intently focused on helping you find a tutor, and about maintaining a high level of customer satisfaction. The most common complaint is that they keep a large portion of your payment, and only give about 60% to the tutor.
With this said, if you or a loved one are in need of a local tutor who can help with a wide range of subjects, WyzAnt appears to be a solid, dependable resource.
Unprofessional

By Nya A.

,

Houston, TX

,

Jan 25, 2020
Verified Reviewer

I sought a statistics tutor on WyzAnt.

Many of the tutors' reply time is extremely delayed, they are unprofessional when communicating and not approachable.

This is horrible when trying to employ and solicit for help!

Bottom Line: No, I would not recommend this to a friend

---

Rip-off

I was charged for the lesson I didn't request, a tutor was able to schedule a lesson without any confirmation at the last minute. And you are not able to cancel the lesson because of 24-hour cancel restrictions. I don't get it, what kind of application logic it is that doesn't have any confirmation of customer? I requested the refund, probably they won't pay.

Bottom Line: No, I would not recommend this to a friend

---

Advertisement

---

Do not use this company

By M S.

,

Los Angeles, CA

,

Jun 21, 2019
Verified Reviewer

Very unprofessional company who has no business running a tutoring site. If you decide to create a profile, they will eventually block your account because their automated system will detect keywords and shut it off for several days until you provide evidence that you didn't help a student cheat. What a scam of a company.

Bottom Line: No, I would not recommend this to a friend

---

Not a good application experience

The company seems like it could be good for those looking for tutors, but if you are looking to work for this company, do not get your hopes up. Unless you are already a well-established professional who went to an Ivy League or has a doctorate (why are you trying to tutor here though I do not know), you probably won't have much luck.

My application to tutor was denied for no justifiable reason from the company other than I was not a "good fit". I was originally told to edit my free response (my letter to students who might want to hire me), saying I needed more information. I had written three full paragraphs explaining my experience, methods, and a call to action, so I was confused as to what they wanted me to change. I sent in a question asking for more feedback, and within the hour, my account was terminated, and I was told I was not right for the company. I was trying to be an English and Swimming tutor. I have extensive experience as an English tutor and over four years of paid experience as a swim instructor, with Red Cross certification. I passed more than ten of the English based tests as well, which took a good chunk of time to do as well. I have no idea what I did wrong, and they gave no solid response to my inquiry. I assume I was just not prestigious enough.

Bottom Line: No, I would not recommend this to a friend

---

Advertisement

---

Tutoring profile terminated without a good reason provided

By Brian D.

,

Florida

,

May 2, 2019
Verified Reviewer

I was a tutor on WyzAnt for a few years, when suddenly, they terminated my tutoring profile this past week, citing some generalized paragraph or sentence in their tutoring policy. The management and customer service people were not willing to tell me what I did wrong specifically, and no discussion was allowed. This was no doubt, poor management of the situation and communication.

Bottom Line: No, I would not recommend this to a friend

---

They do have hidden fees and there is no good fit guarantee

By Monica G.

,

Houston, TX

,

Apr 25, 2019
Verified Reviewer

I had a horrible tutor who knew just as much about the subject as I did! The whole lesson was a disaster. I could barely hear anything she was saying because the technology was horrific and there was a lot of noise on her end. WyzAnt online set up is seriously flawed in terms of technology and format.

There was a hidden fee not mentioned and there is no good fit guarantee structure. Therefore, the tutor you go with is a complete risk and financial loss.

Bottom Line: No, I would not recommend this to a friend

---

Bad company!

They denied my application without telling me any reason why. This company should not be somewhere that anyone who needs a tutor goes to!

This is what they sent after I took like 2 hours passing the tests that they have you do when you first sign up. Horribly bad customer service.

After reviewing your submission, we have determined that Wyzant is not a good fit for your tutoring service at this time according to paragraph 18(a) of the Independent Tutor Agreement. We will deactivate your account effective immediately.

We appreciate the time and effort you have spent on your submission.

Regards,

The Wyzant Team

I then sent another email asking why I was not approved and this was their answer:

Thank you for your interest in listing your tutor profile on Wyzant.com. I am sorry that your application was not approved.

While I don't have access to the specifics regarding why your account was not accepted for an active listing, I do know that the Wyzant Content Review Team looks at many factors when evaluating a potential tutor profile. And of the thousands of applications we receive every week, only a limited number are approved for a listing. We sincerely hope that you find the right avenue for your business and wish you luck in your future endeavors.

Best,

Bob

Wyzant Customer Support

Everyone should boycott this company until they have better practices for putting their applications thru, but it's fine because after reading a lot of reviews about that company, I would never want to be a tutor there, anyway. So thankfully they only took my time and not my money!

Bottom Line: No, I would not recommend this to a friend

---

Would love to try the service

By Mindy H.

,

Texas

,

Jan 9, 2019
Verified Reviewer

I went online and found what appeared to be a perfect tutor. Sent initial contact info. She responded immediately and asked me questions. I attempted to respond to her questions - but could not without putting my credit card information into the system. I called Customer Support and they said it was required and there was no workaround. I am NOT putting in my credit card info until I have had a chance to have a 2-3 minute phone call or chat with my proposed tutor! I don't care that WyzAnt is not going to charge my card. I should be able to have a brief conversation with my tutor before uploading my credit card information into another online system. It is just another place where my credit card information can be compromised. I will not be working with WyzAnt.

Bottom Line: No, I would not recommend this to a friend

---

Good Fit For Guarantee is a Fake Attraction of Customers

By Gayani G.

,

Denver, CO

,

Nov 23, 2018
Verified Reviewer

Message Pasted from Wyzant Staff:

"Your account was closed because we determined that we are no longer able to facilitate lessons for you in accordance to our terms of use. Based on the information you provided, we will not reactivate your account. Wyzant considers this decision to be final and a representative will not be made available to further discuss this matter.

Regards,

The Wyzant Profile Review Team"

Bottom Line: No, I would not recommend this to a friend

---

SCAM, beware

By Marlo C.

,

Dallas, TX

,

Nov 2, 2018
Verified Reviewer

This company is not legit. They will charge your credit card as soon as you input it for no reason, and they won't give you the money back. Do not input your credit card information.

Bottom Line: No, I would not recommend this to a friend

---

WyzAnt

By Bob A.

,

California

,

Aug 14, 2018
Verified Reviewer

The service is good, I received great help from the tutors in math for the SAT exam. Before I was struggling with math, so my friend introduced me to this service. I decided to give it a shot, and it turned out that the quality is not that bad, the tutor supported me during the revision for the exam. The price is also affordable.

Bottom Line: Yes, I would recommend this to a friend

---