Xcellerate 35 Reviews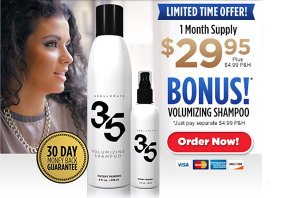 Using a 35-ingredient formula, Xcellerate 35's amino acids promise to help deliver stronger, longer, and denser hair through improved blood flow in the scalp.
What is Xcellerate 35?
Based on four years or research, Xcellerate 35's patented formula uses a blend of 35 ingredients—including powerful amino acids—to strengthen the follicle and shaft, promote blood flow and hair growth at the cellular level, and increase volume, density, and length.
According to the manufacturer, you only need to:
Spray Xcellerate 35 onto wet hair.
Massage the formula into your scalp.
Brush the serum from root to tip.
With regular use, they also claim you can expect real-world results in as little as three weeks, based on the results of two clinical trials.
Whether you're a man or a woman, or your less-than-ideal hair is caused by age, genetics, or the environment (or a combination of all three), you're optimistically skeptical about Xcellerate 35's claims.
Is it really an effective over-the-counter solution for addressing hair quality? Is it based on "unmatched science"? What does the medical community have to say about the effectiveness of its ingredients?
That's exactly what we'll help you learn here.
What Are Common Causes of Poor Hair Quality? Do Amino Acids Play a Role?
High-quality hair has two central characteristics: 1) Health (shine, bounce, body, softness, elasticity) and 2) thickness, including each hair, as well as overall volume.
And as you might imagine, there are perhaps thousands of individual conditions and scenarios that could lead to decreased hair health and thickness, including vitamin deficiencies (zinc is especially notorious for this), poor grooming and styling habits, excessive stress, pregnancy, insufficient sleep, hormonal changes—the list goes on.
Specifically, Xcellerate 35 promises to improve quality by delivering amino acids to your hair and scalp. Is this a common cause of poor hair quality, and will applying them to your body result in meaningful improvement?
In a nutshell, the 20 amino acids in existence act as building blocks for protein. In turn, protein is an essential nutrient present in every cell in our body, which literally acts as the glue that keeps up together.
If you're amino acid deficient, then, your body's protein synthesis will likely suffer, resulting in side effects like impaired brain and immune system function, digestion, kidney processing, weakened bones, and thin and fragile hair.
Here's the important part: According to the 10th Edition of Recommended Dietary Allowances:
"Protein deficiency rarely occurs as an isolated condition. It usually accompanies a deficiency of dietary energy and other nutrients resulting from insufficient food intake. The symptoms are most commonly seen in deprived children in poor countries. Where protein intake is exceptionally low, there are physical signs—stunting, poor musculature, edema, thin and fragile hair…"
In other words, as long as you're consuming adequate protein in your diet (which the vast majority of the first-world population does), you're probably not amino acid deficient. And if you are, you likely have more pressing concerns than keeping your hair fabulous.
Furthermore, to combat an amino acid deficiency, you'd need to ingest them; rubbing them on your scalp means they won't be absorbed by your body where they might provide any benefits.
Nonetheless, let's take a look at Xcellerate 35's total formulation to see what you might expect.
What Ingredients Does Xcellerate 35 Contain?
While Xcellerate 35's commercial frequently promotes its 35-ingredient formulation (even including the sentiment in the product's name), the manufacturer doesn't tell us about a single one.
Fortunately, we found the two-part system bundled with the iGrow Hair Growth System through a third-party retailer, which listed all ingredients (only active ones are hyperlinked below).
What's In Xcellerate 35?
To use, we're instructed to spray 5-10 pumps of Xcellerate 35 directly onto wet hair at the scalp. Then, massage and comb through, root to tip, and style as usual.
For best results, apply once daily for at least 60 days. Avoid the use of additional leave-in conditioners or styling products as they may reduce efficacy.
Deionized Water, Amodimethicone, Cetrimonium Chloride, Trideceth-12, PEG-40 Hydrogenated Castor Oil, Panthenol, Glycerin, Polysorbate 80, Sodium PCA, Sodium Lactate, Arginine, Aspartic Acid, PCA, Glycine, Alanine, Serine, Valine, Proline, Threonine, Isoleucine, Histidine, Phenylalanine, PEG/PPG-18/18 Dimethicone, Polyquaternium-11, Disodium EDTA, Hydroxyethylcellulose, PEG-8, PEG-8/SMDI Copolymer, Sodium Polyacrylate, Palmitoyl Myristyl Serinate, Sodium Hydroxide, DMDM Hydantoin, Idopropynyl Butylcarbamate, Fragrance.
According to authoritative websites, most of Xcellerate 35's ingredients work to condition hair (make it more manageable and easier to style), prevent static and build-up, improve texture and skin feel, and draw moisture to the skin and trap it there.
Obviously, these are beneficial if you're looking to improve the look and feel of your hair. However, they're not necessarily anything you wouldn't find in hundreds of other hair products, some of which line the shelves of local retailers.
And although we might sound like a broken record, it's important to note that amino acids are essential inside the body, but (again) according to authoritative websites, there seems to be insufficient clinical evidence that applying them to your scalp will achieve any meaningful benefits.
What About the Volumizing Shampoo?
The second part of the Xcellerate 35 system is the Volumizing Shampoo, which should be applied to wet hair and massaged into a lather. Then, rinse and repeat.
Water, Sodium Laureth Sulfate, Cocamidopropyl Betaine, Cocamide MIPA, Sodium Chloride, PEG-150 Distearate, Panthenol (Pro Vitamin B5), Cocodimonium Hydroxypropyl Hydrolyzed Wheat Protein, Propylene Glycol Humulus Lupulus (Hops) Extract, Chamomilla Recutita (Matricaria) Flower Extract, Prunus Serotina (Wild Cherry) Bark Extract, Lawsonia Inermis (Henna) Extract, Hydrastis Canadensis (Golden Seal) Root Extract, Calendula Officinalis Flower Extract, Equisetum Arvense (Horsetail) Extract, Disodium Lauroamphodiacetate, Sodium Trideceth Sulfate, Sodium Lauroyl Sarcosinate, Tetrasodium EDTA, Citric Acid, Methylchloroisothiazolinone, Methylisothiazolinone, Fragrance.
As with Xcellerate 35, the majority of Volumizing Shampoo's ingredients will help cleanse the scalp, while conditioning and moisturizing.
And while some of the additional ingredients have been clinically shown to provide health benefits when ingested, authoritative sites report there isn't enough clinical evidence to indicate that their topical application will accomplish the same.
But what about all that clinically proven talk on the Xcellerate 35 website?
Is Xcellerate 35 Clinically Proven to Deliver Results?
How's Xcellerate 35 supposed to do its job?
We're told its amino acids fill in gaps in the cuticle, which help damaged hair regain its ability to repel water, while adding strength and moisture.
In addition, the company claims Xcellerate 35's ingredients generate nitrogen oxide (NO), which helps encourage blood flow to hair cells and stimulate hair growth.
Here again, though, we didn't encounter any clinical evidence from authoritative websites indicating that Xcellerate 35's ingredients can accomplish this. Further, while some amino acids (like l-arginine) are converted inside the body into NO, which can widen blood vessels and boost circulation, we didn't encounter any clinical evidence that topical application can do the same.
The Clinical Evidence
We emailed the company's press representative for a copy of this study and received a very quick reply.
Titled Controlled Usage Study to Evaluate the Efficacy of a Hair Care Product Intended to Accelerate Hair Release and Recovery, this two-week study was conducted by AMA Laboratories based out of NY, NY in July 2015.
Here, 21 male subjects between the ages of 18 and 33 were instructed to apply the formula (Xcellerate 35 isn't specifically named) as liberally as they liked to whichever treatment area was designated by the sponsor.
During the study, each participant filled out a self-assessment questionnaire on day 7 and day 14 to gauge perceived effectiveness. 10 participants (no criteria was provided as to why they were selected) also underwent PhotoGrammetrix Image Analysis (High Resolution Scientifically Matched Photography) at day zero, day 7, and day 14.
What'd they find? After two weeks, these questionnaires indicated that most participants felt Xcellerate 35 "aided in hair recovery, improved volume, strength, thickness and shine of their hair."
As far as the PhotoGrammetrix lmage Analysis, the study reported "accelerated hair release and recovery via increased hair density by an average of 520.40% compared to the untreated portion which had an average of 298.65% after 14 days of use." In other words, hair thickness increased.
First, it appears only one study has been completed on Xcellerate 35, which is positive, although it means the formula isn't necessarily clinically proven. Instead, this would require dozens—or potentially hundreds—of third-party trials that produced the same results.
Second, 21 participants is considered a very small sample size, as is the 10 who underwent PhotoGrammetrix lmage Analysis. Additionally, it doesn't appear the study was double-blind, all of which are factors that can impact the quality of a study, as well as its overall results.
How Much Does Xcellerate 35 Cost?
A one-month supply (2.4 fl oz) of Xcellerate 35, including the "bonus" 8 fl oz of Volumizing Shampoo, will cost you $29.95, plus $9.98 S&H.
All orders come with a 30-day money-back guarantee, less S&H. In order to request one, customer support can be reached at 781-763-7333.
Who's Behind Xcellerate 35? What Are Customers Saying About Their Other Products?
Based on Xcellerate 35's customer service phone number, it's the same manufacturer behind the Xglide Speed Painter, Medi-Fade, Breathe Active, and Skoother Skin Soother.
There wasn't a lot of customer feedback about these products at the time of our research, although most complaints referenced ultra-long shipping times (sometimes spanning several months).
A company named Beverly Hills Formulators, Inc. was also referenced, although their site was inactive as of writing and they didn't have any other online presence.
Finally, we've reviewed several other popular hair loss systems over the years, including Wen, Hair La Vie, Ovation, E-VOSS, and Keranique. For the most part, these products tend to come with low customer feedback that they didn't work as advertised.
Again, this isn't to draw a relationship between Xcellerate 35 and these other ingredients, but given the frequency of the feedback, we think it's certainly worth keeping in mind.
Will Xcellerate 35 Accelerate Your Hair Growth?
When it comes down to it, can you expect improved hair quality from Xcellerate 35? Based on its formulation, we don't see why not, especially if you might've let your beauty regimen slide lately.
However, is there clinical evidence that Xcellerate 35 will work better than its vast (including local) competition—or that it will meaningfully improve length or quality for otherwise healthy individuals?
Although we think it says a lot about the company that they were willing to quickly provide a copy their clinical study, as well as the fact that it reflected positive results, it involved an ultra-small sample size and didn't reference anything about amino acids, so we'll let you draw your own conclusion.
Fortunately, the manufacturer also seems to stand behind the system with a 30-day refund policy. Just keep in mind you'll lose your initial S&H charges, as well as whatever it costs to send it back to the company, if you're dissatisfied and decide to process a refund.