Xome.com Reviews
Claimed This company has claimed this profile, is getting alerted on any new customer reviews entering this page, and may engage in dialogue with its customers to address their matters.

Companies cannot pay money or provide goods in order to remove or alter customer reviews.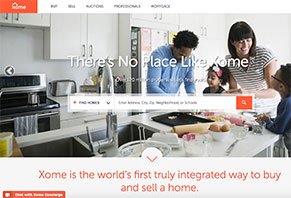 Xome is a new online-only company that help buyers, sellers, and agents come together in an efficient manner, and to keep the process completely transparent.
About Xome.com
With more than 80% of all MLS listings available (120+ million properties), including for sale, rent, or auction, Xome.com is an online portal that claims to make the real estate process more transparent and less complex for consumers and real estate professionals alike.
How? According to Xome, they accomplish this by allowing each party to maintain complete transparency throughout, from financing to insurance, so that everyone knows what's going on. In fact, Xome.com claims they've come up with "a radically better way to buy and sell a home" by "creating a bridge between the offline and online worlds." In addition, Xome also claims to help buyers and sellers save money on real estate commissions, which we'll discuss shortly.
But is this really what you can expect by using Xome to purchase your next home or sell your existing one? We'll answer all your important questions in a moment, but let's first take a look at the company's processes.
The Xome Home Buying, Selling, & Auction Process
If buying a home, the Xome.com process works over 3 steps:
Search for homes, select your property, and get a fast-track pre-qualification using a pre-selected lender.
Select your top-rated Xome agent, who will be available 24/7, and who will act as your single point of contact. Buying a home through Xome.com also gives you access to Xome Concierge, which we'll come back to in the following section.
Make an offer, obtain your mortgage, sign paperwork, and close (including appraisals, inspections, and so forth) on your new home. Most documents are sent through email and signed using e-signature technology, although some paperwork will need to be completed by a notary service.
If selling a home, the process works over 3 (somewhat simpler) steps:
Claim your home on Xome, which involves entering your address on the Xome home page and signing into your account. This allows you to "track important changes to the value of your home and market conditions in your neighborhood."
Choose your Xome.com agent, who will be responsible for making "sure your home is properly marketed, listed in the MLS, and who will work hard to try and maximize the sales price."
Review and accept offers, sign documents, and close on your home. Then, you can begin the process again if you're looking to purchase a new property.
Real estate auctions are handled through HomeSearch.com (in fact, Xome.com appears to be a sub-company of HomeSearch.com, as we'll discuss in a moment), where you can search for "real estate owned, short sale, pre-foreclosure/foreclosure, and luxury properties for auction." Again, the auction process works over 3 steps:
Locate a property you're interested in and contact the listing agent directly.
Bid for the property in real time.
If your bid wins the auction, you'll be contacted by a representative to begin the closing process, and Xome can help walk you through the paperwork.
Xome.com's Savings Program
Xome.com's Savings Program allows buyers and sellers to receive 1% off their total transaction cost by using one of their agents, which is part of the company's savings program.
This means that if you were to buy a $400K home, you could save $4K in commissions. And if you were to use Xome again to purchase a new $400K property, you could potentially save another $4K, which quickly adds up.
However, according to Xome's Disclosure page, "The Xome Savings program (Minimum 1% cash back) is not available in the following states due to applicable state law: AK, IA, KS, LA, MS, MO, OK, OR and TN." As such, if you live in one of these states, you're out of luck.
Xome Concierge Program
If you're buying a home, Xome's Concierge service, is claimed to provide you with all the resources you need, including 24/7 access to your agent via chat, email or phone.
As an agent, Xome.com Concierge also works as a virtual assistant to help you focus on your business, in addition to providing you with "qualified homebuyer and sellers who are ready to go."
In either instance, the company claims that their Concierge service can help you "get dynamic ratings, real-time data, and revolutionary tools to manage your buying or selling process."
What Happens if Your Home Listing Isn't On Xome?
After learning that only about 80% of MLS listings are featured on Xome, we wondered if a buyer found a listing that wasn't shown on the website, would their Xome agent be able to help them?
There wasn't any additional information provided online, so we contacted Xome's Concierge customer service to find out. According to them, all you would need to do is inform the company and they would put the address on the agent's panel. At the point, your Xome.com agent would then be able to represent you in the transaction.
Are Customers Happy with Xome.com?
At the time of our research, there were very few online customer reviews for Xome. However, we did come across a recent Reddit thread, where one user summed everything up nicely:
From what I can gather, it seems like the big difference is that all Xome agents are similar to Redfin's partner agents instead of one of Redfin's salaried agents.

Redfin's idea is that by offloading the marketing, planning, etc. to tech and other parts of the company, deal writing agents can be more efficient. This allows the company to play with slimmer margins and more volume (and hopefully equal or greater service). This business model doesn't really work for lower priced markets because there is a certain fixed cost per house associated with it - that's why the 200k limit exists. Instead, at those price points, they do a referral program to third party agents that pay some sort of referral fee.

From what I can tell, Xome is entirely based off referral fees. It appears that the idea is that the technology platform of Xome should be a great enough advantage for RE agents that they would be willing to give up 1% commission and a referral fee. They also seem to make money off of mortgage and title/escrow, perhaps through referrals or even through subsidiary companies.

In some sense, Xome actually feels like a Zillow that charges per sale rather than per click.
Some of the company names listed on the Xome.com website include Xome Inc. and Xome CT LLC, both of which are based out of Lewisville, TX, although neither were listed with the Better Business Bureau.
According to a June 2015 HousingWire.com article, however, "Xome is formerly known as Solutionstar and is an indirect wholly owned subsidiary of Nationstar Mortgage Holdings." At the time of our research, Nationstar Mortgage held an F rating with the Better Business Bureau, based on a whopping 3,100+ complaints (as of 6/18/15).
Most of these appeared to reference everything from misapplied mortgage payments to unwanted, high-pressure phone calls.
Finally, according to 46 HighYa reader reviews for HomeSearch.com, they gave the company an average rating of 1.5 stars, with common complaints citing difficulty closing on properties after successfully winning auctions, listings that contained incorrect information (accidentally or otherwise), poor customer service experiences, and that the overall experience isn't focused on being user friendly.
Granted, since Xome.com is a subsidiary of these companies, this doesn't mean you'll experience the same.
Xome.com Pricing & Fee Structure
Whether you're a buyer, seller, or an agent, signing up for a Xome account is free, which you can accomplish by entering your Facebook credentials or signing up manually using your email address.
As a real estate agent, there are no upfront costs for joining Xome, although you will have to reduce your commission for all purchases and sales by 1%, in addition to paying a "referral fee" (amount undisclosed) to Xome for each closed transaction.
Note: According to the Xome website, you'll be required to "bid for qualified home buyer and seller opportunities," so this means you might have to reduce your commission even further in order to actually land a client.
If you have any questions, Xome's customer service can be reached by phone at 844-251-0077.
Will Xome Change the Way You Buy & Sell Your Home?
Chopping to the point: Xome.com seems to represent the beginning of a big shift in how we buy and sell homes, which instead of locally, seems to be increasingly moving online. And as a result of their new business model, you might be able to save a big chunk of change on commissions during the buying and/or selling process.
With this said, it seems that Xome's parent companies have less-than-stellar online reputations with customers, so you might want to approach carefully.
Have you used Xome? If so, be sure to tell the world about it by writing a review!
Leary of shenanigans

By Harry T.

,

Hawaii

,

Jan 20, 2020
Verified Reviewer

We're looking to bid on a house in Hawaii - listed on Xome.com at $174K. Put a pre-auction bid at $295K, was rejected, then $300K - also rejected. So I'm not sure why this happened. Now going to wait for the auction. Also - whenever I read "reviews" and one half is condemning the company, and other half is effusive in praise, my shenanigans alert goes to red.

Bottom Line: No, I would not recommend this to a friend

---

The whole auction is a scam

By Corinne C.

,

Greenlawn, NY

,

Mar 12, 2019
Verified Reviewer

I recently bid on an auction and lost in the last 30 seconds (I could have bid more, but I was at my limit). The house was listed as financeable. Two weeks later after I put the house behind me, I get a call that the person who won backed out and if I want the house then it's mine. I had 24 hours to make a decision. I had to run around, go see the house again, get all my paperwork together, all with two small kids and a job to get this all in for them. I find out 3 days later the bank didn't accept my offer and they are looking for a cash offer. I have a feeling one of their insiders bumped up my price by outbidding me to drive their price up. I was way over the reserve price which is the minimum they wanted. Why list something as financeable if it's not? If I really won the auction fair and square then why didn't I get the house? Bunch of crap for nothing. I'll never recommend Xome. They're a bunch of crooks.

Bottom Line: No, I would not recommend this to a friend

---

Advertisement

---

Bunch of crap

By Jessica G.

,

Mesa, AZ

,

Feb 27, 2019
Verified Reviewer

They have held my Florida house hostage for the past month. They NEVER answer their phones. My realtor and I have spent 2 hours on hold to talk to someone about a lockbox issue. We ended up giving up and hanging up. My mortgage company can't even get them to respond. No, my house was not in foreclosure or close to it. I gave them 1 star as it made me put something.

Bottom Line: No, I would not recommend this to a friend

---

I think it's a scam

By M G.

,

New Jersey

,

Feb 15, 2019
Verified Reviewer

I don't think they are legit because I bid on a house and with 4 hours left on the auction it just disappeared. And I think it's really odd that they used to have really terrible reviews but the newer ones are all stellar.

Bottom Line: No, I would not recommend this to a friend

---

Advertisement

---

Beware: pricing is fixed.

By Gary H.

,

Statesville, NC

,

Jan 6, 2019
Verified Reviewer

As an agent doing price opinions for this company, I have seen this repeat, they don't want a true value of the property, they have a QC department that continually sends reports back and request changes to a honest report to value property lower than the original report would show. I have a license and integrity and will no longer do reports for them. This false value may benefit a buyer but does not treat sellers with a fair and beneficial service.

Bottom Line: No, I would not recommend this to a friend

---

Great customer service!

By Austin H.

,

Bakersfield, CA

,

Dec 4, 2018
Verified Reviewer

Xome has been excellent to work with! They are very responsive and are always there to help. I've been pleased with everyone who I have had the pleasure of dealing with, and the customer service has been terrific! People should check out Xome and use the platform. It is a great opportunity for buyers and sellers!

Bottom Line: Yes, I would recommend this to a friend

---

Realtor

By Kevin O.

,

Florida

,

Nov 17, 2018
Verified Reviewer

Xome had been a nice opportunity to gain exposure and market share (and make a few dollars at the same time). Following their specific guidelines and working hard for my clients has done me well.

Bottom Line: Yes, I would recommend this to a friend

---

Exceptional platform with unmatched service

By Tony D.

,

Chicago, IL

,

Nov 5, 2018
Verified Reviewer

Xome.com had provided exceptional opportunities for my clients to easily buy and sell property, and the people behind the scenes who make this possible are high-class professionals who deeply care about the clients and broker network. I am proud to be broker partner of this great organization!

Bottom Line: Yes, I would recommend this to a friend

---

Great professional solution

By Tim M.

,

Texas

,

Oct 25, 2018
Verified Reviewer

Xome provides a great service for sellers. We're constantly looking for ways to stand out in a competitive market and Xome offers a professional, yet different approach to home selling. There are a lot of different companies trying to do different things, but Xome is a real solution for our clients. Their staff has always been quick with communication, and their platform has always worked well.

Bottom Line: Yes, I would recommend this to a friend

---

Amazing company and business partner!

By Derek G.

,

Clearwater, FL

,

Oct 25, 2018
Verified Reviewer

A fantastic team here at Xome! Everyone has an amazing attitude and their dedicated team is always ready to help meet your goals. Partnering with Xome has contributed to my continued success as a trusted real estate professional, and I welcome any and all opportunities to work with them. Powerful cutting-edge tools, tremendous growth, dedication to customer service and an amazing mission statement are just a few of the reasons why Xome will be a business partner for life. Thanks so much Xome and your fantastic team for complimenting my business so perfectly!

Bottom Line: Yes, I would recommend this to a friend

---

Informative

By J S.

,

San Diego, CA

,

Oct 25, 2018
Verified Reviewer

Frequent informative articles to make a sound decision, regardless of what side of the transaction you may be on. A partner to have in real estate transactions. Please consider putting out free templates, either in Word or Excel. Thank you Xome!

Bottom Line: Yes, I would recommend this to a friend

---