Yahoo Daily Fantasy Sports Reviews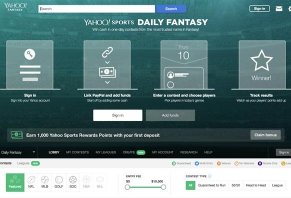 Yahoo Daily Fantasy Sports is one of the more popular DFS sites where you can sign up to play in weekly paid or free contests in up to six sports, with prizes going as high as $20,000.
About Yahoo Daily Fantasy Sports
Yahoo Daily Fantasy Sports is a popular "DFS" site where you can enter free and cash competitions that involve choosing a one-time lineup in which players have different dollar values and you have a $200 budget.
DFS differs from fantasy football in that you choose a lineup for one specific week of or day of the season and your team doesn't carry over to the next week or day. We'll explain this in more detail later in this review.
Yahoo launched their DFS platform back in 2015, offering contests in multiple sports. The main draw, according to excerpts of a company press release included in a Business Insider article, was that players could now play games for cash prizes provided by Yahoo.
In this review, we're going to cover the basics of how you play Yahoo DFS, talk about which sports are offered and discuss the differences between free and paid contests.
We'll also compare Yahoo DFS with DraftKings and FanDuel, two competing DFS sites.
The Basics of Yahoo DFS
Playing daily fantasy sports on Yahoo is a separate experience from playing fantasy football or any other number of fantasy sports in which there are player drafts and managers keep their teams for an entire season or half-season.
Each team, no matter the sport, has a $200 fictional budget from which you assemble a team. The best players on the market cost the most amount of money, whereas the lesser-known or lower-performing players cost less. Here's a screenshot of an NFL DFS contests, in which you can see the prices of the top WR's for Week 2 in 2018: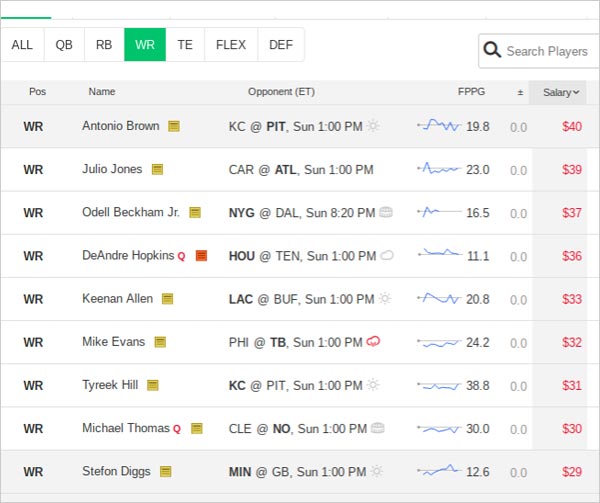 Once you have your team, you save your lineup and wait for games to start. Using the NFL as an example, anytime Bills QB Josh Allen throws for positive yardage or scores a touchdown, he's going to get points.
Yahoo DFS has default scoring for all sports. The scoring for NFL players is, for example, 4 points for a passing touchdown; 6 points for a rushing, return or receiving touchdown; 1 point for every 10 rushing or receiving yards and 1 point for every 25 passing yards, 0.5 points for every reception; -2 points for fumbles and -1 points for interceptions. Kickers and team defenses have their own scoring, too.
You can access your lineup any time before your competition's games start and make changes if you need to. The following is a screenshot of a lineup we created as we were testing Yahoo DFS.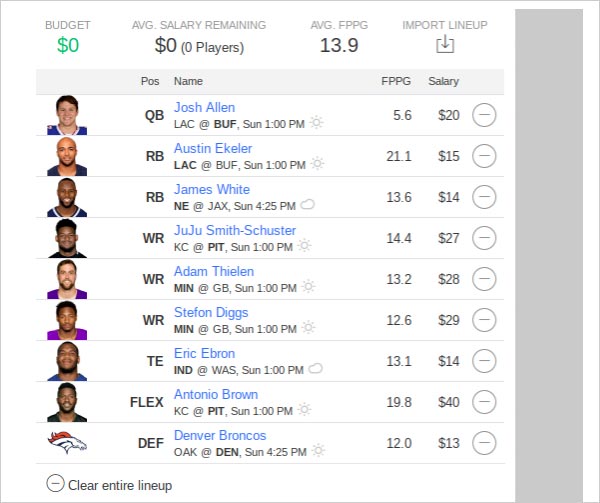 At the time of publishing, entry fees for DFS contests ranged from free to $1,050, with prizes going as high as $5,000 for the first-place finisher.
The Types of DFS Games Yahoo Provides
At the time of publishing, Yahoo had DFS contests for the following sports: NFL, MLB, PGA, NBA, NHL and soccer.
The types of contests that you can play within each individual sport are as follows:
Quick match: Head-to-head with a random opponent
Cup: Season-long series of weekly DFS contests
Multi-entry: Best score wins & you can buy multiple teams
Single-entry: Best score wins & you can buy one team
Private league: You compete against people you invite
The first type, quick match, allows you to pick a sport and set a lineup that you'll play against another randomly-selected manager. The team with the most points at the end of the competition wins. These competitions are free or have entry fees of $1, $2, $5, $10, and $25.
One twist that Yahoo adds is their Cup leagues, a season-long competition in which you have to pick a new lineup every week and, at the end of the season, the teams with the highest point totals of all their combined weeks are the ones who win a prize.
The multi-entry and single-entry games are leagues in which you'll play against hundreds or thousands of other DFS managers in a one-week contest. These leagues can either be free or paid. Free leagues offer cash prizes for the top finishers, but those prizes aren't as robust as the prizes you could win in leagues with paid entries.
Single-entry means you can only enter one team, whereas multi-entry contests allow for multiple teams from the same manager.
You have the option of setting up a private league, too, in which the only people who can compete in the contest are people you invite. Yahoo gives you the option of doing weekly leagues or season-long leagues.
For example, I play in a season-long Yahoo NFL DFS competition with my friends. Each week we choose new lineups based on our $200 budget. At the end of the season, the team with the most points from all their weeks combined is the winner. Yahoo keeps a tally of the running total of the points you score so you can see who is winning and who is losing.
Yahoo Daily Fantasy Sports Rules and Restrictions
Because Yahoo's DFS platform provides games in which you can win and lose money, there are special rules about who can and can't participate in their contests.
For example, residents of the following states aren't eligible to compete in contests in which they have to pay money to play:
Alabama
Arizona
Delaware
Florida
Hawaii
Iowa
Idaho
Louisiana
Missouri
Montana
Nevada
Washington
You have to be at least 18 years old to play DFS in most states. Nebraska (19) and Massachusetts (21) are the exceptions.
Also, Yahoo notes that once you start your DFS contest, you can't cancel it.
Yahoo DFS Symbols
As you scroll through Yahoo's DFS contests, you'll notice a series of symbols next to contests and managers' names:
G: Guaranteed money, whether a contest is full or not
M: You can enter multiple teams in one contest
V: Manager is "highly experienced"
Circle with a slash: No veterans allowed in contest
R: Only newcomers are allowed in contest
L: Season-long contest
Familiarize yourself with these various symbols, as they're designed to help you understand which types of contests you're spending your money on.
If you have a gambling problem and Yahoo DFS plays a role in it, the site has a self-exclusion list that allows you to ban yourself from the site for up to five years.
How Yahoo Daily Fantasy Sports Compares to DraftKings and FanDuel
Because DFS sites are so expansive in terms of which types of contests and sports that are available on their site, it's hard to do a side by side comparison of the actual gameplay.
What's important, though, is to cover the basics, including which states are excluded, which sports are offered and what the range of prize money is:
| | Yahoo DFS | DraftKings DFS | FanDuel DFS |
| --- | --- | --- | --- |
| Excluded States | 12 | 9 | 9 |
| Sports Offered | 6 | 13 | 8 |
| Range of Prizes | $0 - $1,050 | $0 - $1 million | $0 - $1 million |
In our opinion, Yahoo's user experience is a little better than DraftKings or FanDuel simply because the way they list their leagues is a little easier to understand than the other two sites.
However, both DraftKings and FanDuel have the edge in the number of states where they're available, the number of sports they offer and the prizes they offer.
If you're a big-money DFS player, then DraftKings and FanDuel are smart choices simply because they provide higher-stakes contests than Yahoo does. For example, even though the odds of winning are low, you can win a $1 million prize from DraftKings for a $15 entry fee. Same goes for FanDuel. On Yahoo's DFS platform, the biggest prize a $10 buy-in is going to get is $20,000.
Is Yahoo Daily Fantasy Sports Right For You?
We believe, based on our research, that Yahoo's greatest strength is the ease of with which newcomers can use their site.
Their contests are easy to navigate and marked with symbols indicating which type of league it is and what level of players are allowed to participate. The site is a great starting point for someone who is new to DFS and isn't ready for the big-money stakes on FanDuel and DraftKings.
The downside to the site is that it's not the best fit, in our opinion, for veteran DFS players who want to participate in contests with prizes of more than $20,000. Yahoo maxes out their prizes (at the time of publishing) at $20,000 for first place winners, whereas DraftKings and FanDuel have first-place prizes of $1 million.
If you're just getting into fantasy sports or you're returning after a break, DFS may or may not be the best choice for you. Yahoo's DFS is a great way to familiarize yourself through free games. You can also read through our rankings of the best fantasy football sites if you want to start out with season-long fantasy football.
In the rankings, we examine Yahoo, ESPN, NFL.com, CBS Sports and Sleeper according to six categories. We chose Yahoo as the best overall site, but it wasn't the best site in every category. For example, CBS Sports is better for expert advice and Sleeper offers the best free leagues.